It's often the camera and lens that get the credit when you see a striking image, but there are many other camera accessories that are crucial for day-to-day shooting.
From the strap you use to carry your camera comfortably to hard drives on which you store years' worth of photos, camera accessories are the supporting players we can't do without.
Here, we've gone through the recent issues of Digital Camera, N-Photo, PhotoPlus and Digital Photographer magazines to find the gear that's impressed us the most. We've also added some longstanding photography accessory favourites that will make your shooting, editing and image management much easier.
Camera accessories: shooting essentials
1. Kenko KE-NAHDAFN DG 12/20/36mm Adapters
Macro shooting without the expense of a dedicated macro lens
Used for: Macro photography | Fittings: Canon EF/EF-S, Nikon F, Sony A | Tubes: 12mm, 20mm, 36mm | Weight: 272g
Autofocus maintained
Auto-exposure maintained
Cheaper than buying a macro lens
Macro lens more convenient
Getting close to your subjects doesn't have to mean buying a macro lens, which is usually a hefty investment. The Kenko KE-NAHDAFN DG lens adaptor is a longstanding alternative that's available for Canon, Sony and Nikon users. It works by increasing the distance between the camera and lens, forcing the latter to focus closer for increased magnification. This is a great camera accessory for anyone interested in macro photography – and with three extension tubes in a set, it's great value for money too.
2. Tinxi Hot Shoe Two Axis Bubble Spirit Level
Super cheap but super useful for getting those horizons level
Fits: any camera with a standard hot shoe
Works with a huge range of cameras
Great for landscape photographers
Most cameras have built-in electronic levels
Save yourself time correcting wonky images with this Tinxi two-axis bubble spirit level, which will tell you when the camera is perfectly level, both vertically and horizontally. It's great for landscape photographers, but the fact that it weighs next to nothing means that anyone using a tripod can just leave it mounted at all times.
Also read: The best tripods for travel in 2018
3. JJC L-S2 Lens Cap Keeper
Never lose your lens cap or worry about it collecting lint in your pocket again
Fits: Conventional DSLR and mirrorless lenses (albeit with some exceptions)
Incredibly useful
Very cheap
Not ideal for lenses with very small barrel diameters
Hands up anyone who's ever lost a lens cap? The JJC L-S2 Lens Cap Keeper is a clever camera accessory that attaches the cap to the barrel through a length of elastic, so you'll never lose it again. The keeper's attachment is universal and designed to fit any DSLR or CSC, although it works better with wider lenses where it can get more purchase.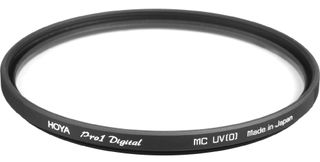 4. Hoya Pro1 Digital UV Filter
Low-profile frame and multi coatings promise to keep images aberration free
Sizes: 37mm, 39mm, 40.5mm, 46mm, 49mm, 52mm, 55mm, 58mm, 62mm, 67mm, 72mm, 77mm, 82mm
Wide range of sizes
Protects lenses
Filters UV rays
Less common diameters cost more
Hoya has a rich heritage when it comes to making filters, and its Pro1 Digital UV Filter serves a double purpose. Not only does it filter out UV rays that can leave images taken in certain conditions hazy, but it also protects the front element from dust and scratches, making it a worthwhile investment for your valuable lenses.
5. Cokin Gradual ND Kit with Holder
Balance landscapes with this bargain filter and holder collection
Contents: Gradual ND2 filter (P121L) with hard-edged transition; Gradual ND4 filter (P121M) with hard-edged transition; Gradual ND8 filter (P121S) with soft-edged transition; P-Series filter holder (M size)
Great for landscape photography
Three popular filters from a respected brand
Adapter ring needed
The winner of Digital Camera's Best on Test, Great Value and Gold Awards – all within a single group test – Cokin's Gradual ND Kit is an excellent choice for those wishing to step up their landscape photography without breaking the bank. Comprising a P-series holder that fits on the front of your lens, plus three ND filters, each with a different effect, this kit will help you balance the exposure in a scene from top to bottom. Just make sure to grab an adapter ring that'll fit your specific lens too.
6. Lensbaby Spark
A fun, affordable alternative to a standard 50mm lens
Mounts: Canon EF, Nikon F | Max aperture: f/5.6 | Max focal length: 50mm | Min aperture: f/5.6 | Optical zoom: 1x
Unique, dreamlike effects
Can be very finely controlled
May not work so well in low light
If you're looking for a great camera accessory to add something different to your images, say hello to the Lensbaby Spark. This manual-focus 50mm lens creates a sweet spot of focus while blurring the rest of the frame for an arty effect. By moving the front of the lens with your fingers you can position the sweet spot to line up with your subject, leaving the rest dreamily soft. It takes some practice, but it's a whole heap of fun.
7. Datacolor SpyderCube
Save processing time with this clever cube
Features: Black trap, chrome ball, black side, white side and 18% grey panel
Accelerates RAW processing
Huge time saver
A cheaper grey card can be used for white balance measurement
The Datacolor SpyderCube is a handy reference tool that provides you with all the light information you'll need for RAW adjustments in one shot, taken under any light condition. Pop it in your frame and you'll be given a reference for a whole lot more than just white balance. The chrome ball provides a catchlight for overexposed areas, while the black trap defines absolute black, and the white and black sides respectively provide shadow and highlight references in relation to these. Add to that an 18% grey patch, and you have everything you need for perfect, pain-free white balance and exposure adjustment.
8. i1 Display Pro
This easy-to-use calibrator makes accurate image editing a cinch
Works with: LED, Plasma, RG Phosphor, OLED & Wide Gamut devices among others | Software modes: basic and advanced | Compatibility: iOS and Android
Great results
Straightforward wizard-based control
Not the cheapest...
...but you're getting what you pay for
When it comes to editing your images, you need to be sure that the colours on your screen look as they should. The i1 Display Pro calibrator makes sure this is the case. Designed for demanding colour perfectionists and professional users in the photo, design and publishing markets, it profiles your equipment before performing any necessary calibration to make output completely accurate – and it will even take ambient light into consideration too. And the wizard-based interface means it's usable by anyone.
Next page: Storage and memory cards