Photoshop is often used as a yardstick for judging all other photo-editing programs, but is that really the right way to look at them? It's unlikely any other program will be better at being Photoshop than Photoshop is (naturally), but there are many programs that do things Photoshop doesn't.
For example, a lot of people don't like subscription plans. It's the only way to get Photoshop now, but many photographers would prefer to pay a single licence fee in the old-fashioned way. And while Photoshop is very slick and efficient, it does demand a certain technical knowledge that beginners might find intimidating.
And it's true that you can create almost any effect you can imagine in Photoshop, but often only with a great deal of work and expertise, where many rivals bring one-click presets that do all these things in a fraction of the time.
Also read:
The best photo-editing laptops this year
Photoshop doesn't organize your photos, either. You can do that in Lightroom, the other half of the Adobe Photography plan, but it means switching applications for different jobs, and for many photographers, an all-in-one cataloguing, enhancement, editing and effects tool would be better.
Here we're to steer a path through all these products and choices to find the ones that stand out. Our overall rankings are based on all-round capabilities, but your needs and interests may be specific, so you can use this guide to help you find the software that's right for you.
NOTE: The following list is in alphabetical order, not in order of perceived quality. Each item has its pros and cons, and each piece of software might suit different users better than others.
1. Adobe Photoshop CC 2018
Love it or hate it, Photoshop sets a ludicrously high standard for its competitors
PC: Intel Core 2 or AMD Athlon 64 processor 2 GHz, 2GB RAM (8GB recommended), Windows 7 to 10 | Mac: Multicore Intel 64-bit, 2GB RAM (8GB recommended), OS X 10.11 or later | Hard drive: 4GB | Minimum screen resolution: 1024x768 pixels
Immensely powerful
Very intuitive interface
Regularly updated
Expensive subscription
No image-browsing or cataloguing feature
So why would anyone hate what's widely regarded as the world's best photo-editing software? One reason is that it's become associated with underhand or unhealthy photo-manipulation, though that's the photographer's responsibility, not the software's. Perhaps more importantly for photographers, it was Adobe's decision to make it a subscription-only product.
This means the only way to get Photoshop CC now is to subscribe to one of Adobe's subscription-based Photography Plans, which many object to on principle, even though it's dramatically cheaper than the old 'perpetual licence' version (which still brought an upgrade cost every couple of years).
However, Photoshop is slick, powerful and constantly improving. Its support for selections, masks and layers is unmatched, making it the tool of choice for complex composite images. That being said it's not just for photographers, but artists, illustrators, designers, videographers and motion graphics designers too.
Performance
Despite its reputation for complexity, Photoshop actually offers a very clean, slick interface. The are no 'novice' modes, but the tools panel does offer fly-out animations that show you how the tools work and what they do.
There are no image browsing or cataloguing tools in Photoshop itself, but since Lightroom is included in the same Photography Plans as Photoshop, that's not an issue. Raw conversions are taken care of by Adobe Camera Raw, which is so powerful it's practically an image-editor in its own right. On its own, Photoshop is powerful but limited; with Adobe Lightroom it's half of an unbeatable double-act of image editing.
2. Adobe Photoshop Elements 2018
Elements' more beginner-focused interface masks a great deal of its overall power
PC: 64-bit 1.6GHz or faster, 4GB RAM, Win 7 SP1 to 10 | Mac: Multicore Intel 64-bit, 4GB RAM, OS X 10.11 or later | Hard drive: 5GB | Minimum screen resolution: 1280x800 pixels
Modern look and interface
Quick mode is very handy
Raw processing limited
Many effects are crude
Photoshop Elements is very much the 'amateur' version of Photoshop, with a simplified, family-orientated interface and a heavy emphasis on beginners and novices, but there's plenty here for enthusiasts too.
Photoshop Elements 2018 is actually two programs, not one. It consists of the Elements Organizer and the Elements Editor, which do work together but can also work as standalone programs.
The Organizer can browse your photos folder by folder, but it also offers albums for bringing your photos together 'virtually' and some good search tools. You can add tags (keywords) in the normal way, but it also offers Smart Tags which identify common subjects automatically, saving on time.
From the Organizer, you can open images directly in the Editor, which has an eLive mode for inspiration and tutorials, a Quick mode for fast and simple effects, a Guided mode with an ever-expanding list of effects walkthroughs, and an Expert mode with the full range of tools.
Performance
The Organizer and the Editor are both modern-looking, clear and friendly, and between them they make Photoshop Elements 2018 very good value. But enthusiasts may be disappointed by the cut-down version of Adobe Camera Raw that comes with it, which has only a small subset of the tools provided in the Photoshop version. It also does not come with lens correction profiles or chromatic aberration removal.
Many of the preset and Guided effects are quite crude and even in Expert mode the range of adjustments is limited compared to Photoshop – you don't get Curves, for example. Nevertheless, Elements 2018 is great value, straightforward and friendly.
3. Adobe Photoshop Lightroom Classic/CC
Photoshop's perfect partner in crime has changed… now there's two of them to check out!
PC: Intel Core 2 or AMD Athlon 64 2 GHz or faster, 2GB RAM (8GB recommended), Windows 7 SP1 to 10 | Mac: Intel 64-bit, 2GB RAM (8GB recommended), OS X 10.11 or later | Hard drive: 2GB (10GB for CC) | Minimum screen resolution: 1024x768 pixels
A good all-in-one editing package
Powerful editing tools
Subscription-only buying option
Doesn't support plug-ins
Lightroom is an all-in-one image cataloguing, Raw-processing and editing program that makes the perfect partner for Photoshop. Lightroom can take care of all your everyday organizing and image-enhancement needs while Photoshop tackles the complex pixel-based processes that Lightroom can't.
Lightroom has the same editing tools as Adobe Camera Raw, including powerful lens and perspective corrections, local adjustments, tone and colour tools, effects, plus support for plug-ins and external editors. If your main work is photo enhancement rather than manipulation, you might not need Photoshop at all.
But Adobe has made things more confusing by splitting off the 'old' Lightroom, now called Lightroom Classic for regular desktop storage, and introducing a new, slimmed-down Lightroom CC which stores all your photos online. With Lightroom CC you have to pay for Adobe Cloud storage, starting at 1GB at around £10/$10 per month, and there are now three Photography Plans to choose from.
Performance
Lightroom can slow down with bigger catalogs, but otherwise it's powerful and extremely effective. Its Raw conversions (as with Adobe Camera Raw's) aren't necessarily the best, proving a fraction softer and noisier than Capture One's and DxO's, but it has the widest support for camera Raw formats and automatic lens correction profiles.
Lightroom CC offers the convenience of having your whole image library available everywhere, but the storage costs are high and the software itself lacks some key features you might take for granted in the desktop version – it doesn't support plug-ins, for example, and only Photoshop as an external editor.
4. Affinity Photo 1.6
We all want a powerful Photoshop alternative that won't break the bank. Now we've got it…
PC: Processor not quoted, 2GB RAM (4GB recommended), Windows 7 SP1 to 10 | Mac: 64-bit Core Duo 2 or better, 2GB RAM, OS X 10.9 or later | Hard drive: 670MB | Minimum screen resolution: 1280x768 pixels
Wide range of tools
Very affordable
No browsing or cataloguing tools
Affinity Photo is sold at a budget price point, but it has the tools and the features and the power to compete with Photoshop head-on. It was launched originally as a Mac-only product, but now it's available in a Windows version too.
Serif designed Affinity Photo from the ground up for professional users. It might be cheap to buy, but there's nothing cheap about its execution. It matches Photoshop for selection, masking and layer tools, and Serif has focused particularly heavily on the retouching market, with cloning, healing and retouching tools, an Inpainting tool for automatic object removal and a dedicated Liquify persona (workspace) for localized image distortion effects.
These Personas are part of the whole Affinity Photo workflow. The Photo persona is where the regular image-editing work is done, but there's also a Develop persona for raw processing, a Tone Mapping persona for HDR effects and an Export persona for exporting finished images.
Performance
Affinity Photo is an extremely powerful photo editor with more tools and features than there's space to list here, from focus stacking to high-end frequency separation. It does not, however, have any browsing or cataloguing tools, so unless Serif launches a digital asset management application to go with it, you will need other tools for organizing your photos. Its Develop persona lacks the relatively quick and simple Raw conversion tools in rival programs too, so that although the results can be great, you have to work quite hard to get there in the first place.
At this price, though, it seems crazy to complain about any of these rather minimal complaints.
5. Alien Skin Exposure X3
A subtle and powerful effects tool that deserves more recognition than it gets in the mainstream
PC: Intel Core 2 or compatible, Windows 7 64-bit or later | Mac: Intel Core 2 or compatible, OS X 10.10 or later | Hard drive: Not quoted | Minimum screen resolution: 1280x768 pixels
Powerful all-in-one editing tool
Easy non-destructive editing
Wide range of presets
Scanning large folders can be slow
Alien Skin Exposure X3 is not as well known as most of the programs here, but deserves to be. It's a subtle, powerful and efficient all-in-one photo editing and browsing tool that specializes in analog film effects and comes with a huge library of simple one-click preset effects.
These are created using a combination of manual adjustments, so you can modify an existing effect or create your own completely from scratch – or you can just use Exposure X3 as a regular photo editor, thanks to its tone and colour tools, cropping and cloning options.
It also supports layers and masks, so you can blend in different adjustments or even potentially combine different preset images effects. It does not support image layers, though, so you can't create multi-image composites, which is ultimately a bit of a downer really.
However, all editing adjustments are non-destructive, though, and it's also possible to create 'virtual copies' – multiple variants of the same image which take up no extra disk space at all.
Performance
Exposure X3 can be a little slow to scan large folders or collections of folders, but once that's done it's fast and responsive. You can preview a preset effect on the main image just by hovering the mouse pointer over its thumbnail, and the ability to 'audition' multiple presets before making a final choice is actually incredibly clever and useful.
The range of presets available is extensive and also sensitive to the subtle variations of old analog materials, right down to vignette and bokeh effects. It's not just a tool for creating vintage looks, however, but a highly effective all-purpose, all-in-one photo editor that more should know about.
Editor's note: Alien Skin has recently launched Exposure X4, which we will endeavour to review at the earliest opportunity.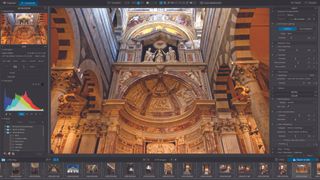 6. DxO PhotoLab 1.2
Superb and reliable optical correction tool, now with local adjustments
PC: Intel Core 2 or AMD Athlon 64 X2, 4GB RAM (8GB recommended), Windows 7 SP1 to 10 | Mac: Intel Core i5 or higher, 4GB RAM (6GB recommended), OS X 10.11 or later | Hard drive: 4GB | Minimum screen resolution: Not quoted
Very good Raw processing
Low noise levels
Doesn't support Fujifilm cameras
Full package requires paid-for add-ons
DxO PhotoLab is the replacement for Optics Pro, adding local adjustment tools to make it a more powerful all-round photo-editing solution. You use the Organize window to browse your image folders and carry out basic filtering and housekeeping tasks. It's pretty basic, but is perhaps enough for many photographers.
The Customize window is where the real editing work is done, using either preset effects or manual adjustment tools. DxO PhotoLab supports a large number of camera Raw formats except, annoyingly, Fujifilm cameras, due to technical differences with Fujifilm sensors.
Lens correction profiles are applied automatically, so your corrected and optimized images are ready for export without you having to do a thing. You can also make manual adjustments, but PhotoLab quickly gets rather technical.
With the new gradient, brush and U-point adjustment tools, it's now possible to enhance your photos within PhotoLab rather than needing an external editor, all the while using DxO's excellent Raw processing engine.
Performance
The image quality produced by PhotoLab is second to none. Noise levels are low, the optical corrections are superb (and even include compensation for edge softness) and the definition and micro-contrast around fine details will make you reassess what your camera can do.
On the downside, you'll need the more expensive Elite edition to get the PRIME denoise and DxO's ClearView feature, and if you want to apply perspective corrections (once built into Optics Pro) you'll need the DxO ViewPoint plug-in. DxO's FilmPack analog effects plug-in is also extra, so the cost of the full suite is significantly higher.
7. ON1 Photo RAW 2018
Combining browsing, cataloguing, effects, Raw and layers, Photo RAW can do it all
PC: Intel Core 2 Duo, Xeon, or better, 4GB RAM (16GB recommended), Windows 7 to 10 | Mac: Intel Core 2 Duo, 4GB RAM (16GB recommended), OS X 10.9 or later | Hard drive: 1.5GB | Minimum screen resolution: 1280x720 pixels
Immensely versatile
Great connectivity and cloud features
Interface clunky in places
Steep learning curve
Photo RAW 2018 from ON1 is perhaps the single most complete solution of all the programs here. It has a built-in hybrid browsing and cataloguing module that gives you fuss-free exploring of your image folders but more powerful search tools if you need them; a Develop module for processing Raw files; an Effects module with a huge library of one-click preset effects; a set of powerful Filter tools for creating your own, and even a Layers module for combining images with layers, masks and blend modes.
All of this is done non-destructively, so if you want to go back at any time and tweak or remove your adjustments you can, and you can create virtual 'Versions' to try out different settings without having to duplicate the original image.
ON1 Photo RAW can also use third-party cloud services such as Dropbox to synchronize images with its free image browsing app for smart devices.
Performance
The ON1 Photo RAW 2018 interface feels ever so slightly clunky here and there and it lacks the fluid responses of some of its rivals, but the range of tools on offer and the effects you can achieve are excellent.
A new LUT filter in the latest version lets you take advantage of the growing use of LUT (lookup table) files for image-editing (they've long been popular in cinematography) and with the addition of perspective transformation tools there's little that ON1 Photo RAW can't do.
Although it is highly affordable, however, this isn't really a program for complete beginners as it does assume some working knowledge of editing processes and has many controls that you'll need to know the ins and outs of.
8. PhaseOne Capture One Pro 11
Lightroom has an arch rival. This rival may not be a budget option, but it is very, very good
PC: 2-core CPU or better, 8GB RAM, Windows 7 SP1 to 10 | Mac: 2-core CPU or better, 8GB RAM, OS X 10.11.6 or later | Hard drive: 10GB | Minimum screen resolution: 1200x800 pixels
Very smooth conversions
Highly customisable tool tabs
Camera support slightly inferior to Lightroom
Capture One was originally a tethered capture and editing tool for PhaseOne's medium format cameras. However, it's long since evolved into a much more powerful and broad-based standalone tool that does almost exactly the same job as Lightroom.
Like Lightroom, Capture One Pro offers a database-powered image catalog with powerful organizational and searching tools. You can browse your images by folder and group them together in Collections (or Smart Collections based on search criteria). But Capture One Pro also offers a 'Sessions' workflow designed specifically for tethered studio photography but also very well adapted for culling, rating, editing and exporting images from a shoot.
There are differences in the editing tools. Capture One Pro works in a single window rather than in Lightroom-style 'modules' and has a highly customizable set of 'tool tabs'. One of the key differences is its layers-based local adjustment system which makes it much easier to see and edit your changes to your work.
Performance
Not all Raw converters are the same, and Capture One Pro is one of three which stand above the rest – the others are Lightroom/Adobe Camera Raw and DxO PhotoLab.
Capture One's conversions are smooth and very sharp, and its tone and colour controls make it easy to get the best from your Raw files. It does actually come with preset 'Styles' but PhaseOne also sells Style packs as add-ons, just in case you want more. You can make manual adjustments and save your own Styles for later use too.
Its camera support is not as wide as Adobe's and it doesn't have as many lens correction profiles, but its tools and its results are superb enough to carry it further.
Read more:
Best free photo editors
The best photo-editing laptops
25 premium plug-ins and presets for Lightroom
63 free Lightroom presets