Choosing a monitor for image editing can be a daunting task, as you need a quality screen to ensure an accurate image preview. In this guide we've picked some of the best monitors on the market that prioritize colour accuracy, brightness consistency and contrast to do justice to your photos.
The biggest factor in choosing a monitor for photo editing is the type of LCD panel it uses. IPS screens have much better colour and contrast consistency than older, cheaper TN panels, so all the monitors on this list use IPS technology. Resolution is the next concern, with 4K being a must if you're accustomed to the high pixel densities of modern smartphones and Apple's Retina displays.
Screen size is important, too. Generally it's a case of the bigger, the better! If you've got the desk space to accommodate a large screen, the extra display area will be invaluable for displaying extra Photoshop pallets and a bigger image preview. We reckon 27 inches is a good compromise between having plenty of screen space without ending up with a monster of a monitor dominating your desk.
Also, while most of the monitors on this list are height-adjustable, not all displays have the same level of ergonomic fine-tuning, so watch out for that.
When buying a high-end display, it's important to make sure your computer's graphics are up to the task of displaying 4K resolution smoothly, but most recent PCs or Macs should have the necessary fire power to run Photoshop on a 4K screen.
First find out what to look for when choosing a monitor – but if you already know, keep reading to find out the best monitors for photo-editing...
The best monitors for photo editing in 2020
1. BenQ SW271
A monitor that's hard to fault - it's our go-to screen for photo editing
Size: 27in | Ratio: 16x9 | Resolution: 3840x2160 | Brightness: 350cd/m2 | Contrast ratio: 1000:1 | sRGB gamut (claimed): 100% | Adobe RGB gamut (claimed): 99%
Rigid stand
Shading hood included
Excellent performance
Slight green cast before calibration
This BenQ screen has a 27-inch panel size with a 4K UHD native resolution of 3840x2160 pixels. It also boasts the usual 10-bit color depth, equivalent to more than a billion colours. It's well built with a sturdy case and a particularly rigid stand, which keeps the monitor wobble-free throughout the range of its tilt, swivel, height and pivot adjustments.
Factory preset sRGB and Adobe RGB modes are available, along with an HDR mode. BenQ claims 100% coverage of the sRGB range and an impressive 99% for Adobe RGB. Palette Master Element calibration software comes with the monitor, to maintain optimum colour accuracy. Other supplied extras include a hotkey puck control dial for easily switching between sRGB, Adobe RGB and advanced B&W display modes.
The SW271's factory presets proved highly accurate for colour rendition, with just a very slight green colour cast. After calibration, colour rendition was close to perfect, with superb coverage of the Adobe RGB color space.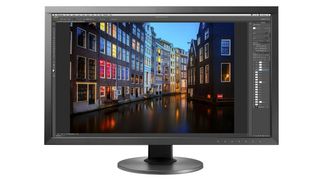 2. Eizo ColorEdge CS2730
If you can do without 4K, this monitor is the colour purist's choice
Size: 27in | Ratio: 16x9 | Resolution: 2560x1440 | Brightness: 350cd/m2 | Contrast ratio: 1000:1 | sRGB gamut (claimed): 100% | Adobe RGB gamut (claimed): 99%
Spot-on color
Excellent brightness uniformity
Easy-access color space presets
Resolution lower at 2540x1440
4K resolution may be the norm these days for monitors and televisions, but this Eizo ColorEdge sets its sights a little lower at 2540x1440, resulting in a pixel count of about 3.7MP instead of 8.3MP. This inevitably results in a lower pixel - 109ppi, rather than 163ppi if it was 4K - but image quality still looks absolutely super-sharp.
Ports at the rear include DVI, HDMI and DP, along with two upstream USB 3.0 ports. There are three downstream USB 3.0 ports behind the left-hand side of the case. Bundled software includes Quick Color Match, to enable easy colour matching between screen viewing and printed output. It also comes with ColorNavigator software for use with independent calibration hardware (not supplied).
Colour accuracy of our review sample was pretty much spot on, straight out of the box. The Eizo ColorEdge also delivers excellent gamut for both sRGB and Adobe RGB, with presets available for both colour spaces, direct from the menu system. Uniformity across the screen is particularly good, and there's very little backlight bleed.
It may not set any resolution records, but this is the benchmark for every other measure of screen quality.
3. LG 27UD88-W
A sexy screen for the style-conscious, and it scores well for image quality
Size: 27in: | Ratio: 16x9: | Resolution: 3840x2160: | Brightness: 350cd/m2: | Contrast ratio: 1000:1: | sRGB gamut (claimed): 100% | Adobe RGB gamut (claimed): Unspecified
Elegant slimline design
Excellent sRGB accuracy
Only average brightness uniformity
Adobe RGB gamut less good
With a slimline design and slender crescent-shaped silver base, the LG 27UD88-W makes most desktop monitors look comparatively clunky. The only real compromise is that, while tilt, height and pivot facilities are available, there's no swivel mechanism built into the base.
There's a good range of input ports, including DP, dual HDMI and USB Type-C, along with a USB 3.0 hub that has two downstream ports. Instead of a row of physical or 'virtual' touch-sensitive buttons along the lower edge of the bezel, there's a neat joystick-like controller under the bottom of the screen. This enables easy selection of wide-ranging display modes including sRGB, but, unfortunately, there's no dedicated Adobe RGB preset.
In our tests, the monitor scored very highly for colour accuracy in sRGB mode, gaining virtually nothing from a custom calibration. However, gamut for the Adobe RGB colour space is a little lacking compared with some competing screens from BenQ and Eizo. Detail in very dark lowlights also tends to be slightly disappointing.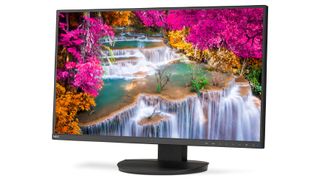 4. NEC MultiSync EA271U
It's a quality display that's also good for business
Size: 27in: | Ratio: 16x9: | Resolution: 3840x2160 | Brightness: 350cd/m2 | Contrast ratio: 1000:1 | sRGB gamut (claimed): 100% | Adobe RGB gamut (claimed): 78.1%
Built-in speakers
Good performance potential
'Corporate' slant to features
Needs adjusting for best results
The NEC MultiSync EA271U monitor has a slightly corporate feel to it, supporting 'cost-saving device management', whereby all connected NEC devices can be controlled from a central location. There's also a wide range of eco-friendly settings.
Standard and 'photo' viewing modes are accompanied by text, gaming, movie and dynamic modes, but there's no preset for the Adobe RGB colour space. Connection ports include DP, DVI and HDMI, along with a USB 3.0 hub. Unusually, the MultiSync EA271U also features built-in speakers, though with an output of only 2W each, they're of limited aural appeal. Touch-sensitive virtual control buttons are easily accessible on the lower bezel.
Used in its sRGB preset, the NEC proved disappointingly inaccurate for colour rendition, with a noticeably red colour cast. Switch to the default viewing mode, however, and this monitor really shifts gear, producing spectacularly accurate colours. Brightness uniformity is boosted by a dedicated uniformity-enhancing mode. Gamut for the Adobe RGB colour space is good, but not great.
5. Dell UltraSharp U2718Q
A value-packed monitor that's great if you're on a tighter budget
Size: 27-inch | Ratio: 16x9 | Resolution: 3840x2160 | Brightness: 350cd/m2 | Contrast ratio: 1300:1 | sRGB gamut (claimed): 100% | Adobe RGB gamut (claimed): Unspecified
Good specs for the money
1300:1 contrast ratio
Patchy brightness uniformity
Average color accuracy
An attractively-priced panel compared to equivalent screens from the likes of Eizo and NEC, the Dell UltraSharp still packs full 4K UHD resolution, 10-bit color depth and some neat extras, all inside a smart case with an 'InfinityEdge' ultra-thin bezel. There's no preset Adobe RGB mode, but the standard viewing mode is accompanied by game, movie, custom color and several additional presets, which include an HDR mode.
Video ports include HDMI, DP and mDP, and there's also a built-in USB 3.0 hub with two downstream connectors at the bottom left hand side of the case. Control buttons on the underside of the case have a tactile feel and work well with the intuitive menu system. The maximum contrast ratio is higher than many rivals, rated at 1300:1
However, image quality is good rather than great, especially in terms of outright color accuracy. One plus point is that there's very little bleed from the backlight, making for good, strong blacks, although detail can be lost in very dark lowlights.
6. ViewSonic VP3268-4K
A solid choice if you need maximum space for image editing
Size: 31.5in | Ratio: 16x9 | Resolution: 3840x2160 | Brightness: 350cd/m2 | Contrast ratio: 1300:1 | sRGB gamut (claimed): 100% | Adobe RGB gamut (claimed): 77%
Big 31.5in screen
1300:1 contrast ratio
Below-par brightness uniformity
Only 77% Adobe RGB coverage
This 31.5-inch screen is notably larger than a 27-inch model, yet the ultra-thin bezel keeps the overall size from being too intimidating, while the 4K UHD resolution maintains pin-sharp image quality despite the pixels being spread a little thinner than on a 27-inch 4K screen.
Around the back, there are Display Port, Mini DP and dual HDMI inputs, as well as the practically ubiquitous USB 3.0 hub. The 350cd/m2 maximum brightness rating is typical for an LED-backlit panel, while 5ms response time (grey-to-grey) and 178-degree horizontal and vertical viewing angles are respectable.
Distinctive features include an HDR mode and a 1300:1 contrast ratio. On the negative side, there's no preset Adobe RGB mode and ViewSonic only claims 77% coverage of the full Adobe RGB gamut.
Image quality looks a little dull when using the sRGB preset, which locks out any brightness adjustment. Colour accuracy is good but gamut is a little lacking for the Adobe RGB colour space and brightness uniformity could be better.
Overall, however, image quality is very satisfying, and once you step up to a screen of this scale, you might wonder how you managed with anything smaller!
Read more
The best photo editing tools and accessories
What to look for when choosing a monitor
The best ultrawide monitors for photo editing
Best USB-C monitors for photo editing
If you are looking for the best monitor for photo editing, there are a few things to consider before you start working out which one is best for your photography. Here are four different things to consider before you look at our buying recommendations:
Screen size
So a bigger screen is better, right? That is true, but only up to the point where you have to start turning your head to look from one side to the other! The 21.5-inch screen on a regular iMac is probably as small as you'd want to go, and a 24-inch or 27-inch screen will give you a bit more visual breathing room. 32 inches is getting a little too big for comfortable viewing, unless you like to lean back at arm's length.
Be aware of aspect ratios, too. 16:9 has become the new standard and it fits the dimensions of full HD and 4K movies perfectly. It also leaves a bit of space on either side for tool panels and palettes in photo-editing software, with your photos taking up the centre of the screen. If you're still using an old 4:3 ratio monitor then it's definitely time to upgrade. You may see some monitors with a ratio wider than 16:9, designed mostly for gaming. Be aware, though, that these are generally optimised for fast refresh rates and immersive video rather than photographic precision.
Resolution
It's no use going up in screen size without going up in resolution, too, otherwise your display will look visibly pixellated. Apple really started something when it introduced the Retina display because, suddenly, the pixel pitch was so fine you just didn't see individual pixels anymore. For photographers, this means a super-sharp display that gives you a true sense of an image's resolution without the need to zoom in and pixel-peep, and without the display's pixels mingling with those of the image.
Apple may have started it, but high-definition displays are now common, and you should always check the pixel resolution. Most everyday monitors are 1920 x 1080 pixels (Full HD), but that's not enough to give the 'Retina effect'. For a 24-inch monitor or larger you really need 4K (or UHD, to be precise), which is 3840 x 2160 pixels. You might get away with a common intermediate resolution of 2560 x 1440, but it depends on the screen and how fussy you are about visible pixels.
Color gamut
As more experienced photographers will know, color gamuts can get complicated. This is the range of colors a device can display and there are certain industry standards. The base level standard for all displays and devices is sRGB. You can't go wrong with this because every device will support it. However, the range of colors it can display is limited. You might never notice (really, you might not), but in commercial publishing, where the demands are higher, they like to use the larger Adobe RGB color space. This is why many digital cameras offer both options.
A regular monitor can only display the sRGB colour space. If you use it to open an Adobe RGB image without any kind of conversion it will look flat and dull, and if you do need to work on Adobe RGB images for a publisher, you'll need colour-management tools to approximate their appearance on an sRGB screen. However, proper photographic monitors, like many in this buyers guide, can display most/nearly all of the Adobe RGB gamut, so the problem is solved.
Brightness uniformity
If you use an inexpensive laptop or desktop monitor, you'll know all about brightness uniformity – or the lack of it. It's not so much of a problem if you're working on a spreadsheet, but it's a major issue if you're trying to finesse delicate brightness levels in different parts of the picture.
Brightness differences are typically down to two things: the screen technology and the backlight uniformity. IPS (In Place Switching) screens cost more but give much better image quality and uniformity, and monitors designed for photographers need even backlighting across the whole frame.
USB-C sockets
If you have a very recent computer, the chances are that it will use USB-C connectors – and for ease of linking up your monitor to have a USB-C connect. But to help you we have put together a special guide to the best USB-C monitors for photo editing.
Read more:
The best photo editing tools and accessories
The best cameras you can buy right now
The best monitor calibrators
The best photo editing software