The Apple Mac Studio M1 Ultra definitely fills a gap. Following the launch of Apple's own M1 silicon, customers have been treated to a year full of benchmark-breaking product announcements across pretty much their entire product line. With chips that set a new standard in terms of speed and efficiency, each update to existing products has impressed users as they saw the machines they know and love get the "M1 speed boost" they've been looking for.
With the launch of the Mac Studio, however, Apple has opened a path to a new product category – not just an update to an existing machine – arguably sitting somewhere between the latest M1 Mac Mini and Intel Mac Pro tower in terms of power and price point.
There is a baseline Studio Max model which has plenty of power of its own, but here, we've reviewed the top-end Studio Ultra.
Specifications (as tested)
Processor: Apple M1 Ultra chip
CPU: 20-core with 16 performance cores and 4 efficiency cores
GPU: 64-core GPU with 32-core Neural Engine
RAM: 128GB Unified memory with 800GB/s bandwidth
Storage: 2TB SSD
Video engines: 2 decode, 4 encode and 4 ProRes encode & decode
Key features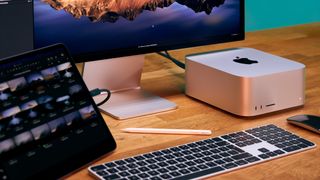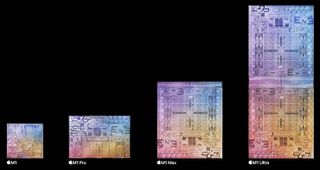 Designed as an under-screen desktop workstation, the Mac Studio is set to be a hybrid system – portable enough to carry between locations when needed, but powerful enough to be a user's main system for almost any activity, driving up to 4x 6k XDR displays and 1x 4k display at the same time.
As with other M1 releases, don't let the Mac Studio's relatively compact size deceive you. In return for your investment in a Mac Studio, you get a choice of the very latest Apple M1 Max or M1 Ultra System-On-A-Chip (SoC) hardware – with their ultra high speed processors, unified memory, GPUs and video engines.
While the M1 Max edition delivers the same processing power as the latest top-end MacBook Pro 14" and 16" models, the M1 Ultra version gives you access to a system made up of two of these chips combined into one system, with the 20-core CPU setup we've tested here.
The addition of external ports will leave most users satisfied – with standard 10Gb Ethernet & HDMI, 2x classic USB-A ports for older peripherals, a front SD card slot and either 4 (Max) or 6 (Ultra) Thunderbolt 4 ports available both front and back (or an extra 2x replacement USB-C ports on the front for the Max model).
Put together as a package, the Mac Studio is reassuringly aimed at a high-end creative workflow – whether back at base, or on the road – where power, connectivity and flexibility are critical to a project's success.
Design and operation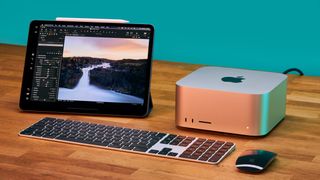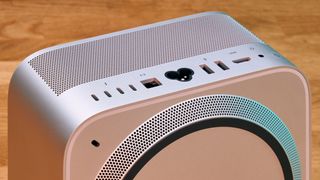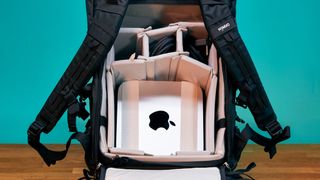 Housed in the signature Apple unibody aluminum enclosure, the unit shares some strong similarities with the Mac Mini, but with an increase in height, weight, ports and cooling systems (not that the system ever seems to get hot) to allow for the extra power inside.
With a single light on the front for operation and the on/off switch on the rear corner, the minimalist approach could easily fool you into thinking this is a stripped-down machine – except for the fact that it's currently the fastest M1 system that Apple has produced to date.
Compatible display options are plenty – from the simultaneously released 27" 5k Studio Display which sits perfectly on top of the Mac Studio's footprint, to the premium 6k Pro Display XDR for more color-critical work in a larger format, to almost any other thunderbolt or HDMI display you want to plug in. Further, the Mac Studio is also capable of running an iPad as either a desktop extension or as the primary display if you so choose.
With that in mind, it also makes the Mac Studio a perfect on-location companion, driving creative workflows in remote environments, and a lot easier to transport than a rack-mount or full tower option.
While the Mac Studio itself does not ship with a keyboard and mouse as standard (in the box is literally the computer and its power cable), the new Magic Keyboard with Touch ID and Magic Mouse (available to add-on to an order) are designed to match its aesthetic perfectly.
• See Best Mac mouse & Best Mac keyboard
The addition of the extra two ports (USB-C or Thunderbolt 4) and SD Card Reader on the front of the box make connectivity and download a lot easier (no reaching around and fumbling, or external readers to plug in), while the single-line rear layout helps to keep cables neat while in use.
Performance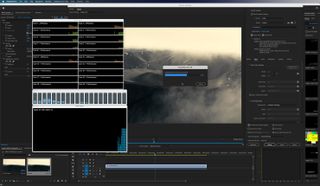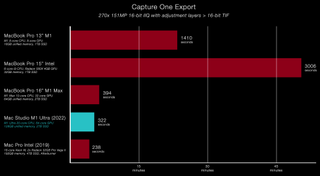 With processor speeds that rival even the most impressive of Intel Mac Pro tower configurations, there's no doubt this is an incredible piece of hardware engineering in its own right.
Topping the 16" MacBook Pro's 64GB memory limit with double that available at 128GB, along with twice the cores, GPUs and video engines, you'd be forgiven for thinking the Mac Studio should be twice as fast – but it's not.
It's very, very fast, for sure. But in testing, the single-application benchmarks we ran showed a reasonable, yet not ground-breaking, speed improvement over its laptop format M1 siblings – and there's a reason why.
The single core speed of the M1 Ultra is the same as that of the M1 Max – it's literally the same processor, doubled. So for truly multi-processor aware applications that can make use of all that multithreaded activity, you'll see a huge bump in speed, but for many applications the developers simply haven't quite caught up.
Where the M1 Ultra does, however, come into its own is in how it handles those tasks while performing others. In testing, our single-application benchmarks were left untouched when asking the system to perform them while another high-intensity task was also completing – and the Mac Studio never once broke a sweat.
With that performance in mind, this machine feels more like using my top-spec Intel Mac Pro than plugging in a 16" M1 Max MacBook Pro to work.
And all of this is occurring while listening to minimal fan noise, reduced heat output and (most importantly in today's world) a power saving of around 70% over that of the Mac Pro system (370W vs 1280W). That's almost a kilowatt saving for each and every hour you have this machine on instead of an Intel Mac Pro tower while achieving the same amount of work!
Verdict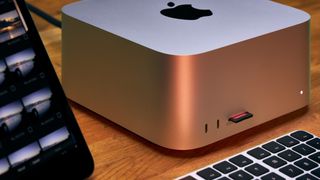 It's always good to reflect after the dust has settled on a new product launch. As the hype subsides and reality sets in, our opinions often change from the original excitement to include any real-world niggles that we've come to bear.
Not with my new Mac Studio, it must be said. After two weeks of intensive work, Apple's latest little workstation is still sat proudly running alongside my Intel Mac Tower, and is a joy to use.
Interestingly, when I've switched from Mac Pro to Mac Studio, my office temperature has dropped in by 3ºC as a result of the 1kW reduction in power use between the two, almost equally performing, machines.
However, this is not, and was never going to be, a Mac Pro replacement for those who really push Apple's top end system. The Mac Studio lacks the user-upgradability, absolute speed and expansion options for ports that its big brother still delivers in droves. Neither is it designed to be as complete a portable solution as the latest 14" and 16" M1 MacBook Pro's.
But for many desktop / remote-based users, what it delivers is complete, ample, and in a single box that just works. A box that's flexible, portable between locations, and able to deliver a high-end creative workflow with ease, in a package that's cost effective to both purchase and run.
To me, that's a new Apple product category that I can really get behind.