The best travel tripods combine portability with camera support, and they come in a wide range of sizes, so it's up to you to decide how you want to balance the size, weight and features.
Full size travel tripods reach more or less the same height as a regular tripod, but fold the legs up and around the tripod head to save space when you pack them away. Tripods with more leg sections will fold smaller but take a little longer to set up, and carbon fiber tripods cost more than regular aluminium tripods but are lighter to carry.
Alternatively, you can get mini-tripods and table-top tripods that still support the camera (or a smartphone) and let you adjust the angle, but they're small enough and light enough to fit in a bag or a jacket pocket. You need to use these on a table or a wall, for example, but they still let you get shots that would be impossible otherwise.
If you're shooting with a camera phone, you can use a regular tripod but you'll need a phone clamp to hold the phone and attach it. We have separate guides to the best iPhone tripod and even the best camera phone.
You don't want to risk blurry or underexposed shots when you're seeing some once-in-a-lifetime sights, especially when you've already chosen the best travel camera for your trip. However, just because a piece of kit is rated as the best tripod, that doesn't mean it's suitable for travel; it may be too heavy or bulky, or not equipped to stand up to challenging weather conditions. You need a travel tripod that's hardy and robust, but also packs down easily to make transportation a breeze.
Our list covers a range of tripod types, from full-size tripods that have been optimised for travel, to miniature tripods that can still take a small tripod, all the way down to tabletop tripods designed for smartphones. After all, a stable support can make all the difference to your smartphone shooting, just as it can to photographing with a DSLR or CSC.
So there's a lot of choice out there. Read on for our picks of the best travel tripods right now...
Read more: Best tripods
The best travel tripods in 2020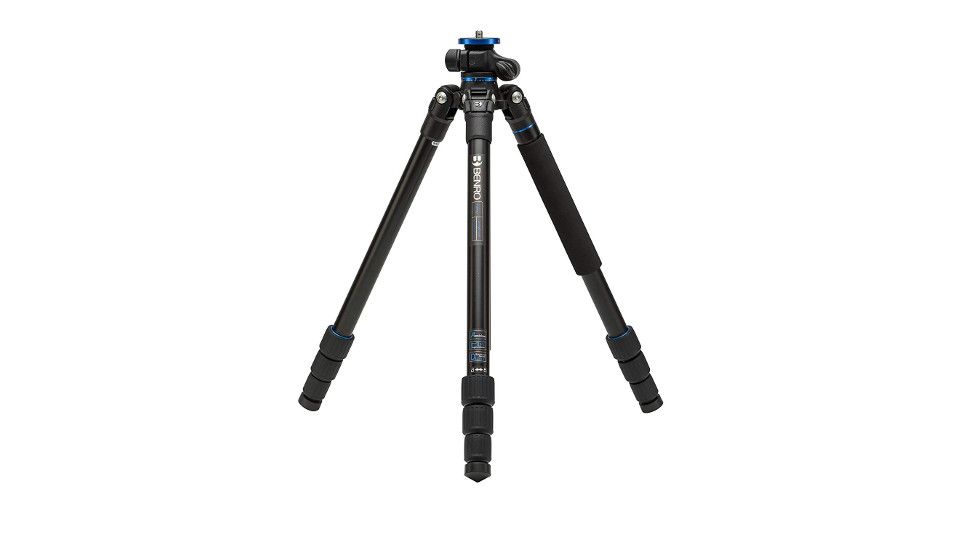 1. Benro GoPlus Travel FGP18A + B0
This is the best travel tripod for serious photography
Material: Aluminium | Extended height: 165cm | Folded height: 46cm | Weight: 1.95kg | Feet: Pads + spikes | Leg sections: 4 | Max load (legs, head): 10kg, 8kg
Good folded length
Hefty maximum load
In-built monopod
Not a whole lot!
Ticking just about every conceivable box on our wish list, the Benro GoPlus has a modest folded length and generous operating height, coupled with a hefty maximum load capacity. It's one of only two tripods in this list to feature a pivoting centre column, the implementation of which is better than in the Kenro tripod, as it enables a range of locking angles in small increments, through a complete 180-degree arc. Bubble levels are fitted to the tripod platform and head, for easy levelling, and interchangeable rubber feet and spikes are supplied, along with a padded soft case. One leg can be unscrewed to use as a standalone monopod. We recommend this as the best travel tripod right now – if you've got the space to pack it.
2. Kenro Karoo Ultimate Travel
The Kenro Karoo is not quite as smooth as the Benro but does the job
Material: Carbon fibre | Extended height: 168cm | Folded height: 48cm | Weight: 1.95kg | Feet: Retractable spikes | Leg sections: 4 | Max load (legs, head): 10kg, 8kg
Good weight and load capacity
Pivoting centre column
Rubber feet and spikes
Clunkier pivot than the Benro
The Kenro Karoo Ultimate Travel Tripod has an identical weight to the Benro above, and the same maximum load capacities. A further similarity to the Benro is that you can pivot the Kenro's centre column for use as a horizontal boom. However, the Kenro's pivot mechanism is more clunky in its design, and it doesn't enable you to lock the column at alternative angles apart from vertical or horizontal. Again, the Kenro features an Arca-Swiss compatible quick-release plate in the head, along with independent locking, panning and adjustable friction knobs. All-in-all, the Benro does beat it in the best travel tripod stakes, but the Kenro Karoo is a truly versatile tripod with very good rigidity at all heights.
3. Vanguard VEO 2 235AB Black
This Vanguard has a novel design that makes it quick to set up
Material: Aluminium | Extended height: 145cm | Folded height: 40cm | Weight: 1.4kg | Feet: Pads (optional spikes) | Leg sections: 5 | Max load (legs, head): 6kg, 9kg
Rotating centre column design
Excellent value for money
No detachable leg for monopod
Longer folded length
What makes this Vanguard kit stand out from the crowd is that it's designed differently to the vast majority of other travel tripods. Instead of the legs swinging upwards around the centre column when folded, the centre column pivots downwards through 180 degrees instead. It's odd to get used to but it saves the need to remove the centre column, invert it, and refit it. Plus points include retractable spikes within the rubber feet pads, a ball head with separate a panning lock and a widely used Arca-Swiss type quick-release plate, and a stylish padded soft case.
4. 3 Legged Thing Eclipse Leo Airhead Switch kit
Small and mighty, the Leo justifies its price tag
Material: Carbon fibre | Extended height: 146cm | Folded height: 35cm | Weight: 1.75kg | Feet: Pads (interchangeable) | Leg sections: 5 | Max load (legs, head): 30kg, 30kg
Incredible 30kg payload
Just 35cm long when folded
Detachable monopod/boom
Lots of leg clamps to tighten
This is a lot to spend on a travel tripod compared to some of the others on our list, but the Leo is no ordinary tripod. It folds down to just 35cm in length, but opens out to offer a maximum height of 146cm and a huge payload capacity of 30kg. It has a detachable monopod leg which can also be used as a microphone or camera boom, a Tri Mount system for adding accessories and an innovative two-section centre column. You can buy the legs on their own but we'd recommend getting it as a kit with 3 Legged Thing's Airhead Switch ball head.
5. Novo Explora T5
A feature-packed carbon travel tripod that's good value too
Material: Carbon fibre | Extended height: 161cm | Folded height: 47cm | Weight: 1.43kg | Feet: Pads + spikes | Leg sections: 4 | Max load (legs): 10kg
High-quality carbon fibre
Rich features and versatility
Excellent value for money
No cheaper aluminium version
The smallest, lightest and most inexpensive of Novo's Explora tripods, the T5 nevertheless has fairly large-diameter legs and a generous 10kg load rating. The design is fairly conventional, with four-section legs and a single-section centre column. As such, the folded size isn't particularly small but the carbon fibre build is reasonably lightweight, and you can also invert the centre column for shooting all the way down to ground level. Performance of the legs is excellent in all respects. Novo only manufactures carbon fibre tripods, so there's no aluminium option, but the price is extremely competitive for such a high-performance carbon kit with excellent build quality.
6. Manfrotto Element Traveller Big
The Manfrotto is packed with features and very affordable
Material: Aluminium | Extended height: 165cm | Folded height: 42cm | Weight: 1.62kg | Feet: Pads + spikes | Leg sections: 5 | Max load (legs, head): 8kg, 8kg
Good all-round design
Quick and easy to set up
No detachable leg for monopod
No head friction damper
Manfrotto's Element series of travel tripods has something for pretty much everyone. There are big and small sizes to choose from, each featuring aluminium kits in black, grey, red and blue, as well as carbon fibre editions. The 'big' aluminium option we've featured here is still fairly compact with a 42cm folded height, yet a strong 8kg load rating. The 'small' edition only has a 4kg load rating and no monopod configuration. Despite being fairly inexpensive, the Element Traveller Big certainly isn't lacking in features, and the lack of a telescopic centre column in the larger edition pays dividends when it comes to rigidity. The ball head has an independent panning lock and two bubble levels, but no friction adjuster. In our tests, this tripod proved rigid and resistant to vibrations; it's a good performer and easy to use. It's one of the best travel tripods in this price bracket.
7. MeFoto RoadTrip Air
Tiny when folded and perfect for smartphone users
Material: Aluminium | Extended height: 156cm | Folded height: 28cm | Weight: 1.1kg | Feet: Pads | Leg sections: 5 | Max load (legs, head): 6kg, 6kg
Smallest and lightest tripod on test
Smartphone clamp and remote included
Built-in selfie stick
Five section legs make setup slower
The MeFoto Air is the lightest tripod here, at just over 1kg, and folds down the smallest, to a length of just 28cm. Nevertheless, it stretches to a decent maximum operating height of 156cm, thanks to having five sections in each leg, plus an extending centre column. A selfie stick can be created by combining the extending centre section with the supplied smartphone holder. The kit also comes with a Bluetooth remote control you can pair to your smartphone. For using 'proper' cameras, the small ball head features an independent panning lock/release and an Arca-Swiss type quick-release plate. Despite its light construction, the MeFoto doesn't feel flimsy and is reasonably resistant to flexing.
8. Manfrotto PIXI Evo
This is what table-top tripods look like in the 21st Century!
Material: Aluminium | Extended height: 20cm | Folded height: 20.5cm | Weight: 0.267kg | Feet: Flat | Leg sections: 2 | Max load (legs, head): 2.5kg, 2.5kg
Small enough for a coat pocket
Two-section legs
Push-button ball head
Low maximum height
If your experience of old fashioned table-top tripods has been the pain of screw-in legs and wibbly-wobbly camera mounts, welcome to the 21st Century! The PIXI EVO is an advanced version of Manfrotto's original PIXI model and is just as fast to use – you flip out the legs to use it as a tripod or push them back together to make a camera grip – with a ball head that's released and locked with a simple push button. What the EVO adds is two-section legs (yes, really) and two leg angles for low-level shooting. You can get an optional smartphone clamp but its ball head fits directly into regular camera tripod sockets, and it can support compact cameras and small DSLRs and mirrorless models. Yes, the maximum height is restricted, but it's super-fast to set up and you can keep it in a jacket pocket! This, or a mini-tripod like it, is the best travel tripod for those who don't want to carry a full size version.
9. 3 Legged Thing Iggy Mini Action Tripod + Phone Holder
It's not just for cameras, but smartphones and action cams too
Material: ABS plastic | Extended height: 14cm | Folded height: 18cm | Weight: 0.15kg | Feet: Flat | Leg sections: 1 | Max load (legs, head): 1.2kg, 1.2kg
Just 150g
Doubles as a camera grip
Versatile accessory kit
Limited height
The Iggy doesn't have the two-section legs of the PIXI EVO or the variable leg angles, but its fold-out legs are just as quick to use and they fold back in to form a handy, er, handle for holding a camera, smartphone or action cam. Speaking of which, it's definitely worth getting the kit that includes a GoPro adaptor and cradle phone holder. It doesn't add much to the price but it makes the Iggy even more versatile. The 1.2kg payload is enough to cope with a compact camera or a small DSLR/mirrorless model, and the ball head locks with a big rotating colour in bright orange. It's easy to grip and you can't miss it.
10. Adonit Photogrip
This combined smartphone grip and mini-tripod is sheer genius
Material: PC+ABS | Extended height: N/A | Folded height: N/A | Weight: 0.064kg | Feet: Flat | Leg sections: 1 | Max load (legs, head): N/A
Doubles as a smartphone grip
Trouser pocket sized tripod
Integrated Bluetooth remote
Balance issues with big phones
If you do your travel photography with a smartphone, this is the gadget you need. It's a spring-loaded grip that opens wide enough to fit even a fat smartphone and clamps around it securely. In the base is a tripod socket for a regular tripod or the tiny pocket tripod included in the kit – you can also use this with the legs folded in as a camera grip. In the top is a Bluetooth shutter button that's actually built into a tiny remote you can slide out to fire the shutter remotely! You do need to position bigger phones carefully in the clamp to stop the tiny tripod from tipping over, but otherwise this is sheer genius.
Also read: