The best camera apps can take your smartphone's image capture to a whole new level! Smartphone cameras have come a long way over the last few years. In fact, even photographers who used to be very sniffy about using them can often be found reaching for their phone as a convenient alternative to a bulky camera.
That's partly a testament to how good the image quality is from the average smartphone now, but it's also because a phone makes it easy to shoot and share an image in an instant and keep your Instagram story up to date.
However, the native camera apps in most smartphones don't always give you the result that you're looking for. It can sometimes be tricky to get the exposure just right, for example, or the light is having a funny effect on the colour of your images and you need to adjust the white balance. Or perhaps you're just looking for something a bit more interesting and creative than a 'straight shot' from your camera phone?
Thankfully, there's a wealth of third party camera apps available for both iOS and Android devices to help you get more from the camera in your phone in a range of situations.
We've included apps that give you DSLR-like control along with some that keep things very simple but enable you to apply effects at the shooting stage, saving you time editing your photos later. They also let you preview your images and tweak the settings so that you know you've got exactly what you want even before you tap the shutter button.
We've included a mixture of 'serious' apps to satisfy hardcore photographers as well as some that let you have a bit of fun with your phone when you want to capture those laugh out loud moments.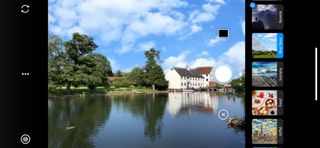 Adobe Photoshop has a reputation as a serious software package for serious photographers, so Adobe Photoshop Camera might come as a bit of a surprise to some users. It's designed to be very easy to use and there's a huge range of effects (called Lenses) available. The Lens options are arranged in categories along the bottom of the screen. Just tap on the one you want and then swipe across the screen to see the impact of the available effects. The clever part is that the app uses Adobe's Sensei artificial intelligence (AI) technology to identify the subject and apply the Lens effects accordingly. There are some crazy effects available but you can also make portraits more flattering and replace dull skies with something more interesting.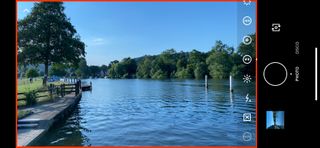 Although VSCO is free to download you only get access to 10 of the 200+ creative effects and the paid membership is pushed HARD. So it won't be long before you either abandon it or sign-up for the 7-day free trial. The camera is found in the Studio area. Once the camera is activated you get access to a nice range of controls including a slider that lets you shift the focus forwards and backwards until its exactly where you want it. There are three viewing options available, a clear one, one with a grid to help with composition and a third that has an electronic level to put an end to wonky horizons. Once you've captured the image you have the option to apply one of the preset effects and/or publish it to your VSCO account and share it to your connected social media channels.
• Get VSCO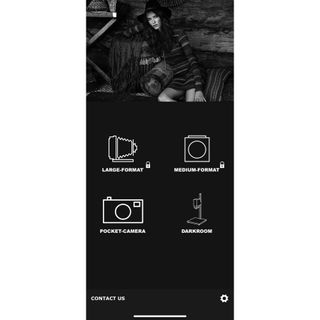 This app enables you to convert existing colour images into black and white or you can pick a camera to shoot monochrome negatives. The point-and-shot 'pocket camera' is available with the free app but you can also buy 'medium' and 'large format' cameras for $1.99/£1.99 each. Once you've captured your image you need to open the 'darkroom' and select the correct exposure from the 'test strips'. With that done you're able to crop the image and use the dodge and burn tools to selectively brighten and darken specific areas of the image. You can even create masks and apply gradients to target the right sections.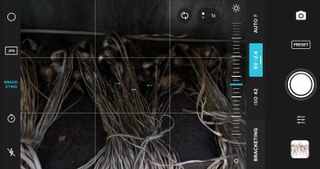 Designed to complement Moment's range of smartphone lenses, Pro Camera by Moment offers control over aspects such as shutter speed, ISO, exposure compensation, focusing and white balance. The sliding controls are easy to use with haptic feedback adding to the experience. The focus peaking is useful for keeping an eye on the sharpest areas of the image while highlight and shadow clipping can also be activated to help ensure you get the best exposure. In really tricky conditions, the automatic exposure bracketing is useful, enabling you to take 3 differently exposed shots with one tap of the shutter release.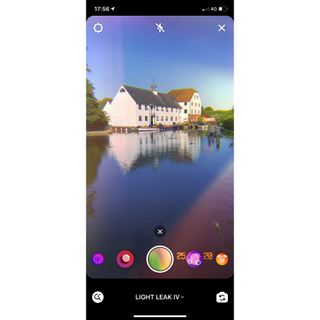 Instagram is best known as a social media platform for sharing images, but it also has a camera element that lets you create Instagram stories (images and video that are only visible for 24 hours) from within the app. You can shoot and post unadulterated, fully-automatic snapshots and add tags, text, mentions and GIFs, but there's also a hug range of effects that you can apply as you take the shot. There's everything from beautifying filters to cute animated bunny ear stickers and pride colour filters or campaign slogans. Once you've got the shot nailed and added any tags etc that you want, hit 'Your stories' to share it with the world.
• Get Instagram for iOS
• Get Instagram for Android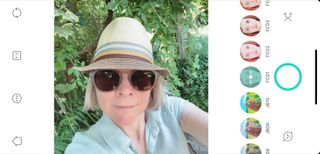 Created for selfie and portrait-shooters, Candy Camera offers a long list of preset filter effects that can be applied with a tap on a thumbnail image. Unfortunately, the effect thumbnails are very small and they have names like EV01 and JB02 that leave you guessing, so you have to tap a few to find one you like, but the results are more flattering than a standard selfie. There's not much in the way of control but you can adjust the degree of effect applied and use the Skin perfecter and Facelift controls to make the camera kinder. There's also a neat layout control that makes it easy to create a grid of images as you shoot them.
• Get Candy Camera for iOS
• Get Candy Camera for Android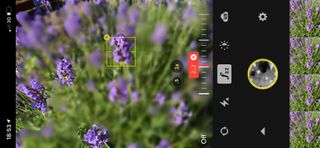 With a DSLR, the aperture is used to control depth of field – the size of the sharp area in front of and behind the subject. Focos replicates that control with a simple slider to enable you to capture blurred or sharp backgrounds. It's great for making your subject stand out from its surroundings or reducing the impact of a messy background. The app also lets you turn the flash on or off (or set it to auto), adjust the exposure bias (aka compensation) and shift the white balance from cool to warm. The icing on the cake is a collection of aspect ratios (including the cinematic 2.35:1) and an electronic level that helps you get the horizon straight.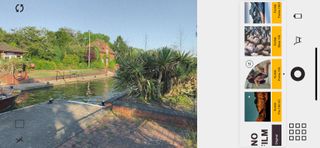 It's from the same developer as Darkr, but this app is a little simpler to use. After opening the camera, the first step is to select the type of film that you want to use from Color, Slide, B&W, Instant and Infra Red (spoiler – there are no free Infra Red films available). Then you can choose the specific film emulsion that you want to use, tapping on the thumbnail to see a preview of your scene with the effect applied. Tapping the thumbnail a second time lets you adjust the ISO – but that's it. Any effects marked 'Pro' are only available if you upgrade to the Pro account (£4.99), alternatively, you can buy the elements separately – 130+ films for $3.99/£3.99 and $1.99/ £1.99 to be able to add dust and light leaks or change the bokeh.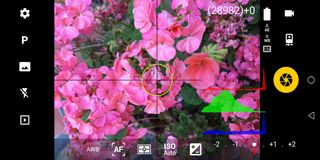 If you've got an Android phone and you want DSLR-like control over the camera, Camera FV-5 is the go-to app. And if your phone supports it, you can even shoot 16-bit DNG raw files for more scope for post-capture adjustment. Although there's no control over background blur, there are some great features like face-detection autofocus, macro and infinity focusing, a histogram view that lets you check for burned highlights, a self-timer and long exposure shooting up to 60 seconds. There's also a built-in intervalometer that takes the maths out of creating time lapses, but it's down to you to convert the stills to video.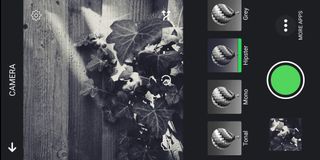 There are lots of black and white conversion apps but Black and White Camera lets you shoot in monochrome and convert existing images. Although the app is free you need to pay to get the full app to avoid a watermark from spoiling your images. It's a very straightforward app to use, just select 'Camera' and then pick from the 25+ effects that you want to apply. The first few, Tonal, Mono, Hipster, Grey and Pop produce subtly different results that look good. Scroll on further and you'll find the low saturation Burnt filter and a selection of options that have vignettes, textures (bullet holes anyone?) and light leak effects. If you're not sure what to go for, try tapping the randomiser button.
• Get Black and White Camera for Android

Read more:
• Best add-on lenses for phones
• The best camera phones
• Best iPhone for photography
• Best budget camera phones
• Best gimbals for camera phones
• Best phone tripods and supports
• Best power banks for phones