The best bridge camera combines the convenience of a compact camera with the zoom of a telephoto lens and the ergonomics of a DSLR. In fact they look and feel pretty similar to a DSLR, but they have a fixed lens and usually a massive zoom range – sometimes all the way up to 3000mm, which is a lens doesn't even exist for a traditional camera system!
This hybrid performance makes the best bridge cameras great for capturing wildlife, sports, or even astrophotography – and they won't cost you the earth. The enormous zoom covers everything from wide-angle landscape shots to detailed images of a single bird in the distance. Combined with fast burst speeds and 4K video, this can make them perfect for family, travel, and animal photography – but the massive zoom capability comes with a few compromises.
The main one is that image sensors in bridge cameras are smaller than those in the best DSLRs and best mirrorless cameras. They generally offer lower resolution, have less dynamic range and don't perform as well in low light. The fixed lens offers huge zoom, but doesn't shoot genres like macro photography – and combined with the smaller sensor, makes it harder to blur backgrounds for things like portraits.
Despite the limitations, bridges are still incredibly useful. You get a whole lot of bang for your buck and they put a lot of power in the hands of even inexperienced cameras users. Here are the best bridge cameras based on size, features, zoom reach, portability, and price…
Best bridge cameras
Why you can trust Digital Camera World Our expert reviewers spend hours testing and comparing products and services so you can choose the best for you. Find out how we test.
Best bridge cameras: Top picks
There's no doubt that the 20.1MP, 1-inch sensor Sony RX10 IV is the "best" bridge camera right now in terms of image quality – but it has a much more limited zoom range than its rivals. Which isn't to belittle its still-amazing 24-600mm range, as that is definitely more than enough for most people!
However, for me, the Nikon P1000 is definitely where I'd put my money. Yes it's only 16MP and yes it's only a 1/2.3-inch sensor, but its zoom range is an absolutely absurd 24-3000mm. After using this to photograph wild animals, trust me – you'll be sold (provided you don't need to print your images too big).
For an all-round performer, you can't go far wrong with the Panasonic Lumix FZ82. It still rocks a 1/2.3-inch sensor but packs 18.1MP of resolution, and a 20-1200mm zoom that offers the best wide-angle shooting capability of anything on this list (married with a 1200mm maximum reach – a lens that would cost you 20 grand for a traditional camera!).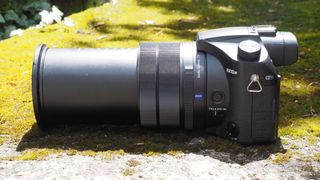 Even though the Sony Cyber-shot RX10 IV is the most expensive camera on our list, it has a high price tag for a reason. The most exciting upgrade from the RX10 III is the 315-point phase-detect AF system, which makes it much better at tracking moving subjects. It's also the first RX10 with a touchscreen.
Bluetooth and WiFi connectivity make it possible to share images to your smartphone on the move and, while the 24-600mm lens might not offer the biggest focal range, the fantastic 1-inch Sony sensor delivers arguably the best image quality of any camera here.
It's capable of 24fps continuous burst shooting as well as 4K video, making it a versatile and powerful all-round performer – even though you'll need to dig a little deeper into your funds.
Read our full Sony RX10 IV review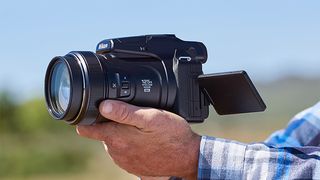 I've never owned a bridge camera in my life, but as soon as I used the P1000 I knew that I wanted one! For me, the all-in-one zoom range is the most important thing on a bridge – and at its max zoom, the Nikon P1000 has an astonishing 3000mm focal length. Even if such a lens were available for a mirrorless camera (and even if it was affordable), the ability to go from shooting at 24mm all the way to 3000mm in a matter of seconds, without having to switch lenses, it simply incredible.
When shooting at the telephoto end, you do lose 3 full stops – taking the aperture down from a solid f/2.8 to a less impressive f/8. And at longer focal lengths there is a noticeable softness in images, even with the best camera technique (aided by impressive image stabilization). This isn't helped by the sensor being a relatively small 1/2.3-inch affair, and just 16MP at that.
Still, the P1000 boasts a high-resolution electronic viewfinder, 4K video capabilities and it shoots in RAW – and did I mention that its maximum zoom is three thousand millimeters? Okay, it's a high price for not a lot of sensor, but if range is your top priority then there's nothing better out there.
Read our full Nikon P1000 review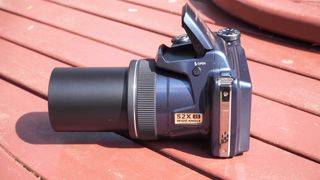 Kodak continues to play to a niche but potentially still a sizeable audience of photographers who competing brands have moved on from, with the Pixpro AZ528 all-in-one 'superzoom' while others have abandoned the area.
The huge 52x zoom still comes in very handy not just for budding wildlife photographers but also for casual sports photography fans, which makes this an incredibly versatile camera. However, it's still saddled with a small-ish sensor and any camera like this means softer results when shooting handheld the further we creep towards its maximum zoom setting.
Read our full Kodak PIXPRO AZ528 review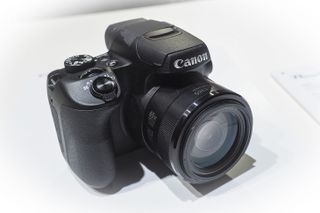 On paper, the SX70 HS looks a close rival to the Panasonic FZ82 (below), offering a slightly longer maximum zoom and nearly matching the Panasonic's wide-angle setting. But its f/3.4-6.5 maximum aperture range is on the low side and its 20MP resolution can't overcome the limitations of the small 1/2.3-inch sensor size.
The SX70 does handle well and it's not that big for a bridge camera, but the opposition has moved on, with bigger zoom ranges, bigger sensors, or lower price points. The SX70 HS offers solid enough specifications but at a price point that makes its rivals look more tempting.
Read our full Canon PowerShot SX70 HS review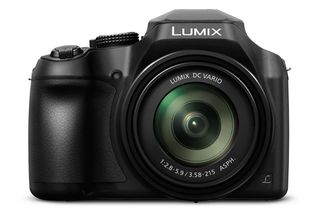 The Panasonic FZ82 might not have the same zoom range as the Nikon P950 but at 20-1200mm it's still pretty impressive. It has a maximum variable aperture of f/2.8-5.9 and uses a 1/2.3-inch sensor which isn't the best for low light but it does enable it to have a bigger zoom range.
The price of the FZ82 is also pretty appealing, and you still get a lot of useful features. It can shoot 4K video and takes advantage of Panasonic's 4K photo mode for high-speed image capture. The 20mm wide-angle focal length is also a lot wider than most bridge cameras which makes it perfect for shooting landscapes or in small, indoor spaces.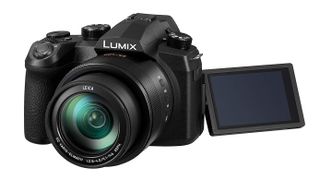 The FZ1000 II is a welcome update to the original Panasonic FZ1000 bridge camera. Look closely, and you'll see that you're still getting a hell of a lot of current tech for the money.
The 20.1MP 1-inch sensor and 25-400mm Leica-branded lens come together to form a capable core, with 4K UHD video, 5-axis image stabilization, a 2.36 million-dot OLED viewfinder, WiFi, and a raft of video-specific additions such as zebra patterning on top of it. Definitely one to snap up if you don't need the fancy tricks of the more recent FZ2000 / FZ2500.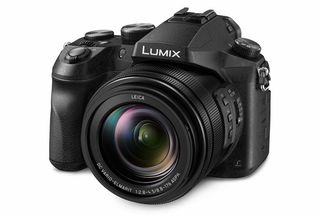 Panasonic already won many people over with the FZ1000, with its 1-in sensor, 25-400mm (Equiv.) f/2.8-4 zoom lens, 4K video, and masses of control making it a fine DSLR alternative. The FZ2500 (sold as the FZ2000 in Europe) delivers plenty more, including a slightly longer lens, touch-screen control, and an electronic viewfinder with a slightly higher magnification than before, but it's in the video where Panasonic has made the most significant improvements.
So, here we get DCI 4K video and a variable ND filter, for example, although the latter can, of course, be used for stills too. The lack of weather sealing is a pity, but its falling price, together with the occasional cashback deal, makes it a brilliant-value competitor to models in Sony's RX10 series.
If you need something more for stills than video, however, you may find the FZ1000 II (above) makes more sense – particularly when you see just what you get for the money.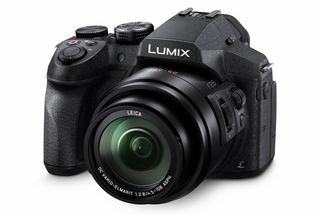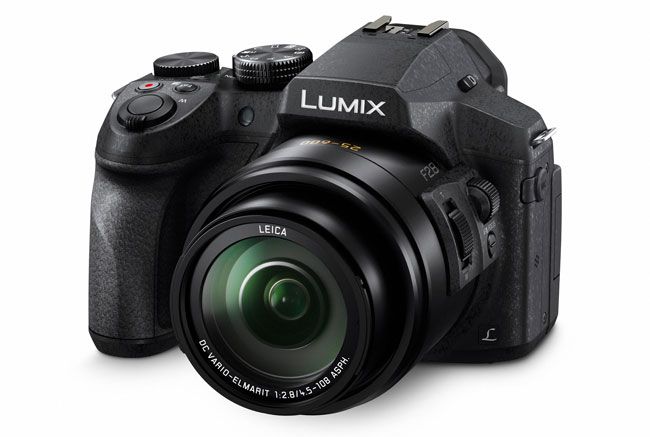 From its junior models right through to its various flagships, Panasonic has always been generous with features. This has enabled its models to remain appealing in the face of newer competitors, and 2015's FZ330 exemplifies this perfectly: a sub-500 bucks camera with 4K video recording, a splash-resistant body, and a 25-600mm lens with a constant f/2.8 aperture.
You simply don't get that anywhere else right now! On top of that, there's a tilting touchscreen, a 1.44 million-dot EVF, Wi-Fi, and image stabilization, which round off the specs to deliver a mighty fine proposition for the advanced novice or enthusiast on a budget.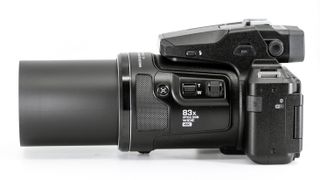 The Coolpix P950 was a successor to the P900, and showed Nikon's ambition to have the biggest zoom on a bridge camera – a record-breaking baton now held by its bigger brother the Coolpix P1000 (above). Nonetheless, the lens on the P950 remains impressive, boasting 83x optical zoom with an equivalent focal length range of 24-2000mm – and if this somehow isn't enough for you, it can be digitally extended to 4000mm.
The P950 added a lot of features that people felt were missing or subpar on the P900: it improves the viewfinder, adds RAW capture and ups the maximum video resolution to 4K. The only reason it's not further up the list is its small sensor size – and that it now stands somewhat in the shadow of the P1000.
How we test the best bridge cameras
We test cameras both in real-world shooting scenarios and, for DSLRs and mirrorless cameras, in carefully controlled lab conditions. Our lab tests measure resolution, dynamic range, and signal-to-noise ratio. Resolution is measured using ISO resolution charts, dynamic range is measured using DxO Analyzer test equipment and DxO Analyzer is also used for noise analysis across the camera's ISO range. We only use real-world testing for our guides to instant and compact cameras – comparing results against similar models that we have tested.
How to choose the best bridge cameras
Firstly, you need to decide on how to balance the size of the camera you want to carry to the range of the zoom. While a bigger sensor is advantageous, it does mean that often you'll have a smaller zoom range so you'll need to decide what's more important - image quality or the amount you can zoom. Depending on what you plan on shooting most will determine what should be more important. If you are investing in a bridge camera to take on Safari, for example, it might be a good idea to opt for something with the biggest zoom range possible but if you want a versatile, all-rounder and can forgo a 1000mm zoom I'd definitely opt for image quality.
You'll also need to think about how much you're willing to spend. The bigger sensors do come at a higher price tag but often have features that make it worth it. For this reason, we've split the guide into 1-inch sensor bridge cameras with a smaller zoom range and 1/2.3-inch sensor bridge cameras with a massive zoom range and average picture quality.
Best bridge cameras: FAQs
What is a bridge camera?
The aptly named bridge camera bridges the gap between DSLRs and compact cameras. They have bigger bodies, non-interchangeable lenses with massive zoom ranges, and small(ish) sensors. When bridge cameras first came out, they had really small 1/2.3-inch sensors, like the kind you find in the best point-and-shoot cameras.
However, these days brands such as Sony, Panasonic, and Canon make bridge cameras that have a larger, 1-inch sensor. They offer better image quality and better low-light performance but these features come at a price.
Is a bridge camera good for wildlife photography?
Bridge cameras can be excellent tools for wildlife photography. The incredible zoom range they offer means they are fantastic all-in-one tools that go from close-ups shots in one instant to telephoto shots the next – making them more flexible than any DSLR or mirrorless camera setup, even if you could afford the equivalent lenses.
The only thing to be aware of is the sensor size of bridge cameras. Because they tend to top out at 1-inch, they simply can't offer the same resolution, fidelity or performance. If you want to blow your pictures up into huge prints, especially working in low light, a traditional camera will offer better quality. But for online use, social media sharing and photo books, bridge cameras are very formidable.
What is the best bridge camera brand?
Most of the big brands make bridge cameras, and they all offer good performance – so it really depends on what you're looking for. The Sony RX10 IV is considered to boast the best image quality, Panasonic's bridge cameras possess all-around performance, while Nikon's P1000 and P950 are the best in terms of zoom range.