The best mini tripods give you all the stability of a full-size tripod, while being lighter, more compact and easier to carry. Typically, they weigh just a few hundred games, and you can easily slip them into a pocket. They also tend to cost less than full-sized tripods.
Some of the best mini tripods are also multi-functional and can be converted to a handgrip or selfie stick, giving you extra functionality and flexibility when you're out shooting. Otherwise, a mini tripod can open up all sorts of possibilities, including long exposures, group selfies, and more.
Below you'll find our selection of the best mini tripods available today. We've included a number of specialist models, such as Joby's grippy GorillaPod, which can cling to protruding objects or sit on uneven surfaces thanks to its flexible legs. But other mini tripods have their advantages too – several come with a ball head for precise angles and positioning, while others have extendable legs for extra height or an adjustable central column. We've noted such features when making our picks.
The best mini tripods in 2023
Why you can trust Digital Camera World Our expert reviewers spend hours testing and comparing products and services so you can choose the best for you. Find out how we test.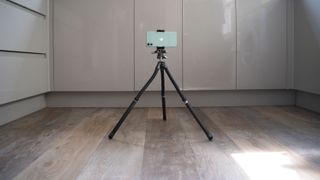 If you're looking for a versatile tabletop tripod that isn't just confined to a tabletop look, no further than the Benro Tablepod Flex. Including a set of flexible legs inside the solid legs is ingenious, as it means you can attach it to any surface when out and about. You can also configure the legs to form a monopod/selfie stick if you should need some extra reach and it comes with a mobile phone adapter so it can be used with either a smartphone, compact camera, or small mirrorless.
If you often use accessories such as a light or mic, you'll be pleased to hear it comes with two accessory arms so you can attach different devices easily. It's a little on the expensive side for a tabletop tripod. But considering all the well-thought-out features, it's worth spending a bit more.
Read our full Benro TablePod Flex Kit review for more details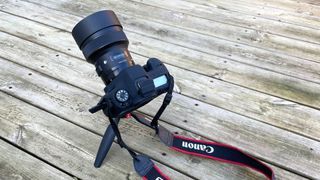 Given Manfrotto's sterling reputation in the tripod market, it makes sense that the firm's mini support would also be impressive – and the Manfrotto PIXI is just that. It's a fairly standard mini tripod in a lot of ways, small enough to slip into a jacket pocket or small bag, and capable of holding up to 1kg of kit. It also adds into the mix a handy ball head with 360° of rotation and a simple push-button secure and release mechanism. Be aware that it doesn't tilt up more than 35°, making astrophotography impracticable.
In our review, we were impressed most of all by the build quality of the Manfrotto PIXI – its aluminum legs are smoothly curved in a way that just feels premium. What's more, when they close, they form a single rounded column that transforms the PIXI into a pretty serviceable camera grip, which is extra useful for video.
Read more: Manfrotto PIXI mini tripod review read our full review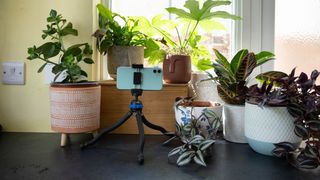 If you're an on-the-go content creator, travel blogger or even a fitness coach I can really see the advantages of the KoalaPod. For the price, it's much better than most tabletop tripods and it's especially useful if for example you're in the gym and you want to record a workout, as what you can attach it to is pretty limitless. Even just using it as a standard table-top tripod, it feels more secure than you might imagine. Or you could just use it as a small selfie stick for those moments when you want just a little more background than you can achieve with your arms length.
I wouldn't trust it to take the weight of my Sony A7 III with a lens attached, even though it's advertised as being able to take the weight. But for a phone or smaller camera, it's perfect.
Read our full Benro KoalaPod review for more details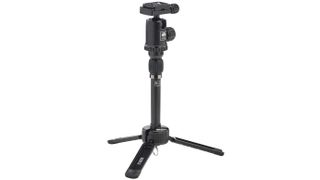 Sirui's entry stands out thanks to its almost entirely metal construction. It certainly feels like a premium product, especially next to more budget rivals. Load capacity is a respectable 4kg, and we found the 3T-35K easily supports a full-frame DSLR and 24-70mm lens. This sturdiness does have an impact on weight though, as the 3T-35K tips the scales at 430g. That's noticeably heavier than Manfrotto's 260g Pixi Evo mini tripod.
The legs fold out from their resting position alongside the centre column, and a quick twist of the central 'spider' locks them in their outstretched position. The two-section centre column can then adjust your shooting height from 25.5cm up to 34cm, or you can remove the column completely and mount the head directly to the legs for a lower stance, though this is a bit of a faff that requires the use of an Allen key.
The support is topped off by a good-sized and precisely-machined aluminium ball head. It features separate pan adjustment, though this is of limited use as there isn't a dedicated knob to adjust the pan base independently.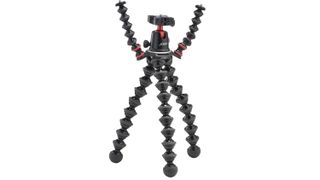 You can get GorillaPods in numerous sizes to suit cameras from a GoPro up to a full-frame DSLR, and all make great tabletop tripods, but we went for the flagship GorillaPod Rig to see what the GorillaPod design is really capable of.
The Rig is intended to hold not just your camera, but with those 'arms' on either side, you can also add accessories like LED lights, microphones, a small external video monitor, or even a phone (via an optional clamp). The system works best for shooting video closeups, but it can be equally effective for macro stills when you position a light on either side of your camera. This can be anything up to a full-frame DSLR, as the total load rating is 5kg.
The Rig is bundled with a high quality ball head that features separate pan adjustment. Grippy locking knobs clamp the head very well, and your accessories mount to the GorillaPod arms using standard ¼"-20 screw threads.
The legs are the largest in the GorillaPod range, measuring around 27cm long. They allow you to wrap the Rig around static objects, so this needn't just be a tabletop tripod, and Joby also bundles a strap that lets you to tie the Rig to even larger objects, such as a tree trunk.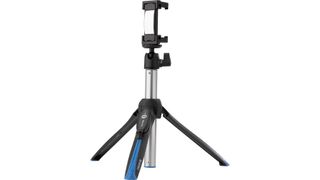 While it's not the sturdiest tripod around, Benro's BK15 weighs just 200g, and can transform into a selfie stick. With its six-section telescoping post, it's got decent reach. And it comes with a Bluetooth remote, so you've got everything you need to take serious selfies.
As a tripod, the BK15 is fine, as long as you're rocking a seriously light setup. That maximum load capacity pretty much just puts you in smartphone territory, and indeed the BK15 comes with a smartphone clamp. Still, a smartphone is what a lot of people shopping for a mini tripod are shooting with, so it does somewhat make sense.
The little ball head gives you a decent amount of shooting versatility, and the clamp range of 48-100mm means it'll fit basically any phone except the very largest or very smallest. For smartphone shooters, this gets the job done nicely.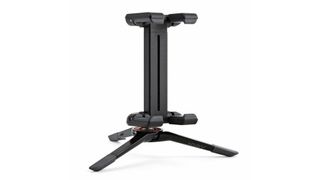 Mini tripods are also a great way to improve your smartphone photography, and the Joby GripTight ONE Micro is a solid choice in this department. The versatile clamp can take phones of most sizes and hold them securely, and it provides a rock-solid foundation to experiment with longer exposures and other types of tripod shooting.
The catch is that it doesn't have much in the way of height, so you'll need a table or other surface to rest it on. It packs down nicely though, meaning it's great to have along with you when you're travelling light and want to take group shots or long exposures.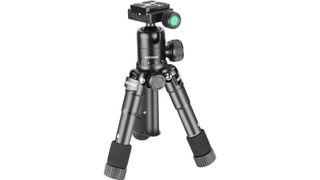 Able to hold as much as 5kg in weight, the Neewer Desktop Mini Tripod can stand up alongside much larger tripods. That's more than enough to hold a mirrorless setup or even a lighter DSLR, giving you real versatility from a tripod that slips easily into the bottom of a backpack.
It's pleasingly sturdy, and five leg sections, has plenty of scope for precise angle adjustments. Its maximum height is about 50cm, which is pretty good for a tabletop tripod, and having a 360-degree ballhead on top is no bad thing either.
The main drawback is its weight. It's significantly heavier than other tripods on this list, and arguably heavier than a tabletop tripod should be. So that's something to bear in mind before you hit "buy" on this particular piece of kit. If that doesn't bother you, this is a solid pick.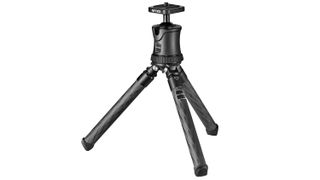 Mini tripods can often also be short on build quality, but Gitzo's mini marvel is a noteable exception. It's constructed using the same carbon eXact tubing tech as full-size Gitzo legs and is topped off by an equally well made aluminium ball head. The ball itself clamps super-securely using the grippy locking ring at the base of the head. Gitzo rates the load capacity at 3kg, and that's fair, as it feels rock solid, even when the legs are spread to their widest setting. A neat pull action on each leg lets you switch between the two available angles.
If you need to support even more, the legs themselves have a colossal 25kg load rating. Just remove the head using the included Torx wrench, and the provided adaptor allows fitment of a beefier head to maximize the legs' carrying capacity.
Equally impressive is the tripod and included head weigh a combined 265g, which makes this one of the lightest mini tripods on the market. The Mini Traveller is available with two color options: black, or Gitzo's signature 'Noir Decor' mottled gunmetal grey finish.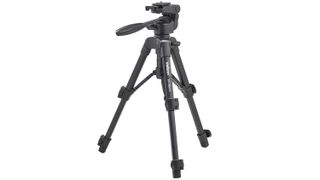 As tabletop tripods go, the EX-Macro is bigger than most, measuring 28cm long and requiring a 9cm-diameter slot in your kit bag. It's also on the heavier side at 560g, but the EX-Macro is closer to a full-size tripod in design than a typical tabletop tripod. The legs have three sections and lock using conventional lever clamps, while the centre column has 6cm of height adjustment. Maximum shooting height is a very versatile 56cm, and the legs can support up to 2.5kg of payload, though Velbon recommends 1.5kg as a safer bet.
It's a surprisingly conservative load rating given the tripod's substantial size, but the problem is the unashamedly plastic construction. As a result, the three-way pan and tilt head feels very cheap, and the tiny plastic quick release plate is especially nasty, causing a heavier DSLR to wobble more than we'd like. It's a pity given the head's separate pan and tilt adjustment should be ideal for delicate macro compositions.
The head is definitely the weak link in the setup, and it can't be replaced. The legs actually hold very securely under much more than 2.5kg, with extra - albeit completely plastic - bracing helping their rigidity. This bracing can also let the leg angle extend wider for extra stability.
How we test mini tripods
When we review mini tripods, we look at build quality, portability and vital specs such as payload capacity. We take the mini tripods out into real-world conditions to assess how they perform in the field with camera and smartphone setups. We look at the headline features and manufacturers' claims for a mini tripod, and test out how well they work in reality. We use our findings to inform our comments in product reviews and buying guides.
What is a mini tripod?
A mini tripod is a small and portable camera support system with adjustable legs. Like any tripod, it's designed to provide stability and support for cameras and other equipment. The main difference is that it's compact and lightweight, making it easy to store and carry. Mini tripods are also usually cheaper than a full-sized tripod.
Will a mini tripod fit my camera?
Mini tripods can typically support a range of cameras, including DSLRs, mirrorless cameras, compact cameras, action cameras, and smartphones. However, they are typically designed for smaller, lighter cameras. Some may support heavier equipment, but it's essential to check the tripod's weight capacity before buying, to ensure it can handle your gear.
If you're using a smartphone, you'll probably be fine with pretty much any mini tripod, but if you're using a light DSLR, mirrorless, or compact camera, you'll need to be sure it can take the weight. (And remember: that's the weight of the camera and lens combined.) We've specified the maximum payload capacity of every mini tripod on our list above to help you keep track.
Every mini tripod on our list is capable of supporting an action camera or camera phone (though a phone will require an additional clamp to secure it to the tripod), and some are capable of supporting much heavier payloads than that. The heftiest models can take a full-frame DSLR with lens attached.
Read more:
Best tripods
Best travel tripod
Best video tripod
Best iPhone tripods and supports
Best carbon fiber tripods