UPDATE, August 2023:
Numerous stories are emerging from credible tech websites and individual users that some SanDisk and WD-branded portable SSDs are experiencing sudden and unpredictable drive failure, resulting in data loss. We have contacted parent company Western Digital for a statement on the issue but have yet to receive a response. Consequently we cannot unreservedly recommend the purchase of a SanDisk or WD-branded portable SSD until the matter has been decisively resolved.
SanDisk and its parent company, Western Digital, are one of the best-known names in digital storage. It offers an extensive range of memory cards, flash drives, hard drives and solid-state storage drives. The Extreme Pro Portable SSD (solid state drive) has been around for quite a while but the most recent incarnation (V2) is capable of read and write speeds that are twice those of its predecessor, making it a contender for one of the best portable SSDs around..
Although SanDisk refers to V2 on its website, that isn't included in the product name on the drive itself or its packaging. However, the data transfer markings on the packing make it clear which version of the drive you are looking at.
Specifications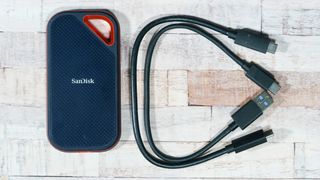 Max read speed: 2000MB/s
Max write speed: 2000MB/s
Available capacities: 1TB, 2TB, 4TB
Key features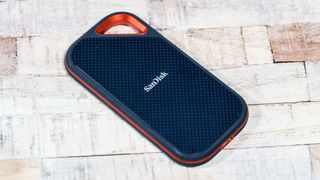 SanDisk offers the Extreme Pro Portable SSD V2 in three capacities, 1TB, 2TB and 4TB. Whichever capacity you opt for, the drive uses NVMe technology to deliver sustained read and write speeds of up to 2000MB/s.
It has a USB-C port and comes supplied with a USB-C to USB-C and a UBC-C to USB-A cable so you can use the drive with old and new computers. It's also compatible with a range of USB-C smartphones.
The drive is supplied with Security for Mac and Windows onboard and ready to download to a computer to enable it to be password protected.
Build and handling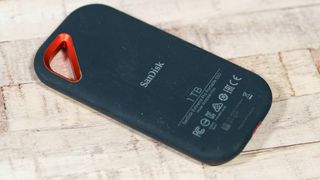 The chassis of the Extreme Pro Portable SSD V2 is made from forged aluminium to make it very strong but lightweight. And at just 10.22x57.34x110.26mm, it's small enough to slip into a camera bag unnoticed.
SanDisk also covers the aluminium chassis in a silicon shell to make the drive nice and rugged, and it feels like a high-quality item but the coating seems to collect a bit of fluff.
The Extreme Pro Portable SSD V2 is claimed to be capable of surviving a drop from 2m and it's IP55 water and dust resistant, which is great news if you spill a mug of tea on your desk or you're working in a harsh environment. I found no reason to doubt the claims. Further reassurance comes from the 5-year warranty.
Like the original drive, the Extreme Pro Portable SSD V2 has a hole through one corner which can be used to clip it onto your bag using a karabiner or something similar to keep it safe.
As I mentioned, SanDisk supplies the drive with two USB cables, but they are only around 25cm long (not including the connectors). If you're working with a laptop on a desk or table, that's likely to be fine, but you have a desktop machine, or you work with your laptop on your lap, you're likely to need to invest in longer cables.
Performance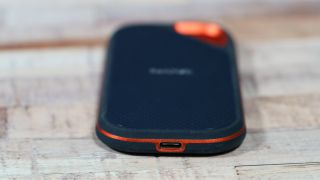 The data transfer speeds quoted by SanDisk give an indication of the potential of the Extreme Pro Portable SSD V2, but the actual performance that you get depends upon your computer and the connection that you use. For example, when the drive was connected to a 2019 iMac via one of the USB-C/Thunderbolt ports I was able to transfer 9.74GB of images comprising 100 Jpegs and 100 raw files from the 45.7Mp Nikon Z7 II to it in around 1 minute 40 seconds. That same folder of images transferred from the drive to the desktop of the iMac in just over a minute. Switch to using a 2022 MacBook Air with the M2 chip and the transfer times drop to 11 seconds and 13 seconds respectively.
As well as offering a mobile store for images or video, the Extreme Pro Portable SSD V2 can be used as a working drive while editing video and, with the right computer, you can expect stutter-free editing and viewing.
Checking the data transfer speeds using Blackmagic Disk Speed test software proves enlightening. When running the check on the iMac, I recorded write speeds of around 789MB/s and read speed of about 805MB/s. Using the same software on the 2022 MacBook Air saw write speeds of just under 3000MB/s and read speeds a little over 3000MB/s. I had to double-check the number of digits! That's faster than SanDisk claims.
The drive heats up while it's connected to a computer but it doesn't get dangerously hot.
I've split tea on the drive, dunked it in water and knocked it off my desk on several occasions and it's performed as expected afterward.
Verdict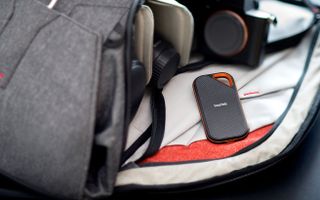 Minor niggles aside about the length of the supplied cables, the SanDisk Extreme Pro Portable SSD V2 is an excellent portable drive. It can transfer files between it and computer with impressive speed so you're not sat around waiting. It can also be used as a working drive when you're editing video so that your computer doesn't grind to a halt or get clogged up. In addition, it's well-made and durable, which gives you confidence that your files will be kept safe.
SanDisk only makes the drive in one color and short of putting a sticker on the back or using different colored karabiners or tags in the loop, there's no way to distinguish one drive from another if you have several.