The Peak Design Travel Tripod tells you pretty much everything you need to know in the name. But Peak Design specializes in innovative design, as seen in its very clever camera bags, straps and camera clips… so it's no surprise to find the company's new travel tripod is unlike any other.
The best travel tripods need to be adaptable and rigid, obviously, but they also need to be small, light and portable. If you just want the best tripod all round, it's not so hard to find some great candidates, but if you want a tripod portable enough take on your travels but still sturdy enough for night shots, selfies and long exposures, the list gets a lot narrower.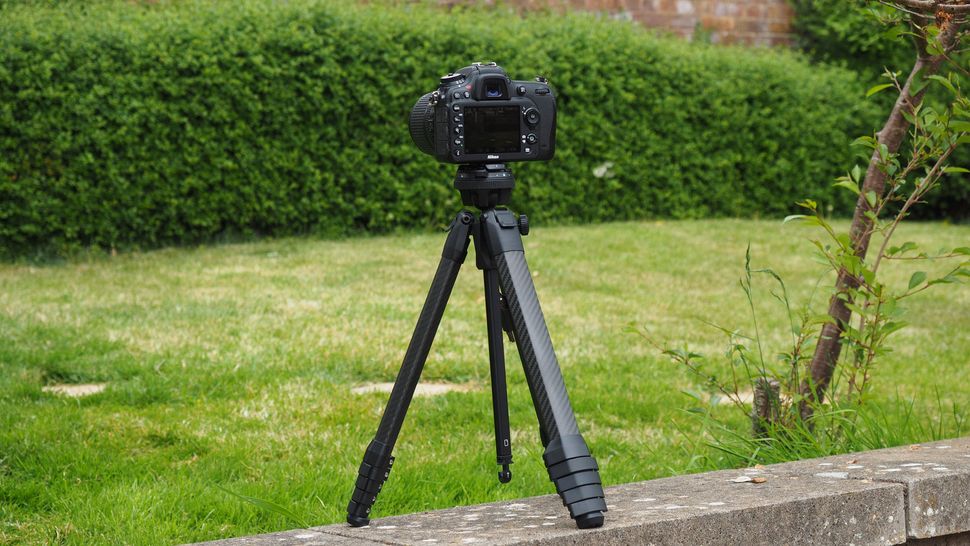 Key features
One of Peak Design's chief aims has been to cut down on wasted space, or volume, when the tripod is packed away. It's achieved this with legs and a center column that dovetail precisely when the tripod is folded, and aren't just a bunch of tubes pushed together (no disrespect to other tripod makers).
This is a very compact tripod when folded too. It's not just narrower and neater than rival tripods, it has a closed length of just 38.5cm. This is achieved without the usual travel tripod trick of extending the center column and folding the legs up around it. Instead, the Peak Design Travel Tripod has a low-profile head that protrudes very little and can be packed away where it is, with no fiddly folding required.
The short length has been achieved with 5-section legs, which helps achieve a maximum height of 153cm with the center column extended or 131cm without. The carbon fiber version tested here has a weight of 1.27kg. There is a much cheaper aluminum Peak Design Travel Tripod version with all the same design features but a little less stiffness and vibration damping (Peak Design reckons the carbon fiber version is around 20% stiffer).
Neither is cheap – the carbon fiber version especially – but Peak Design is offering a lifetime guarantee and has included some amazing design touches, like a detachable weight hook in the bottom of the center column that slides to reveal a smartphone clamp, and a clip-on holder for the hex keys used to attach the tripod plate to the camera and configure the head and center column.
There's also a bag which offers a very snug fit, loop attachments for a shoulder strap or backpack strap and an inner pocket containing a special tool for maintaining the cam locks on the legs, should they need it.
Build and handling
The Peak Design Travel Tripod packs away very small but it's pretty quick to open out and set up. The cam locks on the legs are right next to each other so you can release them all at the same time with one (strong) hand to extend the leg sections. The rubber feet on the end have chamfered edges to offer a flat surface regardless of leg angle, even with the legs outstretched in the low angle mode.
The center column and low profile ball head take a little getting used to. First, because of the upside-down design of the head, you have to raise the center column just a little to get proper articulation, and further still to be able to turn the camera on its side to shoot vertically. On many tripods, this is a recipe for the wobbles, but not there. The Peak Design Travel Tripod feels solid as a rock, even with the center column raised.
The ball head is locked not by a knob on the side in the usual way, but with a rotating collar. There's no friction control – you loosen the lock to point the camera and tighten it to lock it in position. It's a very firm lock, and there's no 'creep' – the camera doesn't 'droop' when you tighten it.
Compared to most Arca Swiss plates, Peak Design's looks tiny. What's more, you have to fix it to the camera baseplate with the hex key supplied. It's a bit of a fiddle, but Peak Design insists it's necessary. This approach gives a grip of iron, whereas butterfly nuts or coin slots can't match the tightness and keep loosening as you move the camera (well they do for us, anyway).
The camera plate is a standard part used across the Peak Design range, so you can unhook you camera from the tripod and slot it straight into a Capture Clip, for example. The plates are so small that you might find it easier just to get extra ones and leave them attached to your camera(s) rather than messing around with hex keys.
The smartphone clamp is very clever, not least because it clips straight into the tripod head's Arca Swiss rails – though you have to insert the correct side first, or it doesn't go in properly.
All the controls, knobs and clips on this tripod have a beautifully firm and precise feel – except the head clamping ring and the quick release lock dial just above it. These feel a little sloppier and more plasticky – though both work just fine.
The Peak Design head attaches directly to the top part of the center column. You can use a regular third party head, but you have to get a separate adaptor kit. There are also kits to replace rubber feet with spikes and to produce an ultra-lightweight configuration where the inner leg sections are replaced with long 'feet' and the tripod becomes a low-level mini-tripod.
Performance
The Peak Design Travel Tripod is way more rigid than you might expect. The five-section legs and the spindly-looking center column don't inspire much confidence, but once it's set up it feels as steady as a rock. Indeed, Peak Design quotes a maximum payload of 20lb (9kg) and there aren't many camera-lens combinations that even approach that.
The company says that it's been designed to handle full frame DSLRs and 70-200mm f/2.8 lenses – or longer, and with our camera/lens combo its grip and rigidity were very impressive.
It also resists twisting very well, and while the lowest leg sections look pretty spindly, we didn't see any flexing or bending. Even that skinny center column is tougher than it looks. The pull out locking knob looks a bit twee, but there's nothing twee about the center column's rigidity or wobble-resistance.
With a maximum height of 153cm, the Peak Design Travel Tripod doesn't go as high as some. But there's no photographic rule that says all pictures must be taken at eye level, and with so many cameras today offering tilting or vari-angle screens, tripod height is hardly the concern it used to be. If you are a six-foot viewfinder fan with an aversion to stooping, though, it's something you might want to take into account.
We'd need to spend a long time with this tripod in a variety of conditions to get a proper sense of how it will bear up, but straight out of the box, its compactness and its rigidity are really impressive.
Verdict
Basic aluminum tripods are affordable but heavy. Carbon fiber tripods are lighter but cost more. And travel tripods which combine lightness, small folded size and good extended height and rigidity cost more again. So although the Peak Design Travel Tripod looks expensive compared to a basic aluminum model, it's in the same ballpark as other specialized lightweight travel tripods – and it's a lot cheaper than a Gitzo Traveller.
So is it worth it? We can't comment on its long-term durability yet, but for sheer folded size, compactness and weight, it's already a step ahead of its rivals while feeling every bit as rigid.
There are cheaper travel tripods than this, and taller ones too, but nothing that offers this performance and yet folds down into such a neat, compact and portable package.
Read more:
• Peak Design Travel Tripod (Aluminum) review
• These are the best travel tripods right now
• We pick the best tripod for all round photography
• These are the best cameras for travel
• The best camera backpacks right now