The best ball heads are arguably unsung heroes of photography. While everyone who's spent any time taking photos will recommend the best tripods, and probably fall over themselves to argue the merits of this brand or that, the humble ball head does get forgotten about. A good ball head can be transformative for your shooting, and it's worth investing in one rather than relying on the basic head bundled with your tripod.
If you've not thought about this too much before, you may be wondering what to even look for in a ball head? Well, to start with, you want something compact and lightweight, so it doesn't weigh you down if you're carrying it over long distances. It's worth thinking about the size of your setup and how much weight the head needs to support; if you're using a DSLR or mirrorless camera with a long lens attached, using a ball head that's too small could potentially be risky. The last thing you want is for your whole setup to fall over!
The best thing is to pick a head with a larger ball diameter: around 40 or 50mm is a good compromise between stability and portability. Of course, if you're using a small camera with diminutive lenses, you can probably get away with something smaller. But fancy ball heads will provide functionality like smoother panning movement and well-engineered quick-release systems, often based on the Arca Swiss standard. Once you get used to stuff like this, it's hard to remember how you got on without it!
The best ball heads for tripods
Why you can trust Digital Camera World Our expert reviewers spend hours testing and comparing products and services so you can choose the best for you. Find out how we test.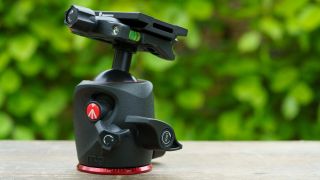 At first glance Manfrotto's XPRO ball head doesn't look particularly special, but there's more than meets the eye. The magnesium construction is rated to support 10kg: enough for almost any full-frame set-up, yet the head tips the scales at a reasonable 520g.
At its heart is a fairly large ball for good stability, and its grease-free polymer housing enables exceptionally smooth movement, even with a lot of friction applied. The friction is set using a tactile, clicky wheel that's better than most systems for dialing in a precise level of drag. Rather than using rubberized or knurled knobs, the ball and pan movement is tightened using levers that lock securely with minimal user effort.
The XPRO ball head can be specced with several mounting plate designs. We went for the Top Lock system which is Arca-Swiss compatible, with the QR plate released using a simple but effective button. The top plate is surrounded by three individual bubble levels for precision camera leveling, and they're all viewable with your camera mounted.
See our full Manfrotto XPRO ball head review for more details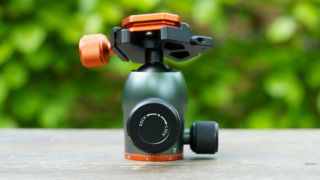 Although they tend not to come as cheap as other options, 3 Legged Thing's ball heads and tripods have a reputation for exceptional carrying capacity and stability. It's well-deserved. The AirHed Pro is the firm's flagship ball head, able to handle a whopping 40kg of kit (really more than you're ever likely to need) without issue. It is milled from aircraft-grade magnesium alloy, meaning it's not only strong but also lightweight, weighing just 323g.
It comes with an integrated 360-degree clamp that allows for smooth panning even on bumpy terrain, and its quick-release plate is Arca-Swiss compatible. It's an extraordinary piece of kit that does everything you need from a ball head and more, and while it is definitely more expensive than other contenders on this list, we'd add that the AirHed 360 represents absolutely fantastic value for money.
Two product options are available: the standard AirHed Pro which has a knob to release the QR plate from the head, and there's the AirHed Pro Lever which, you've guessed it, uses a lever release instead. Both versions have the same asking price.
See our full 3 Legged Thing AirHed Pro review for more details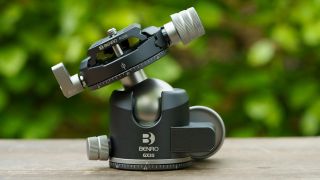 Despite weighing only 400g, the Benro GX35 is able to support a whopping 35kg of camera gear, with extra stability assured by the relatively large 40mm-diameter ball. There's a dedicated panning lock for the rotating base of the head, along with a numbered degree scale to assist with shooting accurate multi-shot panoramas. What's more, a secondary panning axis above the ball adds even more panorama versatility.
An Arca-Swiss compatible mounting plate maintains easy cross-compatibility with other Arca-based tripods or monopods you may have, while the eye-catching design is supplemented by nice ergonomic touches like the knurled metal locking knobs.
See our full Benro GX35 review for more details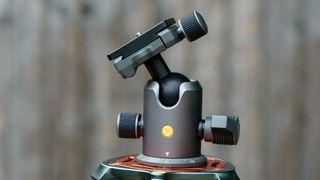 It's inexpensive for a big-brand tripod head, but the Alta BH-250 is still rated to support a whopping 20kg of kit. Build quality also feels reassuringly robust, but the ball movement isn't quite as fluid-feeling as that of some other tripod heads and the D-ring on the quick-release plate needs to be better attached. Nevertheless, it's capable of holding heavy lenses and camera set-ups still without drooping.
Such a hefty payload capacity does mean this isn't the most portable option, tipping the scales at 577g and measuring 117mm tall, but the overall shape is slim and should sit comfortably within a tripod with flip-up legs. The relatively compact quick-release top plate helps with this, yet it still sports two useful, easily visible bubble levels, and maintains Arca compatibility.
Vanguard's chunky, rubber-covered locking knobs are all very easy to grip, though the conventional friction adjustment dial isn't quite as tactile as Manfrotto's clicky design.See our full Vanguard Alta BH-250 review for more details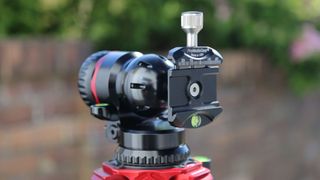 The ProMediaGear BH1 is a unique ball head that has excellent craftsmanship and ease of use. Equally, as at home in the kitbag of a landscape photographer or indoors in a studio, the BH1 is as solid and as precise as any ball head we've used. We liked its flexibility and the fact that you can operate the main lock knob and the pan lock knob quite easily while wearing gloves, but mostly the BH1 shines for its precision and complete lack of droop. Sure, it's expensive and its movement is not as smooth as that of some of its rivals, but you're getting something uniquely precise – and if that's your priority then the BH1 delivers.
See our full ProMediaGear BH1 review for more details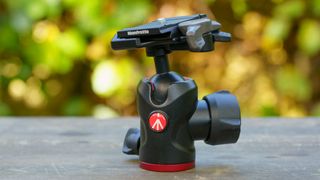 Keeping things simple doesn't mean compromising on quality. You may just need an unfussy ball head that works but still want the reassurance of a trusted brand. Step forward the Manfrotto 494 Center Ball Head, which comes at a great price but still offers that Manfrotto dependability.
Don't be fooled by the price of this ball head, we found it was really rather good when we tested it. It can support up to 8kg of kit, and offers panoramic and friction control knobs for easy, intuitive operation. This version comes with the 200PL-PRO Quick Release Plate, and the head has an integrated RC2 quick-release cam lock. The aluminum construction is lightweight but reasonably hardy, and there's a dedicated tension control dial for the ball-and-socket movements.
Read our full Manfrotto 494 ball head review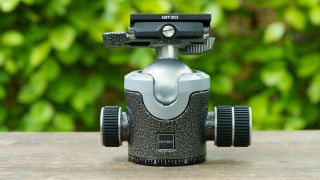 At 12.5cm tall and weighing in at a hefty 900g, this Gitzo tells you that it means business. It's to be expected though, as the head comes from Gitzo's pro-orientated Series 4 Systematic range, and is rated to support a staggering 30kg of weight.
But what you lose in portability, you gain in usability. The large Arca-Swiss-compatible quick-release mounting plate and release lever offer unmatched ease of use, as do the large diameter locking and friction control knobs, both of which exude luxury.
See our full Gitzo GH4383LR Center Ball Head review for more details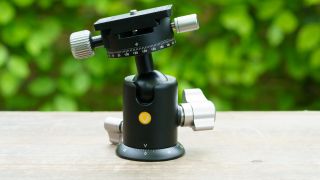 Vanguard's Veo BH-160S Dual-Axis Ball Head looks and feels very well made yet its price is attractively low. The controls are also nicely shaped to give a good, comfortable grip and allow you to apply the force that's sometimes required.
As with some other heads, it's a shame that the bubble level isn't visible when a camera is mounted, and it would be nice to see an Allen key provided, ideally on a key ring, to tighten the quick-release plate. Overall, however, it's an excellent ball head that copes superbly with heavy optics to ensure shake-free images.
Read our full Vanguard's Veo BH-160S Dual-Axis Ball Head review for more details
5 things to look for in a tripod ball head
1. Dragged out
Mount a hefty full-frame body fronted by a long lens and you'll want a ball head to be stiffer than if it was loaded with a featherweight mirrorless set-up. Variable head friction caters for all loads.
2. Smooth operator
The trouble with applying friction is some balls can start to stick, resulting in jerky movement and framing frustration. A quality ball coating and socket lining should alleviate this.
3. Get a grip
Clamping your ball and pan movement with locking knobs that aren't grippy enough can result in unwanted camera movement. Rubber knob coatings and lever designs can really help.
4. Plating up
The Arca-Swiss quick-release mounting standard is great for maintaining interchangeable compatibility with other tripod heads, but some manufacturers still stick to proprietary designs.
5. Streamlining
Travel tripods that close with their legs flipped back to surround the head will require a slimline ball housing and top plate, otherwise legs could get splayed….
Read more:
The best travel tripods right now
The best iPhone tripods and supports
The best pan and tilt tripod heads
Best gimbal heads for tripods
The best panoramic tripod heads
Best pistol grip tripod heads