The year may be closing out, but the camera rumors are still coming thick and fast. The headlines over the past 12 months have been dominated by full-frame mirrorless cameras, whether it's the high-resolution Sony A7R IV, the 6K video-oriented Panasonic S1H, or the brilliantly conceptual Sigma fp, the smallest full-frame mirrorless camera ever.
And while everyone seems to be going full-frame, there are plenty of camera rumors about other cameras format as well. Fujifilm and Hasselblad are still gung-ho on medium format, for instance, with the monster 100MP Fujifilm GFX 100 and Hasselblad X1D II 50C, while the Micro Four Thirds fire is being stoked by new bodies like the Olympus OM-D E-M5 Mark III and Sharp 8K Video Camera.
So what else are we likely to see arrive in 2019, and what is now likely to drift into 2020? Which lines will the manufacturers update, and which will be petered out? Here we've collated the camera rumors that are most likely to come true, and offered our own predictions as to what we may be seeing before long…
Canon camera rumors 2019
Last year Canon stunned everyone with its announcement of the Canon EOS R full-frame mirrorless camera, and zigged when everyone expected it to zag with the entry level Canon EOS RP. Then it threw us yet another curveball with the Canon EOS Ra – a dedicated astrophotography version of the EOS R.
It is clear that Canon is going all out to develop the Canon RF lens roadmap, though, with no fewer than six new RF-mount lenses due this year – five of which are professional-grade L series optics, and three of them comprise the "trinity" f/2.8 zoom lenses.
Canon has also entered the instant camera arena for the first time, with its Ivy Cliq+ / Zoemini S and Ivy Cliq / Zoemini C models that are clashing swords with the perennially popular instax offerings. It has also brought us a new budget, miniature DSLR in the shape of the Canon EOS 250D / Canon EOS Rebel SL3 – which becomes the cheapest and smallest DSLR with 4K video.
Even the EOS M series of APS-C mirrorless cameras, which many feared would be eclipsed by the EOS R, got a shot in the arm with the 32.5MP Canon EOS M6 Mark II – which isn't just the most hi-res APS-C camera out there, it's also got higher resolution than any Canon camera except for the 5DS/R.
So the question is, with all that, what will come next?
Canon EOS Rx
Ever since the enthusiast-oriented EOS R arrived, fans (and naysayers) were asking where the professional version was – the high end EOS R with dual card slots and image stabilization.
After a year of more leaks than the Titanic, Canon finally came clean that it is working on a professional version of the EOS R – which many have taken to calling the Canon EOS Rx.
"There's a high-end EOS R in consideration," Canon UK told us. "So we are considering bringing a high end EOS R to the market. If we do, it will have dual card slots, it will be that sort of level, and under development is in-body image stabilization. So we are looking at this technology, it is in development with us."
Canon remains softly-softly on specifics, but rest assured – this camera is coming! We expect to hear more in 2020.
Canon EOS Rs
But what about a high-resolution model to compete with the Nikon Z7 and Sony A7R III? Canon already has a 50.6-megapixel sensor waiting in the wings (waiting in the EOS 5DS, actually), so could this be adapted for use in a 50-megapixel EOS Rs? We have also seen some rumors that suggested that a 100MP EOS R is being worked on.
The latest rumblings come in the form of a list of purported specs for what is being labelled the Canon EOS Rs (a nod to the 5DS naming convention).
According to these claims, we can expect an 80MP sensor, with a slightly larger body than the EOS R that comprises a bigger grip, LCD and EVF. Additionally, it is claimed that the "viewfinder" (it is unclear whether this is the EVF or the LCD) can be tilted up and down, and the camera possesses a "new style" of joystick along with dual SD card slots.
All of these details mostly conform to the specs we've been hearing all year, so the chances are that they'll be close to what is announced in 2020.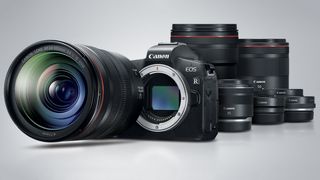 Canon EOS M series
When the EOS R launched last year, Canon assured us that, "The M series is here to stay. The M series is an important part of our system, the reason being there's no one camera that's suitable for everyone, and it's great to have different cameras at different sizes for different types of usage."
True to its word, the manufacturer has breathed fresh life into the M series with the Canon EOS M6 Mark II – a powerhouse 32.5MP camera that has more pixels than any Canon camera aside from the 5DS/R, and is the only body in its consumer lineup that captures uncropped 4K video.
In fact, it's so good that it has become the de facto flagship of the EOS M line – which begs the question of what happens to the previous flagship model, the M5. There were rumors that the Canon EOS M5 II would be revealed at the same time as the M6 Mark II, with very similar specs, though this was likely the camera that turned out to be the Canon EOS 90D.
Some very flaky rumors have recently surfaced that Canon is prepping two M series cameras for 2020, which smart money says are likely to be successors to the Canon EOS M5 and Canon EOS M50…
Canon DSLRs
Canon has done a brilliant job to revamp its DSLR line from top to bottom over the past couple of years, from the new baby EOS 250D / Rebel SL3 through to the full-frame EOS 6D Mark II and EOS 5D Mark IV models – and headlined by the recent confirmation that the Canon EOS-1D X Mark III is on the way.
However, as the company stated again in a recent (and slightly alarming) financial report, Canon will be veering away from DSLR development and doubling down on mirrorless cameras like the new EOS M6, along with compacts such as the freshly minted Canon PowerShot G7 X Mark III and Canon PowerShot G5 X Mark II.
Read more: Canon EOS 5D Mark IV vs Nikon D850: Specs compared
Canon EOS 7D Mark III?
Prior to the release of the Canon EOS 90D, there was speculation that it would merge and replace both the Canon EOS 80D and the aging EOS 7D Mark II. And indeed, the new camera is something of a hybrid of the two lines.
However, Canon was quite specific in stating that the 90D is a replacement for the 80D; no mention has been made of the potential Canon EOS 7D Mark III or the future of the product line.
Since Canon hasn't outright said that the 7D is dusted, it would be great to see a third iteration with an improved burst mode – though in truth, since the Canon EOS M6 Mark II packs 14fps shooting along with all the benefits of mirrorless as well as a new 32.5MP sensor, we're not quite sure how a 7D Mark III fits into the picture.
Read more: Canon EOS 90D vs EOS 80D vs EOS 7D Mark II
Canon EOS-1D X Mark III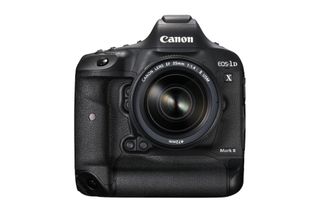 There's nothing like the Olympics to motivate camera manufacturers to being out a new flagship – particularly when it's the 2020 Olympic Games in Tokyo, an event with which Canon has significant sponsorship ties. And it looks like the company is going to have a brand new toy to shoot from the sidelines: the Canon EOS-1D X Mark III.
Marking 30 years of the EOS-1 series, the 1D X Mark III has been officially announced and will boast a new AF sensor with 28 times the resolution of its predecessor, along with a new Digic processor, AF deep learning algorithm, 4K 60fps video, 20fps stills shooting, CFexpress storage, HEIF support and "hybrid" mirrorless qualities.
Featuring some of the most advanced technology ever seen in a Canon camera, its headline attraction is undoubtedly its autofocus capability. The new AF sensor features (by our maths) over 10 million pixels of resolution – and, combined with the bleeding-edge AF deep learning algorithm, promises truly ferocious performance.
The blistering continuous shooting speed exploits the strengths of both mirrorless and DSLR shooting capabilities, at 20 frames per second with AF and AE when shooting in Live View mode (via mechanical or electronic shutter), and 16 frames when using the completely lag-free optical viewfinder
This hybrid functionality gives the Canon EOS-1D X Mark III the best of both worlds. "You can use it like a DSLR, or use it like a mirrorless. It really does feel like that," Canon said. "The mirrorless is just as important as the DSLR side to it. And I almost feel like we've taken the technology from all the different camps that we have and put it together into this."
Canon concept cameras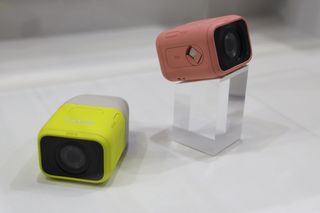 While some have accused Canon of playing it safe with its recent camera launches, the company revealed five concept cameras at CP+ 2019 that prove innovation is still at the heart of what it does.
The 100-400mm Canon Multifunctional Camera offers an easy way to enjoy telephoto shooting with smartphone integration, while the Canon Intelligent Camera might be the device that sits next to the Echo in the corner of your room, with speech and gesture recognition for automated shooting.
The Kids Mission Camera gives youngsters a camera that resembles their parents' DSLRs, but with modes like 'Cat Feeling' to encourage them to get shooting. And the Canon Free Viewpoint Video System is a fascinating virtual camera that enables you to move the camera anywhere around a sports field.
Whether or not these cameras make it to market is up for debate – and we're now looking firmly at 2020 if they do. However, another of these concepts – the Canon Ivy Rec – recently did become a production product, and the Canon Intelligent Camera is in its third generation of development. So we certainly expect that to materialize sooner or later.
The Canon verdict
What we think: This seems to be the year that Canon is going all guns blazing on its EOS R system. We now have an amateur and an advanced model of the camera, and we expect a pro and high resolution model to be revealed before long – particularly with the lens roadmap being updated with so much pro-grade glass. However, with a new flagship, and rumors of both new DSLR and M-Series cameras, it appears that Canon is continuing to keep all its bases covered.
Read more: The complete guide to Canon's lens terms
More camera rumors: Nikon rumors • Sony rumors • Olympus rumors • Fujifilm rumors • Panasonic rumors