Want more accuracy with your framing when using a tripod? Then you probably need to upgrade the tripod head to a pan-and-tilt tripod head.
Chances are when you buy your first tripod, it'll come bundled with a ball head. These offer a compelling blend of compactness and extensive movement that's controlled by a single clamp. But it's this apparent simplicity that can cause the ball to fall, as it's not so easy to make subtle angle adjustments, especially with a heavier camera teetering atop a small ball. And if you want to tweak horizontal or vertical pitch independently? Well, only Sisyphus struggled more with a ball.
The beauty of a pan and tilt head is that it separates the horizontal, vertical and panning motion into three independent axes for better control: front-back tilt, side-side tilt, and horizontal panning. This makes it great for precision alignment when shooting architecture or landscapes – or for shooting in the studio. Being to free up one axis independently, is also invaluable for shooting video - so you can, say, pan as you record.
Downsides? Initial positioning will likely be slower, and you'll probably need to remount your camera to shoot straight upward, as longer handles could foul on the tripod when shooting at extreme angles. They can also be a pain when you're on the go, so if portability is a priority, consider a head with collapsible handles.
We listed what to look out for when choosing a pan and tilt head - and have picked out six of the best pan and tilt heads on the market.
Pan and tilt tripod heads: 5 things to look out for
Tighten down: You'll want a stiffer setup when manoeuvring a big, heavy camera. Dedicated friction adjustment - or quality clamps that tighten progressively - will keep things under control.
Level up: Precision is the name of the game here, so the more bubble levels, the better, and be sure they're visible once your camera is mounted. A degree scale on each axis can also be useful.
Slot in: Quick release mounts can sometimes be anything but. An ideal design should live up to the QR moniker, while incorporating an ergonomic safety catch to prevent a dreaded drop.
Keep it compact: Pan & tilt heads with collapsible handles are relatively rare, but thankfully most models will at least let you unscrew the handles for more streamlined transportation.
The next step: Want the ultimate in precision adjustment for macro or architectural work? Geared heads use the basic pan & tilt design, except you wind the handles to fine tune each axis.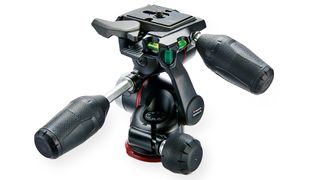 1. Manfrotto X-Pro 3-Way Head
A feature-packed, quality head at a sensible price - it's our top choice
Height: 13.5cm | Weight: 1kg | Payload capacity: 8kg
Compact when packed
Easy to use
Well priced
Slippery dials for friction control
Proprietary mounting plate
We've long been fans of the X-Pro head, thanks to innovative features like adjustable friction resistance that means you can precisely balance cameras large or small. The adjustment is slow but precise, although the shallow, slippery dials themselves aren't the easiest to grip, especially in the cold.
Thankfully the three main handles are much grippier and more ergonomic, while the two tilt handles are also retractable. These don't shrink quite as effectively as the folding handles on Induro's PHQ1 Panhead, but they still enable the head to pack into a compact 13.5cm cube. Manfrotto's push/pull handle retraction is also quicker to use and isn't prone to loosening over time. The X-Pro's quick-release camera plate is one of Manfrotto's proprietary designs so limits interchangeability with other heads, but it attaches and releases very smoothly.
Factor the ergonomic two-lever quick release mount, easily visible triple bubble levels, as well as a reasonable 1kg weight, and the X-Pro is our top pick for a pan and tilt head.
2. Calumet Heavy Duty 3 Way Quick-Release Head 7064
A big friendly giant of a pan & tilt head, and quite a bargain
Height: 18.4cm | Weight: 1.5kg | Payload capacity: 20kg
A joy to use
Good build and material quality
Precise, secure mounting plate design
Heavy and bulky
Mounting plate isn't Arca-Swiss
While many manufacturers are producing clever, compact pan & tilt heads, Calumet doesn't seem to have got the same memo. The 7064 is an old-school monster, which at 18.4cm is twice the height of a low-profile pan and tilt design. It's built with medium format cameras in mind - everything from the locking handles to the well-positioned bubble levels is oversized - but this head also works a treat with any DSLR or full-frame mirrorless camera.
Aside from the travel drawbacks, such stoutness helps make this head exceptionally robust and a pleasure to use. You don't get dedicated friction adjustment like on a Manfrotto X-Pro head, but the smoothness of the 7064's joints means you can easily modulate friction and balance all but the most front-heavy camera set-ups.
Up top, the beefy mounting plate lacks Arca-Swiss versatility, but its hexagon shape means it can be quickly remounted if you want to shoot straight upwards, and it's safely released using ergonomic dual levers.
3. Induro PHQ1 5-way Panhead
Supremely well made, this head just falls short on ease of use
Height: Not stated | Weight: 0.9kg | Payload capacity: 11.5kg
Premium feel
Compact on-the-go
Highly adjustable
Folding handle design isn't the best
QR plate could be more secure
The PHQ1 isn't your usual pan & tilt head. In addition to the usual trio of adjustment axes, the camera mounting plate can slide 1cm either side of centre to help find a lens' nodal point when shooting a spherical panorama. The fifth axis is a secondary pan base directly under the camera mounting plate, allowing easy vertical panning and rotation to straight-up shooting.
With so many variables, it's good that there's an abundance of bubble levels, along with accurate degree scales. Joint movement isn't quite as silky smooth as with the very best competitors, but it's not far off.
Two small knobs lock each pan base and help keep the head compact, while the main handle arms are hinged and can fold inward for streamlined packaging. Wide nuts lock out the arms during shooting, though these can work loose after a while. You really need a spanner to tighten them properly - textured, rubber-coated nuts would be more convenient.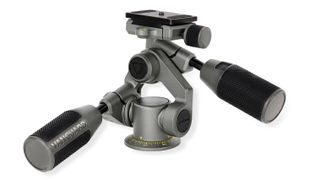 4. Vanguard Alta PH-32
This is the head to go for if travelling light is your top priority
Height: 13cm | Weight: 0.68kg | Payload capacity: 5kg
Very competitive price
Light and compact
Chunky, ergonomic handles
Works best with lighter camera setups
Slightly awkward panning control
Vanguard's baby is just that, tipping the scales at a featherweight 680g. Consequently the rated max payload is a modest 5kg, falling short of the X-Pro's 8kg capacity, but still a match for the much pricier Gitzo G2272M head. However, the Alta PH-32 doesn't feel quite as controllable as more substantial rivals, so you'll need to be very precise with the locking handles to modulate friction when making subtle angle adjustments.
The Alta PH-32's crash diet also means there are only two locking handles, as the usual panning clamp is strangely absent. Instead, you get a selector that allows you to set the longitudinal tilt handle to lock only the tilt axis, or both tilt and pan simultaneously. It's a neat trick that works well, although it's not quite as convenient as dedicated panning adjustment.
Up top is a traditional Arca-Swiss style QR system. It's a more versatile design than that used by Vanguard's old PH-32 (non-Alta) head, but it lacks the same super-secure release procedure.
5. Gitzo Quick Release Low Profile Three Way Head G2272M
It's not perfect, but it's a super-smooth operator
Height: 9.3cm | Weight: 0.72kg | Payload capacity: 5kg
Uncompromising quality
Low-profile height
Very smooth to use
Expensive
Camera mount needs improvement
Gitzo's top build quality is evidenced here by exceptional smoothness - it's so easy to modulate tilt friction that the lack of specific friction control isn't really an issue. That's because friction can be adjusted using ergonomic, rubber-coated locking arms which also clamp very tightly.
The G2272M lives up to its full name, too, being amazingly low for a pan & tilt head, though you'll need to detach the handles to make it truly compact on the go.
It's just a shame that attaching your camera is less convenient. The square mounting plate will fix in four directions, but only one where your camera is sure not to foul the mount's clamp, or obscure the upper bubble level. You'll also need to re-position one of the handles to make this altered configuration work ergonomically.
There's no doubt that this head looks the part, if only it was as pleasant to use. Given the significant outlay, it's tough to recommend.
6. Velbon PHD-66Q Revolver Head
An intriguing concept, but cost-cutting blunts this head's overall appeal
Height: 12.5cm | Weight: 0.64kg | Payload capacity: 5.5kg
Clever lateral tilt system
Surprisingly light
Feels cheap
Not that nice to use
Bulky
It's not easy to revolutionise pan & tilt heads, so kudos to Velbon for having a go. The Revolver employs a nifty hinge system for lateral tilt that centralises your camera's weight, rather than tipping it from side to side like a regular design. The result is an excellent sense of balance, achieved without needing to increase friction.
However, the Revolver system's locking knob can be awkward to use, and the hinge itself only rotates through 90 degrees, where traditional designs can tilt further. Plus, while the side-side tilt is well balanced, front-back movement feels precariously top heavy on account of the big revolver hinge being so high on the head.
You can fine-tune the camera base independently of the Revolver mechanism beneath to set it absolutely level, but this extra adjustment is crude and hard to clamp precisely. Longitudinal tilt and panning adjustment also lack finesse, which stings a bit, given the PHD-66Q is now priced higher than some more polished rival heads.
Read more:
The best tripods