Ever stood in the centre of a city, gazed up at the heavens and realized that you were struggling to spot a single star in the firmament? That'll be due to the 'light pollution' emitted by illuminated signs, street lamps, housing and more, in collaboration ensuring that entire constellations are obscured from view because of their glow. Luckily for photographers in such environs who still want to be able to capture heavenly bodies, creative help is at hand. 
Light pollution filters are glass optical devices for suppressing the emissions generated by artificial lighting that can mask or obscure, to give the most common example, stars in the night sky – a particular issue if you happen to be living in a town or city. 
Such filters designed for screwing on to the front of your camera lens are there to reduce the yellow and greenish color casts caused by city lights when trying to capture the heavens in all their celestial glory. 
Fixing one to your lens will help provide an image with more clarity, natural colors and improved contrast. So here we're looking at some examples of the best light pollution filters you can buy for your camera – especially if you're into astrophotography.
• Read more: How to improve your astrophotography: tips, tricks and techniques
Although it's an extra (if relatively modest) expense, buying a light pollution filter in such circumstances makes sense because ultimately it saves time in post processing, as well as avoiding your resulting images becoming degraded through successive generations of editing. 
As with most things in this world, unheard of brands of filter will be undoubtedly cheaper for those who just want to dip a toe in the water than the tried and tested established names found on the counter of any camera shop. We've provided a mixture of both here.
Just as you would do when choosing a lens or a filter of a different variety, as well as seeking those filters that weed out the obstructive artificial light, look too for filters that have anti-reflective coatings and are water- or oil-repellent. We've mentioned such qualities when we've come across them in our research, as detailed below.
The best light pollution filters
1: Hoya Starscape Light Pollution Cut Filter
Available sizes: 49mm, 52mm, 55mm, 58mm, 62mm, 67mm, 72mm, 77mm and 82mm
Reduces artificial color casts
Improves overall contrast and visibility
Price of the filter gets more expensive the larger the size required
Available in a broad range of sizes to fit your lens in question, this Japanese manufactured screw-on example from filter specialist Hoya, seeks to reduce yellowish and greenish color casts resulting from taking photographs in areas swamped by street lights. 
The intended result is improved overall contrast and natural color, thus reducing the amount of time needed for post processing the pictures later. 
The filter has the further advantage of a low profile and is compatible with both wide- and super wide-angle lenses, reassures the manufacturer, which makes them ideal for shooting landscapes and astrological photography at night. A 'heavenly' option!
2: Ice LiPo Light Pollution Reduction Filter for Night Sky/Star
Available sizes: 49mm, 52mm, 55mm, 58mm, 62mm, 67mm, 72mm, 77mm, 82mm and 100mm
More affordable than premium brand options
Arguably can do the job just as well
Not a premium brand, less tried and tested over time than others here
Not a brand name formerly familiar to us, this light pollution filter from 'Ice' nevertheless comes in a range of filter sizes at slightly more affordable prices than most bigger name alternatives. 
Those aiming to achieve greater clarity for their astrophotography and/or make their post processing tasks a little easier if shooting in a city or suburban area inevitably swamped with artificial light, simply screw it on to the front of their lens and away you go, blocking out the color shifting glow from street lights without changing the entire color spectrum. There is also a 100mm square version of the filter, designed for use with slot-in filter systems.
The round optical glass filters also feature a double threaded frame, which allows for filter stacking or the application of hoods and caps. Comes supplied with a plastic case too, for transportation and protection.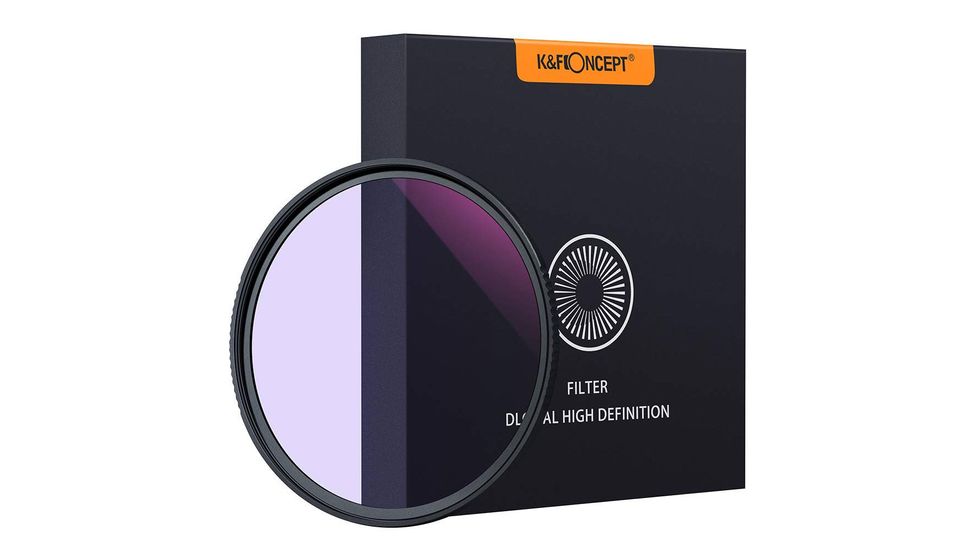 3: K&F Concept Natural Night Filter Light Pollution Filter
Available sizes: **Available sizes:** 52mm, 58mm, 67mm, 77mm, 82mm and 100mm
Scratch and water resistant
Double sided nano coating for high quality images with low reflection
Not the cheapest option available here
May find better value from hunting around
Again promising photographers more clarity, contrast and natural looking colors when shooting at night in urban areas, this double threaded K&F Concept branded round filter features double-sided nano coating to help stop yellow and orange wavelengths of light from entering the lens. 
Claimed to be scratch- and water-resistant, it is also conveniently super slim, with a frame design just 3.8mm wide. This means it won't add significantly to your camera and lens's combined profile, while it's constructed from aviation grade aluminum alloy material to boot. 
To ensure the color authenticity of shots, the makers further advise using a manual white balance setting and selecting a color temperature between 700K and 1,500K.
4: Rollei Astroklar Round Light Pollution Filter
Available sizes: 39mm, 40.5mm, 46mm, 49mm, 52mm, 55mm, 58mm, 62mm, 67mm, 72mm, 77mm, 82mm, 86mm, 92mm, 100mm, 105mm and 150mm
Features double-sided water repellent nano coating
Effectively reduces light pollution from artificial sources
Expensive compared with alternatives
You'll want to tweak white balance manually before using
Not easy to find in USA
Another familiar name in the image-making world aiming to sort out night pollution for photographers wanting to give astrophotography and more their literal 'best shot' – Rollei claims its offering is made from high-quality optical glass and behaves in a neutral fashion within the infrared light range, providing night-time images with a cooler tone. 
Its water and oil repellent surface also helps prevent unwanted reflections. 
Again Rollei advises its users to utilize manual white balance select a color temperature of between 700K and 1500K before using the filter to obtain authentic colors when it comes to the end result. Inevitably some trial and error will be involved in order to arrive at an optimal result.
5: Haida Slim Nano Pro MC Clear Night Filter
Available sizes: 52mm, 55mm, 58mm, 62mm, 67mm, 72mm, 77mm, 82mm, and 100mm
Double threaded frame allows for the stacking of filters
Nano-coated weather resistant glass
Relatively unknown brand (though stocked by photo specialists)
Not that inexpensive either
Available in a variety of filter sizes and thread diameters, this Far Eastern optical glass filter is another opportunity to help ensure clarity in your night-time imagery and detailed skies, even if you happen to be stuck in the suburbs. 
The claim is that this one can block rays within the spectrum of sodium lamps and minimize pollution from artificial light sources. 
Like most of the options here, nano multi coated, water-resistant glass is also provided, to enable shooting to continue to take place, even in wet conditions. 
A double threaded frame enables you to stack filters, and the addition of hoods and caps, with a plastic case also included for transporting the filter, means that most boxes end up ticked.
6: Irix Edge Light Pollution Filter
Available sizes: 67mm, 72mm, 77mm, 82mm, 86mm and 95mm
Anti reflective coating
Higher contrast and sharper images
One of the costlier light pollution filter options
Will find better value choices from shopping around
If you're attempting landscape, nightscape or astrophotography, this light pollution filter from Irix claims to guarantee more accurate color, by greatly reducing the yellowish haze given off by artificial lighting. 
The result? Clearer, cleaner images and better overall contrast. 
The screw-in filters themselves are also claimed to be durable, with nano surfacing again keeping the filter free from moisture and dirt, and preventing anything nasty sticking to the surface. 
Furthermore, both sides of the filter are covered with a multi layer anti-reflective coating, to help prevent any lens flare and ensure clarity of image every time.
Read more
• 10 things you need to know about camera filters – and which ones to buy
• The best lenses for astrophotography
• The best camera, lenses and gear for shooting the night sky
• The best fisheye lenses in 2020
• The best binoculars in 2020
• The best telescopes for astrophotography
• The best CCD cameras for astrophotography
• The best start trackers
• The best close-up filters