The best cheap cameras never started out cheap! Typically, they are cameras that are 2 years older or more but offer features and performance that are still very good even by today's standards. The good news for camera buyers is that the longer a camera has been out, the cheaper it gets!
The best cheap camera deals aren't only at the lower and of the market, and there are cameras here for experts and enthusiasts too. In this guide we've concentrated on DSLR and mirrorless cameras – you might say 'proper' cameras. There are cheaper alternatives than this, such as the best point and shoot cameras, the best instant cameras and the best cameras under $100/£100.
We've arranged this list of cheap cameras more or less in price order, with the cheapest first. Of course, you get what you pay for, so the camera you need might be half way down this list or even at the bottom – because the one thing all these cameras have in common is value, whether they are aimed at novices, enthusiasts or experts.
The best cheap camera deals in 2022
We'll come right out and say it. The Canon Rebel T7 (EOS 2000D in some territories) is not a bad camera to get started with, but it is pretty basic. It has a fixed rear screen and only shoots full HD video, and it doesn't come with Canon's Dual Pixel CMOS AF for faster focusing in live view. It does have a 24-megapixel sensor to match the resolution of our favorite low-cost DSLR, the Nikon D3500, but it can't match the Nikon's 5fps continuous shooting or the Nikon's space-saving retracting kit lens. However, for anyone wanting to get started with a proper camera at the lowest possible price, it's a perfectly competent camera at a rock bottom price.
The dinky Olympus OM-D E-M10 has long been one of our favorite entry-level cameras. Its small enough to fit in a pocket, especially with the 14-32mm 'EZ' kit lens, but the controls never feel cramped and the features buried in this camera go far beyond 'beginner' photography. This Mark III version has 4K video but still the older 16MP sensor. The new OM-D E-M10 Mark IV model has the latest 20MP sensor. However, this does mean that the Mark III, while you can still get it, is on sale at really good discounts. If you can't get the Mark III, the Mark IV is still good value but it is more expensive.
Read more: Olympus OM-D E-M10 Mark III review
For a time, this was our absolute favorite low-price mirrorless camera. Now several years old, the A6000 is a once top-end camera that's just got cheaper and cheaper. Later A6000-series models beat it for video and autofocus features, but for regular stills photography the A6000 is just as good at a fraction of the price. However, prices have crept up in the last couple of yearrs, so either Sony has realised this camera is better that it thought it was (bah!), or it's being lined up for some big, big discounts. Either way, the A6000 still deserves its place in our list of the best cheap cameras.
Read more: Sony A6000 review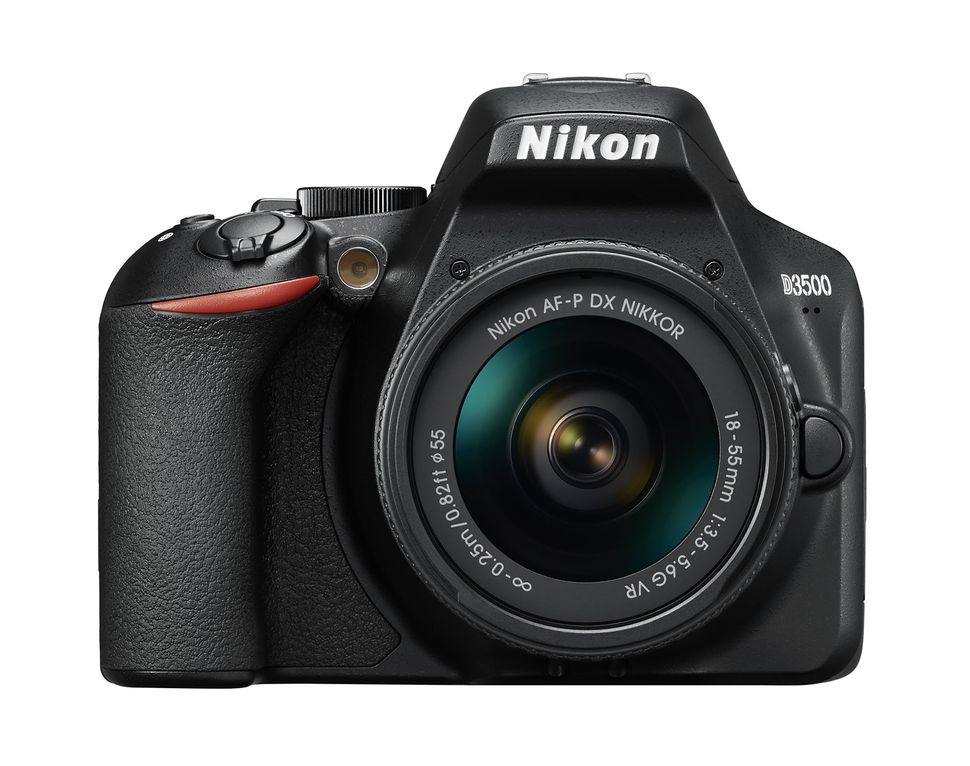 The entry-level model in Nikon's DSLR range is small and light, yet comfortable to grip. It's an entry-level model but it has a 24.2MP sensor as good as those in cameras at twice the price, and it offers a very good 5fps continuous shooting speed for a beginners camera. The Guide mode will help beginners get started and understand the basic principles, and the D3500 has all the manual controls you need to learn about photography as you improve your skills. The lowest prices include a non-VR kit lens but we'd recommend paying that little bit extra for the VR version of the 18-55mm standard zoom. On paper, the D3500 looks no better than the Canon Rebel T7/2000D, but we like the Nikon a lot more.
Read more: The best Nikon lenses right now| Nikon D3500 review | Nikon D3500 vs D3400
With the mirrorless EOS M50, though, we think Canon hit the sweet spot. This camera is easy to use for beginners but has a built-in electronic viewfinder. The EF-M 15-45mm f/3.5-6.3 IS STM kit lens has a retracting mechanism to make the camera smaller to carry around when it's not in use, and there is a small but handy selection of other EOS M lenses you can use with this camera. If travel is your thing and a couple of lenses is all you need, the EOS M50 is great, and because it's now been out for a little while, the prices are starting to fall. There is a new Canon EOS M50 Mark II on sale now, but the differences are so minor it's hard to know why Canon bothered!
Read more: Canon EOS M50 Mark II review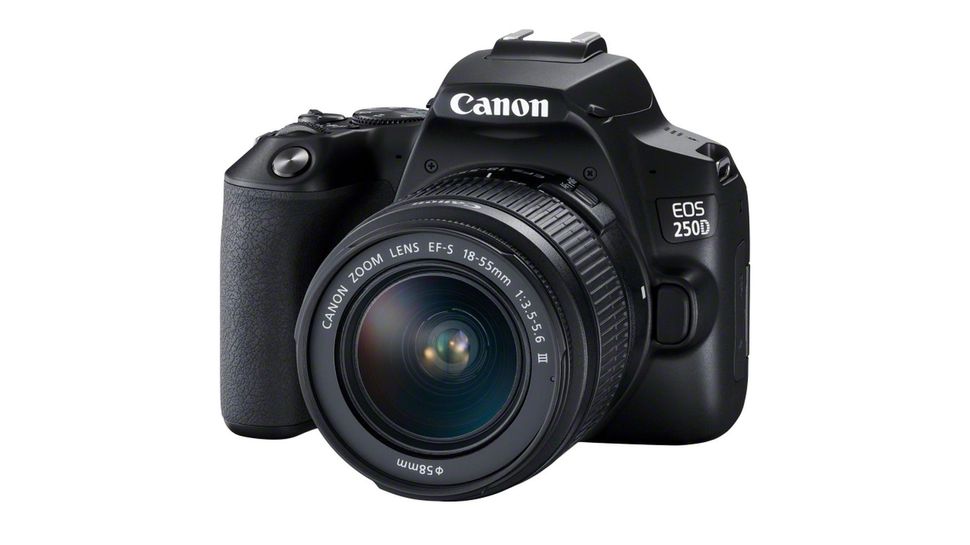 This isn't the cheapest DSLR you can buy by any means, but very often it's worth paying a little extra money to get a much better range of features – and this is the perfect example. The EOS Rebel SL3 (aka EOS 250D) has Canon's top-of-the range APS-C sensor with 24.1MP of resolution and brilliant Live View shooting, thanks to a fully-articulating touchscreen display and Canon's fast Dual Pixel CMOS AF autofocus. In fact, we'd actually say this is one of the only DSLRs where composing shots with the screen is downright preferable to using the viewfinder. Canon also packs in 4K video and Wi-Fi and NFC connectivity, wrapped up in the smallest DSLR body you'll ever see. It's not the cheapest DSLR you can get, but we think if you take all its features into account, it is actually the best value.
Read more: Canon EOS SL3 / Canon EOS 250D review
The diminutive GX85 (GX80 in some territories) has an older 16MP Micro Four thirds sensor, but still takes top-quality images and can also shoot 4K video. The built-in electronic viewfinder (amazing in a mirrorless camera at this price) makes it a great option for using in harsh sunlight or darker conditions, while the tilting screen makes it easy to shoot from ground level. Together with Panasonic's tiny Micro Four Thirds lenses, this makes it perfect for travelling or holidays. These days it looks like you can only get this great little camera in a twin-lens kit which also includes the compact Panasonic 45-150mm telephoto. It's a great combination at a great price, but being a twin lens kit it does push the price up.
Read more: These are the best mirrorless cameras right now
The D5600 is more expensive than other DSLRs in this list, but it's a very good camera that was once sold at much higher prices. The 39-point AF system offers more focus points than other cheap DSLRs and the 3.2in vari-angle touchscreen display on the back is bigger than most. The live view autofocus isn't as accomplished as on the Canon Rebel SL3 or any of the compact system cameras here (particularly for video), but the overall performance is still excellent, and lens options are plentiful. We probably wouldn't choose it for video, but as a versatile, high-quality compact DSLR it's a really good buy these days. We especially like it for travel, because of its size, and we recommend getting it with Nikon's retracting AF-P 18-55mm VR kit lens.
Read more: Nikon D5600 review
The EOS RP was Canon's second full frame mirrorless camera, and it's smaller, lighter and a lot cheaper than all of the others. It's designed to be a compact, affordable and easy to use entry point into Canon's full frame mirrorless system, and it succeeds brilliantly. Its small dimensions mean it can sometimes feel overbalanced by larger lenses, though, and the 4K video mode comes with some caveats – the image frame is cropped by a factor of 1.6 and you can't use Canon's speedy Dual Pixel CMOS AF system unless you drop the resolution to full HD. On the upside, the pictures are clear and sharp, the vari-angle touchscreen display is a real advantage for both stills and video, and the inclusion of an EF lens adaptor means you can use existing Canon DSLR lenses alongside the new but growing RF lens system. At $1,000/£1,000 or more you wouldn't say it was 'cheap' in the general run of things, but for a full frame camera its price is practically miraculous.
Read more: Canon EOS RP review
For a while the cheapest full frame camera IN THE WORLD was the original Sony A7. That's almost impossible to find new now, but its place has been taken by the A7 Mark II. The chief difference between them is that the Mark II version has in-body stabilisation, but for many users that alone will be enough to justify the higher price. We say higher, but the A7 II, now costs no more than a good APS-C mirrorless camera. Prices for this camera can go up and down very quickly, though, and can vary a lot by territory. It's a sale-time favorite for all retailers, so keep your eyes open!
Read more: Sony A7 Mark II review
More camera buying guides: