Having the best point-and-shoot camera is really handy if you don't want to carry anything heavy or fiddle around with complicated settings. I think of them as "glovebox cameras" or "handbag cameras" – for when you want to take a quick photo of something with better quality than your phone, but without the hassle of your "proper camera"!
They can fit in your pocket, so you can take them everywhere with you, and lots of them come with a built-in flash for when it's dark. You'll instantly notice the upgrade in image quality between the best point and shoot cameras and your smartphone, but you won't need to spend any additional money on lenses.
Given their streamlined nature, I wouldn't necessarily recommend one as a beginner camera to learn on (since they're generally designed to be used in automatic modes). However, they can be fantastic travel cameras – and their simplicity makes them some of the best cameras for kids, too.
The best point and shoot cameras cover a variety of bases, from budget-friendly to waterproof models. Fewer and fewer new models are coming out these days, but just because some of these suggestions might be on the older side doesn't mean they aren't great options! These are my recommendations right now…
Best point and shoot camera: Top picks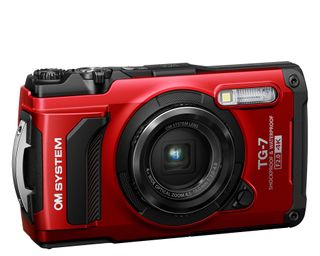 Best waterproof
The Tough TG-7 is not only the most waterproof and everything-proof camera out there – its image quality, especially on the brilliant built-in macro modes, is sensational.
Read more below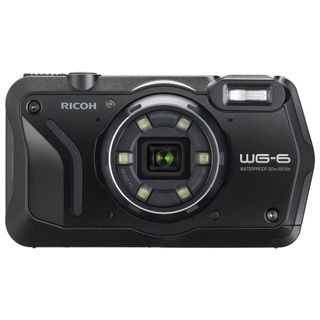 Budget rugged option
If rugged is what you're looking for, you have found it. Shockproof and waterproof, this camera can take a beating – but at this price, your wallet won't have to!
Read more below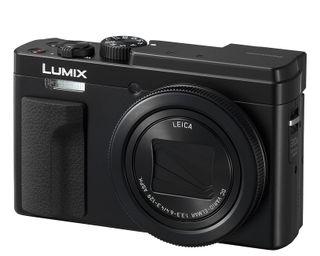 Best Value
This has a huge 30x zoom, equivalent to 24-720mm – and even fully zoomed in the picture quality isn't bad, with built-in image stabilization to help with camera shake.
Read more below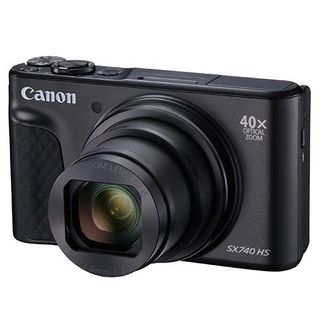 Best for long-range
4. Canon PowerShot SX740 HS
If you want a camera that can take great images at long range, and still fit in your pocket, this is the one for you.
Read more below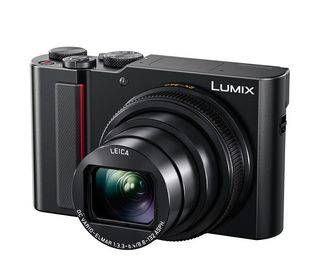 Best overall
A powerful one-inch image sensor with 20.3MP resolution plus a 15x optical zoom make for a well-specced compact camera that's useful for a wide variety of creative pursuits.
Read more below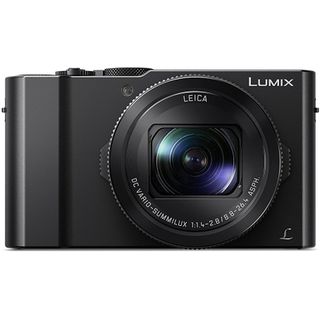 Best for low-light
6. Panasonic Lumix LX15 / LX10
If you love taking photos as dust til dawn this is the best point and shoot you want by your side.
Read more below
Best point and shoot cameras
Why you can trust Digital Camera World Our expert reviewers spend hours testing and comparing products and services so you can choose the best for you. Find out how we test.
Best for anything, anywhere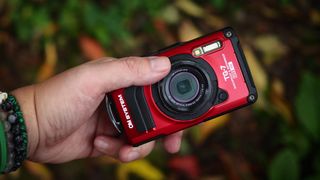 This camera is exactly what it says on the tin: tough. I've used the OM System TG-7 , and its predecessor the near-identical Olympus Tough TG-6, in some seriously challenging conditions. I've used them in the middle of the Spanish desert in blistering heat, I've taken it on sub-zero hikes in the British winter, I've shot with it under the sea in Greece, and I've thrown it on the ground as hard as I can. It can basically shoot anywhere and everywhere! It even has a built-in GPS that logs where you were – and at what altitude and temperature – when you took your shots.
Its 1/2.3-inch sensor might be smaller than some, and its 12MP less than others. But less pixels means that each one is larger and captures more light – so this is a great performer underwater where light quality is poor. It has a built-in flash and LED, too, to provide its own illumination above or below water. It shoots RAW, too, and rattles off shots at up to 20fps.
Lenses on other cameras have a greater zoom range, but the Tough's 25-100mm with an aperture of f/2 at the wide end and f/4.9 at maximum zoom gives a good working range. What's so special here, though, is that a macro mode is built in – so you can take incredible close-up photos or 4K video. Because it can shoot anything, anywhere, regardless of the weather or conditions, this is the point-and-shoot camera I always take with me if I leave my mirrorless at home – and I never regret it.
Read our full OM System Tough TG-7 review for more details
Budget rugged option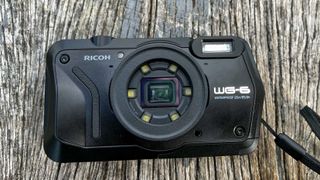 The Ricoh WG-6 is an impressive setup from its predecessor, the WG-60. It comes equipped with a 20MP sensor, 4K video at 30fps, and a max ISO of 6400 thanks to a built-in multi-application ring light fitted to the front of the camera. Not only is this camera waterproof to 20m, it's shockproof too – which means it can handle a bit of rough and tumble, making it one of the best cameras for kids.
It comes in either a bright orange or a more traditional black – we love the orange as it's very hard to miss if you drop it underwater. It benefits from a zoom lens with a focal range of 28-140mm, which is better than any other waterproof camera, making it ideal for you to use as a normal camera to capture your travel photos or outdoor adventures.
See our full Ricoh WG-6 review for more details
Best bang-for-buck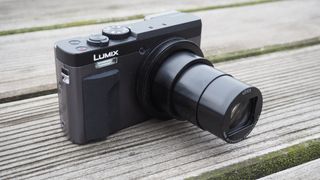 The Lumix ZS80 / TZ95 replaces one of our old favorites, the Panasonic Lumix ZS70 / TZ90. And despite being a 2019 vintage, it is still one of the best and most affordable compact cameras you can buy.

It has an enormous 30x zoom equivalent to 24-720mm. Even when fully zoomed in, the picture quality isn't bad, and built-in image stabilization helps with camera shake. If you're a keen traveler, the combination of a massive zoom, petite body, and WiFi capabilities will make this camera your perfect companion.
Not only does it have an electronic viewfinder, but it's been improved from the previous model – and now boats 2.3 million dots of resolution. The rear LCD screen also flips up to 180°, making it perfect for selfies or shooting at low angles. The 49-point focus system isn't the most advanced, but it's speedy enough to capture most things. Image quality is pretty good from its 1/2.3 inch sensor, and its metering system helps to balance exposure no matter where you're shooting.
Read our full Panasonic ZS80 review for more details
Best for long-range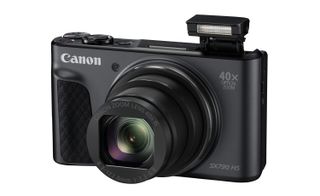 If you're after a camera with incredible zoom capabilities, look no further than the Canon PowerShot SX740 HS – with its focal range equivalent to a full frame 24-960mm! It has a 20.3MP 1/2.3-inch sensor and an LCD screen, which can be flipped to face the front making it perfect for selfies.
It has a maximum continuous burst shooting rate of 10fps, and it can also film video in 4K. (The Canon PowerShot SX730 HS can be found slightly cheaper if you don't need 4K video and it still has FullHD recording.) The image quality and autofocus performance on this camera is pretty good, and overall it's an excellent camera for the price.
Read our full Canon PowerShot SX740 HS for more details
Best 1-inch sensor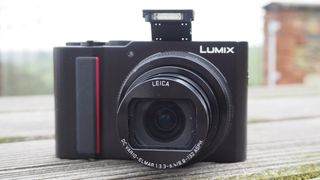 There is plenty to admire about the Panasonic Lumix TZ200 / TS200, even aside from the headline grabbers of one-inch sensor size and a 15x optical zoom reach from a 'travel zoom' camera that will slip unobtrusively into your jacket pocket or rucksack pouch when on the go.
We found that its construction was solid with an aluminum build and ergonomically laid out, it also offered a good blend of hands-on control with point and shoot accessibility, with the option to fish around in its pool of creative filter effects if you tire of its automatic results.
Read our full Panasonic Lumix TZ200/TS200 review for more details
Best for low-light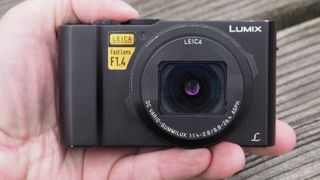 If you want a point-and-shoot camera that also delivers a visible jump-up in picture quality from a camera phone, you need one with a larger sensor. This Panasonic LX15, which goes by the name of the LX10 in some territories, has a 1-inch 20MP sensor that will do the job perfectly.
It's true that there is no built-in EVF, which might put some people off, and the smooth finish to the body might make it look rather stylish but it doesn't make for the firmest handgrip. We found the responsive touchscreen terrific, though, with the dual control rings providing a very pleasing experience, and the 24-72mm has one of the widest aperture settings around, courtesy of its f/1.4 to f/2.8 aperture range.
Overall this neat little shooter has a near-perfect balance of features, performance, and pricing. It's small enough for your pocket, easy for beginners, but powerful enough to be one of the best point-and-shoot cameras for serious photographers.
Read our full Panasonic Lumix LX10 review / Panasonic Lumix LX15 review
Best for 4K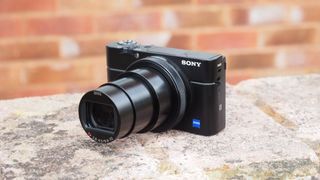 While the RX100 VI costs more than most cameras on this list (and more than some of them combined!), we couldn't leave it out for the simple reason that it's pretty much the best there is.
As the name implies, the VII is the seventh iteration in a series that Sony has been perfecting for many years, providing an exceptional blend of image quality and portability. A 20MP 1-inch sensor, 28-200mm zoom, 20fps burst shooting (with up to 90fps in Single Burst mode), phase detection autofocus with human and animal eye AF, 4K 24/30p, pop-up 2.36 million-dot electronic viewfinder…
It's all here, and housed in a camera small enough to pop into a pocket – provided you don't mind a few of the controls being a little fiddly to use. And it all comes with a reassuringly expensive price tag! If you like the sound of the RX100 VII but are put off by the cost, check back through previous models in the Sony RX100 series – they are all without exception very good, and most are popular enough to still be in production.
Read our full Sony Cyber-shot RX100 VII review for more details
FAQs
Are point-and-shoot cameras better than phones?
Now that smartphones produce such good-quality images you might wonder why you'd bother investing in a point-and-shoot but believe us, there is a massive difference in image quality. Even the smallest sensors in the cheapest point and shoots are usually bigger than the tiny ones in your smartphone. Features such as the built-in flash will also be much better quality than a phone flash and the zoom will cover a bigger range.
If you are looking for a really high-end point-and-shoot, check out our guide on the best compact cameras which covers more advanced and more expensive models.
What's the best point and shoot camera?
In terms of image quality, we found that there is plenty to admire about the Panasonic Lumix TZ200/TS200, thanks to its large 1-inch sensor, 20.3MP of resolution, tilting screen and massive 15x optical zoom range.
However, given that I also own a smartphone and a bunch of mirrorless cameras, I want a point and shoot camera that I can take everywhere – including the places that I can't take my other devices, like in the mud and sand, or into the sea and swimming pool, or in the direct sun in the desert. And that means the OM System Tough TG-7.
What you should look for in point and shoot cameras
Cheap and simple – Even the most basic point-and-shoot cameras will offer better image quality and more zoom capabilities than your phone. They might not have some of the more advanced features of more expensive models but at they're affordable and will get the job done.
Waterproof – Whether or not you're an outdoorsy person, a waterproof camera is a great option your you, as they're more robust and can be used near water or in the rain without any qualms. They're great for beach holidays, using by the pool, or taking on adventures as they are rugged enough to handle getting dropped.
Longer zooms – One of the advantages of point-and-shoot cameras with a smaller sensor is that often they have longer zoom ranges. Most basic cameras will have a zoom range of 3-5x but some of the more expensive models will give you a 30x optical zoom. These larger zoom ranges are great for taking on holiday when you might want to photograph objects in the distance.
How we test point and shoot cameras
We test cameras both in real-world shooting scenarios and in carefully controlled lab conditions. Our lab tests measure resolution, dynamic range, and signal-to-noise ratio. Resolution is measured using ISO resolution charts, dynamic range is measured using DxO Analyzer test equipment and DxO Analyzer is also used for noise analysis across the camera's ISO range. We use both real-world testing and lab results to inform our comments in buying guides.