How many times have you parked your car a short hike from a gorge or waterfall and then pondered whether or not to take a full-size tripod? Travelling with a tripod is irritating, but it's so often worth it, which is why we like the Manfrotto PIXI.
A simple, short and sturdy tripod that works with all kinds of gear – from a DSLR and a zoom lens to your smartphone – and adds instant stability just when you need it. All without being an absolute pain to travel with. This is why it's also one of the best iPhone and smartphone supports. If you want to use it with your smartphone, make sure you get the Manfrotto Universal Smart Clamp too (or Twistgrip) – they are often sold in bundles.
Specifications
Weight: 190g
Attachment: standard 1/4-in tripod thread, optional Manfrotto TwistGrip or Universal Smartphone Clamp, GoPro mount
Closed length: 18.5cm
Working height: 13.5cm
Max payload: 1kg
Key features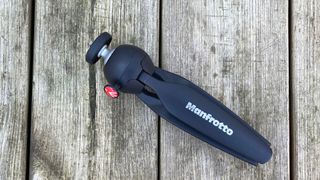 The build quality on the PIXI is exquisite, but the main feature is surely its ball head. A twist-and-lock mechanism that rotates through 360°, you push the button to release the ball head and release it to lock it in place.
However, that ball head is limited in terms of its movement. So much so, in fact, that it's not possible to shoot in anything other than landscape orientation. That's no different to most small tripods, but it's also not possible to tilt the ball head upwards beyond about 35°, which makes tabletop astrophotography awkward.
Manfrotto's pricier, but otherwise near-identical PIXI Evo 2 tripod solves that problem.
Performance and usability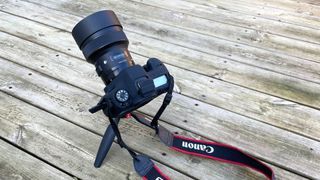 Whether or not to take the PIXI on a hike or a wander around a city centre is not a decision you have to make. It's so short it easily slides into a jacket pocket, and its design is such that it also works well being clasped closed onto a belt. It's not going to fall off.
The smooth curves of its aluminium legs aren't purely an aesthetic win. As well as adding a touch of class so rare for a mini tripod, its three legs close neatly together to create a rounded column that acts as a stable and comfortable grip. Consequently, it creates an easy to hold mini-selfie stick that helps keep video stable and also makes it really easy to quickly screw in the PIXI to the undercarriage of a camera.
Each leg has a small rubber pad attached that, over time, do fall off and disappear. However, even without them, the PIXI manages to be reasonably grippy on slippery surfaces, such as wet rocks beside waterfalls.
When at home the PIXI also works really well for video conferencing, and even as a prop for a smartphone on a desk.
Verdict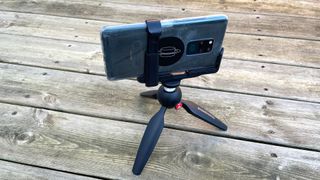 Ideal for occasional use with all kinds of cameras, phones and action cameras, the PIXI boasts exceptional design and a smooth aluminium build. Its push-button ball head works well, though its lack of tilt make it a poor choice for astrophotography. Besides that small issue, the PIXI is an ideal pocket-sized gadget for travel and reliably perches on tabletops, rocks and bridges for some stability just when you need it.
Read more:
• Best selfie sticks
• Best travel tripods
• Best gimbals for video
• Best add-on lenses for phones
• Best portable power banks
• Best wireless chargers