The best laptops for video editing mean that you'll never have to twiddle your thumbs waiting for a project to finish rendering again. But, with so many laptop variations out there, which ones are the best for your video editing needs?
We've rounded up a selection of choices that include potent processor power, plenty of RAM memory, and good quality, high-res screens. These important features are essential for choosing the best laptops for video editing but be warned that the high performance you need won't come cheap.
Working with high-resolution footage is both power- and memory-intensive, so you'll need to make sure that your machine is up to the task. While it might be tempting to opt for one of the best budget laptops instead, you'll likely find that this just won't be able to accommodate your needs adequately – and you'll just find yourself wishing you'd plumped for one of these superior models anyway.
A large, beautiful screen and plenty of memory mean that the best laptops for video editing tend to be larger than average. If you tend to work in one set place, then this shouldn't be an issue for you. However, if you're constantly on the go, you might want to opt for a scaled-down laptop. Just be aware that the power, battery life, and viewing ergonomics will be severely compromised as the body of the laptop gets smaller.
If you're unsure how to choose the right model, scroll down to the bottom of this article to read our top tips. Alternatively, check out our picks for the best laptops for video editing in 2023 below.
Best laptops for video editing: our top picks
Best laptops for video editing for 2023
Why you can trust Digital Camera World Our expert reviewers spend hours testing and comparing products and services so you can choose the best for you. Find out how we test.
Best overall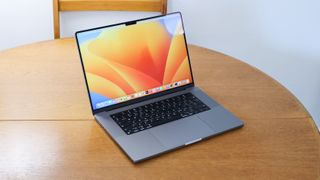 The MacBook Pro 16 with M2 Max is an absolute beast of a laptop, it will tear through any video editing you can throw at it and still be ready for more. Unfortunately, it also comes with a monstrous price that is truly quite hard to recommend spending.
What the M2 Max gives you in terms of raw power for content creation is amazing, You can also get great results with a MacBook Pro 16 with Apple's M2 Pro chip, so only users who need the absolute most power for their workflow will use the M2 Max to its full potential.
Processor aside, the MacBook Pro 16 is a fantastic laptop, with a lot going for it from the beautiful color-accurate screen, booming speakers, sharp webcams, and excellent keyboard and trackpad, it is a very worthy upgrade for anyone using Intel-based MacBooks.
Best portable laptop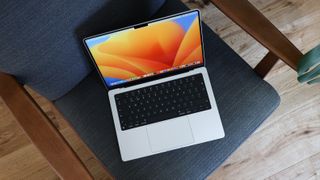 Apple's silicon keeps getting better and better, with the M2 Pro and M2 Max possibly the most power you can get right now in a 14-inch laptop, offering more portability than its big brother. The MacBook Pro 14 with M2 Pro is unbelievably quick, it can open apps in a flash, powers through productivity work, and can export huge image and video files in no time.
With the continued return of the SD card slot, HDMI, and three Thunderbolt 4 USB-C slots, it has all the ports a videographer will need. It also has super fast 6E WiFi for uploading and downloading large files, and improved speakers and webcam. Also, design choices such as the much-maligned touch bar have gone. This might just be the MacBook near perfected.
Read our full MacBook Pro 14 M2 Pro (2023) review.
Best PC laptop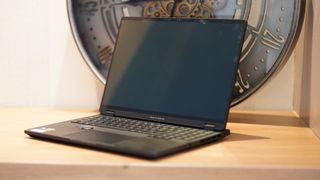 Portable power like this is ideal for anyone shooting video in the field. It's got everything you need in one package, including enough storage to empty your memory cards into.
However, all this power comes at a price, with the laptop, especially at higher spec models troubling most bank balances. Although as a laptop that's versatile, portable, powerful, and with the Dial and touchscreen, has features that a comparable MacBook Pro can't deliver it must surely rank as one of the best laptops for video editing right now.
Read our Asus ProArt Studiobook 16 OLED review for more details.
Best 4K screen laptop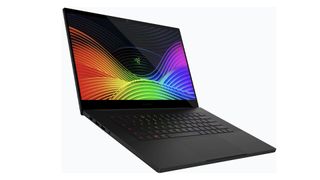 The Razer Blade 15 is special in that it features an optional OLED display rather than a traditional LCD. With deep, inky blacks and punchy, vibrant colors, it looks incredible, and with its 4K resolution equating to a pixel density of 282 ppi, it's super-sharp – perfect for editing your UHD content on.
With a hugely fast Nvidia GeForce graphics card under the hood, it's up to the task when it comes to even the most demanding projects, and when you consider how many ports this thing has – three USB-A ports, two Thunderbolt/USB-C, one HDMI 2.1 port, and a headphone jack - it's versatile too. If you opt for the base version, you even get an Ethernet port for fast, wired internet, while the Advanced models trades this for a useful SD card reader instead.
The Razer Blade 15 comes with a 512GB or 1TB SSD for storage, and the Advanced model can even be optioned with a 2TB SSD. A lightweight sub-2.2kg design and sleek finish set the Blade apart externally.
See our guide to the best OLED laptops
Best 2 in 1 laptop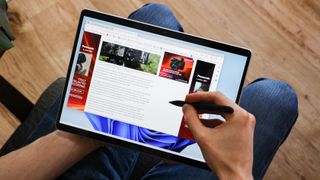 The Surface Pro 9 is still a device that is hard to pin into any category. It is not the most powerful device for video editing, so don't expect to edit a whole movie masterpiece, but it is the perfect device for editing while on the move, or for setting up quickly on shoots.
The Surface Pro 9 is deceptively powerful from its compact form factor. A very well-built and beautiful device with a kickstand and hinge that still reigns supreme in the 2-in-1 laptop world. If you choose to buy the Surface Type Cover and Surface Slim Pen (which you really should) then this is a fantastic productivity device for on the go.
Read our full Surface Pro 9 review.
Best 17 inch option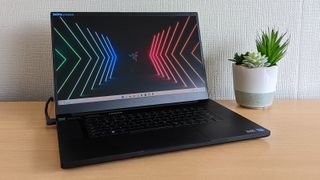 The Razer Blade 17 is one of the best of the best when it comes to high-performing laptops for gamers and creatives – and that means it comes with a hefty price tag attached. The cost will be prohibitive for many people, but there's no doubting the power of this laptop.
The configuration of the Razer Blade 17 that we had in for review was retailing for around $4,000 or £4,000 at the time we were writing this review, which gives you some idea. Yes, that's a lot of money to be paying for a laptop – but you get levels of performance are above just about everything else on the market.
If you have the budget to get the best there is then the Razer Blade 17 is certainly a contender for that slot, whether you're planning on using it for high-end gaming on Steam, large video editing projects, or both. That retail price is going to go a long way to determining whether or not this is going to be your next laptop upgrade.
Read our full Razer Blade 17 review for more details
More options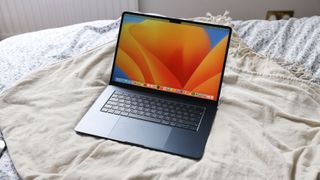 The MacBook Air 15 is probably the best laptop currently on the market for most people, and a superb decision for any photographer, videographer, or creative who wants a larger gorgeous screen, combined with enough power to comfortably run the latest editing software, and all wrapped up in a lightweight package that can easily slip into a backpack.
There are more powerful Apple options for the most demanding editing situations, but for most people, the M2 chip inside the Air 15 will provide more than enough oomph to edit comfortably. The lack of abundant ports and an SD card slot holds this laptop back from being the ultimate laptop for content creators though, with the MacBook Pro holding a dongle-free existence hostage for now.
Read our full MacBook Air 15.3-inch M2 (2023) review for more details.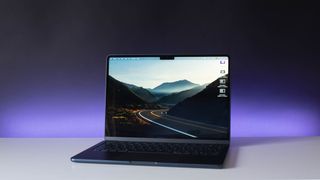 The Macbook Air released in 2022 is the direct replacement to the Macbook Air of 2020. While it looks incredibly similar to its predecessor, it has been redesigned and is now powered by a more powerful M2 chip (rather than 2020's M1).
The base M2 chip packs an 8‑core CPU and 8‑core GPU, which can be upgraded to a 10-core GPU for an additional cost. You also get 8GB RAM and 256GB of SSD storage as standard, but photographers and other creatives will almost certainly want to get at least 16GB RAM and 512GB SSD storage.
With our 16GB test machine, we were astounded at how this little laptop could keep up with our most demanding processing requests and not break a sweat. There are no fans to whir and it doesn't seem to heat up under pressure. A crystal clear display and comfortable trackpad and keyboard are complemented by a Magsafe power connector and two USB-C ports and a 3.5mm headphone jack for a minimal but utilitarian finish.
All in all, this is an incredible machine for on-the-go image or video editing. We'd still go for the 16-inch MacBook Pro (2021) model for its more comfortable screen size, but the new M2 Air is still an awesome machine.
Read our full MacBook Air M2 full review.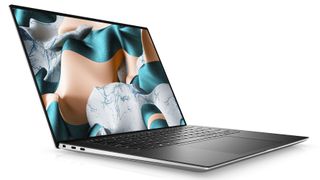 The Dell XPS 15 is the 4K OLED-screened laptop to go for if you're not into gaming. While it uses a similarly specced display to the Razer Blade 15, which is also in this roundup, its design and feature set are better suited to video editing.
For starters, it has an SD card slot, and up to Intel Core i9 power, not to mention up to a huge 64GB RAM – and with up to 2TB solid state storage it's also an ideal machine to have when ingesting gigabytes of 4K content.
While its Nvidia GeForce RTX 3050 Ti graphics card isn't going to stack up against some of the top-tier competition, thanks to Thunderbolt 4 connectivity you can supplement it with an external, desktop GPU for more demanding projects – and for quick edits on the fly, it'll be more than up to the task.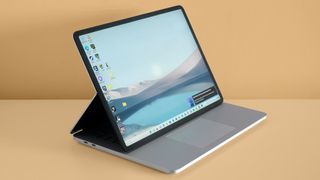 Want a video editing laptop and tablet in one? The Surface Laptop Studio could be the answer. Where most 'hybrid' laptops like this use a 360-degree hinge to achieve the transformation, the Surface Laptop Studio has a dual hinge. It can open up like a normal laptop, but a secondary hinge around the centre of the display lets you pull the screen forwards so the bottom locks in place magnetically just above touchpad. Or it can sit flat where the lid would usually be. This gets you the "fat tablet" style of a 360-degree hinge, without leaving the keyboard sitting awkwardly underneath.
Editing power comes from fairly potent 11th-gen Intel H-series processors, while big spenders have the option of Nvidia RTX 3050 Ti graphics for hardware video acceleration. Max out the option list and you can be rewarded with 32GB RAM and 2TB of SSD storage.
A great display, a clever cooling system, good stylus support and decent performance make this an unusually versatile laptop - one that can do things a MacBook Pro simply can't. Just don't get too carried away with speccing this up, as the price can escalate far faster than any potential performance increase.
Read our full Microsoft Surface Laptop Studio full review.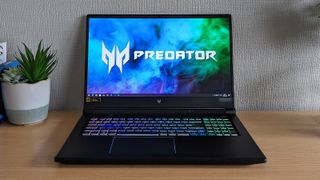 Acer's Helios line delivers gaming power at a comparatively affordable price when looking at the competition, especially given how much is crammed into these laptops. That also means video professionals can benefit from its clout without necessarily breaking the bank.
Available with Intel Core i7 power coupled with up to 32GB RAM in its top-of-the-line guise, it can rival some of the best laptops around, and thanks to ample storage – up to a 1TB SSD, or a SSD and hard drive double act, it's a perfect option for 4K footage hoarders.
Like some other gaming laptops, there's a Turbo button you can hit to overclock performance for intense editing bouts, and there's also granular control over the fan, so you can ramp it up or down depending on whether you're in the mood for a cool laptop or a quiet workspace.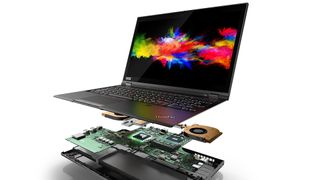 If you're running a business and your video editors don't need MacBooks (much as they might want them), the Lenovo ThinkPad P15 Gen 2 is a traditional-looking laptop with incredibly capable internals. Even the 'entry-level' version would be a pro machine for most, with 16GB RAM and an 8-core Intel i7 processor, but you can spec up the p15 to the moon and get a supercharged version capable of tackling huge 4K masterpieces. The P15 Gen 2 really is as versatile as your business needs it to be.
One of the only laptops on our list with an Ethernet port, the latest version also features two Thunderbolt 4 ports and an optional Nano-SIM tray for fast 4G speeds on the go.
For editors working with HDR content the P15 Gen 2's optional Dolby Vision 4K touch display is the screen of choice for reviewing HDR content. And with a huge choice of customization options (with up to 128GB of RAM is possible, along with an incredible 6TB storage space courtesy of three separate SSD drives!) this laptop will fly through edits and give you plenty of space to store them.
FAQs
Mac or PC?
MacBooks are favoured by many photographers, and for good reason. But don't rule out comparably priced laptop PCs, which can offer more bang per buck, sometimes with better upgradability.
What screen size is best?
This is always going to be a compromise. The best video editing software, such as Adobe Premiere Pro, will often result in your screen being split into quadrants (a preview window, timeline, effects tab and a bin for footage). Working with software like this on a small laptop will get old pretty quickly, so we'd recommend opting for at least a 15 inch laptop. However, the larger the screen size, the more comfortable you'll find the editing process. Don't forget you can also get an extra video editing monitor to help out as well.
Which display technology?
Laptop screens used to be more eye-sore than eye-candy, with appalling contrast and viewing angles. Thankfully IPS LCD display tech fixes this and you shouldn't settle for anything less. The latest crop of OLED displays offer even better contrast and color vibrancy. Regardless of screen tech, a laptop that boasts pre-calibration to ensure the best possible color accuracy is always beneficial for accurate video editing.
How fast should the central processor (CPU) be?
The heart of a laptop, two processor manufacturers dominate: Intel, and AMD. However, laptop processor model numbers are practically impossible to decipher. Just focus on the 'base frequency' (speed, measured in GHz), and number of processing cores (four, six, eight, and sometimes even more).
How much storage do I need?
An SSD (solid state drive) is a must in any new laptop. All our options in this buying guide include one, but don't get stuck with a small capacity: 512GB is a bare minimum if you're working with 4K video, while 1 terabyte (TB) or more is preferable. Thankfully, you can supplement a laptop's internal storage by connecting a separate, external hard drive.
Do I need to pay extra to get a fast graphics processor?
A dedicated graphics processor can be used to accelerate video encoding. There's no need to blow your budget on a top-end graphics card though - a mid-range model will do fine for video editing, while premium cards are left to hardcore gamers.