If all your shooting is filling your computer's storage too quickly – or you need to keep your digital portfolio portable – it might be time to invest in a portable hard drive.
With capacities now reaching a whopping 4TB, you'll have enough space to save many thousands of ultra high resolution Raw files, or around 16 hours of high-bitrate 4K video.
A conventional portable hard disk drive still offers the most bytes for your buck, but for top transfer speeds, a solid state drive (SSD) is a must. They're also a fraction the size and weight of conventional hard disk drives, though such speed and portability still commands a hefty premium over a hard drive. We've assembled a mix of both technologies to balance speed with cost and capacity.
Rather than testing transfer speeds using unrealistic benchmarking software, we instead recorded maximum sustained read and write rates when shifting photos and video to and from a Windows 10 PC packing a fast SSD and USB 3.1 Gen 1 connectivity. While the latter will restrict the peak transfer rate of the fastest drives here, our results are more representative of what you can achieve if you're not yet rocking cutting edge computing hardware.
Five things to look for in a portable hard drive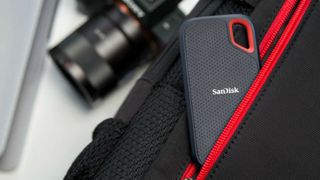 1. Hard drive or SSD?
Conventional hard disk drives use sensitive moving parts, making them vulnerable to drops. SSDs are much more resilient and don't require bulky bumpers for shock absorption.
2. Formatting: Mac or Windows?
Some drives are pre-configured for either Mac or Windows. This can almost always be changed to enable cross-platform compatibility, though you may need additional software.
3. Transfer Speed
Don't expect an external hard drive to always perform at its best. Transferring a large batch of image files will usually take longer than shifting a single video file of the same size.
4. Well connected
All these drives are powered by their USB or Thunderbolt connection, and so they don't require a separate power supply. Most also include cables to convert between various USB port designs.
5. Little extras
Portable hard drives aren't just about size and speed. Many manufacturers also bundle extras like backup software, data encryption, or even complimentary cloud storage.
Spoiler alert
G-Technology's G-Drive mobile SSD R-Series is our top pick on account of its stellar performance, and at the time of writing it can be had for a very competitive price. But don't rule out the equally speedy Samsung Portable SSD T5, while conventional hard drives like the WD My Passport offer excellent value if you prioritise outright capacity over speed.
1. G-Technology G-Drive mobile SSD R-Series
Premium performance and build for a relatively sensible outlay
Technology: SSD | Available capacities: 500GB-2TB | Dimensions: 94 x 50 x 14.5mm | Image read/write speeds: 307/298MB/s | Video read/write speeds: 410/353MB/s
Stunning speed
Built to last
Expensive compared to a hard drive
Needs reformatting for PC
Despite nearly tying with the Samsung SSD for top spot in the speed stakes, at the time of writing the no-compromise G-Drive SSD R-Series also boasts the cheapest price per gigabyte here for an SSD, with the 1TB version being the most tempting in value. It comes formatted for Mac and therefore won't show up in Windows by default, but the drive can be easily reformatted for a PC using third-party software (and we recommend the free MiniTool Partition Wizard). G-Technology's case design is thicker than the other SSDs on test, but this reflects the drive's IP67 water and dust resistance, 3m drop resistance, and even a 1000lb crushproof rating. Its USB 3.1 Gen 2 interface fronted by a USB-C connector is bang up to date, plus there's even a five-year warranty for extra piece of mind.
2. Samsung Portable SSD T5
A faultless drive, but tends to be pricier than the G-Drive SSD
Technology: SSD | Available capacities: 250GB-2TB | Dimensions: 74 x 57.3 x 10.5mm | Image read/write speeds: 308/298MB/s | Video read/write speeds: 415/365MB/s
Blazing fast
Discreetly rugged
Relatively dear (especially larger capacities)
Not all capacities come in every colour
Samsung's Portable SSD T5 sports a slick satin metal enclosure, making it arguably the most stylish drive of the bunch. At just 74mm long and 51g in weight, it's also one of the smallest and lightest. Plump for the 250GB or 500GB flavours and you'll get a blue finish, while the larger capacities come in black. All drives get 2m shock protection and the latest USB 3.1 Gen 2 connectivity, which is backward compatible using the included USB-C to USB-A cable. Our 500GB review sample aced all our speed tests, albeit by a slim margin, making the 30-40% price premium over an equivalent G-Drive SSD seem high. Samsung does at least include a hardware data encryption feature that lets you password protect your media to keep it safe should the drive ever fall into the wrong hands.
Read more: How to understand everything written on your memory card
3. Transcend StoreJet 25M3
A speedy and rugged portable hard disk drive
Technology: HDD | Available capacities: 1TB-2TB | Dimensions: 129.5 x 82.4 x 18.8mm | Image read/write speeds: 122/122MB/s | Video read/write speeds: 122/122MB/s
Quick for a non SSD
Resistant to shock
Not cheap for a standard hard drive
Plasticky, relatively bulky casing
Next to the new generation of sleek SSD drives, the plasticky StoreJet 25M3 looks somewhat cheap and is also fairly bulky. But despite appearances, the rubberised outer casing is shock tested to U.S. military standards and it conceals a special drop-resistant hard drive suspension system. That's a good thing, as inside lurks a conventional mechanical hard drive, but this one's no slouch. In our hands it managed healthy read and write speeds when transferring images and video, beating the popular WD My Passport. Both the 1TB and TB capacities are little more than their equivalent WD drives, making the rugged Storejet 25M3 excellent value if you need its extra shock protection. Just avoid the 500GB capacity and the USB-C version, as these offer much less value.
4. WD My Passport
A great choice If you rate capacity and cost over outright speed
Technology: HDD | Available capacities: 1TB-4TB | Dimensions: 110 x 81.5 x 13.8-21.5mm | Image read/write speeds: 112/112MB/s | Video read/write speeds: 114/114MB/s
High capacity for modest money
Fairly quick
Not USB-C
Average data transfer speeds
WD's Passport range of portable hard drives has long been a popular choice for those after spacious mobile storage at a tidy price. This latest My Passport design is unashamedly plastic but comes in black, white, red, blue, orange and yellow colour options. It's about as light and compact as a conventional portable hard drive gets, though the 3TB and 4TB versions are 8mm thicker than the lower-capacity models. File transfer speeds may not be blistering, but considering this is a mechanical hard drive, it managed decent speeds across the board. However, it's value that's the My Passport's biggest selling point, with the 4TB version being especially enticing thanks to its incredible price per gigabyte. WD's included backup software and encryption software sweeten the deal even more.
5. SanDisk Extreme Portable SSD
Good if you're after a lower capacity SSD that's extremely portable
Technology: HDD | Available capacities: 250GB-2TB | Dimensions: 96 x 50 x 9mm | Image read/write speeds: 266/281MB/s | Video read/write speeds: 412/361MB/s
Very compact
Super speedy video transfer speeds
Larger capacities relatively costly
Mediocre image read speed
The SanDisk Extreme Portable SSD is another ultra-compact SSD. It's longer than the Samsung T5, but is even narrower and incredibly thin. The mildly ruggedised plastic shell feels solid and is IP55 rated to resist water and dust, and like the Samsung drive, it'll withstand a 2m drop. We observed slightly slow image read speeds – writing photos to the drive was oddly faster – but video performance is top notch and a match for the fastest SSDs here. Our only other complaint is pricing, which at the time of writing works out more than the faster Samsung drive for 1TB and 2TB capacities, though the 500GB version can be found for less than the equivalent T5 and is a tempting buy for its compactness. The SanDisk drive is also preformatted to work with both Windows and Mac OS out of the box.
6: G-Technology ArmorATD All-Terrain Drive
Extreme protection for your photos and videos
Technology: HDD | Available capacities: 1TB-4TB | Dimensions: 94 x 50 x 14.5mm | Image read/write speeds: 120/109MB/s | Video read/write speeds: 128/124MB/s
Very rugged
Available in large capacities
Quite quick
Won't rival SSD speed
Ruggedness significantly ups price
Relatively bulky
With its silicone rubber bumper and internal anti-shock mounts, this portable drive is built for life off the beaten track. It can withstand a drop from up to 1.2m, it's crushproof to 1000lb of force, and it's resistant to rain and sand. A single USB 3.1 Gen 1 connection connects the drive to a Windows PC or Mac via a USB-C/Thunderbolt 3 socket, and a USB-C-to-USB-A adaptor is included for older computers. G-Technology claims a maximum transfer speed of 140MB, though we topped out at 128MB/s when reading a single large video file from the drive - a best-case scenario for transfer speed. This is still a very respectable performance for a drive that's based around a conventional mechanical hard disk drive. The only downsides with all this ruggedness is the ArmorATD is noticeably - although not significantly - larger than a non-toughened drive like a WD MyPassport, and you'll need to part with almost twice as much cash for an equivalent capacity.
7. Lacie DJI Copilot
A new product that's sure to appeal to photographers once prices fall
Technology: HDD | Available capacities: 2TB | Dimensions: 136 x 110 x 36mm | Image read/write speeds: 84/82MB/s | Video read/write speeds: 127/127MB/s
Versatile
Clever display readout
Relatively slow
Rival WD option is cheaper
The hard disk-based DJI Copilot also packs a full-size SD card slot, so at the touch of a button you can back up your shots in the field without needing a laptop. Despite the DJI branding, it's a trick that works just as well with conventional camera stills as drone footage. Download the Copilot BOSS app and files stored on the drive can be viewed on your smart device via a good old cable connection that avoids any wireless pairing headaches and buffering. The app is slick and works well, however the single button control on the Copilot isn't immediately intuitive. We were also underwhelmed by the relatively slow image transfer speeds, though video read/write rates are more respectable. Finally, this is the bulkiest drive here, but it does contain a power bank.
8. Transcend ESD400 Portable SSD
An aging USB 3.1 Gen 1 design that could use a price cut to stay competitive
Technology: SSD | Available capacities: 128GB-1TB | Dimensions: 92 x 62 x 10.5mm | Image read/write speeds: 315/226MB/s | Video read/write speeds: 398/258MB/s
Useful one-touch backup feature
128GB option
Relatively slow write performance
Too expensive compared to rivals
You should be able to find that the 128GB version of the ESD400 costs less than any other drive here, but of course you also get less capacity, so you'd better be selective about what you store. Step up to a more practical size like the 512GB model and pricing is comparable to a 1TB G-Drive. Sadly, performance doesn't justify this price premium; while image and video read speeds are very good, write rates are much more modest. At 92 x 62 x 10.5mm, this is also the bulkiest SSD on test and it doesn't boast any ingress or shock protection ratings, though it's still extremely compact and weighs only 56g. We also like the convenient one touch auto-backup button that makes it easy to synchronise backups in conjunction with Transcend's Elite software.
9. WD My Passport SSD
Compact and a great looker, but slightly slower than the competiton
Technology: SSD | Available capacities: 256GB-2TB | Dimensions: 90 x 45 x 10mm | Image read/write speeds: 234/198MB/s | Video read/write speeds: 392/201MB/s
Slim and sexy design
2TB option
Not as fast as some rivals
Larger capacities a little overpriced
The WD My Passport SSD takes the prize for best-looking drive, with its part faux metal casing oozing style. It's also very narrow and slim, even by SSD standards, so it'll slip unobtrusively into most pockets. It's bang up to date, too, with USB 3.1 Gen 2 Type-C connectivity, but even with this, we didn't find transfer speeds particularly impressive. In fact, they were noticeably slower than the similarly compact SanDisk Extreme Portable SSD, especially when writing data to the drive. At least pricing is competitive for the 250GB and 500GB My Passport SSD models, falling roughly in line with the G-Drive and Samsung competition.
More buying guides