Are you often using a camera backpack that isn't suited to the shoot? When buying a camera bag it's tempting to go for one that fits all of your photography gear, but that usually means a big, heavy backpack that's overkill. Cue the ProTactic BP 350 AW II (£209.95/$217.75), a modular system from Lowepro that can take a DSLR, lenses and even a drone as standard, and offers clip-on accessories for all kinds of other gear.
Choosing the best camera bag isn't easy, and if you need more long-distance comfort and capacity than you can get from even the best shoulder bags, sling bags or messenger bags, then a camera backpack is the obvious choice.
Features
Made from ballistic nylon, the ProTactic BP 350 AW II measures 300 x 180 x 470mm, which puts it in the category of carry-on luggage on airlines. Since no photographer would ever check-in photography equipment, that's important, and while you can get the same protection and more from a roller bag, a backpack will prove a lot more convenient and portable when you get to the other end.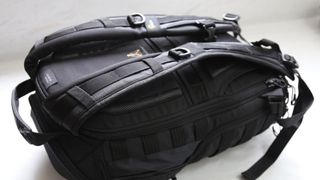 Also important is a hard case on the front of the ProTacTic that creates a safe area for storing a drone (specifically the DJI Mavic 2 Pro or Zoom or DJI Osmo+). However, its Velcro dividers can be rearranged to house lenses and camera bodies, and its lid has a section perfect for sunglasses, and even a fold-over SD card pouch.
The ProTactic BP 350 AW II is good for storing a DSLR with 24-70mm f/2.8 lens attached, a drone, a GoPro, a 360° camera, and a medium-sized tripod. During our tests we primarily used the bottom section to store a Canon 6D DSLR sporting a 24-70mm lens, but easily managed to store another lens nearby. We left the top section free for food, clothes and a guidebook, but could have easily put another camera up there. We also attached a large tripod with no problems.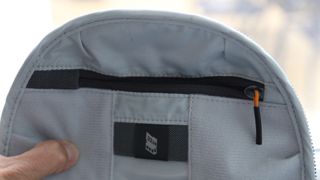 Inside the main back-opening lid there's a couple of zipped, transparent pockets ideal for documents, SD cards, and anything else that needs to stay safe and dry. Behind them is a zipped area (240 x 18 x 345mm) for a 13-inch laptop.
Quality and usability
With tough, heavy duty fabric and zips, the ProTactic BP 350 AW II has a solid but not too bulky a design that's not as heavy as we feared (it weighs 2.12kg when empty).
However, its stylistic genius is that it's modular. A lot of accessories are available for this backpack, and most of them rely on the novel design of the front of the backpack, where six lines of tough fabric loops (five on each line), allow all kinds of accessories to be attached via double Velcro fixers.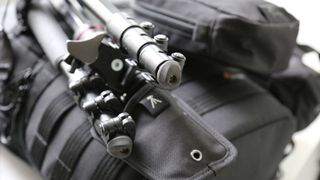 As standard you get a tripod system that uses ProTactic Quick Straps (£11.95/$11.95 if you need more than one set) that attach to those loops, together with a small pouch that can be placed anywhere on the front or side of the bag, to give one leg of a tripod a toe-hold. It's very secure when the straps are tightened. You also get a small drawstring bag that's good for a water bottle, and a useful zip-up bag. Extra paid-for accessories, which are all a little more luxurious, include a neoprene ProTactic Bottle Pouch that's big enough for a flask (£24.95/$24.95), a Utility Bag 100 AW (£34.95/$39.95), and a ProTactic Phone Case (£24.95/$24/95). The latter sits at collarbone height on the shoulder straps, so is best used on the (removable) hip-belt.
A pull-out waterproof cover unfurls from a pocket on the undercarriage of the ProTactic BP 350 AW II. It fits snugly, but has a bit of elastic give on each side, so can easily cover a few accessories.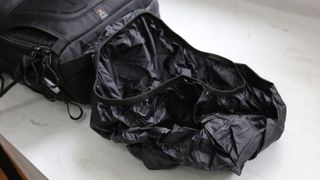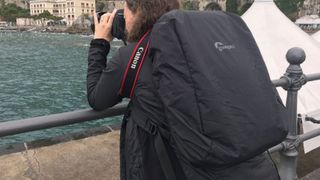 The padded straps (which sport various loops and tags) proved comfortable when worn around the ruins of Pompeii, Italy for five hours. They're easy to adjust as well, while the tough foam-backed back panel provided enough padding. It also contains a loop for attaching the ProTactic BP 350 AW II to the telescopic handle of some carry-on luggage. However, perhaps most importantly, it has a chest strap that significantly reduces the load on your neck and back. Such straps are rarely used by most photographers carrying heavy equipment, massively to their detriment.
Accessibility and capacity
Some people like shoulder-slung bags with side access so they can remove their camera without taking their backpack off. Personally, those kind of bags have never really worked for me. As someone who usually takes landscapes and astrophotography, I prefer a rear-opening backpack that can be put on the floor for lens-changing etc. However, Lowepro has decided to design this bag for every kind of photographer, so it has side-access on both sides, as well as a top access zip and the U-shaped back opening that completely opens the bag to the elements.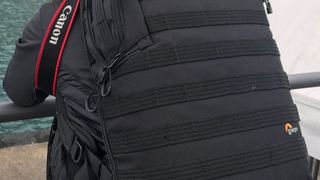 Our only criticism is that when the bag is full of gear and there's a laptop is in situ, the back panel does tend to protrude slightly. It was a bit of a squeeze, though the zips are tough enough to cope, and the end result is very slim. That's partly because two small zipped pockets at the top of both sides are for storing extra batteries and SD card wallets.
Although we removed the hip-belt since our trip didn't involve a hike, it's actually pretty useful. As well as two zipped pockets, one side has more loops, so you could easily attach a smartphone holder or even a water bottle holder.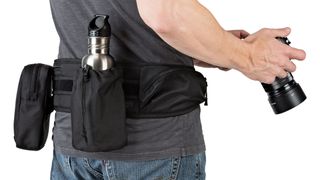 Verdict
Yes, it's a bit of a specialised purchase, and the sheer number of accessories might make it seem like an investment rather than simply a bag. The ProTactic BP 350 AW II can be endlessly customised, which is not something you can say about most camera backpacks. In fact, we've not laid eyes on a camera backpack quite as versatile. Are the accessories crucial? Actually, they're not. Used on its own the core ProTactic BP 350 AW II proves a tough yet slimline, and a highly travel-friendly bag ideal for taking in an airline cabin as carry-on luggage. You can even remove the Velcro-fixed dividers and create a daypack for work or an overnight trip.
Read more:
• The best camera backpacks you can buy today
• The best camera bags and cases in 2019: shoulder bags, backpacks and more
• The best travel cameras you can get right now