CFexpress is the hottest memory card format of the moment and looks set to become the format of choice for cameras for professionals requiring the fastest possible data transfer speeds to keep up with the demands of ultra-high resolution image sensors and high bitrate 4K and 8K video.
At present only a few stills cameras support CFexpress out of the box, most notably the Canon EOS-1D X Mark III, but this could soon change. With CFexpress cards sharing the same physical form factor as the existing XQD card format, it's possible for older XQD cameras such as the Nikon D850, Z 6 and Z 7 to be firmware-updated to support CFexpress cards. This not only opens up possibilities for compatibility with newer, faster cards, it could also save you money. As any Z 6 or Z 7 owner will know, XQD cards are far from cheap, mainly because Sony has a stranglehold on the market. CFexpress on the other hand is an open-source standard and the usual big names in the memory card business are queuing up to offer CFexpress cards.
• SanDisk Extreme Pro CFexpress Type B card review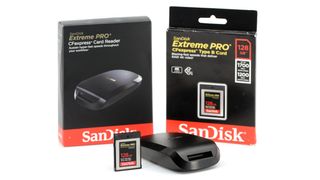 With this last point in mind, we welcome Sandisk to the CFexpress fray with its Extreme Pro CFexpress Type B Card. Here we're specifically reviewing the 128GB variant (64GB, 256GB and 512GB capacities are also available).
Sandisk was also kind enough to send us its new Extreme Pro CFexpress Card Reader for testing.
Compared to Sony's G series XQD cards that boast maximum read/write speeds of 440/400 MB/s, our Sandisk 128GB CFexpress card claims to be capable of stunning 1700/1200MB/s read/write speeds, making it by far the fastest consumer memory card we've ever encountered, even eclipsing the previous (and sadly failed) CFast 2.0 format.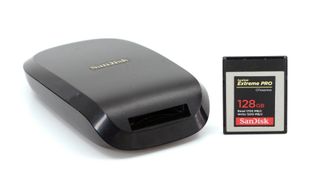 Build and handling
On the outside there isn't much to get excited about with CFexpress, as CFexpress card closely resemble XQD cards, but it's this very compatibility that's a key CFexpress attraction. If you've not encountered an XQD - and by extension, CFexpress - card before, imagine a blend between a traditional CompactFlash card and an SD card and you won't be far off.
Sandisk's CFexpress card reader is discreetly styled, but has a pleasantly weighty feel, which combined with its grippy base keeps it anchored to your desk. This isn't a dual/multi format reader though, so if you also use other card formats, you'll need an additional card reader for these. Rather than simply pressing the CFexpress card into the reader like most SD or CompactFlash readers, the Sandisk Extreme Pro CFexpress reader uses a sprung click-in, click-out mechanism that gives a more positive docking feel.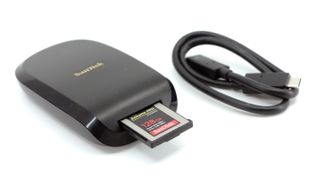 The reader is supplied with a short USB Type-C to Type-C cable, and you'll need to use this rather than an older Type-A connection to ensure faster data transfer speeds. The reader utilises a USB 3.1 Gen 2 connection specification, meaning it can transfer at up to 10 gigabits per second. However, do the maths and even this isn't fast enough to achieve the claimed maximum transfer speeds of a CFexpress card. 10Gbps equates to 1250 Megabytes per second - some way short of the 1700MB/s claimed maximum read speed of the SanDisk Extreme Pro CFexpress card.
Performance
We connected our Extreme Pro CFexpress reader to a brand new Asus ZenBook Pro Duo UX581G laptop to put card and reader through their paces. The ZenBook Pro Duo is an ultra high-end laptop boasting the very best hardware specifications. We rate it as one of the best laptops for photographers, so it shouldn't introduce any bottlenecks in our CFexpress card speed testing.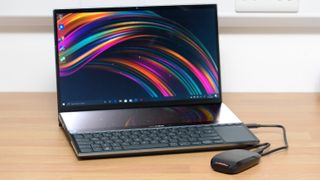 Crucially, our Pro Duo was equipped with a blazing fast Intel Optane H10 storage drive utilising the latest PCIe NVMe 3.0 x4 interface. This makes it capable of up to 2400MB/s read and 1800MB/s write speeds, therefore exceeding the maximum CFexpress card transfer rates. Combine this with the Pro Duo's Thunderbolt 3 USB Type-C connection that can transfer at up to 40Gbps (5000 Megabytes per second) and it's safe to say our test computer would not be bottlenecking the CFexpress card or reader.
We tested using repeated real-world transfers of a large folder of image files (multiple small files will always take longer to copy/paste than a single video of the same total file size), as well as a single large 4K video file, to determine the maximum possible real-world sustained transfer speeds you're likely to achieve. Finally, to test theoretical maximum possible transfer speeds of the card, we used CrystalDiskMark's storage benchmarking software, specifically the sequential read/write setting.
After repeated test runs, we found the Extreme Pro CFexpress 128GB Type B card and Extreme Pro CFexpress reader delivered average speeds of:
Swipe to scroll horizontally
| Header Cell - Column 0 | Read | Write |
| --- | --- | --- |
| Images | 534MB/s | 410MB/s |
| Video | 718MB/s | 438MB/s |
| CrystalDiskMark | 1678MB/s | 591MB/s |
On the one hand these figures are hugely impressive results that eclipse any other memory card we've ever tested. However, aside from the 1678MB/s theoretical read speed score we achieved, which comes very close to the 1700MB/s claimed by Sandisk, in every other respect our CFexpress card didn't reach its claimed maximum speeds.
But this may well be no fault of the card, or indeed Sandisk's marketing department. While the physical hardware of CFexpress is doubtless capable of such stunning performance, other limiting factors inevitably come into play. A computer's operating system, the type, size and quantity of files being transferred, the connection between card and computer, and finally the computer's internal mass storage device (SSD or HDD) will all play a part in determining the maximum file transfer speed you can achieve.
if we're to speculate on what may have limited our real-world image and video transfer speeds, the likely culprit could be the CFexpress reader. Its USB 3.1 Gen 2 connection, though unusually fast in the card reader market, still isn't enough to maximise the potential of CFexpress. However even with this accounted for, we'd have still expected slightly higher maximum video read rates than we actually got.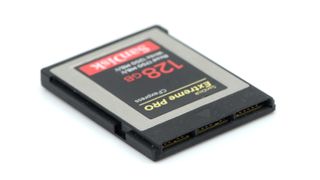 Verdict
CFexpess is undoubtedly the fastest card format you can buy into right now, and if you ignore its claimed maximum speeds, you'd be thrilled with the real-world performance it offers. If you want to try and realize the format's incredible speed claims for yourself, you'd better be rocking the very latest and greatest computer hardware, and even then, that still may not be enough to guarantee the best out of CF express.
The only other issue with CFexpress is cost. One of the main complaints with XQD is Sony's monopoly on pricing, yet at the time of writing a 128GB Sandisk Extreme Pro CFexpress card will set you back a whopping $200/£294, whereas a Sony G series 128GB XQD card costs around $192/£190. Sure, the CFexpress card is faster, but we'll have to wait for more manufactures to get on board with the CFexpress format for pricing to undercut XQD.
But theoretical max speed hyperbole and early adopter premium pricing aside, there's no doubt CFexpress performs admirably and looks set to be the format of the future.
Read more:
The best memory card for your camera
Canon EOS-1D X Mark III review
Memory card symbols explained – how to understand the info on your new card