To decide on the best camera for video, you need to decide what kind of video you want to shoot and what you want to do with it. You will likely need a very different tool if you're shooting for fun or to learn some new skills, compared to shooting for clients as a business. 
We're here to walk you through all the many different options available, and we'll also give you links to buying guides for all these varying cameras that shoot video in very different ways.
Getting started in video can also be pretty daunting, simply because of all the new techniques and jargon you have to learn. If you already know a bit about stills photography, that will help. Video is a whole new field, though, with a whole new language, so we will try to defuse some of the jargon as we go along and explain it in regular everyday terms.
Because the fact is, video doesn't have to be difficult. So don't get put off by the accessories, the technical terms, the complex-sounding techniques and the daunting levels of work that pro videographers and cinematographers have to put in to make their films. You can start shooting video at any level, and work as far up the ladder as you want to go.
So let's take a look at all the different types of video you might want to get involved in, the equipment you might need and where to go next.
Best camera for video in 2021
Action cams
Action cams (action cameras) are the simplest way to get into video. There's almost nothing to know. Apart from a handful of basic settings for the video resolution and frame rate, you just press a button to record and press again to stop. What action cams lack in finesse they make up for in immediacy, impact and their bulletproof go-anywhere attitude. The video quality is often better than you'd expect, too. We've got a dedicated buying guide to the best action cams, but here's one of our favorites.
The very best action camera around is, accordingly, the best one for video. GoPro's latest flagship is the first to feature a vlogging-style front-facing screen, and the 5K video resolution is another big reason why this is the one to go for. The new sensor also enables you to get 14.7MP grabs from 5K video, as well as take 20MP stills, giving you hybrid flexibility. It's also got a a larger 2.27-inch display than the GoPro Hero8 Black, super-smooth Hypersmooth 3.0 video stabilization, TimeWarp 3.0 for handheld time-lapses, a travel case, and an upcoming Max Lens Mod accessory that will bring GoPro Max-style features like 360º horizon lock and an ultra-wide 155º Max SuperView mode. 
• Read full GoPro Hero9 review
Camera drones
Imagine an action cam attached to a flying machine you can control from the ground and where, with some models, you can actually look through the camera's 'eyes' as you're flying it. Well obviously you don't have to imagine it because these things exist right now. And with the latest automated flight controls, you can be up and flying in an afternoon even if you're a complete novice. As with action cams, you're not going to get cinema quality footage, but a camera drone will let you shoot subjects from angles never before possible. See our guide to the best camera drones, or check out one of our favorites below.
DJI's Mavic Pro changed what was possible with the best camera drones back in 2016, making it possible to fold and carry a decent-quality lens without being overly heavy or bulky. It sold so well that perhaps the appeal of simple aerial imagery is waning, so DJI has added clever software features. One of the most stunning (on both the Mavic 2 Pro and the Zoom model) is Hyperlapse – an aerial time-lapse which can include motion and is processed in moments onboard. The Zoom model also gains a dolly zoom effect (ask a horror movie geek), which is great fun.
The airframe feels beefy for something that folds up so small, but it brings with it powerful motors and speed control systems, capped with surprisingly quiet propellers. This makes it nearly as capable as heavier drones in the wind – with a high maximum speed and very responsive controls (which can be softened for cinematic work). The omnidirectional sensors also make it very hard to crash at normal speeds, and even play a part in the excellent object tracking.
360 cameras
This is another variation on the action cam design that takes video into whole new areas. 360 cameras are essentially two 180-degree cameras fixed back to back that film simultaneously – and the camera merges both sets of images in real-time to produce seamless 36-degree 'spherical' footage. It's amazing and disorientating at the same time. It doesn't matter where you point the camera (!) because it captures everything around you. Viewers can look around the full 360 scene in 360 viewers (YouTube can do this), or you can edit the video to produce a regular 'flat' movie where you can pan the camera and control where it's pointing as you edit the movie. See our best 360 cameras buying guide or check out one of our all-time favorites below.
The GoPro Max looks like a 360-degree action cam for enthusiasts, but actually anyone could use this camera. The magic of 360 and the GoPro Max is that you can hit record and forget about framing (within reason), then edit your footage in the app. We've put this ahead of our previous favorite, the Insta360 One X's because of its better quality capture and microphones, and the way it can double up as a vlogging cam and an action cam too, though not in 4K. Regular 4K single-camera capture would have been better still, and the app experience could use some work, but given everything the Max can do, it's still a sensational step towards what could genuinely be the future of film making and right now we think it's the best 360 camera around.
Read more: GoPro Max review
YouTube
If you want to make a name for yourself as a YouTuber, you can use regular action cams and drones, but if you want a better quality result you'll be better off with a mirrorless camera, for example, that's also good at video. You've probably guessed we've got a guide to the best YouTube cameras too – and our choices will also work for all kinds of social channels, instagram included.
One of the biggest bugbears vloggers and video makers have with Canon is the crop factor when shooting 4K on many of its cameras, but the G7 X Mark III bucks the trend – thank goodness. This high-end compact packs a similar body and an identical lens to the G7 X Mark II, but includes a new sensor and no 4K crop.
It was also the first camera of its kind with a microphone input – vital if you want clean audio, not to mention the ability to livestream straight to YouTube. This means that even if you've got an expensive cinema camera, if you also have a G7 X Mark III you can create a fuss-free live setup without any expensive capture cards and a PC.
With its flip-out screen, the G7 X III also gives vloggers a clear view of themselves when they shoot, and thanks to its 20.1MP 1-inch stacked CMOS sensor and Digic 8 processor it's also able to capture great stills, so your custom thumbnails can pop nicely.
See also: Best cameras for streaming
Vlogging
Vlogging is definitely the Next Big Thing in video, and it's now wildly popular amongst a new generation of photographers and videographers – the current buzzword is 'independent content creators', and the most talented and successful of these have become household names amongst their fans. We've got a guide to the best cameras for vlogging and some of the things to look out for, and one of our top vlogging suggestions is below.
Image 1 of 6
Image 2 of 6
Image 3 of 6
Image 4 of 6
Image 5 of 6
Image 6 of 6
Not so long ago, any camera with a 180-degree front-facing screen was instantly dismissed as a 'selfie' camera, but the rise of blogging, vlogging and Instagram has brought video to the fore, and the A6400's front-facing screen sets it apart from many of its rivals and makes it a powerful and desirable tool for single-handed video shooters who want to talk directly to the camera. The A6400 is also a great camera for stills. We're not so keen on the design, which is largely unchanged since the original A6000 model, but it's not a deal-breaker given that the Sony is so good at video. It's not just the 4K video that makes this camera stand out as a vlogging tool, but its state of the art autofocus system, and especially its Eye-AF performance. It's sold body only (handy if you already have Sony lenses), but if you intend buying it with a kit lens we'd recommend paying the extra for the Sony 18-135mm f/3.5-5.6 lens, which has much longer reach and better optical quality than the standard 16-50mm f/3.5-5.6 PZ lens. Since the Sony A6400 came out, we've had the cheaper A6100 and the more advanced A6600 – but we think the A6400 still hits the vlogging sweet spot between convenience, cost and quality.
Read more: Sony A6400 review
Filmmaking
Vlogging is a perfectly respectable occupation, but if you produce work for clients and customers you may need to step up a gear with your equipment. These days, every camera worth its salt comes with 4K video, and even if you or your clients don't need 4K video right now, you'll almost certainly need it very soon. Shooting 4K also gives you a bit more editing/cropping leeway later on, as well as future-proofing your footage (until 8K becomes the Next Big Thing, but that's going to take a while!). You can read our guide to the best 4K cameras for filmmaking for more, but here's one of our favorite cameras right now.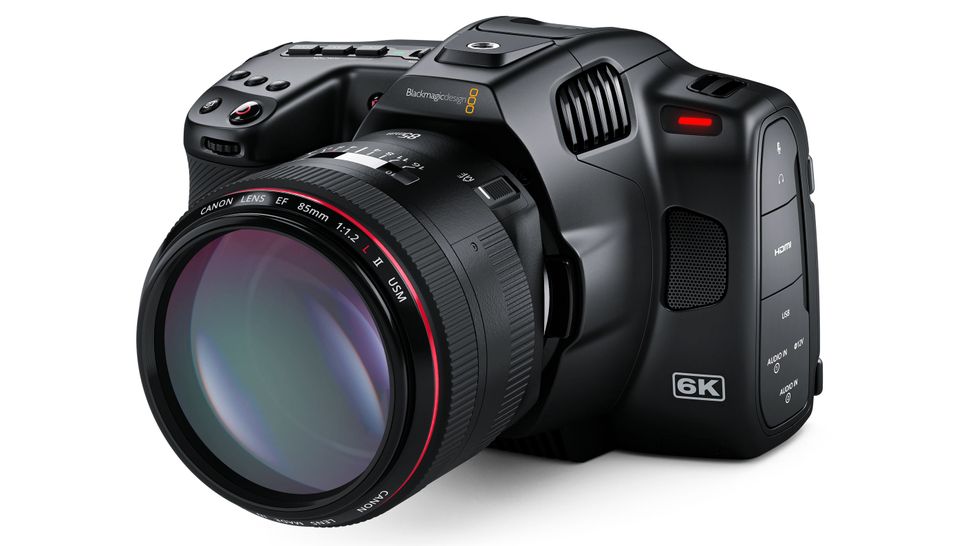 The Blackmagic Pocket Cinema Camera 6K Pro is an evolution of the original 6K model which adds features missing from the first, including in-built ND filters. First of all, though, you have to get used to the handling from the odd size and large shape of the Super35mm "Pocket" Cinema Camera – which is certainly far from being pocket-size. And the lack of continuous autofocus, image stabilization or any auto-exposure can be an issue for some. It's definitely not a run-and-gun camera, but if you use it as a tool for considered, cinematic shooting then it's a bit of a steal as it produces rich, detailed files in Raw or ProRes from its dual native ISO sensor.
Read more: Blackmagic Pocket Cinema Camera 6K Pro review
• Best video editing sofware for vloggers and filmmakers
Camcorders
With all this talk of action cams and mirrorless cameras, you might be wondering what happened to the good old camcorder with its long-zoom lens and torpedo-like shape. In fact, camcorders are still going strong. You can still get amateur-orientated camcorders like those from the old videotape days, but there's also a strong market for pro camcorders, often with interchangeable lenses. In fact, the camcorder 'shape' is considered by many pro videographers, especially those in the broadcast/news industry, to be better for shoulder-mounted use and general handling. See our guide to the best camcorders for a selection of our favorites – there's one below as an example.
The FDR-AX43 may be compact but it doesn't skimp on features. Fronted by a Carl Zeiss Vario Sonnar T lens, the AX43's niceties include a 10x optical zoom, 4K shooting (with super-down-sampling for 1080p displays), a low noise Exmor R CMOS sensor, and dual-video recording in XAVC S or AVCHD, plus easy to share MP4. For those who want convincing surround sound when playing back their footage into a home cinema or soundbar, there's also a multichannel 5.1 microphone. Expect limitations in low light, but if you're looking for an easy-to-manage but capable 4K shooter, then this model is a fantastic choice, and that balance between functionality, portability and price is why it our favorite 4K camcorder.
Cinema cameras
Now we're into the big league. If you need a cinema camera you're probably working on feature films and TV shows with a proper crew and actors, and you probably don't need us to tell you which camera to buy. But for those who are interested in what's available and what's involved, we have a guide to the best cinema cameras right now, and even if these are outside your scope at the moment, if your video career takes off you might be using one of these sooner than you think. Just as a taster, here's one of the best options on the market right now.
With an ideal array of ports, features and modes to help you capture excellent footage, the C300 MK II is a good few steps up from a DSLR or mirrorless camera that happens to shoot video. It's able to handle low light video like a champ (up to roughly ISO 32000 before grain is noticeable), and unlike most consumer Canon cameras you won't be grumping about its 4K capabilities – the C300 MK II captures UHD content at up to 410Mbps/10-bit. Dynamic range is excellent at 15 stops, as too is its continuous autofocus – one thing the C300 MK II does share with its sub-£2000/$2000 siblings. In a break from tradition, it takes either EF or PL lenses, and the lens fitting can be swapped out at an approved service centre. 
Laptops for video editing
This is nothing to do with choosing a camera, specifically, but video editing places pretty heavy demands on any computer, so we thought it would be useful to pull together a guide to what we think are the best laptops for video editing right now.
If you've got a lot of cash to invest, the Acer ConceptD line is a series of laptops and desktops that have been fine-tuned for designers and editors. Specifically, the ConceptD 7-series laptop has gaming laptop power without any of the gaudy casing or attention-grabbing RGB lighting. It's also quiet, staying cool without loud fans whirring/roaring away. 
Ideal for color grading, the Acer ConceptD 7's 4K UHD display covers 100% of the Adobe RGB gamut, and its color fidelity is Pantone validated, with a color accuracy of Delta E <2. With the latest hexa-core i7 internals from Intel, an Nvidia GeForce RTX 2080 graphics card and up to 32GB RAM, whether you're processing out Full HD or 4K footage, Acer's Concept D should make short work of it.
More video camera buying guides
Best action cams
Best camera drones
Best 360 cameras
Best cameras for YouTube
Best cameras for vlogging
Best 4K cameras for filmmaking
Best camcorders
Best cinema cameras
Best camera for streaming
Best home security camera
Best camera phone

Video accessories
Best laptops for video editing
Best video editing monitor
Best mouse for editing
Best keyboard for video editing
Best video accessories
Best microphones for vlogging
Best video tripods
Best gimbal stabilizers
Best camera sliders
Best on-camera monitors
Best LED light panels
Best reflectors
Best collapsible backdrops