For many, the Apple Studio Display seen as a long-awaited replacement to the previous 27" Apple Cinema Display. To some, it's the perfect partner to their latest Apple Mac Studio or M1 Mini purchase. For others, it's a way of extending the desktop of their new MacBook Pro setup.
Whichever way you look at it, the latest 27" 5k Apple Studio Display is a well designed product, at a competitive price-point (given its professional specifications), launching at just the right time.
Specifications
Screen size: 27"
Resolution: 5k display (5120x2880 at 218ppi)
Brightness: 600 nits
Gamut: Wide P3 color gamut with True Tone
Audio: 6 speakers and 3-microphone array
Camera: 12MP Facetime camera with Centre Stage
Reference modes: 9 standard reference modes plus custom profiles
Processor: A13 Bionic chip built-in
Connections: 3 x USB-C ports, 1x Thunderbolt port
Options: Nano-texture non reflective glass option (as tested)
Key features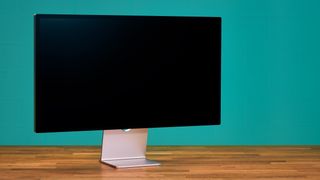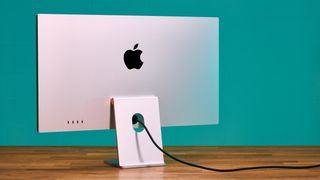 While not delivering quite the levels of brightness and image quality as its high-end Display XDR sibling, the new Studio Display is designed to be a more rounded and economical offering for use as a main screen for most creative scenarios.
With features such as built in reference modes and nano-textured glass as an option, there are many who will find this latest display delivers the exact experience they want from a calibrated screen, while also keeping with the design aesthetic of their other Apple equipment.
Beyond the screen's impressive display characteristics, the addition of a 12MP front camera, 6 cinema speakers and a 3-microphone array, all built into a sleek aluminium unit, makes the case for it being used as a primary display (even for owners of existing screens) quite compelling.
Design and operation
Taking cues from the top-of-the-range Apple Pro Display XDR, the Studio Display is housed in a perfectly finished aluminium enclosure with a sturdy base stand. The standard unit lacks height adjustment, but does allow for tilt, while an optional upgrade adds this functionality if needed.
On the rear of the display you'll find its 3x USB-C ports and 1x Thunderbolt connection for your computer. The mains cable doesn't appear to be designed in a way that allows it to detach and re-attach in any frequent fashion, but the cord appears chunky and hard-wearing. A 1m Thunderbolt cable is included, which will allow connection to most Mac computers as long as they're not too far from the desk.
The nano-textured glass option on the screen delivers an incredible amount of glare reduction, appearing to almost absorb any light that's shone towards the panel – but does present a challenge when cleaning its surface, which can show fingerprints if touched.
Performance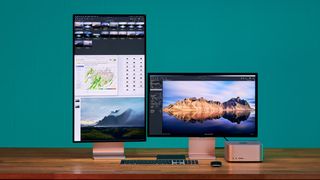 As a reference screen for serious creative work, the Studio Display does indeed hold its own against many others out there. Its built-in reference modes seem to match most of those on the Pro Display XDR to the point where it's possible to run them side-by-side with little noticeable difference between the two when producing non-HDR content. The calibration and fine-tuning options to customise those modes are also welcome, enabling precise matching to other screens in use.
For SDR content, the Studio Display's 600 nits of brightness easily outperform the equivalent offerings from others such as LG's 4k 27" UltraFine screen – and there is constant brightness across the panel with an extremely wide viewing angle. Any serious media creator is likely to want to disable True Tone and Automatic Brightness features, although they're handy functions for many of us who work in different lighting setups for admin tasks, so their inclusion is welcome.
In terms of multimedia capabilities, this screen is a step up from previous (and alternative) offerings on the market. The built-in cinema speakers deliver a rounded, rich sound with no loss of fine details – while the array of 3 microphones helps the display to isolate speech perfectly when on a video call, especially in noisier environments.
While Centre Stage is an extremely welcome addition to the 12MP Facetime setup, the quality of the front-facing camera itself has been criticised in some spaces for lacking detail and colour balance control. Alongside the subjective tests ran against people's faces, we ran a quick Facetime comparison between the Studio Display's built-in camera, the 14" MacBook Pro M1's facetime camera, and the front-facing camera housed in the iPhone 13 Pro Max on an ISO 12233 standard focus chart.
Despite not performing quite as well as we'd hoped, the rendition of extremely fine details did appear to beat those delivered by the "smoothing" camera of the MacBook Pro 14", although the iPhone 13 Pro retained the top spot in terms of detail and sharpness overall during a video call.
Verdict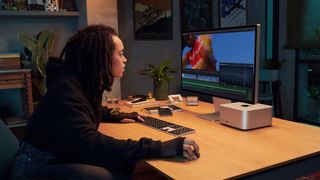 The new Studio Display from Apple was clearly never designed to be a competitor to their flagship Pro Display XDR, but does open the door to many more customers looking for a well-designed, integrated solution to delivering reliable image renditions across all forms of media.
While sporting purely SDR capabilities in visual terms, its multimedia features mean this unit can operate as a primary display for most creatives – without the need for external speakers, microphones and cameras, which often need adding to competitive products.
As a reference display, colours are true and consistent – and brightness is stable across the entire panel, leading to a user experience which is in some ways on a par with that of the Pro Display XDR for those not needing the extra brightness or HDR capabilities that it brings at the higher-end.
It's just a little frustrating that while everything else about the screen impresses, the ability to raise or lower the display comes at an additional cost and that the built-in camera isn't quite as ground-breaking on release as other elements of its overall design.
But as a companion to any recent Mac, the Studio Display would be hard to beat in my book.