The best audio recorders aren't just useful for podcasters and radio producers. They're an essential piece of equipment in filmmaking too, enabling you to capture high-quality audio recordings of dialogue, sound effects, ambient sounds, and more. This can later be synced with your visuals using video editing software, such as Final Cut Pro X, Adobe Premiere Pro, or DaVinci Resolve.
Audio recorders come in a variety of sizes, styles, and price points, from handheld devices to larger units that can be mounted on a boom pole or tripod. Some have built-in microphones, while others can be used with external mics for greater flexibility and control.
How to edit videos: basic video editing tips
To help you find the right device for your film-making needs, we've brought together the best digital recorders in the article below. These are all respected, industry-standard models that are small, portable, and fit a range of budgets.
Like any sector, there are audio recorder brands that dominate, and in this case, it's Tascam and Zoom. However, we've found decent options from other companies too, you should be able to find an audio recorder that fits your needs and, more importantly, your budget in the list below. If you need guidance, though, skip to our section on What to look for in an audio recorder.
Finally, if you need an external mic for your audio recorder, check out our guides to the best wireless mics and the best lavalier mics.
Best audio recorders for filmmaking
Why you can trust Digital Camera World Our expert reviewers spend hours testing and comparing products and services so you can choose the best for you. Find out how we test.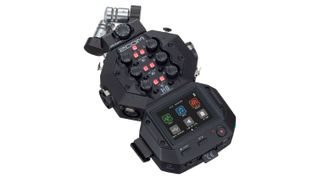 The Zoom H8 is one of the most popular and advanced audio recorders on the market, packed with great features for videographers. It has multiple connections so you can choose to employ the X/Y mics for more ambient sound or add in a handheld or wireless mic via one of the four XLR inputs or two XLR 1/4-inch jacks.
Each separate input can be adjusted and monitored on the 2.4-inch color, LCD screen and three built-in apps optimize recordings for either field recording, podcasting or music. It can also take standard-sized SD cards up to 512GB, so you'll never be short on memory.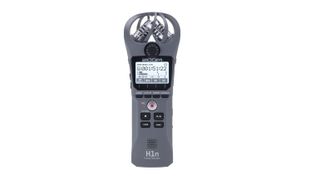 On a tight budget? The Zoom H1n portable recorder is a great choice, featuring an onboard stereo microphone that lets you easily record two tracks of high-resolution audio in the palm of your hand.
Filmmakers will enjoy the H1n's ability to capture clean, distortion-free speech. And like other H-series products by Zoom, you can hold it in your hand, attach it to a mic stand or tripod, and even mount it to a camera via the shoe mount (sold separately). Overall, this is a best value model on our list.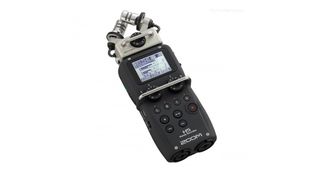 If you like the idea of the Zoom H6, above, but want something cheaper than its predecessor the Zoom H5 is well worth a look. It's pretty similar but there are compromises to achieve a lower price. These include a less impressive screen, just two XLR/TRS inputs (as opposed to four on the H6), a shorter battery life, and only 32GB on the SD card.
Overall, though, this is still a very good audio recorder, offering Interchangeable microphone modules, shock-mounted mics for low noise, and hardy construction.
For more details, see our Zoom H5 review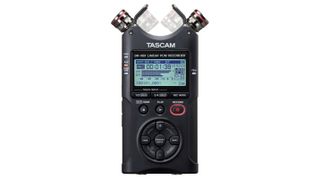 The Tascam DR-40X is more of an entry-level audio recorder when compared to the Zoom H8, but nonetheless, remains a common choice among videographers. It has two XLR inputs complemented by omnidirectional mics that can be switched from an A-B pattern to an interview-style shoot or to an X-Y pattern depending on the sort of ambient sound you want to capture.
When filming indoors, there's no need to worry about swapping batteries as the DR-40X can be powered via a mains plug, which you'll have to buy separately but is a great advantage when using it as a main audio source on a set or YouTube studio. Audio is recorded onto an SD card so files can easily be transferred to your laptop, PC or Mac.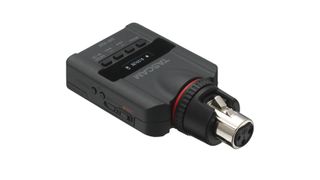 With the Tascam DR-10X attached directly to your preferred microphone, you can record full-resolution dialog and speech while skipping the trouble of long cable runs and avoiding the confusion of configuring a wireless microphone system. Whether you use a handheld dynamic mic or a battery-powered condenser, the lightweight DR-10X can be discreetly affixed to the mic without weighing it down.
Thanks to its small, low-profile design, the DR-10X is ideal for interviews, weddings, and vlogs where the audio equipment needs to stay out of sight. And with 10-hours of battery life from one AAA battery, this is a perfect solution without the hassle of wireless interfaces.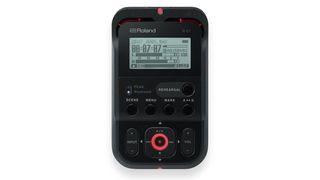 The R07 is a great option for 'Run & Gun' videographers looking to capture improved sound for their productions. The small unit includes built-in stereo microphones and a port to plug in a lav mic: perfect when someone's presenting to camera.
There is a useful LCD to show sound levels, plus you can also monitor at a distance using Bluetooth headphones. The R07 can run for 15 hours off two AA batteries, and features programmable Presets, so once you nail the settings for a scene, you won't have to program them again, making this a great solution for indie filmmakers.
What's more, a rehearsal mode listens to your audio and adjusts the settings for you for optimal sound quality and recording, so you won't need to spend too much time in the editing suite. A smartphone also app enables remote control too, further enhancing the speedy operation of the R07.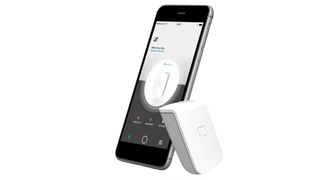 This incredibly small and lightweight audio recorder is unlike anything else on the list. It's a clever recording solution for videographers who want to use their smartphone to record footage. You attach the Memory Mic to your subject via a magnetic clip, essentially turning it into a Bluetooth lav mic that records audio internally.
Once you're done recording a scene, you can transfer and sync the audio with your video clips via Bluetooth and a free app for iOS or Android. It can record up to four hours of audio on a single charge and takes just two hours to charge back up to full power.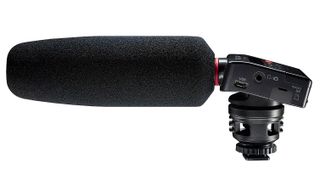 The DR-10 SG is an incredibly compact unit that is well suited to vloggers who want to shoot handheld but with improved audio. Essentially, the DR-10 SG is a hotshoe mic, with a built-in audio record that stores files on a Micro SD card. The device tips the scales at just 110 g (including batteries) and a supercardioid shotgun microphone captures sound in front of the lens.
With four selectable EQ modes and audio pass-through to the camera, users can fine-tune the audio and the unit benefits from a shockmount, to reduce introducing unwanted audio when the camera is moved or knocked. A single AAA battery gives over eight hours of operation – impressive.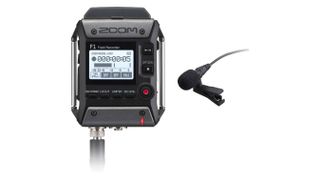 This is the perfect two-track audio recorder for simply popping on your belt and presenting to camera at distance, because no connection to the camera is needed.
The F1-LP records audio via a lav mic and is a good option for those videographers using non-DSLR cameras such as GoPros, smartphones or cameras like the DJI Osmo Pocket, as you can use the F1-LP to capture high-quality sound that you can merge with your footage in post-processing.
If you'd prefer not to use the lav mic, more ambient sound can be captured by adding one of Zoom's mic accessories to the 10-pin jack (such as a Zoom's hotshot module or XLR capsule).
This versatility is even more impressive considering the F1-LP's mid-level price-tag and the unit benefits further from an LCD to show information, a tally light to show when the unit is recording and a headphone port so audio can be monitored in real time.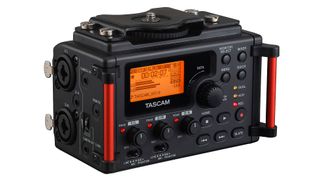 The DR-60D MkII may not look like a typical audio recorder, but the unit is perfect for videographers looking to take audio within their footage to the next level. This time around, the camera sits on top of the audio recorder, screwing into place where your tripod plate would go.
With two XLR/TRS inputs, videographers can choose to add in audio from these sources with audio straight from your DSLR or mirrorless camera, which is recorded to a full-size SD card slot. A USB port enables remote powering of the unit and at the front you will find an LCD to display sound levels along with buttons to quickly playback clips you've recorded via your headphone. Phantom power sends a 48v signal to mics that need extra power and a mixer affords a high level of control on how the balance of sound will be recorded.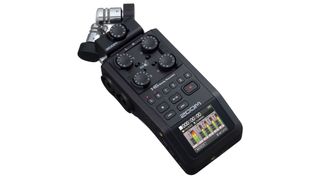 Like the H8, the Zoom H6 is a popular audio recorders amongst filmmakers and is packed with great features. It has multiple connections so you can choose to employ the X/Y mics for more ambient sound or add in a handheld mic via one of the four XLR inputs.
Each separate input can be adjusted and monitored on the 2-inch color LCD screen and it takes standard-sized SD up 128GB to cards you'll never be short on memory whilst out in the field. The H6 packs an impressive array of features into a rugged, rubberized body that's more than ready to meet the varied demands of professional cinematographers looking to take their films to the next level.
What to look for in an audio recorder
Recording formats: Can the recorder capture audio in different file formats such as WAV and MP3 files? This gives versatility to your work flow and allows high quality audio to be added to your footage.

Different inputs: Look out for multiple inputs as this will allow you to mix up the microphones you use; from lav mics when presenting to XLR inputs for boom mics and shotgun mics to record ambient sound.

Internal memory: Most audio recorders enable users to record sound to a SD or MicroSD card. However, some also offer internal storage – useful if you filled up cards or have forgotten them.

LCD screen: Does the audio recorder offer an LCD? These are useful for not only adjust settings, but also for monitoring sound levels to make sure the audio isn't too loud/quiet.

Bluetooth technology: Some audio recorders offer Bluetooth, which enable benefits such as remote control via a smartphone app, or the ability to monitor sound remotely via cable-free Bluetooth headphones.
Read more:
The best microphones for vlogging and filmmaking
Best XLR microphones
Best shotgun mics
The best headphones for video editing
Best wireless earbuds
Best headsets
The best laptop for video editing
Best video editing software
Best teleprompters
Best camera for filmmaking
Best cameras for live streaming