Our guide to the best light tents for photography is here to help you get the right tend or table for the job. Ideal for product photography, as well as macro shooting, light tents and light tables essentially provide you with a small, portable studio where you can precisely control the quality of your lighting.
When shooting still-life or product images, correct lighting is absolutely vital. You need to control the light in order to product a soft and shadowless effect that makes it flattering and pleasant to look at. And, unlike with portraiture, you can't necessarily just pop a softbox over a flash, as products tend to be quite a bit smaller than people. You're actually better off placing the softbox over the subject instead – which is where the light tent comes in!
If you're running an online shop, or are selling a lot on eBay, then a good light tent is a fantastic and affordable way to make your product photos look professional. But it's not just about business, as they can be great for macro photos of tiny subjects, too.
Light tends are constructed from fabric, which unfortunately is vulnerable to forming distracting creases that compromise the integrity of your image background. One way to avoid this is by using a still life table instead. A still-life table is a studio accessory topped by rigid plastic that curves from horizontal to near-vertical, effectively forming an infinity curve. This allows you to direct light straight onto your subject, or through the table from behind to overexpose the plastic and create a pure white backdrop.
We've included both light tents and light tables in this guide, and have split it up into sections to make it easier to navigate. If think you'd like something smaller and more portable, our guide to the best light box for photography is also worth a look. But for now, let's crack straight into the best light tents and light tables for photography.
Tips
Best light tents for photography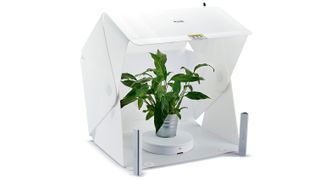 The Orangemonkie Foldio3 does away with a conventional table or tent design and instead uses a folding corrugated plastic construction. It's a slim 60 x 40 x 6cm when packed, but opens to a versatile 62cm wide and 65cm tall, with an elegant magnetic fastening system making setup a breeze. One of the included black or white sheets can then attached via Velcro pads to form a seamless backdrop.
But what really makes the Foldio3 special are three strips of dimmable LEDs lining the underside of the roof panel. They create crisp yet soft continuous illumination, with no need to add your own studio lights or flashguns. For a little extra front or side lighting, we'd recommend adding the £35/$20 Halo-Bars: a pair of compact and dimmable LED lights that can be magnetically clipped to the side or base of the Foldio3.
Orangemonkie even offers an optional Bluetooth turntable so you can easily create 360-degree product images…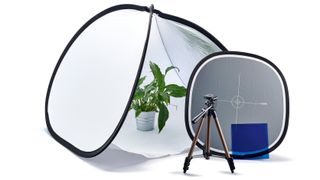 Think of the ePhotomaker as a collapsible diffuser panel on one side and a collapsible reflector on the other, tied at the top and spanned by a white fabric sheet that forms a seamless back/base. The design means you can use just a single light – a regular desk lamp is suggested – shone through the diffusion side of the tent, with the reflector creating a fill light on the opposite side of your subject.
The effect actually works rather well, creating attractively soft and balanced lighting. However, the fabric backdrop creases easily, and though a large aperture easily blurs any background creases, they're clear to see in closer, in-focus areas. You could line the interior with a sheet of paper instead, but this is tricky to secure.
For some added value, Lastolite includes a cheap tabletop tripod, a daylight-balanced gel for your lamp, and a useful grey card. Everything packs into a very portable 52cm-diameter pouch. Opened up it is 45cm high with a width of 55cm at its base and 27cm width at the top.
• A small version of the Lastolite ePhotomaker Kit is also available - which is suitable for miniature subjects such as jewelry. Opened up it is 35cm high with a width of 35cm at its base and a 20cm width at the top.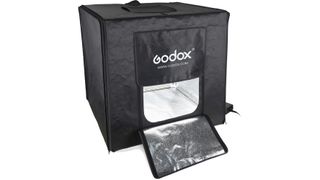 If you're completely starting from scratch with your lighting setup (i.e. you don't already have lights) then the Godox LST80 Light Tent might well be worth considering. Like the Orangemonkie Foldio3, it has its own built-in LEDs, and these can actually get pretty bright, going all the way up to 14,500 lumen, with a colour temperature of 5600K.
If you're photographing a lot of products that will fit into an 80x80cm cube, then then Godox LST80 is a great way to churn them out. It's also fairly portable, making it a good choice of light tent to bring with you if you're visiting clients. The setup is a little fiddly, with somewhat unclear instructions, but if you put in a little time for some trial and error, you should be okay.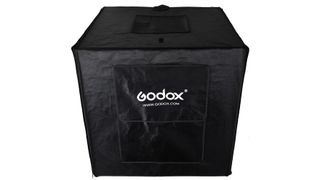 The Godox LSD40 Light Tent is a rather similar proposition to the Godox LST80 Light Tent in the entry above, the main difference being that it's half the size! This means it's a good choice if you're going to be eBay-ing smaller objects like jewellery, and don't need a great big light tend taking up space (not to mention costing twice as much).
With features like the built-in LED lights, the different coloured backdrops and the multiple shooting ports, the Godox LSD40 Light Tent is once again a little tricky to assemble, but well worth it once you've got it up and running.
Best still life tables for photography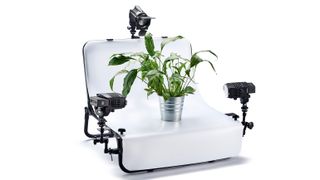 NanGuang's still-life table boasts a trio of well‑specced lamps that sets this kit apart. Two compact NanGuang CN20FC fresnel lights each provide up to 542 lumens of dimmable, color-adjustable front illumination. Then there's the powerful CN8F to backlight your subject, with its adjustable lens able to create spot or flood effects. Each light has a mains adaptor, or can be powered by AA batteries.
Assembling the kit is easy enough, and the heads attach to the table's frame via brackets with plenty of positioning adjustment. The result is a highly effective setup for product photography, as the lamps are ideally sized and more than potent enough for such close-range use.
The only issue here is pricing. Although the kit does come with extras like clamps, brackets and background papers, the table and lights can be bought separately – allowing you to buy just the components you actually need.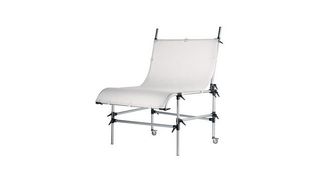 Manfrotto's Still Life Table is a tool for professional studios, and is priced as such. Constructed from aluminium tubing, it features an adjustable back and wheels, allowing it to be easily moved from one location to another.
If you're running a studio where a lot of products come through on a day-to-day basis, the Manfrotto Still Life Table is the ideal all-in-one setup for churning through them, as reflected in its price tag. Be aware that it is sometimes sold without its perspex cover, and therefore if you want one you may need to purchase it separately.
How we test light tents/tables
Why you can trust Digital Camera World Our expert reviewers spend hours testing and comparing products and services so you can choose the best for you. Find out how we test.
We look at the specs of every light tent and light table that comes under our purview for testing. Where possible, we try out each product in studio conditions to get a sense of how it performs, and make note of vital stats like the shooting area, the finish and the construction, as well as any other features like built-in LED lights or additional shooting ports. We use our findings, as well as our own research, to inform our comments in reviews and buying guides.
Choosing and using a light tent
With so many options out there, here are five tips for choosing the right light tent and or light table to suit your needs:
1: Be mindful of space
Still-life tents pack down easy. However, while some still-life tables can be foldable, their plastic tops mean they aren't terribly compact. Bear this in mind if space is limited, or you plan to travel
2: Remember your lights
Make sure you've got an appropriate form of light. Continuous lights work well, as do flashguns. Some light tents and tables are designed for professional setups, while others will be suited to cheaper options.
3: Change things up
While a white backdrop is best for neutral product shots, you can use a black or coloured paper sheet clipped to the surface of the table to give an image a much moodier feel.
4: Point of view
Shooting from low angles can suit certain subjects. Try using a small bean bag to rest your camera on the floor, or use a low-level tripod.
5: Take your time
Getting the right lighting, background and composition can require trial and error. Rush it and an even a smallest imperfection in the image can be distracting for a viewer.
Read more
• Best backdrops for photography: collapsible backgrounds for home studios
• The best photography lighting kits for studio, location and video
• The best flashguns for your camera right now
• The best LED light panels