Messenger bags have always been a popular alternative to photo rucksacks, when it comes to camera bags, and the past few years have seen a raft of new additions from new and established manufacturers alike.
From Billingham's classic Hadley styling to more modern options from the likes of Peak Design, it seems that everyone can now find something that will work with their kit as much as it will with their personal taste.
Here, we've rounded up the six best current options and given them a good workout to find out where they impress and falter. Or, if you need something bigger, take a look at the best camera backpacks.
1. Peak Design Everyday Messenger 15
A stabilising waist strap on this modern bag prevents bounce
External size: 43 x 30 x 18cm | Weight: 1,200g | Color options: Tan, Charcoal, Ash
Quality build
Innovative and useful features
Stiff interior dividers
The Everyday Messenger is beautifully made and bristling with clever touches.
A spring-loaded flap catch with four fastening points is both secure yet easy to use, letting the bag expand or contract to suit varying loads. The flap also has a zipped top passthrough for even easier access, and behind this is another zip that reveals a 15in laptop slot and a separate tablet compartment. You can even attach a tripod on top.
Inside the main section are innovative dividers that snap around and over individual items, although you'll need to spend some time arranging an optimal layout as they're not as squashy and forgiving as conventional foam pads. Everything's supported from a wide and supple strap, anchored at either end by precision hinges that allow for free movement without jangling. A top-quality bag.
2. Think Tank Signature 13
The Signature 13 is a more formal affair
External size: 37 x 14 x 28cm | Weight: 1.4kg | Color options: Slate grey, Dusty olive
Quality and style
Good size for DSLR kit
No easy access top slot
Awkward flap catch
The Signature 13 has a boxy 37 x 27 x 16cm exterior that retains its shape well and offers a high level of gear protection, with extra security from an internal zippered secondary cover.
Although the bag is compact, arrange the quality dividers to split the main compartment into three sections and you've got an optimal layout for a DSLR with a 24-70mm lens attached, and two reasonably sized optics on either side. A 13in laptop will slot in behind, while a large expanding front pocket is ideal for a flashgun and filters.
The manufacturing quality is top-notch; the wool-like fabric feels soft yet hard-wearing, and there's a leather base and accents that'll worry Billingham. A long, leather-backed neoprene shoulder pad is also especially comfortable.
3. Billingham Hadley One
A larger and more modern version of best-selling Billingham Hadley Pro
External size: 370 x 140 x 280mm | Weight: 1.38kg | Color options: Black FibreNyte with Black Leather, Khaki FibreNyte with Chocolate Leather, Sage FibreNyte with Chocolate Leather
Stunning material and quality
Spacious, classy design
Lots of color options
Fiddly flap fasteners
Restrictive sized insert
The Hadley One's standout feature is a 13in laptop slot behind the main compartment. It's a practically sized bag without being unwieldy, although you only get a half-width padded insert included. This will swallow a 24-70mm f/2.8 lens, plus an ungripped full-frame body with a 50mm lens attached.
The remaining space in the main compartment is great for personal effects, or you can add an optional second camera insert. Two large front pockets, meanwhile, are perfect for keeping lenses reachable during a shoot.
But the real reasons you buy a Hadley One are its supreme quality, and a timeless style that'll suit any occasion. The smell of the leather straps and reinforcing trim is worth the money alone, while the rugged canvas outer material and slightly domed flap shrug off abuse and a heavy rain shower.
4. Gitzo Century Traveler Camera Messenger
This clever bag contains an expandable pouch to house a Gitzo Traveler tripod
External size: 28 x 39 x 14cm | Weight: 1,2kg | Color options: black
Packed with features
Well-made
Not so stylish
The Century Traveler Camera Messenger features locking side-pocket zippers, and a class-leading Fidlock fastener that latches and releases the main flap effortlessly and silently.
The flap has an easy access slot on top, under which is a compact but fairly practical main compartment that'll just about stash a Canon EOS 5D Mark IV or a Nikon D850 with a small attached lens, plus a couple more optics alongside. Behind this is a sexy suede-lined 13in laptop pouch, although the two end pockets won't fit much other than the included rain cover.
As you'd expect from Gitzo, build and material quality are very good, with leather trim and premium hardware. The carbon-effect accents won't be to everyone's taste, but you won't feel short-changed.
Image 1 of 3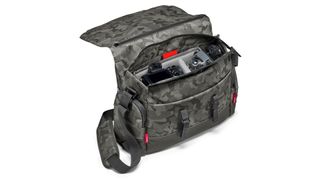 Image 2 of 3
Image 3 of 3
5. Manfrotto Noreg messenger-30
Multiple purpose bag transforms itself to suit the occasion
External size: 22 x 11 x 19 cm | Weight: 1350g | Color options: gray
Four-in-one storage solution
Pull-out rain cover
Only available in gray
Laptop sleeve is insubstantial
The Noreg Messenger-30 is not just designed to be a camera bag – it can be turned into your work bag or overnight bag too. It's a regular shoulder bag with a removable padded insert that has its own shoulder strap, giving you a smaller photography bag for quick photo expeditions. And there's a removable padded 15-inch laptop sleeve on the back that you can unzip and take in to meetings, or just leave at home if you don't need it.
If you just need an overnight bag that fits airline carry-on regulations you can take off the laptop sleeve, remove the camera insert and stuff in all the clothes, wash bag and other bits you need for your overnight stay. There are straps for carrying a tripod too, as well as a pull-out raincover.
6. Manfrotto Windsor Camera Messenger M
The largest messenger bag in the Manfrotto range isn't just a good looker
External size: 33 x 42 x 15cm | Weight: 930g | Color options: black
Spacious and stylish
Accessibly priced
Uncomfortable strap
Needs an inner cover
This bag is set up for half camera gear and half daily essentials, though the versatile, extra-thick interior padding can be configured to span the entire main compartment.
Its 42 x 33 x 15cm outer dimensions give plenty of interior space for a full-frame body and extra lenses, including a 70-200mm telephoto optic. A 15in laptop slot and sizeable front pouch add extra storage, and there's a useful fast-access slot in the top of the flap. This is secured by a pair of magnetic catches that release effortlessly, but with no secondary cover within, the bag is far from secure.
Although you get nice leather accents with fabrics that are more than acceptable, the bag lacks a true premium feel, particularly next to some of the other options here.
7. Nest Athena A40
A cheap but surprisingly cheerful bag
External size: 38 x 19.5 x 31cm | Weight: 1.2kg | Color options: black
Spacious and weather-resistant
Great price
No fast-access top slot
Not ideal for shorter lenses
Hard to find
The Athena's utilitarian design won't win any style awards, but inside you'll easily fit a full-frame DSLR, with the 28cm interior height well suited to swallowing longer lenses, even if shorter optics can be dwarfed.
Padding is generous regardless of the price, and the exterior nylon fabric feels tough and long-lasting. You even get big rubber feet on the base for added scuff protection – only the Gitzo bag also boasts these.
There are no fancy flap fasteners – rather a basic squeeze buckle – but the flap can also be zippered shut for extra weather protection and security. A 13in laptop slot and generous rear document pouch add value.
You'll have a tough job doing better for the money, especially when you consider that Nest regularly offers sizeable discounts.
Read more:
The 50 best photography accessories in 2019
The best camera sling bags
The best camera backpacks
The best luxury leather and canvas camera bags
The best roller bags for your camera