The best mouse for photo and video editing could well make the difference between years of comfortable editing versus the onset of aches and pains... so why wouldn't you? Especially because there are some great mice on the market right now.
These days even entry-level mice are often wireless and offer very reliable pointer tracking. You also needn't worry about replacing batteries every five minutes, as most wireless mice can last many months and even years on one or two AA batteries. Some mice also allow you to assign frequently used commands and shortcuts to each button will you lots of time across a long day editing.
• See also Best keyboard for video editing
So what's the best mouse for you? Whether you're using the best student laptops or the best desktop computer for photo editing, below you'll find the top contenders. We'll explain how they differ, and what each one has to offer, so you can make the most informed decision.
Best mouse for photo and video: our top picks
Best mouse for photo and video editing
Why you can trust Digital Camera World Our expert reviewers spend hours testing and comparing products and services so you can choose the best for you. Find out how we test.
Best overall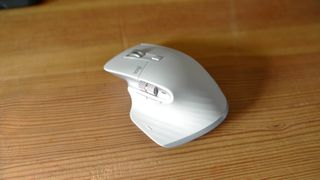 If you're a keen photo or video editor you will know that having a great mouse for video editing will help you tremendously, and the MX Master 3S from Logitech has been designed to take the stress out of photo and video editing by designing a mouse that is fully customizable to help you edit your way to success with your next project.
The appeal of the Logitech MX Master 3S, besides it being a wonderful wireless mouse, is the fact that Logitech has worked with Adobe Creative Cloud to give you a mouse whose buttons can act as a shortcut for multiple tools.
For example, its handy thumb scroll can be used for brush sizes in Photoshop or scrubbing through a massive timeline in Abobe Premiere in fact, there are several layouts to choose from in the Logitech Options+ software that allows you to make this mouse not just a cursor, but become a vital tool in the likes photo editing software, Zoom calls, and even Microsoft Word - with much more!
Read our full Logitech MX Master 3S review for more details.
Best for MacBooks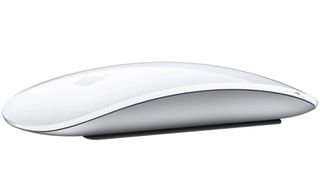 Having stressed how good ergonomics should be for photo and video editing mouse, here's an exception to the rule: Apple's Magic Mouse 2. Its sleek shape makes zero attempt to be comfortable in the hand, but on the plus side, it will slide into a laptop bag much more easily than a chunkier alternative, and it's suitable for right or left-handed users. What's more, most travel-friendly laptop mice are usually so small that they're far from comfortable.
Where the Magic Mouse 2 scores highly is its features. Its smooth top surface acts like a second trackpad for your MacBook, as it's able to recognize multi-touch gestures for horizontal or vertical scrolling and other Mac OS gesture shortcuts. Factor the wireless Bluetooth connectivity and built in Li-ion rechargeable battery and the Magic Mouse 2 is a good choice for MacBook users on the go.
See also • Best Mac mouse • Best Mac keyboard
Best wired mouse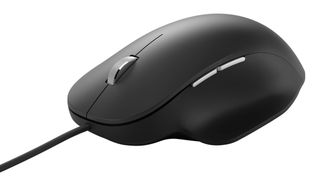 Photo and video editing are time-consuming activities that rely heavily on mouse usage, so it makes a great deal of sense to ensure your new mouse is as ergonomic as possible to help prevent aches and pains. Thankfully, you don't need to spend big money to get such a basic requirement as comfort, as the Microsoft Ergonomic Mouse is exactly that: ergonomic.
Sure, the design isn't quite as radical as you get with some other premium mice, but then this is way less expensive. And there's a generous thumb rest, above which is cited two thumb buttons for convenient shortcut accessibility.
A metal scroll wheel adds a further touch of class, while the 1000dpi tracking sensor is plenty precise enough for all but hardcore gaming. Drawbacks? This is a wired mouse, so it's best paired with a desktop computer where you're less likely to miss wireless freedom.
Best for gaming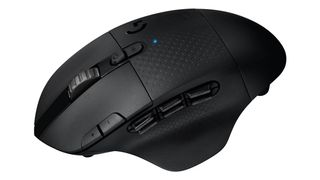 Logitech's G-series mice are predominately designed for gaming, but where most gaming mice look ridiculous in an office setting, the G604 has more subtle styling that makes it just as suitable for photo and video editors as gamers.
The advantage with picking a gaming mouse over a traditional conventional is they're built to withstand serious abuse. Plus, in the case of the G604, you get more buttons than on a 1980s Hi-fi. There are 15 in total, with six operated by the thumb alone. That gives you scope to assign loads of Photoshop or Final Cut shortcuts to each button, so assuming you can then remember which does what, you can seriously speed up your workflow.
The G604's 16,000 dpi tracking sensor is way more precise than you'd ever need for image editing, and the same goes for the 'Lightspeed' wireless connection with its 1ms response time. In this mode you get up to 240 hours of non-stop use, but Logitech also incorporates Bluetooth connectivity in the G604 for reduced power consumption, and in this mode you can expect up to 5.5 months of standard use.
Best vertical mouse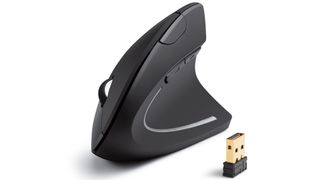 Few people realize that resting your hand palm-down on a conventional mouse isn't all that ergonomic. It's actually preferable to have you hand rotated round to a handshake position, as it would be if you let it rest by your side. It's exactly this position that the strange looking Anker AK-UBA Vertical Ergonomic Optical Mouse encourages.
Apart from this ultra-ergonomic stance, the mouse is pretty straight-forward, with a typical complement of thumb-operated shortcut buttons and a decent (though not spectacular) 1600dpi max tracking resolution. A 2.4GHz wireless link keeps things cable-free, and the mouse is powered by two AAA batteries. But best of all, you can have all this for a fraction of the cost of what a similar vertical mouse like Logitech's MX Vertical would set you back.
Best cheap mouse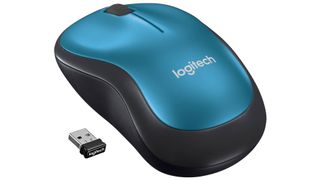 Image editing using a basic laptop trackpad isn't much fun, but if you're on a tight budget and just want a simple mouse to give you greater control, the M185 is unbeatable. It's also very travel-friendly at just 99 x 60 x 39mm and is neutrally sculpted to fit in either hand.
The M185 uses a 2.4GHz wireless link with a 10m range. The system is so power-efficient that a single AA battery is enough to run the mouse for around 12 months, and the USB wireless receiver is so small you barely notice it. The main downside to this mouse is its lack of thumb-operated buttons, limiting your options for defining custom mouse shortcuts in photo editing software.
Best left-handed mouse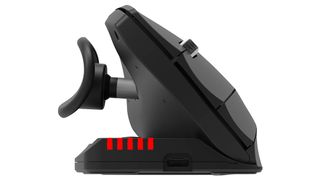 Often a 'left-handed' mouse just means a basic symmetrical shape that fits equally well in the left or right hand, with no asymmetrical protrusions. Fine, but that just means left-handed people lose out on the more sculpted, ergonomic shaping offered by more exotic right-handed mice.
This certainly isn't the case with Contour Design's Unimouse. While it's available in the regular right-handed form, the Unimouse is also offered in a proper left-handed guise, retaining all the same ergonomic features as the right-hander, just mirrored. And this really is one seriously ergonomic offering.
The mouse can tilt sideways between 35 and 70 degrees to pivot your wrist for optimal comfort, and then there's ATS: articulating thumb support. This enables the thumb rest to be tilted up, down, forwards, backward, and even in and out relative to the rest of the mouse body. The idea is to minimize the amount of effort required to grip the mouse, and thereby reduce possible muscle strain. 6 programmable buttons ensure a decent level of settings control.
The Unimouse also nails the tech basics, with 2400 dpi max pointer precision, 2.4GHz wireless connectivity, and a built-in rechargeable battery.
Best silent mouse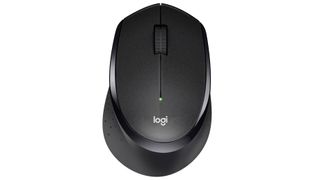 The main feature with this mouse is its silent scroll wheel, or rather, the fact that it's silent while still maintaining a click feel to its motion. Useful if you want to maintain a low profile on public transport or in a library. Maintaining the silent theme are special pads on the underside of the mouse for quieter mouse movement.
The overall design is subtly sculpted for right-handers, and at 105.4 mm x 67.9 mm x 38.4 mm, this mouse is small enough for convenient travel while still being comfortable to hold. There's also no cable clutter, as the wireless connection is good for up to 10 metres range and you only need to change the single AA battery every two years. Factor the very reasonable price tag and the M330 Silent Plus is a good value option, especially if you need to work on the go.
Best trackball mouse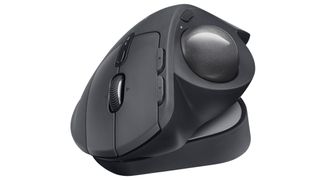 Trackball mice aren't for everyone, but they offer a level of pointer precision that some find unbeatable. Add the reduced muscular strain from not needing to move your wrist and lower arm, and trackballs can also be a blessing if you suffer from conditions such as carpal tunnel syndrome. In fact, Logitech claims the MX Ergo can reduce muscle strain by as much as 20% when compared to using a regular mouse.
Adding to the ergonomic feel is a hinged base plate that can tip the whole mouse over by any angle from 0 to 20 degrees so you can position your wrist at the perfect angle for maximum long-term comfort. The thumb-operated trackball uses a 380-dpi optical tracking sensor and is supplemented by eight additional buttons that can be configured to operate numerous shortcuts. The built-in 500mAh Li-Po rechargeable battery is good for up to four months on one charge, while the 2.4GHz wireless connection can be used as far as 10m away.
How to choose
What are the different types of computer mice?
There are two broad types of mice: wired and wireless. The former must be plugged into your computer with a cable, so they're a little more restrictive. In contrast, the latter connect wirelessly to your computer using radio frequency (RF) or Bluetooth technology.
Another way to classify computer mice is by sensor type. Optical mice use light to track movement, while laser mice use a laser beam. Laser mice tend to be more precise than optical mice, but they can be more expensive, so there's a pay-off to be made there.
How do I choose a computer mouse?
There are a number of factors to consider when choosing a computer mouse. First, if you're going to be using it for extended periods of time, you need to think about ergonomics. Look for a mouse that fits your hand naturally and has a comfortable grip. Beyond that, some mice are designed ergonomically to reduce wrist strain.
Although consider whether you want a wired or wireless mouse. Wired mice are generally more reliable and less expensive, but wireless mice offer more flexibility. You might also want to think about sensor type. Optical mice are cheaper, but if you need the highest possible precision, a laser mouse will give you more accuracy. Beyond that, some mice have additional buttons that can be programmed to perform specific tasks. This can be useful for anyone who wants to customize their workflow.
What is DPI in a computer mouse?
DPI (dots per inch) measures how sensitive a mouse is. A higher DPI means that the mouse will move the cursor further across the screen with a smaller movement of your hand. Most users will be fine with a DPI of 800 to 2000, but gamers and other users who need extreme precision may prefer a mouse with a higher DPI.
Read more:
The best photo-editing laptops
The best budget laptops
The best portable SSDs
The best headsets
Best USB-C hubs
The best desktop computers for photo editing
The best monitors for photographers
The 50 best camera accessories
The best photo-editing software