The best camera accessories don't have to cost a fortune. Sure, a new camera or a new lens might make a big dent in your bank balance, but tripods, filters, memory cards and camera bags are everyday essentials that are just as important. 
The fact is there's an incredible world of photographic gear out there, and if you're just getting started in photography (and even if you're an old hand), you may not be aware of everything that's out there. 
Sure you've got a camera and a fantastic lens, maybe you've even got yourself one of the best tripods and one of the best camera bags, but have you really explored everything that's around that could make your photography better?
For example, what camera accessories do you have that help you control your lighting? Do you use any filters to tame or enhance the light. Does your tripod offer rock-solid support and have a head that allows you to execute smooth panning movements? 
If this is all sounding new to you, don't worry. We're here to help. We've compiled a list of the 50 best camera accessories around right now, and also done the work of finding you the best deals you can get them for. Everything from supports to bags, lights to memory cards and filters to, well, everything else is here, and we've divided the article into different categories to give you an easier time of shopping around for what you need.
The best camera accessories in 2020
Essentials
Different photographers will have different needs. No two shooters are the same, and a vital accessory for one person will be waste of bag space for another. That said, there are a few accessories that we think every single photographer, without exception, should own, and it's these we've compiled first in our Essentials section. Here are the best camera accessories for every photographer to consider.
1. Vanguard VEO 2 204AB
With a tripod you can shoot things you might never have attempted before
Material: Aluminium | Max load (legs/head): 4/4kg | Max height (with head): 135cm | Folded height: 40cm | Weight (with head): 1.15kg
Strong, sturdy and reliable
Lightweight and portable
Packs down well
The tripod comes first, because if we were had to recommend the single best camera accessory, this would be it. A tripod opens up all sorts of possibilities, giving you a stable camera support that allows you to experiment with long exposures, low-light shooting, traffic trails, panning and more. We've gone for one that's not only good quality, but great value too. As a starting tripod, we recommend the Vanguard VEO 2 204AB. Not only is it a stable tripod able to handle up to 4kg of camera kit, but it's affordable, lightweight and portable too, and as such it's an excellent choice for a first tripod. It's made of high-grade materials, meaning you can be sure it won't let you down, and is intuitive to learn how to use. Its 4kg capacity is more than enough for an entry-level or enthusiast camera setup, so you can get straight on and start creating fantastic images.
More options: The best tripods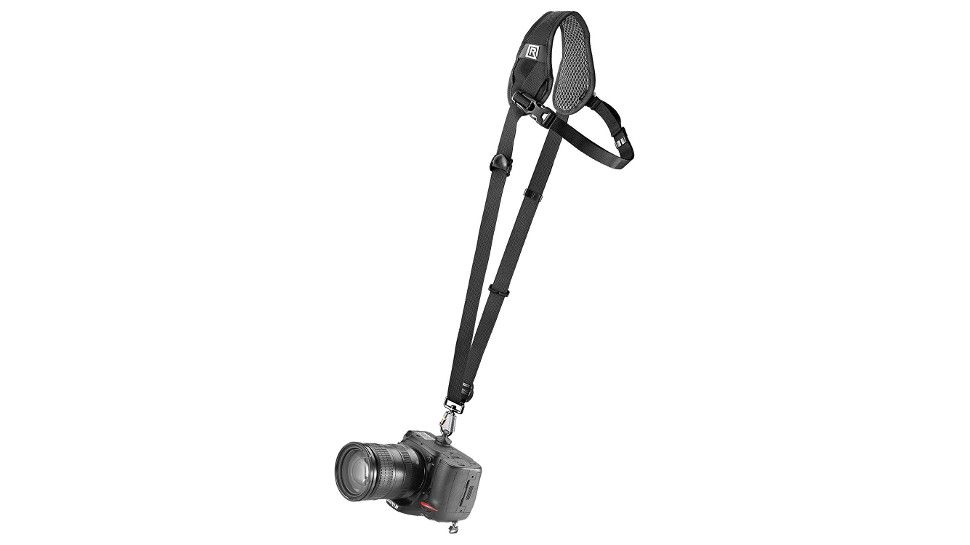 2. Blackrapid Curve Breathe
Need a camera strap? Then get one you can wear all day in comfort
Strap length with pad: 167 cm | Recommended for: Mirrorless cameras, lighter DSLRs
Durable and comfortable
Substantial padding
Uses shoulder rather than neck
Lighter cameras only
While many cameras will come shipped with a basic strap in the box, it's worth getting a specialised strap that will deliver greater comfort and allow you to carry your camera for longer periods without discomfort. We recommend the Blackrapid Breathe Curve, a solidly engineered camera strap from a well-regarded manufacturer. It's a cross-body strap designed to put the weight of the camera on the shoulder rather than the neck, and features an ergonomic shoulder pad built with nylon mono mesh and special padded foam. The lengths of the strap and the pad are fully adjustable, and the strap features an underarm stabiliser for extra security. The Breathe Curve is designed for mirrorless cameras and lighter DSLRs, so if your setup is heavier than this, consider the stronger Hybrid Breathe strap instead, and later on we have a few more straps to recommend so do read on.
3. Lowepro ProTactic BP 350 AW II backpack
This modular backpack can be adapted for different camera systems
Dimensions: 30x18x47cm | Weight: 2.2kg | Raincover: Yes | Padded hip belt: Yes | Tripod storage: Yes | Laptop compartment: 13in
Customisable
Useful accessories
Waist belt functions as utility belt
Heavy even on its own
The next essential for your gear seems somewhat of a no-brainer, but a backpack is the best camera accessory for all kinds of photography, from landscapes to travel.. For an all-purpose camera backpack that suits the vast majority of setups, we'd definitely recommend the Lowepro ProTactic BP 350 AW II backpack. It's a great, clever modular system that allows you to customise the backpack's interior space to fit your camera, lenses and accessories, with multiple access points at the top, bottom and sides so you can place your most-accessed gear wherever you want. The FormShell construction keeps things protecting from bumps and knocks, and the front has a series of loops that are easy to attach things to, giving you as many storage opportunities as possible. 
Read more: Best camera backpacks
4. SanDisk Extreme PRO SD UHS-I
You need two things in a memory card: capacity and speed
Card type: SDXC | Capacity: Up to 512GB | Read speed: Up to 90MB/s | Write speed: Up to 95MB/s | Warranty: Lifetime limited warranty | Suitable for: Both photography and/or video (including 4K)
Great capacity range
Fast transfer speeds
Hardy, weather-resistant build
Storage media may not be the most exciting accessory, but it's essential. All those images and videos need to go somewhere, and it isn't a simple matter of just picking up the first card you see. You need one of the best memory cards for your camera, with enough capacity for a day's shoot, and what that means will depend on whether that's a day of simple JPEGs or 4K UHD video. It also needs to have read/write speeds fast enough to keep up with your camera's burst shooting speeds, and also to make sure that copying across your files afterwards isn't a multi-hour ordeal. We think the best balance between all these factors is the SanDisk Extreme PRO SD UHS-I. It's available in capacities ranging from 32GB to 512GB, so all storage needs are catered for, and its fast read/write speeds will keep up with even demanding 4K video. It's also solidly built to weather extreme conditions, making it great for the outdoor shooter. Bear in mind that different cameras may be compatible with different card types – check yours before you buy, and scroll down for more memory card options.
5. Hahnel HLX-E6N battery (others are available)
A spare battery will save you running out of power!
Useful extra power
Rugged and shockproof
High capacity
Can lose charge if left for extended periods
Seriously, a spare battery could be the best camera accessory you ever buy, especially if you shoot with a mirrorless camera or a compact, both of which hav e pretty limited battery lives. While you can pick up spares from your camera manufacturer, it's worth considering a third-party maker such as Hahnel, which produces tough batteries designed to be impact-resistant and often for a little less money. The model we've listed here is the HLX-E6 for Canon – naturally you'll want to search for the best camera battery for the make and model you use.
6. Hahnel Captur remote release
Control your camera at a distance with a remote release
Available for: Canon, Nikon, Sony, Olympus/Panasonic
Avoids jogging the camera when shooting
Interval timer
Automatic triggering options
Yes, many cameras offer remote control using a smartphone via Wi-Fi, however a dedicated remote release is not only a much more reliable solution that doesn't depend on a phone's battery, it also provides many additional options. Hahnel's Captur remote has a built-in interval timer for time-lapses, can be set to trigger the shutter at a burst of light or sound, has laser beam and infra-red triggering capabilities, and a whole lot more. You'd be amazed just how much a release like this can expand your creative options.
Tripods
A rock-solid support is a critical asset for a photographer. Tripods, monopods, heads and more – it's all designed to expand your photographic options and allow you to fully explore the potential of your images. Here we've compiled a selection of the best different types of support on the market right now, so have a scroll through and see how a solid support could augment your images.
7. Manfrotto XPRO Magnesium Ball Head with Top Lock plate
A strong ball head with excellent movement
Max load: 10kg | Weight: 520g | QR plate: Arca-compatible
Smooth movement
Stable support
Ergonomic locking levers and friction dial
Heavy compared to rivals
We've already said a tripod is the best camera accessory you can get, but you also need a tripod head to go with it. While most tripods will come with some form of head or camera mount, these can be detached and swapped for better alternatives – and it's worth investing in a dedicated ball head to really unlock the potential of your camera support. The Manfrotto XPRO Magnesium Ball Head with Top Lock plate is a fantastic choice, able to support 10kg of kit and constructed using a grease-free polymer housing that enables exceptionally smooth movement at all levels of friction. Create dynamic panning shots, panoramas and more – a ball head makes it easy.
8. Vanguard VEO 2 AM-264TR
Monopods are perfect for more stable shooting and heavy telephotos
Max load: 6kg | Extended length: 163cm | Packed length: 56cm | Weight: 0.89kg
Extra feet for increased stability
Portable
Ergonomic twist locks
If your style of shooting doesn't suit the weight and bulk of a tripod, a monopod may be the perfect solution. The Vanguard VEO 2 AM-264TR represents the best of both worlds thanks to its retractable three-legged stabiliser at the bottom, a godsend when you need that little bit of extra support. Constructed from lightweight, durable aluminium, the VEO 2 AM-264TR is easy to take anywhere and intuitive to operate, with a 6kg payload that is plenty for most camera setups. Monopods are brilliant for sports and wildlife – they steady up the camera to reduce shake, and they take the weight of a heavy telephoto lens so that your arms don't ache!
Read more: Best monopods
9. Benro GoPlus Travel FGP18A + B0
Going on a trip? A travel tripod will pack down small and light
Material: Aluminium | Extended height: 165cm | Folded height: 46cm | Weight: 1.95kg: | Max load (legs, head): 10kg, 8kg
Packs down well
Converts to monopod
High payload capacity
Regular tripods can be pretty big and heavy, but well-built, well-featured travel tripod like the Benro GoPlus Travel FGP18A is perfect for the adventurous photographer, striking the ideal balance between portability and functionality. It packs down nice and small, it has a hefty maximum capacity and intuitive lock controls, and it even can convert into a monopod for added flexibility. This version is comes with Benro's B0 head.
Read more: Best travel tripods
10. Joby Gorillapod 5K
The famous grippy tripod can even handle pro setups
Material: ABS plastic, aluminum, rubber, stainless steel, steel, TPE | Weight: 0.73kg | Max load (legs, head): 5kg
Grips onto various surfaces
Portable and versatile
Comes in a range of capacities
The best camera accessories aren't necessarily things you'll use all the time, but neat little gadgets that can live in a corner of your camera bag until you need them. Many photographers are familiar with the Joby Gorillapod, a tripod with flexible legs that can grip onto protruding objects like tree trunks, however not everyone knows that these tripods come in a range of sizes, and the largest 5K model can even support a pro DSLR with lens attached! Having one of these tripods can lend you real versatility and open up creative options in all sorts of areas you may not have considered, such as time-lapse, long exposures and more. It's available with and without a matching tripod head.
Filters
Filters are a fantastic tool, especially for those who don't like spending too much time editing images on the computer. Filters can control an change the quality of light that enters your camera, opening up new possibilities for long exposures, outdoor shooting and more. In fact for landscape photography, after a good tripod and a backpack, a set of filters is the best camera accessory you can get. Remember to check the filter thread of your lenses before you buy any filters, as you need a specific size in order to make sure everything is compatible. With that said, let's get to the filters!
11. Hoya ProND
An ND filter will let you use long exposures even in bright daylight
Strong colour accuracy
Range of strengths
Easy to screw on
ND filters attach to the front of a lens and restrict the amount of light entering the camera's sensor, allowing for longer exposures in brighter conditions and meaning you can produce interesting effects such as light trails in daylight. We recommend the Hoya ProND series, which are circular-type filters that screw on easily and come in various density options. Colours are kept neutral and exposures are accurate, delivering everything you need from an ND filter and more.
Read more: Best ND filters
12. B+W XS-Pro Digital MRC Nano KSM polariser
A polarizing filter will intensify blue skies and make colours stronger
Well built and hardy
Dirt-repellent
Minimal vignetting
Mild warm colour cast
Polarisers are the secret ingredient in many great landscape photographers' success. They control which light rays reach your lens and thereby your sensor, resulting in photos with higher contrast and more vivid, vibrant colours. They're also great if you like to shoot water, as they minimise unwanted reflections and help keep the water's surface smooth and glassy in the final image. Polarisers can make a shocking difference to the quality of your image, so we'd recommend picking one up, in particular the B+W XS-Pro Digital MRC Nano KSM, a fine example that's well built and ultra-slim.
13. Lee Filters Big Stopper
If you love silky smooth seascapes, this is how it's done!
Extreme ND effect
Solid construction
Cool colour cast
Square design requires holder
Sometimes a regular ND filter just isn't enough, and that's when you want a specialist tool like the LEE Filters Big Stopper, which provides ten stops of exposure compensation. This means you can create dramatic long exposures even in bright daylight, smoothing out water and even emptying streets of moving people. Be aware that the Big Stopper is known for a cool colour cast, rendering everything a bit on the blue side, so you may have to correct for this in post-production. 
14. Tiffen UV filter
Protect your lens and cut through distant haze in landscapes
Cheap and straightforward
Absorbs ultraviolet light
Can combine with other filters
The front element of a lens is a fragile, valuable thing, and it's worth giving it a little protection. A Tiffen UV filter will not only give your lens a layer or armor in case of droppage, but also cuts out ultra-violet light to producer bluer skies in your images. It screws on easily, comes in a range of thread sizes, and can also be stacked with other filters if necessary, allowing you to truly customize your setup.
See also: Best protection filters for lenses
15. Cokin Gradual ND Kit
A favorite filter for landscape photographers that tones down bright skies
Kit includes: One-stop hard grad; two-stop hard grad; three-stop soft grad
Three useful filters
Choice of thread size
Plastic holder costs extra
A set of graduated filters is definitely one of the best camera accessories for landscape photography. Grad filters are split into two halves, dark and clear. This is useful for when an extremely bright sky threatens to overwhelm a photo – rather than having an overexposed sky or an underexposed foreground subject, simply place the grad filter over the sky. This Cokin Gradual ND Kit provides grad filters in various strengths and with different transitions between light and dark – two hard, one soft (i.e. more gradual). This helps ensure you are prepared for all sorts of shooting situations. 
Lighting
It's all about light! The word "photography" literally means "drawing with light", and there are a multitude of accessories that can help you control and shape the light you draw with, from powerful flashguns and LED panels to inexpensive reflectors and softboxes. For portrait photographers, wedding and event photographers and videographers, a good light (or set of lights) is the best camera accessory to get next. Get thinking creatively about light and you'll be amazed what a difference it makes to your images. Here are a few accessories to get you going.
16. Nissin Di700A + Air 1
Flashguns, or 'strobes', give you a powerful burst of extra light
Compatible with: Canon, Nikon, Sony, Fujifilm, Four Thirds
Affordable
Fast recycling speed
Reliable TTL metering
Wireless range could be better
Flash, whether on-camera or off, is one of the most interesting ways to take your photography to the next level. Whether you're freezing fast action or providing the perfect burst of light for a portrait, a dedicated flashgun is superior to any built-in camera flash by several orders of magnitude. The Nissin Di700A + Air 1 is a great example, offering the optimum balance between performance and price, a flashgun that boasts a simple and intuitive on-board interface and enviably fast recycle times, allowing you to shoot faster and faster.
Read more: The best flashguns
17. Lastolite Collapsible Reflector
Working with a single light? A reflector will 'bounce' light back in
Simple and effective
Collapses for portability
Reasonably priced
A reflector is one of the easiest ways to give yourself more photographic options, allowing you to control and shape your light and give your subjects a little fill when you need it. Whether you're using studio light, a burst of flash or natural daylight, a reflector allows you to direct and bounce it precisely where you want it to go, and for the perfect balance of affordability, portability and efficacy, we'd recommend the Lastolite Collapsible Reflector, a double-sided 30cm tool that's easy to fold up and take wherever you need to.
18. Neewer 60x60cm Softbox
Naked flash is pretty harsh – a softbox smooths the light beautifully
Affordable
Widely compatible
Folds away for transporation
A softbox is the best way to make your light flattering. Firing a flash directly at a subject is a fast way to produce burned-out highlights and unflattering shadows, which is nobody's idea of a good portrait. A softbox diffuses this light, bouncing it around and making it gentler and more flattering. We'd recommend the Neewer 60x60cm softbox, an affordable option that is also easy to transport and is widely compatible with a range of different speedlights.
19. Rogue 3-in-1 Flash Grid
Get great lighting control even with a regular speedlight
Useful choice of grids
Inexpensive and straightforward
The Rogue 3-in-1 Honeycomb Grid System provides 16, 25, and 45 degree spot lighting , allowing you to shape the light of your flashgun for different situations. The stackable grids align without creating unwanted shadows, and the system uses an adjustable strap that means it can be attached to practically all standard hotshoe-mounted flash systems. Especially useful for portraiture, this system is a great, inexpensive way to expand your lighting options.
20. Rotolight NEO 2
A gamechanging LED panel, fantastic for stills and video alike
Colour temperature: 3150-6300K | Lux (at 1m): 1840 | Power source: 6x AA batteries, D-Tap port, AC adapter | Dimensions: 150x45mm | Weight: 1,293g (boxed)
Intuitive controls
Powerful and flexible lighting
Powered with AA batteries
Cheaper options available
A hotshoe-mounted source of continuous light is the perfect way to make sure you've got enough light for all shooting situations. The bright-as-hell but fully adjustable Rotolight NEO 2 is the perfect choice, with its intuitive controls making it easy to set the light to precisely the level and quality you want, and it's powered by readily available AA batteries, making it easy to get lighting and shooting as quickly as possible. This is the best hotshoe-mounted light on the market right now. 
Read more: Best LED light panels
21. Westcott Ice Light 2
Paint with light, shape it, play with it and more with this unusual gadget
Colour temperature: 5500K | Output: 1740 lumens at 1m | Power source: Li-ion battery | Weight: 566g
Very powerful
Easy to transport
High CRI index
Amazingly lightweight, with enormous lighting power and highly accurate daylight-balanced colour rendering, the Westcott Ice Light 2 is a fantastic tool to have with you on a portrait shoot, and is also excellent for light-painting. Whip it around like a lightsaber to create stylish effects in a long-exposure, or use it as a powerful source of light in an image – with a light this lightweight, your options are many.
Memory and power
Memory and power are essential. You can't use a digital camera without a charged-up battery, and you can't store your photos without a high-capacity memory card. Many photographers have had a day's shoot unexpectedly cut short by failures in power or memory, so make sure you aren't one of them! Get these accessories and you'll always be prepared for the worst...
22. ProGrade Digital USB 3.1 Gen 2 Dual-Slot Card Reader
Transfer photos from your memory card to your computer, but fast!
Card types supported: UHS-I & UHS-II SD, SDHC, SDXC, CFast 2.0 | USB speed: USB 3.1 Gen 2 | Connection type: USB Type-C, Type-A
Fast read and write speeds
Well built
No CompactFlash support
A little pricey
A card reader is one of the fastest ways to clear the images and videos from your SD card so you can slot it back into the camera and get back to shooting – many photographers prefer using a card reader to the camera's own Wi-Fi or Bluetooth, depending on how good their brand's app is. The ProGrade Digital USB 3.1 Gen 2 Dual-Slot Card Reader is an excellent card reader, supporting a wide variety of card types and providing fast read/write speeds.
Read more: The best memory card readers
23. Anker PowerCore 20100 power bank
If your camera has USB charging, this will keep it juiced up!
Battery capacity: 20,100mAh | Number of ports: 2 | Included cables: Micro USB
Huge capacity
Speedy charging
Quite heavy
Keeping a charged-up powerbank in your kit bag means you'll never run out of juice at a crucial moment during a day's shoot, no matter how hard you need to push your camera. We'd recommend the Anker PowerCore 20100 power bank, which has a massive 20,100mAh capacity to play with. It's a little heavy but you can't argue with power like that. It comes with a micro USB cable, so be aware you may need to pick up additional cables to connect your camera.
24. Western Digital My Passport Ultra 4TB external hard drive
Back your images up and store them on the go with a USB powered drive
Capacity: 4TB | Interface: USB 3.0
Huge capacity
USB type-C connection
Decent transfer speeds
Back up your images, then back them up again. This is a golden rule for making sure you never lose your photographs, and a great way to do it is with a portable hard drive such as the Western Digital My Passport Ultra. The whopping 4 terabytes of capacity is more than enough for a lot of images and video, and the portability of the drive means it's easy to pack up and take with you on a shoot for instant backups. 
25. SanDisk Extreme PRO CompactFlash
Many older cameras still use CF cards, and this one is a great buy
Card type: CompactFlash | Capacity: Up to 256GB | Read Speed: Up to 160MB/s | Write Speed: Up to 150MB/s
Optimised for pro video
Fast transfer speeds
A little outdated
While it's a slightly outdated format, some older cameras will have a CompactFlash slot. If yours does, we recommend the SanDisk Extreme PRO CompactFlash card. It's a little larger than a standard SD card but it still does the job well, boasting fast transfer speeds and a range of capacity options. The card is suitable for both photo and video use, so no matter what your shooting plans are, it'll get the job done.
26. Sony Professional XQD G Series
Some of the lates cameras use this new memory card format
Card type: XQD Version 2 | Capacity: 64GB, 128GB, 256GB | Read Speed: Up to 440MB/s | Write Speed: Up to 400MB/s
Excellent transfer speeds
Durable build
Limited compatibility (for now)
XQD is a newer format of card designed to give faster-than-ever data transfer speeds. It has been adopted in particular by Nikon, who have been using it as the standard for their Z-series full-frame mirrorless cameras. For our money, the best XQD cards around right now are the Sony Professional XQD G Series, which are ruggedly built and blisteringly fast, with amazing 440MB/s read speeds.
27. Deyard K020 Water-resistant Memory Card Case
Keep all these cards extra-safe
Capacity: 12 SD/SDHC/SDXC cards and 12 MicroSD cards
Water-resistant and shockproof
Travels well
Space for lots of cards
While many camera bags will offer dedicated pockets for memory cards, we'd recommend getting something like the Deyard K020 Water-resistant Memory Card Case if possible. Equipped with a hard, protective polycarbonate shell, this case is shockproof and water-resistant, meaning it'll hold up even in challenging conditions and difficult weather. As well as SD cards, it also has space for MicroSD cards, i.e. the type that fit in an action camera or smartphone.
Cleaning
Everything needs a spruce up from time to time, and cameras and lenses are no exception. Here we list the accessories that will help you keep your gear completely clean and in good working order...
28. Spudz microfibre lens cloth
Keep your lenses clean and dust-free with this tiny cloth
Cheap and effective
Clips to a strap or bag
Range of colours available
Lenses get dusty from time to time, and it's worth getting hold of a dedicated microfibre cloth to carefully clean them with (please do not wipe the front element of a lens with your sleeve). The Spudz lens cloths tick every box: they're cheap, they work well, and they can even be clipped to a bag or strap so you can be sure you always have them to hand. When you use the cloths to clean a lens, make sure you do so carefully and gently; look after your lenses and they'll look after you.
29. Giottos Rocket Blower
Keep your camera clean and blow out birthday candles. Win-win
Ideal for lenses and cameras
Portable and effective
Affordably priced
It may look like Thunderbird 2, but the Giottos Rocket Blower is actually a beautifully designed air blower for knocking stray dust out of your camera or lens. You can easily dislodge specks of grit or sand without touching any fragile or delicate parts of your equipment. When cleaning a lens, pay particular attention to the filter ring, as this is often where dust and grim can accumulate if left unchecked. Give it a quick blow and you'll be ready to go.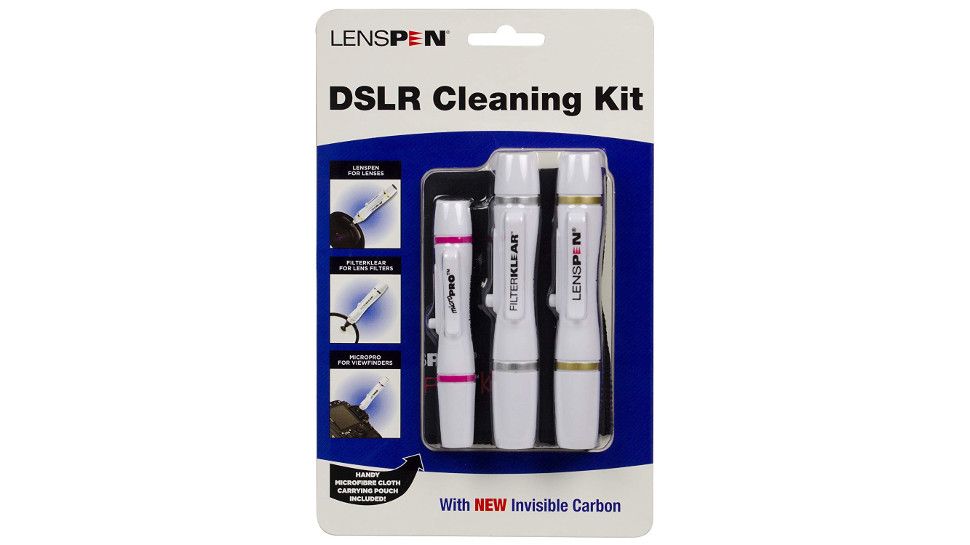 30. Lenspen Elitepro Cleaning Kit for DSLRs
An all-in-one kit for keeping your camera clean – and not just DSLRs!
Useful cleaning solutions
Safe for all lenses
Leaves no residue
For more in-depth cleaning, the Lenspen Elitepro Cleaning Kit is an excellent choice. It contains cleaning solutions that are specifically designed for lenses and filters, which dry without leaving a residue. It also comes with an extra microfibre cloth, meaning it's easy to apply the solutions and ensure that your kit comes up as good as new. Just remember to be gentle with it!
31. VisibleDust EZ SwabLight Kit
For those confident enough to clean their sensor themselves
Comprehensive kit
Comes with useful light
For expert users only
This one comes with a caveat: only attempt to clean your camera's sensor if you feel confident to do so. Read our guide to cleaning your camera's sensor first, and if you still don't feel comfortable, there's no shame in sending it off to the professionals for an expert clean. With that said, the VisibleDust EZ SwabLight Kit is an ideal swab kit for those who feel confident in doing a DIY sensor clean, great for removing little spots and specks of dust.
Bags, straps and covers
There are lots of different types of camera bags and straps, all of which will suit different users. Here we've tried to present you with a broad selection so you can browse and find the ones that are right for you. Also worth picking up is a camera rain cover to protect against downpours, especially if you're a roaming landscape or street photographer!
32. Peak Design Everyday Messenger 15
Stylish and practical, with a stabilising waist strap if you need it
External size: 43 x 30 x 18cm | Weight: 1,200g | Colour options: Tan, Charcoal, Ash
Well made and durable
Useful waist belt
Loads of handy features
Secure, stylish and easy to use, the Peak Design Everyday Messenger 15 is an excellent choice of bag for city breaks or day trips, with the capacity to hold plenty of gear while granting you easy access to it via the top flap. The bag can expand and contract to suit different loadouts, and the interior features an innovative divider system that snaps around and over the items inside. It's definitely one of the best messenger bags around, and a great choice if this style of bag is your preference.
33. Manfrotto Reloader 55 Roller Bag
Keep your gear safe but portable too when you're travelling
External dimensions: 350x230x550mm | Weight: 4,900g | Laptop/tablet compartment: Yes
Suitable for air travel
Useful rolling wheels
Plenty of space
Heavy, even when empty
A roller bag is the perfect choice for the frequent traveller, allowing you to let the earth do some of of the work of carrying your kit for you. The Manfrotto Reloader 55 Roller bag is not only spacious and tough but also fits most standard airline carry-on requirements, with a durable set of wheels and an extendable handle that improves maneuverability. At nearly 5kg it's a hefty proposition, but it's a fantastic bag for peace of mind.
Read more: The best camera bags and cases for photographers
34. Lowepro TLZ 30 II Adventura holster
A smaller camera pouch that's handy when you want to travel light
External dimensions: 176x118x205mm | Weight: 200g
Light and low-profile
Adjustable dividers
Padded shoulder strap
If you're rocking a smaller camera setup, a pouch or holster like the Lowepro TLZ 30 II Adventura is ideal. It's able to fit a standard DSLR with an 18-55mm lens attached at maximum, so if you're a mirrorless user it's also a great choice. A padded handle and shoulder strap make it easy and comfortable to carry, and there's also extra space for ancillary accessories such as memory cards and spare batteries.
35. Think Tank TurnStyle 20 V2.0
A sling-style bag that blends comfort, style and functionality
External dimensions: 235x440x137mm | Weight: 500g | Laptop/tablet compartment: Tablet
Lots of space for gear
Lightweight and stylish
Easy access
Concentrates load on one shoulder
Worn as a sling bag over the shoulder, the Think Tank TurnStyle 20 V2.0 can be swivelled around the body to allow super-quick access to gear without needing to be taken off. This makes it a good choice for city-roaming and street photography, allowing you to ensure you don't let those fleeting moments slip away. There's space in this edition for a DSLR and up to four additional lenses; if you don't need that much room, smaller versions are also available.
36. Vanguard Supreme 53D Hard Case
Super-tough and even waterproof, it's the ultimate in gear protection
External dimensions: 630x520x240mm | Weight: 7,820g
Extremely durable
Weatherproof
Soft, padded interior
Big and heavy
For the ultimate in peace of mind, get hold of the Vanguard Supreme 53D Hard Case. Super-tough, weatherproof, shockproof and more, it sports steel-reinforced padlock rings and also has an automatic pressure release valve to cope with changes in air pressure and altitude when it's taken on board an aircraft. It'll stand being submerged in depths of up to 5 metres, and on the inside it has a removable padded insert for ensuring gear is kept safe and snug. 
37. Peak Design Shell rain cover
Better than an umbrella, this cover keeps the weather away
Form-fitting and strechable
Keeps out rain and dust
Compatible with Peak straps
Weather happens, inevitably, and not all cameras and lenses are made equally ready for it. The best solution is the Peak Design Camera Shell, a rain cover that's designed to fit snugly over your camera and lens to protect it from rain, dust, snow and whatever else it may encounter, while still allowing you to keep on shooting. The Shell is available in a number of sizes for different setups and also has anchor points for use with Peak Design's Capture Clips and straps.
38. Peak Design Cuff Camera Wrist Strap
A quick and easy wrist strap to keep your camera secure
Ultra-light
Quick to connect
Fully adjustable
If you're using a fairly light camera setup and don't want the bother of a cross-body strap, use this wrist-strap to keep your camera close at hand. Made with Peak Design's customary engineering prowess, the Cuff is fully adjustable for different wrist sizes and uses Peak's quick connectors for fast attachment and detachment. Perfect for ensuring your camera is secure throughout a day of street photography.
39. Op-Tech Pro Loop Strap
One of the best straps in the business with a wide, comfy neck pad
Weight: 82g | Maximum length: 109cm
Wide neck pad for comfort
Tough, durable nylon
Can convert to hand strap
The Op-Tech Pro Loop Strap is one of the most popular in the business, with many professional and amateur photographers alike relying on it to keep their gear secure. Its wide neck pad distributes weight evenly for added comfort, while the adjustable length makes it suitable for a wide range of body types. It can be used over the neck or shoulder, or even converted to a wrist strap (albeit quite a large one).
Computing
The photo process doesn't end at the click of the shutter button! Here we present the best accessories for those who want to get serious with their photo editing...
40. Dell XPS 15 (2018)
One of the best photo-editing laptops around right now for the money
Processor: Intel Core i7-8750H (6 cores, 2.2GHz base frequency) | RAM: 16GB | Storage: 512GB SSD | Screen: 15.6-inch IPS LCD, 3840x2160, touchscreen
Excellent value for money
Bright, clear display
Good processing power
Being able to edit and upload your images on the move is hugely useful for any photographer, and that's why it's worth getting a laptop that can handle all this. We reckon one of the best laptops for photo editing available right now is the Dell XPS 15, which represents fantastic value for money and has all the processing power you'll need to get the job done. If you'd prefer a Mac, try the Apple MacBook Pro 15-inch (2019), which is more expensive but is an excellent machine.
41. Adobe Creative Cloud Photography Plan
A full editing suite for a reasonable monthly fee
The industry leaders
Multiple packages available
Subscription only
Some cheaper rivals
For a pretty reasonable monthly cost, the Adobe CC Photography Plan gives you not only Photoshop and Lightroom to play with but also chucks in a decent amount of cloud storage, to the tune of 20GB. This allows you to synchronise your image collection over multiple devices and edit wherever you need to. Having a full suite of photo-editing tools from the best makers in the business ain't a bad thing either.  
42. Datacolor SpyderX Pro
Colour-calibrate your monitor, easily and efficiently
A quick, simple calibration tool
Inexpensive
Widely compatible
If you're going to be editing images on your computer, you need to be sure that your monitor is displaying colours accurately. That's where the Datacolor SpyderX Pro comes in. It's a simple calibration tool that can check your monitor is colour-accurate in as little as two minutes; simply press the SpyderX Pro against the screen, run the program, and it'll automatically correct the colour balance of your monitor. It'll even compensate for room light, providing you with unrivalled colour accuracy.
43. Loupedeck+
For photo editors who like knobs and dials more than mice and menus
Compatibility: Adobe Lightroom Classic, Lightroom 6, Photoshop CC, Camera Raw, Premiere Pro CC, After Effects, Audition, Final Cut Pro X and Skylum Aurora HDR. Beta integration with Capture One.
Makes editing fun and intuitive
Widely compatible
Works for photo and video
Not cheap
Working with a mouse and keyboard isn't always the most intuitive experience when it comes to photo or video editing. Enter the Loupedeck+, a console designed to put direct control right at your fingertips. A series of dials and buttons with an ergonomic design makes the editing process quickly become second-nature, and once you get used to working this way you honestly won't want to go back. Abundant customisation options means you can tweak the deck to suit your precise preferences, too.
44. Samsung Galaxy Tab S4
The best Android tablet for photo-editing around right now
Weight: 482g | Dimensions: 249.3 x 164.3 x 7.1mm | OS: Android 7 | Screen size: 10.5-inch | Resolution: 2560 x 1600 | RAM: 4GB | Storage: 64/256GB | Battery life: Up to 10 hours
Excellent battery life
Comes with stylus
Portable and powerful
A tablet is a fantastically useful tool to take on a shoot, allowing you to quickly view, edit and share your images on a screen that's appreciably larger than that of a smartphone. We recommend the Samsung Galaxy Tab S4, which is probably the best Android tablet around right now, with fantastic battery life and a bright, responsive screen that's perfect for use with editing apps such as Photoshop Express or Lightroom. Apple users, try the iPad Pro 12.9" (2018).
Read more: The best tablets for photo editing and photographers
45. Epson Expression Photo XP-8500
An affordable and reliable A4/letter size photo printer
Max Print Size: A4 | Print resolution: 5700 x 1400 dpi | Print speed (6x4; std quality): 15 seconds | Interfaces: USB 2.0, Wi-Fi | Scanner: Yes | Dimensions: 394 x 340 x 142 mm | Weight: 6.7kg
Highly affordable
Excellent print quality
Connectivity functions
Max size is A4
Digital copies of your images are all well and good, but nothing beats the lasting quality of a well-made print. You don't have to get it done professionally either; a printer like the Epson Expression Photo XP-8500 produces fantastic-looking prints on A4 photo paper and costs less than £100. It boasts Wi-Fi connectivity too, so you can connect wirelessly for speedy transfer.
Read more: The best photo printers
Everything else
And finally, here we have the accessories that just don't quite fit anywhere else. Take a look through and we're betting you'll spot a few items you never knew you needed!
46. JJC L-S2 Lens Cap Keeper
How many lens caps have you lost? Not any more!
Inexpensive
Universal attachment
Works best with wide lenses
No one likes losing their lens cap, right? Well, with the JJC L-S2 Lens Cap Keeper you can make this particular annoyance a thing of the past, while spending less than the cost of a large Starbucks frappucino! It's designed to be universal for DSLR and CSC lens caps alike, though we've found it works best with wide-angle lenses as there's more purchase for the keeper to hold.
47. Teleconverter (various models available)
Push your lenses further and get more reach for your buck
Increases the magnification of telephotos
Cheaper than buying extra lenses!
Reduces the maximum  aperture
A teleconverter does exactly what it sounds like it does: converts a lens into a telephoto lens, extending its focal range so you can capture more distant subjects. This is a great lower-cost alternative to buying expensive telephoto lenses and can give you a great deal of versatility out in the field. Here we've listed the Sony 1.4x Teleconverter for E mount, though you'll of course want to pick up the one that suits your setup; most manufacturers offer teleconverters for their lenses, so you should be covered!
48. Tinxi hot shoe bubble level
Keep your horizons on the straight with this simple gadget
Widely compatible
Bright and clearly visible
Cheap
While many cameras have electronic level indicators, if yours doesn't, or if you prefer not to use the screen, then the Tinxi bubble level mounts straight to the hotshoe and is great for ensuring your images are perfectly balanced. Landscape photographers will find it particularly useful for ensuring their horizon lines are as straight as can be, and it's also useful for quick street snaps where you want to be fast in ensuring everything is straight and clean.
49. Colour Confidence Total Balance Collapsible AF Grey Card
Get your white balance absolutely spot on
Affordable
Collapsible for easy transportation
Highly durable
Not necessary with all cameras
When it comes to setting white balance, you can't beat an 18% grey card specifically optimised for the task. The Colour Confidence Total Balance Collapsible AF Grey Card is perfectly calibrated for you to ensure that your camera's white balance is accurate before you start shooting, and it's also collapsible and virtually indestructible, so you can even use it on tough outdoor shoots when the weather is less than ideal.
50. LCD Viewfinder 3x Loupe
Convert your LCD screen into a giant viewfinder!
Affordable
Easy to use
Different sizes available
Convert your LCD screen into a viewfinder! if your camera doesn't have a dedicated viewfinder, or you just prefer not to use it, the LCD Viewfinder 3x Loupe attached to a 3-inch LCD screen and magnifies it so you can use it as a makeshift viewfinder. It's especially useful when a camera is mounted on a tripod, and is a great choice for cheaper cameras that may not have a dedicated viewfinder. Other sizes are also available if you have a camera with an LCD larger than 3 inches.
Read more:
• The best cameras
• The 10 best point-and-shoot cameras
• The 10 best bridge cameras
• The 10 best travel cameras
• The 8 best portrait lenses for Canon users
• The 8 best portrait lenses for Nikon users
• The 10 cheapest full-frame cameras
• The best full-frame DSLRs
• The 10 best cameras for enthusiasts
• The best camera battery