It's not long now until The Photography Show welcomes thousands of photographers to its four-day imaging extravaganza, and there's plenty to get excited about.
From top speakers and live demos to a raft of products that will be shown for the first time, the event holds something for photographers of all abilities and tastes.
The show takes place over 17-20 March at the NEC in Birmingham, UK, and if you haven't booked your tickets yet there's still time to do so here. While we wait for the doors to open, here are 12 things we're particularly looking forward to seeing at the show.
1. Fujifilm's flagship X-H1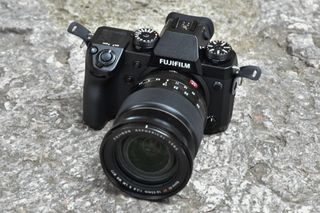 Fujifilm's recently announced flagship X-series model is imbued with technology from the hugely popular X-T2, with some of the magic from the medium format GFX 50S sprinkled on top. We've already had our hands on the camera at the launch event earlier this year, but we're excited that it will be on show alongside the recent X-E3 and X-A5, as it will give everyone a chance to experience its excellent handling and effective image stabilisation, and everything else that makes the X-series models such a pleasure to use. And if you end up falling in love with it, you'll be very happy to learn that you'll be able to buy it on the day too.
2. Sigma's latest Art lenses
Ever since it rebooted its lens range with its Global Vision concept back in 2012, the company has released a number of highly regarded optics, particularly its wide-aperture prime lenses in its Art series. This year we welcome some new additions to the family, including the 105mm F1.4 DG HSM A and the recently announced 14-24mm F2.8 DG HSM A(pictured above). To further strengthen its commitment to high-quality imaging, the company has also stated that it will soon be bringing its Art line of optics to Sony's E-mount system, with nine models in the pipeline.
3. The Great Outdoors stage
New for this year, The Great Outdoors stage will provide photographers and videographers working across wildlife, nature and even wedding genres with masses of inspiration and practical advice on taking their work to the next level. You can view the full programme here, and every single talk is completely free to attend, but we recommend you get there early on the day to bag the best spot.
4. Canon's 4K-enabled EOS M50
Canon may have got off to a slow start with its mirrorless line, but its most recent models appear to be moving the line in the right direction. The new EOS M50, the first camera in the range to be equipped with 4K video recording, appears to be both a capable backup camera for a more advanced DSLR or a good entry-point into mirrorless photography as a whole, with a centrally positioned EVF, a 24MP APS-C sensor, Dual Pixel CMOS AF (that sadly doesn't work with 4K video) and a reasonable price tag. If this is where Canon is heading, we're encouraged.
5. Sony's latest A7 III mirrorless camera
Given that Sony announced its first third-generation A7 model towards the end of last year, we figured it would only be a matter of time before all of its A7 sub-series would get the same treatment. And now we have the A7 III, which sticks to the same all-rounder idea as the A7 and A7 II models but gains a handful of advantages from models released since the A7 II's announcement back in 2014.
6. David Hurn's Swaps exhibition
One thing we're particularly excited about is the Magnum Photos Touring Exhibition, David Hurn's Swaps. Here, you'll be able to view works by some of the world's most famous photographers of all time, from Henri Cartier-Bresson, Elliot Erwitt and Eve Arnold to Martin Parr, Alec Soth and last year's Super Stage speaker, Sebastiao Salgado. Access to the exhibition is included in the price of the entrance ticket, but David will also be at the show to give private viewings of the collection. Just make sure to book it in advance as places are very limited.
7. Canon's clever Speedlite 470EX-AI flashgun
The Speedlite 470EX-AI appears to take the humble flashgun to the next level, with automatic adjustment of the flashgun head for optimum bounce angle. Aside from the obvious convenience of this happening without you needing to worry about it, it's also particularly useful for novice photographers who are unsure of how best to position their flashgun heads to get the best results.
8. Tamron's 70-210mm F4 Di VC USD lens
With a constant f/4 aperture, a useful zoom range and compatibility with both full-frame and APS-C systems, Tamron's latest superzoom lens is a compelling proposition for a wide range of Canon and Nikon DSLRs users. Sure, both companies already offer a similar f/4 optic with image stabilisation, namely the Canon EF 70-200mm f/4 L IS USM and Nikon 70-200mm f4 G ED VR lens, although this alternative from Tamron is significantly cheaper and furnished with the company's up-to-date tech.
9. The full-frame Pentax K-1 Mark II
The K-1 Mark II isn't the most significant upgrade over the K-1, but as the only other full-frame option in the Pentax lineup it's an important model for Pentax users keen to step up from their APS-C models to something with the latest tech. In its own right there's plenty to recommend it over its rivals too, with five-axis, sensor-based Shake Reduction, an upgraded Pixel Shift Resolution option and a new lofty top ISO of 819,200. Ricoh Imaging, owner of the Pentax brand, is also keen to making it easy for any K-1 owners to upgrade their models, with plans to offer a trade-in service that will see them paying only $550 in the US, or £450 in the UK, starting towards the end of May.
10. Super Stage speakers
The Super Stage has welcomed many famous speakers from the world of photography over the past four years, and this year won't disappoint. Nature master Art Wolfe will take to the stage to speak about documenting the world over the past 40 years, while National Geographic magazine photographer Ami Vitale, whose career has taken her to over 90 countries, will also be imparting her wisdom. Make sure to catch multi-award winning photojournalists Brent Stirton and Daniel Berehulak too. You can view the whole programme of speakers here and make sure to book your talk when you come to buy tickets to guarantee a seat.
11. Panasonic's pocket-friendly TZ200
Panasonic has been on a roll recently, with its G9 and GH5S models at the top-end of the Lumix spectrum, and a more recent refresh seeing a new GX9 model introduced for enthusiasts. The TZ200, however, updates one of our very favourite compacts, the TZ100, and it remains a unique proposition: a camera that fits in your pocket with a 1in sensor and a 15x optical zoom lens. The ideal travel camera? Certainly seems so!
12. You
That's right. The Photography Show wouldn't be anything if it wasn't for you, whether you're a passionate photographer that wants to get inspired by talks and masterclasses, or just keen on seeing what new bits of kit can help you make your photography easier. Make sure to stop by the Digital Camera stand to say hello to the team, where we'll be joined by our friends from N-Photo, PhotoPlus and our other photo titles.