Tokina has focused most of its attention on wide-angle lenses over the years, earning a good reputation in this sector of the market. Surprisingly, then, the first lens in the new series of Opera lenses was a Tokina Opera 50mm f/1.4 prime, but the second is a direct replacement for the popular ATX 16-28mm f/2.8 Pro wide-angle zoom for full-frame Canon and Nikon SLRs.
Tokina says the design ethic behind Opera lenses is that they're ideally matched to the latest high-end, high-resolution SLRs, inspiring photographers to create 'works of art'. As such the new 16-28mm is aimed squarely at enthusiast photographers, with Tokina's typically sturdy and robust build quality, along with a fast and constant f/2.8 aperture rating. The metal mounting plate is weather-sealed and the bulbous front element is protected by a permanently fixed petal-shaped hood.
The optical layout is based on 15 elements in 13 groups. Of these there are three glass-moulded aspherical elements, including one large-diameter precision-molded element, second from the front. Towards the rear, three low-dispersion elements are featured with the aim of reducing both lateral and spherical chromatic aberrations.
As with the older AT-X Pro lens, the opera's autofocus system is based on a 'silent' DC motor coupled with a GMR (Giant MagnetoResistance) magnetic sensor. Tokina says the GMR sensor has been updated for increased speed and accuracy – we didn't notice any real boost in speed, and autofocus remains slower than in competing ultra-wide zooms that feature ring-type ultrasonic or stepping motor systems. However, autofocus proved more consistently accurate in our tests.
The new lens retains Tokina's usual 'one-touch focus clutch mechanism'. This enables you to snap the focus ring backwards and forwards to switch between manual focus and autofocus respectively. It works well enough, but many prefer the full-time manual override facility generally available with ring-type ultrasonic and stepping motor autofocus systems.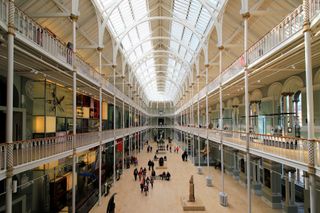 Tokina Opera 16-28mm f/2.8 FF: Performance
Image quality is very good overall. At the short end of the zoom range, centre-sharpness and contrast are fabulous even when shooting wide open at f/2.8. At mid to long zoom settings, centre-sharpness is similarly excellent if you stop down to f/4, although corner-sharpness is less impressive throughout the entire zoom range.
Vignetting is fairly low for such a wide-angle, wide-aperture lens and, again, peripheral illumination is much improved when narrowing the aperture to f/4. Distortions and color fringing are well controlled across most of the frame, but magenta and cyan lateral chromatic aberrations can be quite noticeable towards the corners of images.
Overall performance is less impressive than in the Sigma 14-24mm f/2.8 DG HSM Art and Tamron SP 15-30mm f/2.8 Di VC USD G2 lenses, both of which offer a wider maximum viewing angle while equalling the Tokina's f/2.8 aperture rating. Even so, the Tokina is much less expensive to buy and excellent value at the price.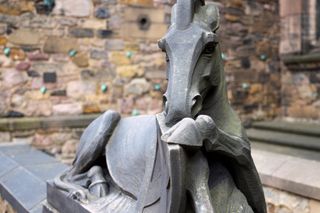 Tokina Opera 16-28mm f/2.8 FF: Lab tests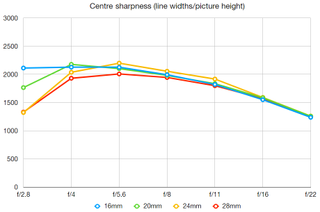 Centre sharpness at 16mm is great, from wide open through to f/11. As you zoom in, the lens struggles to maintain the same level of sharpness at f/2, but there are no problems at f/4 and beyond.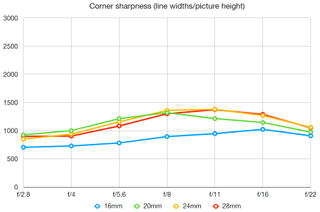 Inevitably for such a wide-angle lens, corner-frame sharpness is well below centre-frame sharpness. This is largely due to the distance between the lens and the centre of our test chart being significantly shorter than the corners, owing to the lens needing to be positioned very near to the chart to maintain proper framing at such a short focal length. Combine this with a large lens aperture and the corners of our test chart will be slightly blurred due to the shallow depth of field. However, even accounting for this, the Tokina Opera 16-28mm could score better for corner sharpness, especially at 16mm.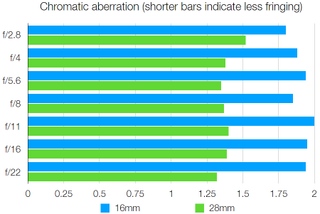 We'd expect some fringing from a wide-angle lens, and the Opera 16-28mm is no exception. At 16mm aberrations are quite visible at the edges of frame, but they do become a bit less noticeable as you zoom in, due to the less severe angle that light is entering the lens barrel relative to objects on the periphery of frame.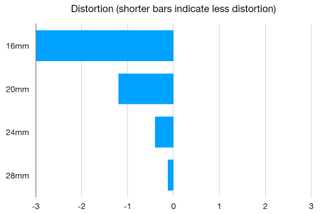 Barrel distortion is significant at 16mm, resulting an obvious bulging effect that's particularly noticeable when shooting geometric subjects. Fortunately this quickly diminishes at 20mm, and by 28mm the lens produces an essentially distortion-free image.
Tokina Opera 16-28mm f/2.8 FF: Verdict
This second lens in the Opera line-up has a robust build and delivers very good image quality, but it's not a dramatic improvement over Tokina's older ATX 16-28mm f/2.8 Pro lens. The latest competing Sigma 14-24mm f/2.8 Art and Tamron 15-30mm f/2.8 G2 zooms perform better, but the Tokina is only about half the price to buy.
Autofocus is neither as quick nor as quiet as in competing lenses with ring-type ultrasonic drive, and some may prefer the constant manual override offered by its rivals. Again, though, the new Opera delivers impressive overall results and offers great bang for buck.