LEE Filters has launched a new filter holder system: LEE100. Designed to be lighter and more versatile than the outgoing LEE Foundation Kit holder, LEE is hoping the LEE100 system will set a new standard for 100mm filter holders. LEE100 is being launched at The Photography Show, which runs from 16-19 March.
Compared to the existing LEE Foundation Kit holder, the LEE100 holder is 16% lighter, mostly thanks to its glass-reinforced nylon construction that still keeps it sturdy, rigid and durable.
The holder still attaches to your lens of choice via a suitably sized adapter ring, but there's a newly designed spring release and locking ring. This blue locking ring has three settings: neutral, half lock and full lock. In the neutral setting the holder is able to be attached and released as you'd expect, with a simple pull of the release knob. However this setting also allows the holder to rotate around your lens, which may not be ideal when using a graduated ND filter or polariser.
In the half-lock position, the holder can still be rotated, but it can't be accidentally detached from the lens. Switch the locking ring to the full lock position and you also prevent the holder from rotating.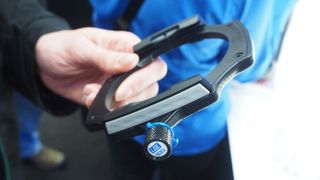 But arguably the biggest change to the new holder are its new filter-guide blocks. Where these used to consist of individual layers that could be stacked to accommodate extra layers of glass and fixed the the filter holder via good old screws, the new LEE100 holder uses snap-on guide blocks. Three pairs are included, depending on whether you want to use one filter, two, or three.
Finally, using a polarising filter is especially easy with the LEE100 holder. The new LEE100 snap-on polariser simply clips onto the receiving slot on the holder and remains securely attached yet able to rotate. If you already own a 105mm LEE polariser, it can be attached to the new holder via a new polariser adapter ring.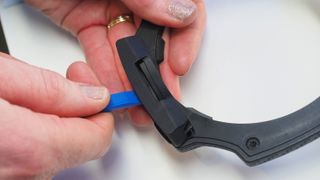 We've had some hands-on time with the new LEE100 holder at The Photography Show. The new reinforced plastic construction feels amazingly light in the hand, and the more ergonomic release mechanism is a welcome improvement over the old LEE Foundation Kit holder. We also love the new locking ring that makes the holder feel more secure on the lens.
However we remaining to be convinced by the new filter guide blocks. A special tool is required if you want to remove one set of blocks and replace them with another set to accommodate a different number of filters, and the removal process isn't as intuitive as simply screwing on an extra layer of filter guide plates, as with a traditional square filter holder.
The new LEE100 filter holder is available individually for 83, or as part of Landscape kit that includes a 0.6 Medium ND Grad filter.
Lens buying guides
The best Sony lenses in 2019
The best Canon lenses in 2019
The best Nikon lenses in 2019
The best Fujifilm lenses in 2019
The best Micro Four Thirds lenses for Olympus or Panasonic cameras