The best cinema cameras in the just keep on getting better and better, but not just at the extreme high end – we're now seeing prosumer and even consumer level bodies that are fiercely capable for professional cine use.
This means that, whether you're a working pro or a guerrilla filmmaker, the best cinema cameras at every level are now more capable than ever – and the price of admission needn't be the strain on your credit card that it once was.
Of course, the big hitters still carry hefty price tags. For example, the Canon C500 Mark II comes in at $15,999 (£16,999.99) – though for that you're getting a full-frame 5.9K Cinema Raw Light monster that uses CFexpress storage. 
However, one of the most sweeping revolutions in photography means that cameras like the Panasonic S1H are nibbling at the heels of dedicated high-end video systems, and the extraordinary Blackmagic Pocket Cinema Camera 6K offers high-end pro video features in a body no larger (and no more expensive) than a decent mirrorless camera. And of course, the new 8K Canon EOS R5, and the revolutionary 12K Blackmagic URSA Mini Pro 12K are going to revolutionize the way that serious filmmakers think about resolution.
As for the here and now, though, the Canon EOS C300 Mark II workhorse is one of the most popular cinema cameras around, and with its replacement arriving in June it's an incredible price right now. Of course, you can go higher if you look at cameras from manufacturers like Arri and Red – but this list aims to give you a spread of accessible options you can pick up for under the 10K threshold.
So here are our current picks for the best cinema cameras on the market right now, from pricey pro cine cams to cost-friendly consumer cameras…
With an ideal array of ports, features and modes to help you capture excellent footage, the C300 MK II is a good few steps up from a DSLR or mirrorless camera that happens to shoot video. It's able to handle low light video like a champ (up to roughly ISO 32000 before grain is noticeable), and unlike most consumer Canon cameras you won't be grumping about its 4K capabilities – the C300 MK II captures UHD content at up to 410Mbps/10-bit. Dynamic range is excellent at 15 stops, as too is its continuous autofocus – one thing the C300 MK II does share with its sub-£2000/$2000 siblings. In a break from tradition, it takes either EF or PL lenses, and the lens fitting can be swapped out at an approved service centre. 
The Sony FS5 MII is virtually identical to its predecessor, with the same body. However, it comes pre-loaded with many of the paid firmware upgrades that unlocked advanced features of the original. It's able to shoot 4K at up to 60p for example, with support for the BT.2020 colour space, elevating footage to broadcast standards. With its built-in electronic variable ND filter, variable lighting conditions aren't a problem, and with 10 assignable buttons, you can also tune it to your shooting tastes. If you're a fan of slow-motion this is the camera for you; it offers up 180fps 1080p capture with no crop. With 14 stops of dynamic range, it's no slouch – even though it can't quite stack up to the C300 on that front. Finally, it supports Sony's E mount lens system, so there's plenty of glass around you can combine it with to capture sensational, cinematic results.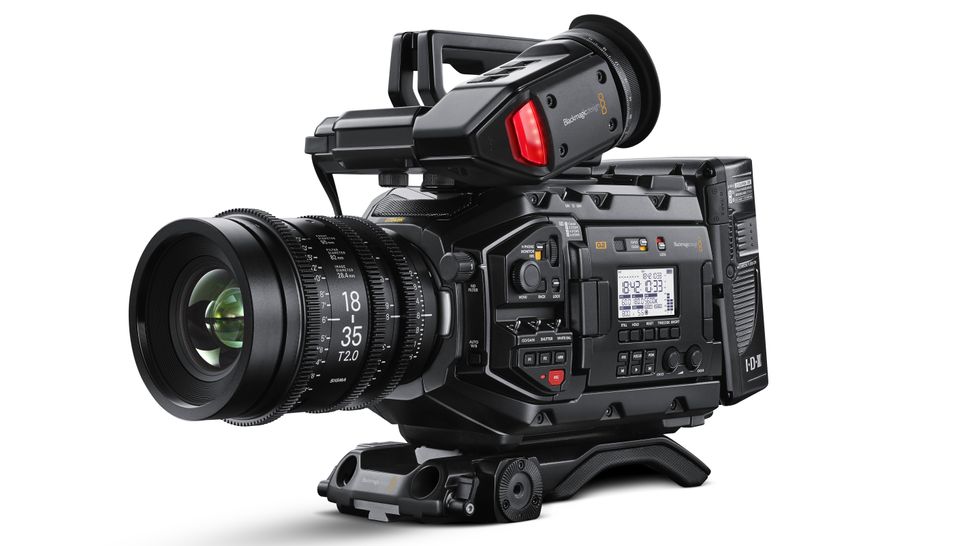 Blackmagic's cinema cameras are an industry favourite, and the URSA Mini Pro is a shining example as to why its products get so much love from filmmakers. Despite costing significantly less than the Canon C300 II (at number 1), it delivers the same 15 stops of dynamic range, as well as up to 4.6K resolution shooting at a staggering 150fps when shooting RAW. The inbuilt ND filter at two, four or six stops is combined with IR compensation. Like the Pocket Cinema Camera 6K (number 4 in our list), the Mini Pro G2 can record directly to an SSD through its USB-C port, and it also features two SDXC cards and two CFast cards as well. Pick one up one of these excellent cinema cameras and you even get a free copy of DaVinci Resolve, Blackmagic's excellent video editing suite, which now comes loaded with audio and graphics software to elevate your footage beyond simple edits and grading.  A new flagship URSA Mini Pro 12K version of this camera has been announced that offers an incredible 12K resolution from its 80 megapixel sensor.
Still current in the range although now getting a bit long in tooth, the Canon EOS C100 Mark II is a real cinema camera that takes Canon EF lenses at a shockingly affordable price. It actually uses the same CMOS sensor as its big brother, the far more expensive C300.
The Dual Pixel CMOS AF technology provides fast and accurate autofocusing and has face detection AF. The C300 Mark II also has an additional microphone on the camera body for recording sound when the top handle is removed. It also supports GPS, built-in wireless functionality, HDMI output that supports timecode and Canon Log LUT. But it's HD only.
The Blackmagic Pocket Cinema Camera 6K is a unique and specialised video camera with extraordinary specifications, design and value for money. It's not a big cinema camera in the classic style and you probably wouldn't use it as the main camera for a shoot, but as a portable second camera it's really rather extraordinary. It's styled like a compact rangefinder camera, but it's designed solely for video, not stills. The older Pocket Cinema Camera 4K used a Micro Four Thirds sensor and lens mount (and is still being sold), but this new model uses a larger Super 35mm sensor format and the Canon EF lens mount. Amazingly, it can capture 6K raw video at up to 60/50p. This camera does have limitations, including a fixed, non-tilting screen and no continuous autofocus, but technically it's quite extraordinary.
Read more:
Blackmagic Pocket Cinema Camera 4K review 
Blackmagic Pocket Cinema Camera 6K review
With the Lumix S1H, Panasonic has used its considerable video experience to bring many of its high-end VariCam features to the Lumix S range. The controls, the interface and certainly the hardware have been build for video and cinematography, and the fact it's also a very serviceable 24MP stills camera is a bonus. It's a truly compelling 'bridge' between conventional system cameras and higher end cine gear, especially for existing Panasonic videographers. It's designed like a stills camera rather than a cine camera, though, so the handling is compromised in that respect, but its specifications, performance and dedicated video-centric UI make this a strong challenger to more conventional cine camera designs.
Read more: Panasonic Lumix S1H hands on review
The Panasonic EVA1 is Netflix-approved, something you don't usually find in such a small cinema camera. It's just 1.2Kg without a lens, so is a great run and gun option, and even fits on a gimbal, especially if you're shooting with a pancake lens. The 3.5-inch screen goes a step beyond articulating – you can detach it and reposition it depending on what you're shooting, though outdoor viewability isn't great. As for its 5.7K CMOS sensor, it oversamples to create excellent 4K results, and just like the Blackmagic Pocket Cinema Camera 6K (number 4), the EVA1 also has a dual native ISO, giving it two sweet spots, one at an ISO of 800, the other at 2500. This results in less grain and more dynamic range. With a compatible recorder such as the Atomos Shogun, the camera can output 5.7K RAW or 240fps at 2K resolution, so while the slow-motion capabilities might not be class-leading when working with the out-of-the-box kit, couple it with a few accessories and you can get stellar results that are ready for the big and small screen alike.
In 2020, the JVC LS300 is a much better camera than it was when it launched. Its hardware is relatively inexpensive given its functionality, and while its design is atypical when set alongside most of the film cameras in our list, it's a serious contender for anyone looking to live stream, with direct output to services like YouTube. Capable of shooting 4K Ultra HD recording (150 Mbps, 24p/30p), it can constantly record to one SD card, and simultaneously record manually to the other, so you always have a backup. The camera also has a three-position ND filter – 1/4, 1/16 and 1/64, and includes a shotgun microphone in the box so that you can capture decent sound from the off. With its latest firmware upgrade adding JVC Log mode, it can deliver a filmic look, and it also has a lossless crop zoom feature that enables zoom functionality without detail loss when using prime lenses. All-in-all, it's an excellent package that's versatile without breaking the bank.
Read more:
The best cine lenses
The best 4K camera for filmmaking
Best audio recorders
Best video editing software
The best laptop for video editing
The best video tripods
The best microphones for photographers and filmmakers
The best LED light panels
Best camera sliders
The best on-camera monitors