When Fujifilm announced the development of its new 100-megapixel medium format camera at Photokina 2018, it listed specifications and features that sounded like a fantasy wish-list for a medium format camera, not a product that could actually be made. But now the GFX 100 is here, and it does everything that Fujifilm said it would. It's big and it's expensive (though not by medium format standards), but it's so much more than just a Fujifilm GFX 50S with a backside-illuminated sensor with twice as many pixels.
Specifications
Sensor: 102MP medium format CMOS, 43.8mm x 32.9mm
Image processor: X-Processor 4
AF points: 3.67m phase AF points, single point, zone, wide area AF
ISO range: 100 to 12,800 (exp. 50-102,400)
Max image size: 11,648 x 8.736
Metering modes: Multi-segment, centre-weighted, spot, average
Video: 4K UHD/DCI4K at 30p, 25p, 24p
Viewfinder: EVF, 5.76m dots
Memory card: 2x SD/SDHC/SDXC (UHS II)
LCD: 3.2-inch tilting touchscreen, 2.36m dots
Max burst: 5fps
Connectivity: Wi-Fi, Bluetooth
Size: 156.2 x 163.6 x 102.9mm
Weight: 1,400g (body only, with 2 batteries and SD card)
Key features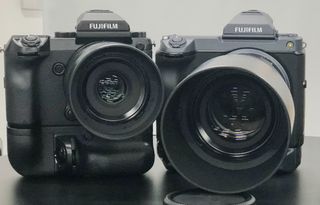 The GFX 100 is a big camera – and tall too. But thanks to its mirrorless construction, it is actually a similar size to a flagship professional DSLR such as the Nikon D5 or Canon EOS -1Dx Mark II. It doesn't have the same top motordrive speed as these pro sports models, of course, but with a 5 frame per second capabiity and a 41-shot JPEG buffer this camera can move uncharacteristically fast for a camera of this type.
What makes the camera noticeably larger than the GFX 50S is the inclusion of the in-body image stabilizer (IBIS). Having vibration reduction built in as standard is new territory for a medium format – and with that extra bulk has the potential to rewrite the way people use this type of camera.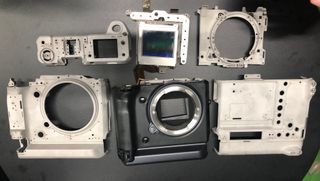 Fujifilm says the IBIS system in the GFX 100 offers 5.5 stops of stabilization across five axes, which suggests that you could use this camera handheld in many occasions where you wouldn't dare with other medium format cameras.
Creating a stabilization system for a sensor this size, had meant a complete rethink of usual chassis construction. In addition to the usual front plate, back plate and top plate, there is fourth piece for the lens mount that is independent of the other pieces in this engineering jigsaw.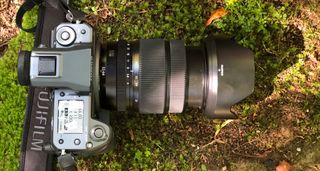 The extended height of the back plate for the vertical shooting controls and twiin batteries means that Fujifilm has found the room to add an additional long thin information panel a the bottom. This can be used to show key camera settings (particularly handy when shooting tethered, perhaps) – or, say, to show the histogram display without it impinging on the LCD screen. There is no button to cycle through this options however, so the choice needs to be set in the main menu.
The rear LCD is a big 3.2in display with three directions of movement. The eye-level viewfinder is a beautiful 5.76 million dot display which is a joy to use – and as this is interchangeable you can use the older EVF-TL1 tiltable version as with the 50R.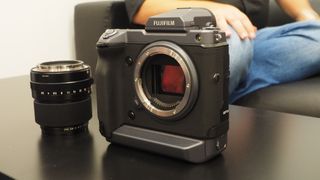 As ever with a camera, much of it capability is decide by the power of its processor... and in this regard the GFX 100 offers blistering speed. It is four times the speed of that in the GFX 50S, and offers a data rate of 1 GB/s.
It needs this in order to provide brawn needed for the image stabilisation and to provide the ability to shoot 100-megapixel pictures at up to five frames per second. But you also see the speed in simple things like replaying images - there is no lag as you cycle between shots, allowing to whizz through your shots at speed.
Autofocus speed also benefits, with the adoption of a hybrid autofocus system as we have already seen on Fujifilm's smaller format mirrorless models such as the X-T3, and a firmware update released just in time for our review brings updated autofocus performance.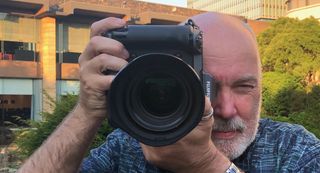 Processing power is also behind the video capability of this camera. Not only can the GFX 100 shoot uncropped 4K, the ability to switch aspect ratio means that this delivers a sensor image area that is larger than practically any cinema camera out there. In fact, only the Arri Alexa 65 – which costs around 15x more than the GFX 100 – has a bigger sensor area. This fact alone is almost certain to make the new Fujifilm to be a popular choice for serious cinematographers. There are LOG and HLG options too, giving pro editors complete control over contrast and grading.
The camera can shoot 4K 30p 10bit 4:2:0 internally, but can up the game to 10-bit 4:2:2 when hooked up to an external recorder.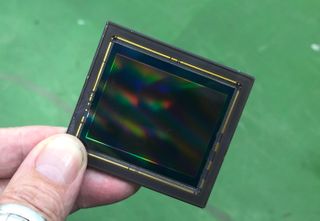 Bit depth is also impressive when shooting stills - with a 16-bit RAW option in addition to a more usual 14-bit one. Unbelievably the camera allows you to convert these 16-bit RAW files to 16-bit TIFF files in the camera itself, should you feel the urge (you can see what these look like here), but be warned this conversion increases the image file size from a chunky 200MB up to a whopping 600MB).
The speed of the camera is particularly impressive given that Fujifilm as chosen to stick with dual SD cards with this camera. One wonders what might have been if the company had taken the brave step of moving up to faster emerging memory card standards of the existing XQD and its backwards-compatible successor CFexpress (as Nikon and Panasonic have done with their full-frame mirrorless models).
Build and handling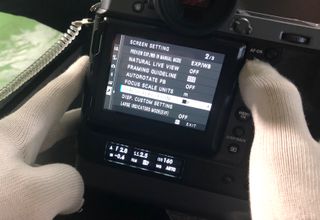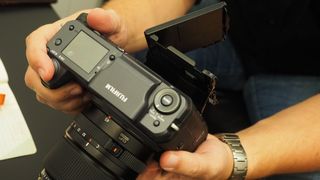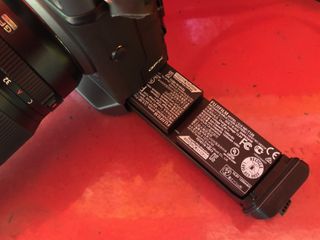 It is the top plate where things get rather different from other cameras we have seen before from Fujifilm. There is a three-way control on the left, that lets you switch between video and stills at speed – something that Fujifilm say that users have asked for. It certainly makes a lot of sense for hybrid shooters. A central Multi position on the dial gives you access to facilities that are neither stills or movies - multiple exposure features such as the different bracketing options.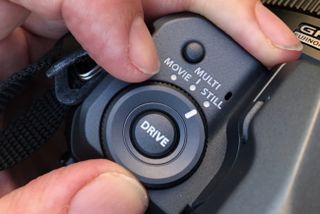 With the traditional shutter speed and ISO dials gone from the top plate, Fujifilm provides an option to display virtual dials to show these things on the large data screen on the top – which looks neat, even if obviously not serving the same function as old-fashioned dials. You can switch to more usual information panel information on this 1.8in screen – or display a large monochromatic histogram.
This might be slightly disappointing to existing Fujifilm fans who like having external shutter speed and aperture dials, and it is different to the layout on the GFX 50S and 50R, but Fujifilm says this new layout is more in line with how studio photographers use and control their cameras.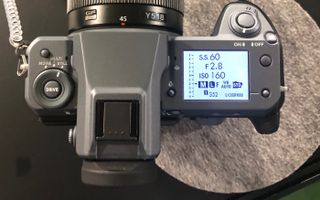 It doesn't take long to get used the control layout of the GFX 100, but some of the buttons and dials do seem a little small for a camera of this size. It's probably not so bad if you have the camera mounted on a tripod in the studio, but out in the field the small controls feel at odds with the strength and effort you need to use this camera handheld for any length of time. This is something we noticed with the GFX 50S and GFX 50R, though it is of course a matter of personal preference and some users may not notice this at all.
The substantial grip, both in horizontal and vertical shooting, and the presence of in-body stabilisation, might tempt you into shooting handheld with the GFX 100. This is fine in short bursts, but its weight and size do make it tiring to handle for long periods of time. It's not just the weight of the body that's a factor, but the lenses too. We've remarked before that bigger sensors inevitably mean bigger lenses – a factor which can undermine any size advantages offered by mirrorless cameras, and it's especially true of medium format models. We tested the GFX 100 with the Fujinon 32-64mm f/4 zoom, the closest thing to a 'kit lens' for this camera, and they are a big, heavy combination.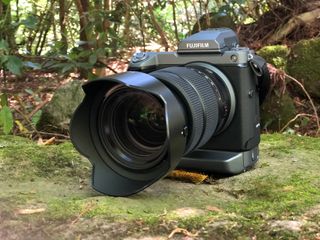 Performance
We were keen to test this camera's in-body stabilisation system and its advanced hybrid phase-detection autofocus – two 'firsts' in a medium format camera.
The in-body-stabilisation will certainly be appealing for handheld photographers. This camera's key selling point is its resolution, and you won't want to sacrifice any of that to camera shake.
In our tests, however, we didn't get very close to Fujifilm's claimed 5.5-stop shutter speed advantage. These figures always come with very precise qualifications, and in this case that figure is measured for the stabilizer's pitch/yaw shake axes only and with the Fujinon GF63mmF2.8 R WR lens mounted. In our tests with a variety of lenses in real-world shooting situations, the advantage felt more like 2-3 stops. Even here, there were some variations in sharpness, so the stabilizer is best thought of as being extra insurance rather than any kind of guarantee. You might be glad you've got it, but you'd be unwise to rely on it.
That's because the resolution this camera is capable of is quite extraordinary, and you wouldn't want to waste an ounce of it! Our lab tests confirm our real-world impressions – that this camera raises the resolution bar, and not just by a small amount but by a big step. See below for some real-world image samples.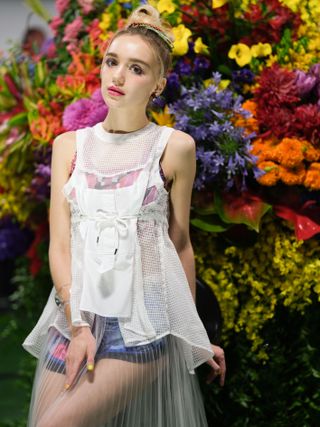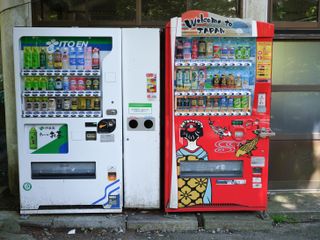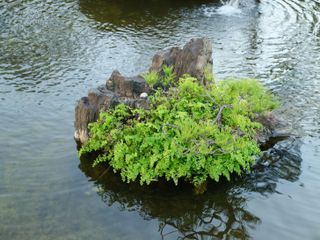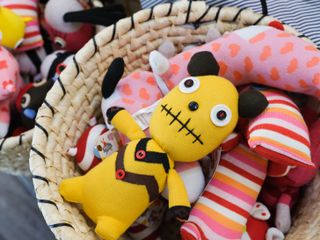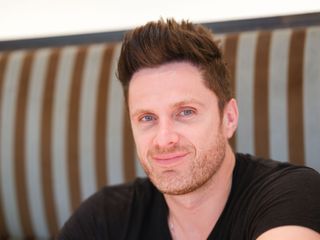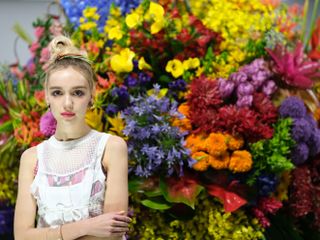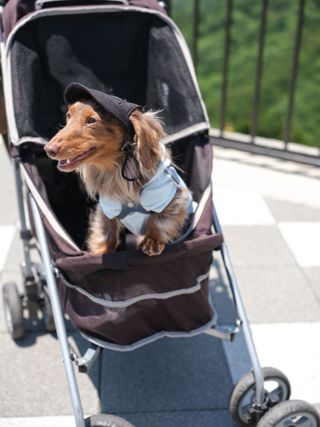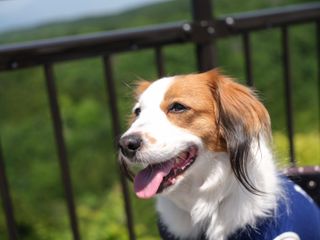 The autofocus is extremely impressive too. Generally, the bigger the camera format, the slower the AF, but the GFX/32-64mm f/4 lens combination proved very fast and responsive. It felt like using a full-frame mirrorless camera, in fact, rather than medium format. The speed will ultimately depend on the lens, its AF actuators and the size of its focus groups; the Fujinon 32-64mm felt fast, the GF 120mm f4 R LM OIS WR Macro we had for testing at the same time was a little slower – though this lens is designed for close focusing ahead of speed.The GFX 100 makes seismic improvements over the features of the GFX 50R and GFX50S - and most notably with its unique built-in image stabilization system, and with its vastly improved processing power.
The eye-tracking AF function feels genuinely useful, if not essential, for a camera that offers so much detail and for one likely to be used for high-end social, fashion and portrait photography.
It's equally impressive as a movie-making tool. Much has been made of the 'cinematic' potential of the bigger sensor, though the Fujinon GF lenses have smaller maximum apertures than full frame rivals, so in practice you may end up with slightly more depth of field with the GFX 100 than with a full-frame camera and a fast f/2 or f/1.4 prime lens.
On the other hand, the continuous AF is fast and smooth and produces nice focus transitions. This isn't a run-and-gun camera for fast movements, but it copes very well with slow pans and gently moving subjects.
Lab tests
The resolution of the GFX 100 is so high that we've had to adapt our resolution testing process. Our regular chart resolves a maximum 4000 line widths/picture height, which only a few cameras we've tested have been able to approach (most cameras are in the 2500-3500 line widths/picture height range). The GFX 100 goes well beyond this 4000 line width/picture height benchmark, however, so the resolution chart below shows only this camera and not its closest rivals.
These include the existing GFX 50S, the Hasselblad X1D and the ageing but effective Pentax 645Z. We have been able to compare the signal to noise ratio and dynamic range data for all four cameras, and this makes for interesting reading.
Fujifilm GFX 100 resolution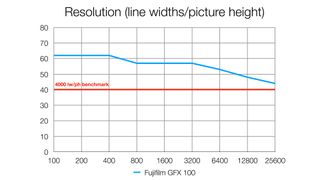 Using revised testing methods we've been able to measure resolutions above our regular test chart's 4000 line width/picture height benchmark. Other high-resolution cameras in the past have approached or even slightly exceeded this figure (the Nikon Z 7 is one example) but the GFX 100 clears it by a massive margin.
Fujifilm GFX 100 signal to noise ratio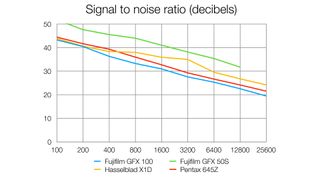 Fujifilm GFX 100 dynamic range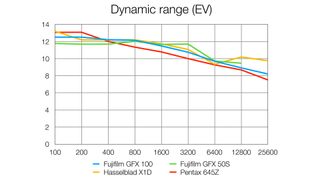 Where noise tends to suffer with high-resolution sensors, dynamic range is not so susceptible to high pixel densities – and the GFX 100 produces very good results which are on a par with the best of its rivals, even the GFX 50S. If you're working in good light or on a tripod and you don't need to use high ISOs, the GFX 100 produces the highest resolution we've yet seen and with no penalty in dynamic range.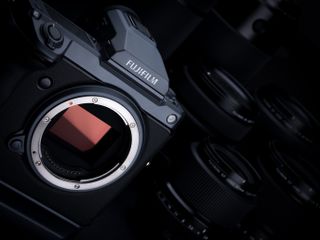 Verdict
The GFX 100 has specifications so spectacular that they surely tick every box in every medium format photographer's wish-list. It doesn't quite have the modular adaptability of Phase One and Hasselblad systems, but it doesn't have their price tags either. $10,000/£10,000 might sound a lot to an amateur/enthusiast photographer, but for professional/commercial photographers who might have been expecting to have to invest $30,000/£30,000+ in their next system, it's actually quite cheap.
It's not perfect. The image stabilization doesn't quite offer the secure shake-free handheld photography we'd hoped for, and this is a big lump of a camera to carry around in your hand for any length of time – but here, we're criticising the GFX 100 for things that are so new to the medium format market, that it hardly seems fair.
What does matter is the image quality, and here Fujifilm has nailed it. The resolution – as long as you're careful with your shooting technique – is just incredible. The dynamic range is excellent, and while the ISO/noise performance suffers as a result of the resolution, this is not a low-light hand-held camera. More often than not, it will be on a tripod.
The GFX 100 may look outlandishly expensive compared to full frame mirrorless cameras or even Fujifilm's own GFX 50S and 50R models. But what it does is quite extraordinary.
Read more:
• The best medium format camera
• Best mirrorless camera in 2019
• Best Fujifilm cameras in 2019