Ever since Fujifilm announced the development of its new 100-megapixel medium format camera at Photokina 2018, there's been a constant buzz of excitement about this new camera. But now that the final specification for this big-sensored mirrorless camera is out, it is much clearer that this is much more than simply a Fujifilm GFX 50S fitted with a backside-illuminated sensor with twice as many pixels (and almost twice the cost).
We got the chance to have a chance to try out the new GFX 100 for ourselves in and around Tokyo, and can now share our first thoughts with you – and give you a chance to see a selection of sample images that we took with the camera (with non-final Beta firmware).
Features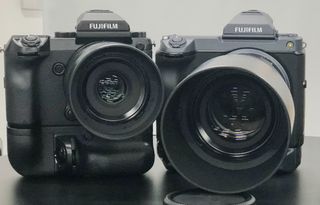 The GFX 100 is a big camera - and tall too. But thanks to its mirrorless construction, it is actually a similar size to a flagship professional DSLR - such as the Nikon D5 or Canon EOS -1Dx Mark II. It doesn't have the same top motordrive speed as these pro sports models, of course - but with a 5 frame per second capabiity and a 41-shot JPEG buffer this camera can move uncharacteristically fast for a camera of this type.
What makes the camera noticeably larger than the GFX 50S is the inclusion of the in-body image stabilizer (IBIS). Having vibration reduction built in as standard is new territory for a medium format – and with that extra bulk has the potential to rewrite the way poeple use this type of camera.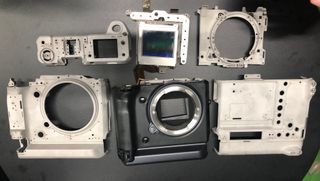 The camera claims 5.5 stops of stabilization across five axes - and that means that you could use this camera handheld in many occasions where you wouldn't dare with other medium format cameras. In our limited tests, we were certainly able to get sharp images at shutter speeds slower that we would have normall expected. Although due to the detail this gives you are likely also to want to use a faster shutter speed than you may be used to in the first place.
Creating a stablization system for a sensor this size, had meant a complete rethink of usual chassis construction. In addition to the usual front plate, back plate and top plate, there is fourth piece for the lens mount that is independent of the other pieces in this engineering jigsaw.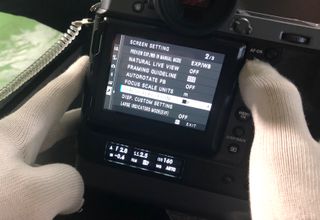 The extended depth of the back plate means that Fujifilm has found the room to add an additional long thin information panel a the bottom. This can be used to show key camera settings (particularly handy when shooting tethered, perhaps) - or, say to show the histogram display without it impinging on the LCD screen. There is no button to cycle through this options however, so the choice needs to be set in the main menu.
The rear LCD is a big 3.2in display with three directions of movement. The eyelevel viewfinder is a beautiful 5.76 million dot display which is a joy to use - and as this is interchangeable you can use the older EVF-TL1 tiltable version as with the 50R.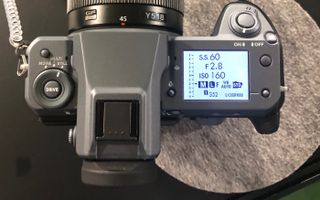 It is the top plate where things get rather different from other cameras we have seen before from Fujifilm. There is a three-way control on the left, that lets you switch between video and stills at speed - something that Fujifilm say that users have asked for. It certainly makes a lot of sense for hybrid shooters. A central Multi position on the dial gives you access to facilities that are neither stills or movies - multiple exposure features such as the different bracking options.
With the traditional shutter speed and ISO dials gone from the top plate, Fuji provides an option to display virtual dials to show these things on the large data screen on the top - which looks neat, even if obviously not serving the same function as old-fashioned dials. You can switch to more usual information panel information on this 1.8in screen - or display a large monochromatic histogram.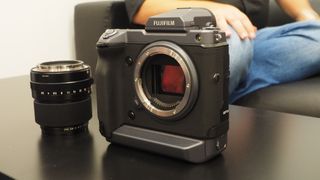 As ever with a camera, much of it capability is decide by the power of its processor... and in this regard the GFX 100 offers blistering speed. It is four times the speed of that in the GFX 50S, and offers a data rate of 1 GB/s.
It needs this in order to provide brawn needed for the image stabilisation and to provide the ability to shoot 100-megapixel pictures at up to five frames per second. But you also see the speed in simple things like replaying images - there is no lag as you cycle between shots, allowing to whizz through your shots at speed.
Autofocus speed also benefits, with the adoption of a hybrid autofocus system as we have already seen on Fujifilm's smaller format mirrorless models such as the X-T3.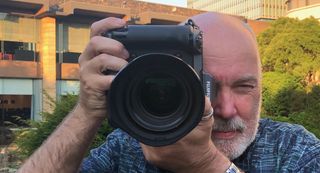 Processing power is also behind the video capability of this camera. Not only can this shoot uncropped 4K, the ability to switch aspect ratio means that this delivers a sensor image area that is larger than practically any cinema camera out there. In fact, only the Arri Alexa 65 – which costs around 15x more than the GFX 100 - has a bigger sensor area. This fact alone is almost certain to make the new Fujifilm to be a popular choice for serious cinematographers. There are LOG and HLG options too - giving pro editors complete control over contrast and grading.
The camera can shoot 4K30p 10bit 4:2:0 internally - but can up the game to 10-bit 4:2:2 when hooked up to an external recorder.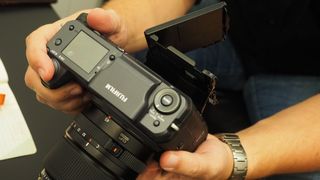 Bit depth is also impressive when shooting stills - with a 16-bit RAW option in addition to a more usual 14-bit one. Unbelievably the camera allows you to convert these 16-bit RAW files to 16-bit TIFF files in the camera itself, should you feel the urge (you can see what these look like here, but be warned this conversion increases the image file size from a chunky 200MB upto a whopping 600MB).
The speed of the camera is particularly impressive given that Fujifilm as chosen to stick with dual SD cards with this camera. One wonders what might have they taken the brave step of moving up to faster emerging memory card standards of the existing XQD and its backwards-compatible successor CFExpress (as Nikon and Panasonic has done with its full-frame mirrorless models).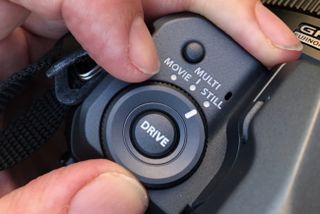 Sample images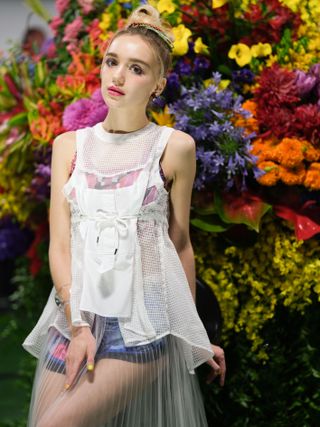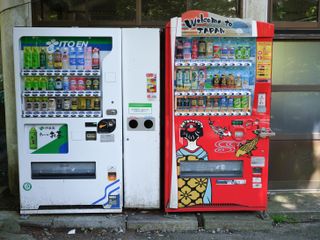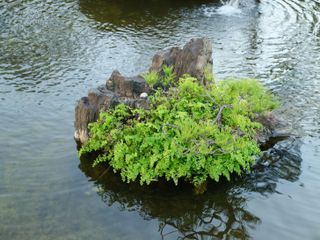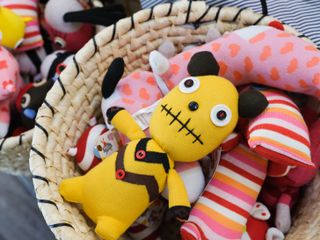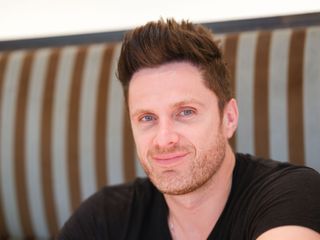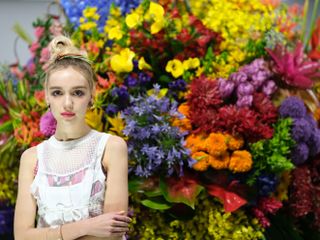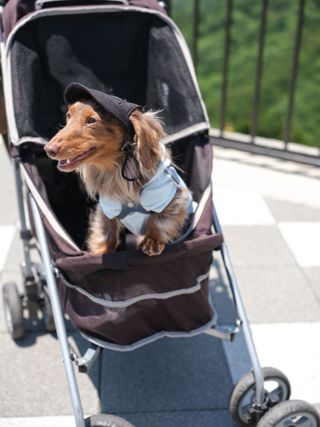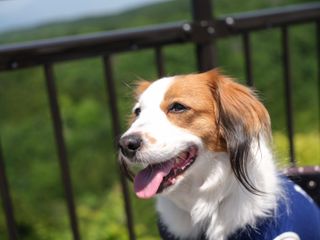 Early verdict
The GFX 100 makes seismic improvements over the features of the GFX 50R and GFX50S - and most notably with its unique built-in image stabilization system, and with its vastly improved processing power.
Autofocus is also impressive for a medium format camera - with an eye-tracking AF function that feels genuinely useful, if not essential, for a camera that offers so much detail.
The combination of these features makes this a medium format camera that you can hope to use handheld, when you need to – and particularly so for 4K movie making. For critical stills work of the sort that buyers of this type of camera are most like to shoot (such as studio fashion and architecture), then the reality is that to eke out the maximum detail users will want to use a tripod, and probably even an external monitor.
Our results are based on Beta firmware - but there is enough for us to like about this about getting a full production sample for us to lab test in the next few weeks.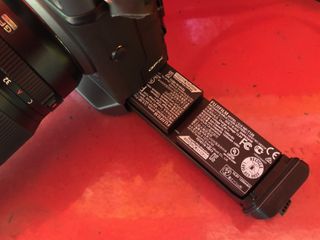 Read more:
• The best medium format camera
• Best mirrorless camera in 2019
• Best Fujifilm cameras in 2019