We first reported on the Samyang XP 10mm f/3.5 at Photokina 2018, but now we've had a chance to try out one for real at The Photography Show 2019, and our first impressions are very positive. The Samyang brand might once have been associated with lower-cost optics, but this lens has clearly been built to a very high standard. The metal barrel has a smooth, matt finish and opens out into a wide integrated petal lens hood – which protects the Samyang's huge convex front element.
This is a manual focus lens, so the focus ring has a direct mechanical action rather than the fly-by-wire focus system used by autofocus lenses. It's smooth across its full range of travel and feels perfectly weighted. Being a manual focus lens, it has a longer angle of travel making precise distance settings much easier. The only disappointment is that it does not have depth of field markings, so you can't easily set the optimum hyperfocal distance for landscape shots or estimate 'zone focus' settings for street or architectural photography – two of the key areas this lens is designed for.
Aperture adjustments are carried out on the lens itself, not on the camera body, so effectively the camera is using 'stopped down' metering and viewing, so although you can't use the camera in shutter-priority mode, it should work fine in aperture-priority mode and of course in manual.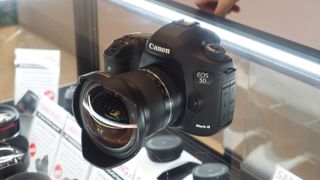 Optical design
The Samyang 10mm is available for DSLR only. We tried it briefly on a Canon EOS 5D Mark IV body and the lack of barrel distortion at the edges of the frame was impressive. It did look as if there might be some corner shading/vignetting at the edges of the frame but we'll wait until we get a final review sample for a full test.
This lens does have all the makings for a top-quality performance, thanks to a sophisticated internal layout of 18 lens elements in 11 groups, a complex setup which includes three aspherical lens elements, one high-refractive element and three extra-low dispersion elements.
This is the kind of exotic glass and design that goes into the best own-brand lenses from camera makers, and it's clear that Samyang is targeting the highest level of optical performance with its XP-series lenses.
This does reflect in the price – £949.99 in the UK – but when you compare that to the cost of the Canon EF 11-24mm f4L USM, the next widest option for Canon full frame EOS DSLR owners at £2,700, it starts to look a whole lot more reasonable.