Sony has released the line-up of speakers that will appearing on its stand at The Photography Show, which starts this weekend, running from 16-19 March.
A range of Sony ambassadors, professional users and experts will be talking about their experiences of using and switching to the Sony mirrorless system of cameras.
Highlights on the Sony stage include American outdoor photographer Chris Burkard, who has over three million followers on Instagram. He will be appearing on the stage and signing books on the Tuesday of the show (19 March). Read our mini interview mini interview with Chris Burkard
London-based Instagrammer Ron Timehin, meanwhile, will be talking about how he approaches social media as a photographer in his talk on Sunday (17 March). A full rundown of all the other talks can be found below.
• 10 tips for Instagram success
Sony will be show its full range of photo products at the show - and will have the new Sony A6400 camera and 135mm f/1.8 G Master lens available to try out.
There are over 500 talks and demonstrations during The Photography Show, the vast majority of which are free.
If you are a non-professional photographer, you can book tickets in advance and claim a 25% discount (more than £7 off the standard entry fee) using code DCWTPS19 (applies to new bookings only, expires on 13 March and can only be used on standard, adult rates). If you're a pro photographer, you can register for free entry.
Talks on the Sony Stand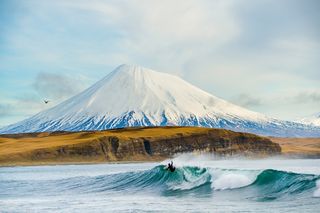 This is the full line-up of free talks that will be on the the Sony stand at The Photography Show this weekend:
Saturday 16 March
11.15-11.50
Hannah Couzens
Making The Switch to Mirrorless from DSLR
12.00-12.40
Luke Massey
On using the Sony A9 + 400mm f/2.8
13.00-13.40
Kate Hopewell-Smith & Brent Kirkham
Wedding Photography
14.00-14.40
Terry Donnelly
Master of All Genres
15.00-15.40
Luke Massey
Using the Sony RX10IV for wildlife
Sunday 17 March
11.00-11.40
Peter Neill
The Music Industry and Photography
12.00-12.40
Dominic Fraser
Sony A7R III: Uncompromised Resolution
13.00-13.40
Mike Will
Q&A
14.00-14.40
Ron Timehin
Shooting for Social
15.30-16.30
Kate Hopewell-Smith & Brent Kirkham
Wedding Photography
Monday 18 March
10:45-11:30
Kate Hopewell-Smith
Weddings
11:40-12:20
Lexi Laine
Underwater Fine Art Photography
12.30-13.10
Russ Ellis
Sport Cycling
13.20-13.50
Peter Neill
The Music Industry and Photography
14.00-14.40
Nine Dots Takeover
15.00-15.40
Nine Dots Takeover
Tuesday 19 March
10.45-11.30
Joanna Claire Sellick
Conceptual Fine Art & Self Portraits
12.30-13.10
Russ Ellis
Sport Cycling
13.20-13.50
UK Shooters Takeover
14.00-14.40
UK Shooters Takeover
15.00-15.40
Chris Burkard
Meet & Greet, plus book signing
Read more about TPS 2019
The Photography Show 2019: everything you need to know
Download your free 48-page Photography Show 2019 preview