The Nikon Z6 is evolving into a bit of a camera classic. When it was launched it was in the shadow of the 46-megapixel Nikon Z7, but the Z6 has all the build quality, ergonomic finesse and robustness of the Z7 at a much lower price.
And the price is a factor. Z6 pricing has proved ever more competitive since the camera's launch, and a whole series of firmware updates has extended its capabilities considerably. The Nikon Z6 isn't just getting cheaper, it's getting better!
The Z6 is especially tempting for filmmakers. Able to shoot full-width 4K video from the start, thanks to its firmware updates the Z6 can now output 12-bit ProRes RAW video to an Atomos Ninja V external recorder (though via a paid-for service center upgrade in some instances). The Z6 can also use the latest CFexpress format, with the latest firmware update extending the range of compatible memory card brands.
And Nikon has also improved the eye AF system, with animal eye AF and improved subject tracking.
These firmware updates have also benefitted the Nikon Z7, with its super-high resolution 45.7-megapixel sensor, sophisticated phase-detection autofocus, high-speed continuous shooting and 4K video, but this is a high-powered professional camera with a price tag to match.
The Nikon Z6, but contrast, offers a lower 24.5 megapixel resolution and not quite as many AF points as the Z7, but it's less than two-thirds the price, offers a wider ISO range, full frame (no crop) 4K video and an even faster 12fps frame rate. It's the lower cost and the 4K video capabilities (including 10-bit internal capture) that secures the Z6's place on our list of the best full frame mirrorless cameras.
• Nikon Z6 vs Z7 - which should you buy?
Nikon has also been extremely busy developing new native Nikkor Z mirrorless lenses. We have a separate article about Nikon mirrorless cameras and lenses, and another explaining the Nikon Z lens roadmap.
Finally, if the Nikon Z6 is just a little bit expensive for you right now, take a look at our Nikon Z 50 review. Nikon's new baby mirrorless camera uses the same Nikon Z lens mount and FTZ mount adaptor, and it's a real little powerhouse.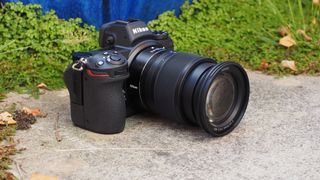 Specifications
Sensor: 24.5MP full frame back-illuminated CMOS, 35.9 x 23.9mm
Image processor: EXPEED 6
AF points: 273-point phase detection AF, 90% coverage horizontal and vertical
ISO range: 100 to 51,200 (exp. 50-204,800)
Max image size: 6,048 x 4,024px
Metering zones: N/A
Video: 3,840 x 2,160 at 30p, 25p, 24p
Viewfinder: EVF, 3,690k dots OLED, 100% coverage, 0.8x magnification
Memory card: XQD
LCD: 3.2-inch tilting touchscreen, 2,100k dots
Max burst: 12fps (focus locked on first frame)
Connectivity: Bluetooth, Wi-Fi
Size: 134 x 100.5 x 67.5mm (body only)
Weight: 675g (body only, with battery and memory card)
Key features
Nikon isn't just trying to poach users of other brands with its Z series mirrorless cameras. It also sees them as an effective and simple solution for existing Nikon users to migrate to a mirrorless system – or use a mirrorless camera alongside their DSLR for silent shooting, video and other tasks best suited to mirrorless technology.
So although the Nikon Z cameras use a new lens mount, Nikon is also selling an FTZ mount adaptor which lets you use any existing current Nikon lens without restriction. There are three new Z-mount lenses available right now, but with the adaptor you can use your existing lenses too. It currently adds around £100/$150 to the cost of the camera when bought as a kit, but for Nikon owners it looks like a must-have accessory.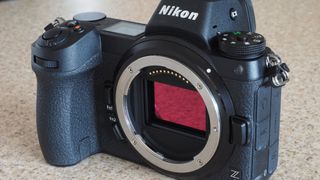 Nikon's created this new mount for a couple of reasons. One is that with no mirror to allow for, it's possible to produce a much smaller lens flange-sensor distance of just 16mm, compared to 46.4mm on a Nikon DSLR. This means the body can be made much slimmer.
This has also given Nikon the opportunity to make a much wider lens mount which allows more advanced and wider-aperture optical designs and a new, higher level of image quality.
There is one limitation with the FTZ adaptor. The Nikon Z6 (and Z7) do not have in-camera AF motors, so if you have older AF lenses without internal drives, these will be manual focus only – just as they are one Nikon's entry-level D3000/D5000-series DSLRs.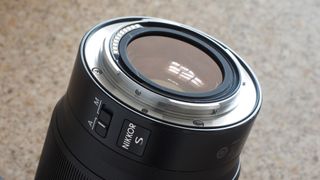 We tested the Z6 with the new Nikkor Z 24-70mm f/4 S kit lens and Nikkor Z 50mm f/1.8 S prime lens, but there's also a Nikkor Z 35mm f/1.8 S prime which we've used with the Z7. There is a showcase ultra-fast Noct 58mm f/0.95 too - but for the top choices for the system see our guide to the best Nikon Z lenses.
The Z6 might be a cheaper alternative to the Z7, but that's not reflected in the build quality. It has a magnesium alloy body with extensive weather sealing and a 200,000-shot shutter life. Externally, it's indistinguishable from the Z7.
It has roughly half the number of AF points of the Z7 – 273 versus 493 – but they are spread across 90% of the width and height of the image area, so the coverage is very broad (and much wider than you get with a DSLR). The Z6 offers a choice of pinpoint, single-point, dynamic area AF, wide-area AF and auto-area AF modes, though it does not offer the eye-detection mode for portrait and people shots that Sony's been so successful with.
Like the Z7, the Z6 has in-body image stabilization. It's the first time Nikon has used this in an interchangeable lens camera, and the company claims up to 5 stops of shake compensation. A lot of Nikon F-mount lenses have VR (Vibration Reduction) built in, but many don't, so this is an important new feature.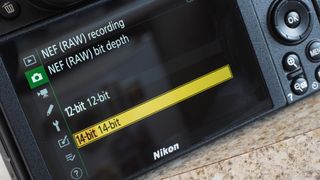 The continuous shooting mode is pretty amazing too, with speeds of up to 12fps for both JPEGs and raw files – though if you shoot raw you are limited to 12-bit files at the speed, and if you want 14-bit files instead the speed drops to 9fps.
However, good though the burst shooting rate might be, the buffer capacity is average. The Z6 can capture no more than 37 raw files in a 12fps burst, or 44 Large Fine JPEGs. If you need to shoot bursts longer than 3-4 seconds, you'll need to select a lower frame rate.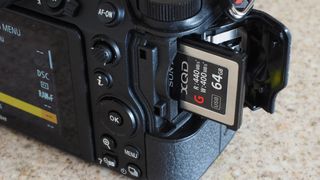 That's mildly disappointing given than Nikon deliberately selected the new and very fast XQD memory card format for the Z6 (and Z7). That's proved a little controversial for two reasons; one is that users will need to invest some cash in some new cards to go with their new camera, another is that there is only one card slot – there's no second card slot for SD/SDHC/SDXC cards or for storing backups or separating file types as you shoot.
However, this has all changed now that the Z6 can use the latest CFexpress format. It still only has one card slot (of course) and an average buffer capacity, but it does now use what's likely to be the most common high-end memory card format.
The Z6 brings good news for videographers. First, it offers full frame uncropped 4K video downsampled from oversampled 6K feature. This is recognised as being the best way to get the sharpest video. Second, the Nikkor Z lenses have been designed with silent autofocus and reduced focus 'breathing' and focus shift when zooming. It's also possible to capture 10-bit video to an external recorder with Nikon N-Log for extended dynamic range when grading your video later – or 12-bit ProRes RAW to an Atomos Ninja V.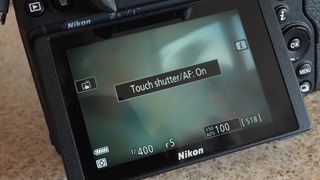 Nikon says the Z6 offers exposure metering down to -4EV with lenses of f/2 and faster. It also offers touchscreen control, including touch focus and touch shutter modes, and there's a DSLR style status screen on the top. It's a lot like the panels on the Fujifilm X-H1 and Canon EOS R – Sony's full frame mirrorless models don't have this.
Usually, the Nikon Z6 is available in three kits:
• Z6 24-70 Kit: Nikon Z 24-70mm f/4 S
• Z6 24-70 + FTZ Kit
• Z6 FTZ Kit
Build and handling
If the Z7 is like the mirrorless version of the Nikon D850 DSLR, then the Z6 is the mirrorless alternative to the Nikon D750. It is smaller and slimmer than Nikon's enthusiast-level full-frame DSLR but slightly larger than Sony's competing A7 series.
Actually, that's no bad thing. The Z6 body is slightly easier to grip than the Sony A7 variants, especially with larger lenses, though you might still want to think about the optional Nikon Nikon MB-N10 grip if you're going to be spending a lot of time shooting with telephotos. That will also help extend the battery life, incidentally, which is a pretty modest 310 shots.
Nikon has been quite clever with its Z-mount lenses. Where Sony and Canon make mirrorless lenses every bit as big and heavy as their DSLR counterparts, even though that can leave the camera unbalanced, Nikon's first three lenses are much more svelte. The 24-70mm f/4 is particularly neat, with a simple retracting mechanism to shorten the barrel when it's not in use, and a cylindrical design that still lets the camera sit flat when you put it down.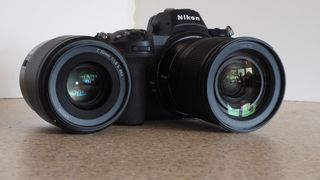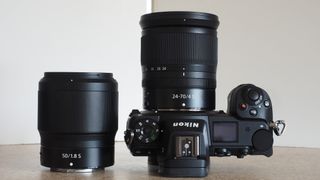 The smaller body (compared to a DSLR) means you don't get an external drive mode dial, metering mode or AF mode control, though there is an AF-ON button (a favourite feature with sports photographers) and a 'thumbstick' for moving the focus point around the image area.
Otherwise, you're reliant on an interactive 'i' screen for many everyday camera settings like white balance and ISO, though this is no great hardship since the touch control works really well and the icon layout and controls are very clear.
The rear screen is actually really good. It's a shame it only has a vertical tilt mechanism rather than a full vary-angle screen like the EOS R or the sideways tilt of the Fujifilm X-T3, but fine for horizontal-format shots, while the 2,100k-dot panel is really smooth and sharp.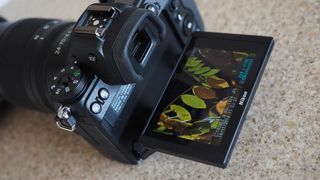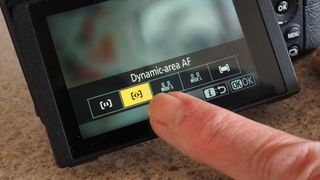 So is the electronic viewfinder. It doesn't quite have the lag-free, naked eye clarity of an optical DSLR viewfinder, but it comes pretty close. Sometimes details can look a little oversharpened and contrasty in the viewfinder as you're composing shots. Comparing images in playback mode with the viewfinder against those on a good computer monitor shows almost no difference in colour or contrast, so it does look as if the live feed to the viewfinder is a little coarser than the image the camera captures – but we're splitting hairs here.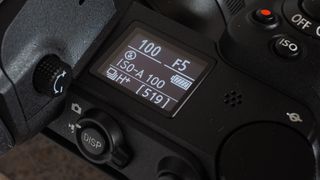 The ability to set the focus point and fire the shutter by tapping on the screen is really useful when the camera's being used at a low angle or on a tripod. As with the Z7 and many other cameras with touch focus modes, though, the drawback is that you can often shift the focus point unintentionally while handling the camera and have to waste a second or so moving it back to a suitable position.
This is just one of the handling differences you have to adapt to with cameras that offer touch-screen control, and not a problem specific to the Z6 or Z7.
Performance
The Z6's autofocus performance is hard to fault, especially when using is Z mount lenses, which are so fast and quiet that you need the autofocus 'beep' to reassure you that something has actually happened.
It's fast and responsive in continuous autofocus mode too, even holding sharp focus on objects moving quickly towards the camera. The modest buffer capacity means you need to time your bursts quite carefully, and you need to select the 12-bit NEF setting to get the full 12fps speed with raw files, but otherwise the Z6 is a very effective a camera for sports photography. A camera like the D500 (or D5) will give you a much better burst depth, but the D500 has a smaller APS-C sensor, and the D5 costs more than twice as much as the Z6.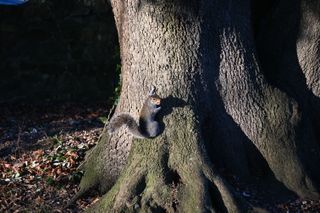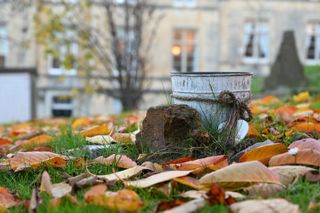 There's no viewfinder blackout during burst shooting, but there is still some lag and 'jumpiness' between frames which could make it harder to pan with a fast-moving subject. This is one area where DSLRs still have an advantage over mirrorless cameras, despite their mirrors and momentary viewfinder blackout. The mirrorless vs DSLR war isn't quite as one-sided as many would have us believe.
The Z6 is more effective at 4K video than Nikon's DSLRs, however. The Live View autofocus is fast and silent, there's the option of 10-bit N-Log output for extra quality and grading flexibility, and the in-body stabilisation makes handheld video a practical option.
It proved very effective at stabilising static handheld shots, though not so much at 'run-and-gun' style videography, where it smoothed out smaller, jerky movements but produced some awkward framing shifts with larger movements – you're still going to need a stabilising rig for this kind of work.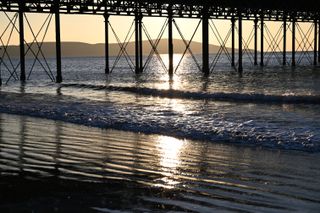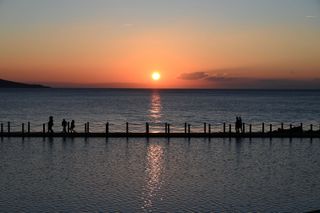 The default Matrix exposure metering on the Z6 appears heavily geared towards capturing highlights, which is how most pros and experts will like it. Many consumer cameras will expose for the shadows and leave highlights blown out, but he Z6 is much more inclined to let the shadows go in high-contrast lighting, hanging on to the highlights instead. Camera sensors are very good at recording dark shadow detail suitable for bringing out later, and the Z6 especially so. Even JPEGs seem to have copious, good-quality image information in the shadows.
Where the Z6 really excels is in low-light shooting. Its lower resolution means it has a one-stop ISO advantage over the Z7, offering up to ISO 51,200 even without using its expanded mode, its two prime lenses (so far) have a fast f/1.8 maximum aperture and its in-body stabilisation gives you more latitude still when you're shooting in light so dim that even high ISOs and fast lenses can't help you.
When you're shooting in low light you often need to shoot quietly too, so the Z6's silent shooting mode is a major advantage in museums, theatres, social events and many sports.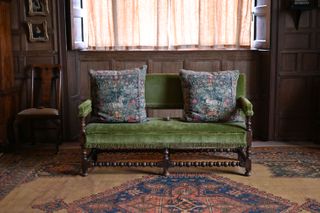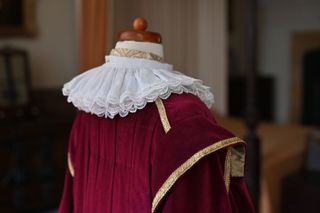 Some of our test shots were taken in conditions so dark that it wasn't very easy to make out the subject even with the naked eye, and yet the images captured were bright, saturated and remarkably detailed. Yes, the smoothing increases and detail decreases at the highest ISO settings but this is a camera you could push up to ISO 6,400 or 12,800 without a second though in dim lighting.
High-ISO performance has been a bit of a quiet revolution in digital cameras over the past few years, and the Z6 is right at the forefront of what's possible in practical low-light shooting.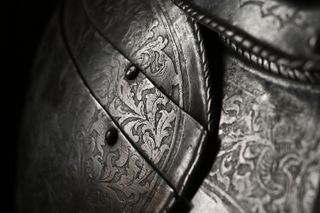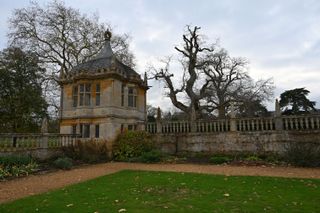 This is possible, of course, because the Z6 sacrifices resolution for larger pixels and improved sensitivity. So is 24.5 megapixels enough?
That's a decision you'll have to make for yourself… but megapixels aren't everything. The images we captured with the Z6 show excellent corner-to-corner sharpness, great dynamic range, rich, subtle colour, very low noise and complete elimination of distortion and chromatic aberration (in JPEGs – we haven't had a chance to check the RAW files yet as we're waiting for software updates).
A 24 megapixel camera is hardly headline material in this day and age, but the image quality from the Z6's sensor and Nikon's Z-mount lenses is stellar by just about any other standard.
Lab tests
We chose three key rivals for the Nikon Z6 for our lab test comparisons: the Canon EOS R, Nikon Z7 and Sony A7 III.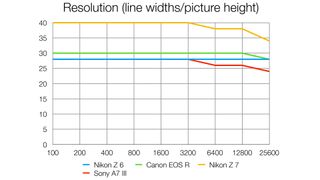 Resolution
Not surprisingly, the Z easily wins in the resolution test, going off our test chart's scale at low ISOs and staying sharper than the rest even up to ISO 25,600. The other three perform more or less at the limit of their sensor resolution. The Canon has a slight advantage over the Z6 and A7 III, and the Z6 maintains its maximum resolution right across our test ISO range.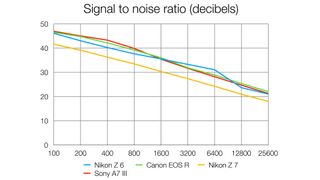 Signal to noise ratio
The lab results are very close in our noise test. Not surprisingly, the Nikon Z7 is a little behind, but the rest are very closely matched. The Z6 has no clear advantage in the lab over the Canon and Sony, but in real-world shooting the superior sharpness and dynamic range at high ISOs give it an edge.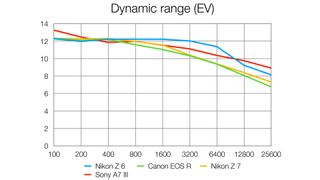 Dynamic range
Again, a very close set of results and the A7 III reminds us again just how good Sony's 24-megapixel camera actually is. Nevertheless, the Z6 does show a significant dynamic range advantage in the mid to upper ISO range. The Nikon's all-round image quality across the whole ISO range is both very good and extremely consistent.
Verdict and competition
The Nikon Z6 is always going to be somewhat overshadowed by the more powerful and higher-resolution Z7, but actually it's a much more versatile camera, as well as being much more affordable! On paper it could easily come across as being a little bit dull but worthy; in practice its finesse, performance and image quality are just awesome. Every camera has flaws and weaknesses, but the Z6 almost squeezes them out of existence.
What's more, Nikon's steady stream of firmware updates and steady price squeezing by retailer has made the Nikon Z6 even more attractive now than when it was first launched.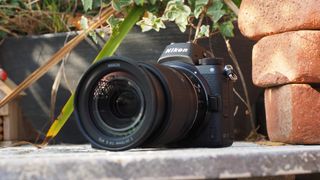 Nikon Z6 rivals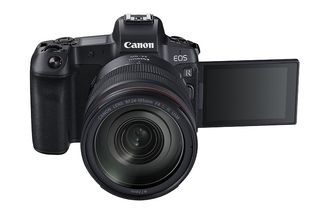 Canon EOS R
The Canon EOS R beats the Nikon Z6 for resolution by 6 million pixels, but it can't match the Nikon's continuous shooting frame rate, full frame 4K UHD video, ISO range or price. It's a decent camera, but the EOS R inhabits a bit of a no-man's land in between the two Nikons and isn't a convincing rival for either. Read our Canon EOS R review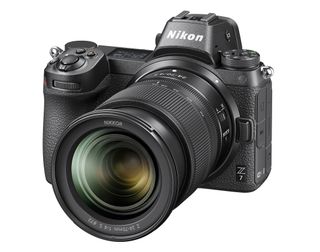 Nikon Z7
The Nikon Z7 has the same svelte, tough and grippable body as the Z6 but almost twice the resolution – and it can still hit 9fps. It all depends on how much you want that extra resolution and how much more you want to sacrifice (both in cash and all-round versatility) to get it. Read the Nikon Z7 review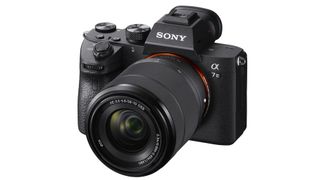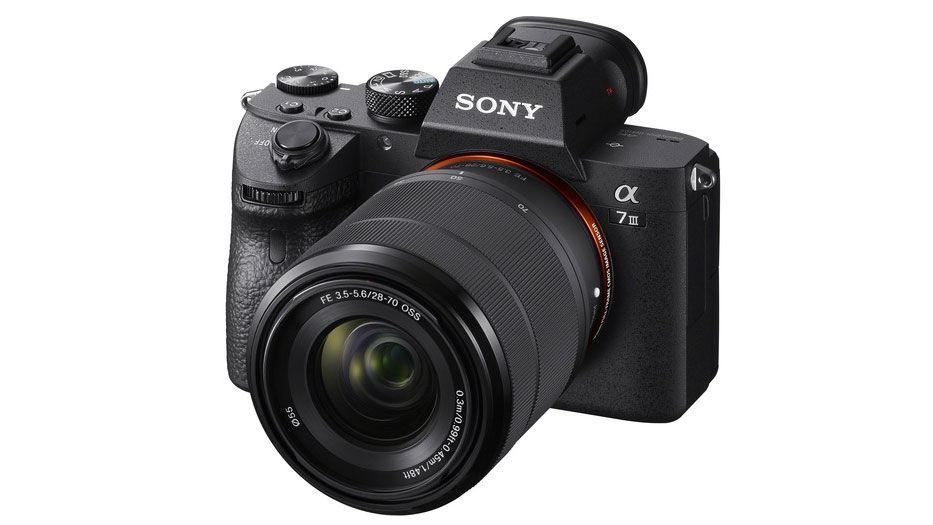 Sony A7 III
The Sony A7 III's combination of affordability, features, frame rate and ISO range looked unbeatable… until the Nikon Z6 happened. It's still a close-run thing, but the Z6 matches it in almost all areas (except battery life and eye-AF) then beats it for burst rate and – in our opinion – handling. Check out our Sony A7 III review.
READ MORE:
The best Nikon Z lenses for the Z6, Z7 & Z50
The best full-frame DSLR in 2020