The Olympus M.Zuiko Digital ED 150-400mm f/4.5 TC1.25x IS Pro lens – one of the biggest guns, literally and figuratively, in the Micro Four Thirds line-up – is on display at The Photography Show, which runs from 16-19 March at the NEC in Birmingham.
The 150-400mm Pro, as we'll call it for brevity, offers a 300-800mm equivalent focal range as standard. However, it also has an integrated 1.25x teleconverter that extends this range to 1000mm (though this reduces the maximum aperture to f/5.6).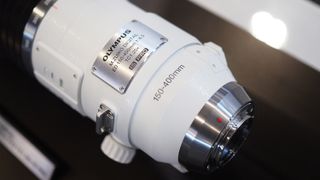 The extension doesn't stop there, though. Also on display at The Photography Show is the Olympus M.Zuiko Digital 2x Teleconverter MC-20. This doubles the focal length of the 150-400mm Pro, giving it a remarkable 2000mm equivalent focal length.
When paired with the new Olympus OM-D E-M1X, the lens benefits from a rock-solid 7.5 EV steps of image stabilization (thanks to the Sync-IS technology that couples the in-body stabilization with the lens stabiluzation).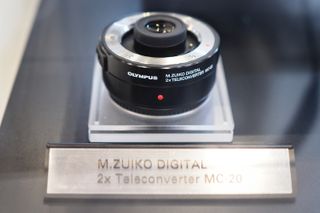 A 2000mm lens with 7.5 steps of stabilization is already a formidable setup. Factor in that both the 150-400mm Pro and the MC-20 are weather-sealed, though, and this combo becomes an incredible tool in the hands of professional wildlife shooters.
On top of that, the MC-20 doesn't just double the telephoto range – it also doubles the maximum shooting magnification, making it a fascinating proposition for macro imaging.
We were blown away by the teleconverter (which is also compatible with the Olympus 300mm f/4.0 and 40-150mm f/2.8 Pro lenses) in our Olympus MC-20 review. While the MC-20 is available now, the150-400mm Pro is scheduled for launch in 2020.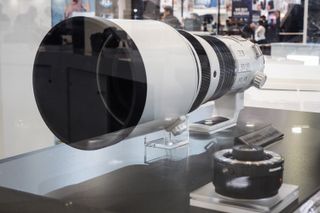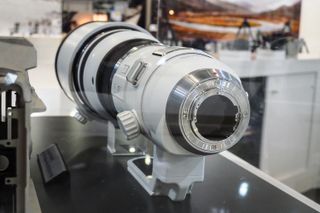 Read more:
The Photography Show 2019: What you need to know - and all the news
The best Olympus cameras in 2019
The best Micro Four Thirds lenses for your Olympus or Panasonic camera