Video: Nikon Eye AF in action
Nikon's forthcoming firmware update which adds eye-tracking AF to the Nikon Z 7 and Nikon Z 6 was being demonstrated in public for the first time in Europe at The Photography Show.
We reported on the firmware update previously, which also adds CFexpress support and Raw video output, as well as improved low-light autofocus and auto-exposure performance. Nikon UK's Senior Product Manager Tim Carter revealed, however, that these enhancements may well come as a series of separate updates if different elements are ready at different times.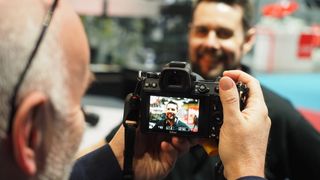 Eye tracking has become especially important for photographers using the latest wide-aperture prime lenses, where there is no margin for any focus error, and especially for vloggers, who often need to film themselves talking to the camera and have to trust the camera to keep them in focus.
When we tried the eye-tracking AF it proved unnervingly accurate, locking onto a subject's eyes and maintaining focus on them as they moved their head, switching to full-face focus if the subject moved further away, or moved in such a way that they eyes weren't visible, as our video clip shows. We look forward to testing out this exciting new feature properly once we're able to install the firmware update on our own Z cameras.