Outdoor photographer and Instagram sensation Chris Burkard appears on the Super Stage on Tuesday 19 March 2019 at 1.15pm. He will share some of the greatest lessons he has gained from behind the lens.
From being thrown in a Russian jail cell to swimming in near-freezing water, his stories are more than just pieces of advice for his fellow photographers – they create the wisdom that he says can only be learned the hard way.
Tickets for the Super Stage speakers are available now for £12 each. The talks will be held in the Toute Suite, just outside the main hall of The Photography Show.
In the meantime, discover more about Chris and his work as he answers five quick questions ahead of his Super Stage appearance…
Five quick questions with Chris Burkard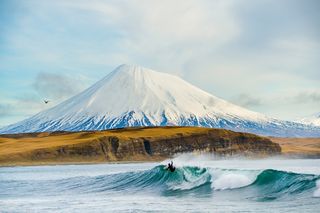 1. As a young adult, photography was your passport to new and exciting places away from where you grew up. Which parts of the world are at the top of your list of future photographic projects?
To be honest, everywhere and anywhere was at the top of my list. I had never been outside the USA when I picked up a camera so to say I was eager was an understatement. When I started I always dreamed of distant, remote places but the cold never really came to mind as a place I would stake my claim. My very first trip was to Yemen, Dubai and Oman; it was honestly so much of a culture shock I didn't know what to do.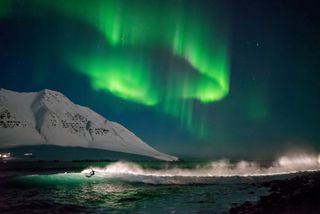 2. Have you bettered your all-time favourite image ['Surf', taken in the Aleutian Islands, pictured below], and if so what is it?
Honestly, nothing will ever replace that image for me. It means so much more than just a "cover photo". It was proof that so much time, research and investment was worth it. I came close [to bettering it] in Iceland when I shot under the Northern Lights and while that was still something really special, I feel like that photo of the surfer with the volcano was pretty much a once in a lifetime scenario. We risked so much to get it.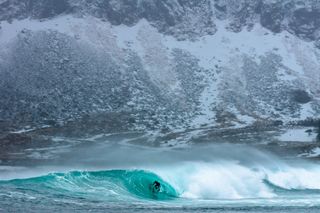 3. You shun blue skies and warm waves and are drawn to extreme conditions. Are you still taking calculated risks to capture your images, or are you mellowing as you get older and more experienced?
I would absolutely still take the same risks but I think the reality is that if you are going to make bad decisions, you'd better be smart about it. The goal for me now is relying on experience more so than just ego and the willingness to risk it all. Now my shoots take in many more considerations including my family and kids. They definitely come to mind when I am planning and executing a trip or expedition or creating an image that involves a high degree of risk.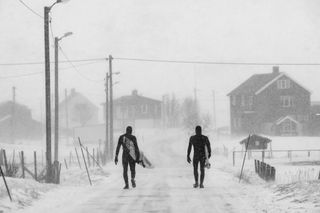 4. Has climate change created more opportunities to shoot the extreme conditions you favour, and how more extreme have weather conditions become since you started out as a photographer?
I guess in many ways it has but at the same time its really hard to fully appreciate the true changes that climate change has made to the environment, since I have only been shooting for 12 years or so. I do try my best to appreciate how quickly places are changing and how my images can serve as a record of those experiences.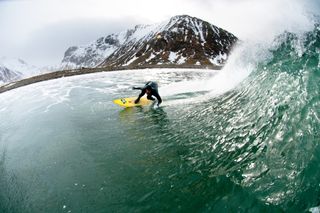 5. Do you think your career would have progressed differently had Instagram been such a big thing when you started out?
My career was pretty far under way before I ever used social media, so I like to think that I would be doing exactly what I am doing now. But I do realize that social media has given me the added benefit of being able to tell stories to millions of people and share the things that I care most about!
Booking details
Catch Chris Burkard on the Super Stage during the fourth day of The Photography Show – Tuesday 19 March 2019 at 1.15pm. Tickets cost £12.
There are over 200 exhibitors and over 300 free talks and demonstrations at The Photography Show, and sister event The Video Show. Tickets for the main show are available now, and you can get 25% off advance, single-day, adult tickets using the code DCAMTPS19 if you book by 13 March.
Don't miss the other Super Stage speakers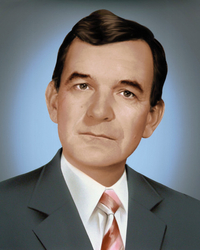 Martin Parr
Legendary star of British street photography
Legendary Magnum Photos photographer Martin Parr will talk about his career in photography; finishing with a look at his new exhibition, Only Human, which opens on 7 March at the National Portrait Gallery in London.
Read Five Quick Questions with Martin Parr
Saturday 16 March 2019, 3.30pm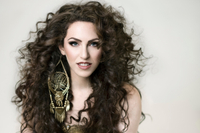 Lindsay Adler
Leading New York fashion photographer
Join renowned American fashion photographer, Lindsay Adler as she discusses how she went from ordinary photographs to extraordinary image making. Based in New York City, her fashion images have appeared in numerous publications including Marie Claire, In Style, Elle, Harper's Bazaar and more.
Read Five Quick Questions with Lindsay Adler
Monday 18 March 2019, 1.15pm
Read more about TPS 2019
The Photography Show 2019: everything you need to know