Video highlights from the 2018 show
Exhibitors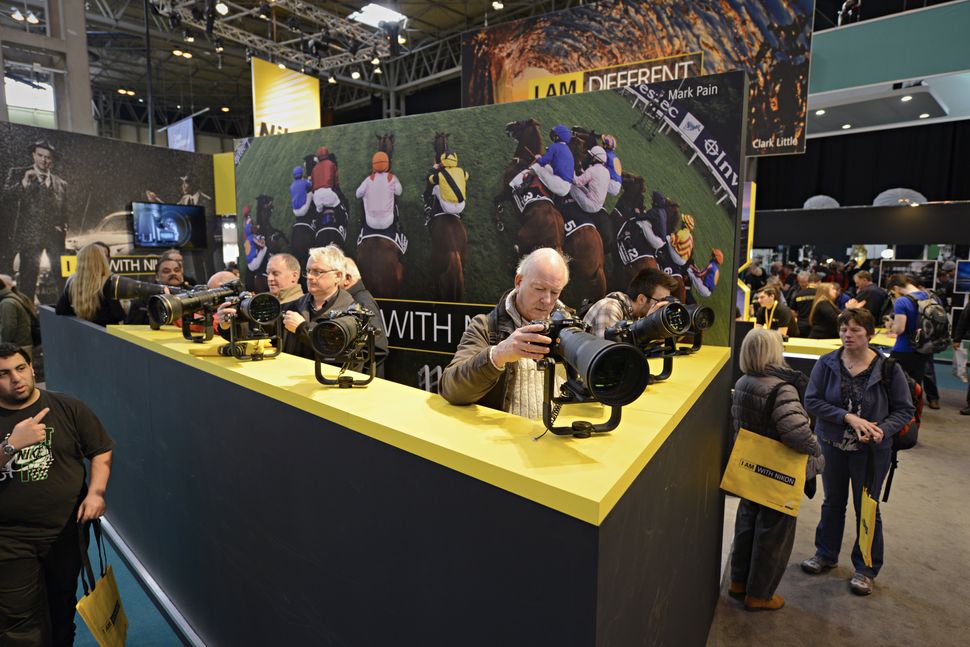 With over 250 exhibitors at the show, you're bound to come away inspired, educated and wanting to take your photography to the next level.
Whether you want to get your hands on the most recently announced cameras from the likes of Canon, Nikon, Sony, Olympus, Panasonic and Fujifilm, or a lens from the likes of Sigma, Samyang, Zeiss or Tokina, The Photography Show 2019 is the place to do it. Even if you just want to quiz the experts on the best gear for your needs, come along and get asking.
See the full list of exhibitors
Not in the market for a new camera or lens? There's still plenty to see, from top-quality paper from Hahnemühle through to super-sturdy tripods from Gitzo and stylish bags from Lowepro.
Studio photographers can check out backgrounds, lighting systems and props – and weddling photographers can check out the latest styles of album and photobooks.
And if you fancy taking it home, you'll be able to stop by some of the biggest photo retailers, such as LCE, Wex Photo, and Cameraworld, where you'll find great deals and some exclusive show offers.
Beginner and Turning Pro Masterclasses
Whether you're just getting started or you're moving into full-time professional shooting, you'll want to check out one of the many masterclasses that will be taking place over the four days.
There are beginners Masterclasses in photography, and in videomaking on the Saturday and Sunday of the Show. Each takes the morning or afternoon - so you still have plenty of time to see the exhibition and other talks. Each session costs £10.
The Turning Pro Masterclass is being run on Saturday and Sunday mornings - and aims to help you get advice from working pros about making the jump from being an enthusiast to being a professional photographer.
For the benefit of photographic novices, masterclasses will include what kind of kit to buy to how to process your images, while those turning professional will be able to learn essential marketing skills and better understand how to make video work for them. You can book your masterclass when you book your tickets.
Super Stage
The Super Stage has previously played host to some of the world's most famous and respected photographers, such as David Bailey, Sebastião Salgado, Art Wolfe and Rankin.
This year's program of speakers is headlined by Martin Parr. Other speakers include National Geographic's Annie Griffiths, New York fashion ace Lindsay Adler, wildlife expert Moose Peterson, former White House phoographer Pete Souza, and Californian Instagrammer Chris Burkard. BBC wildlife cinematographer Gordon Buchanan completes the line-up for this year's Super Stage.
Photo Live Stage
The Photo Live Stage is the place to get inspired and educated by a range of professional photographers working across various genres. Whether you dabble in light painting or you want to get some pointers to help your portraiture, or if you just want to see professionals getting creative results using flour and liquids, there'll be something there for you. The best bit? Every single talk is completely free.
Wedding & Portrait stage
Learn to take better pictures of people, and get new ideas from top working professionals. These free talks and demonstrations are being run this year by Laura Babba, Rocco Ancora, Lisa Beaney, James Musselwhite, and many others.
The Great Outdoors stage
Back for this year is the Great Outdoors Stage, which will welcome leading landscape and nature photographers. A packed program over the four days will include talks and demonstrations of the key skills of shooting beauty the world around us. Once again, all talks are free but make sure to get there early to get the best spot. Speakers this year include Alex Hyde, Charlie Waite, and Victoria Hillman.
Drone Zone
Back very much by popular demand, the Drone Zone will once again allow everyone from experienced drone users to curious potential purchasers to learn more about what's new in quadcopter, together with how to fly a drone safely and the necessary regulations.
Editing & Post Production Suite
Learn photo editing and video editing skills in a series of seminars being run throughout the show in our free theatre. Speakers this year include Glyn Dewis, Tony Harmer, and Jo Bradford. The full program can be seen here.
Social Stage
The Social stage returns to The Photography Show in 2019, and this year it's set to be bigger than before. Whether you want to use your phone to capture top-quality video or gain new clients from Instagram, or just brush up your mobile picture-taking skills, this is the place to do it.
In Motion Stage
Over at the In Motion Stage, you can join top video experts to get the lowdown on essential filmmaking techniques and HDR video shooting, as well as how to capture excellent audio to accompany your masterpieces. Speakers include Nick Driftwood, Dan Chung, and Holly-Marie Cato.
When is The Photography Show 2019?
The Photography Show 2019 and the new Video Show will take place from Saturday to Sunday on 16-19 March 2019, at Birmingham's NEC. Doors will open at 10:00am and will close at 17:00 on each day.
The NEC is just a short walk away from Birmingham International railway station and Birmingham Airport.
For more information on getting to the NEC and parking, click here
When can I get tickets to The Photography Show 2019?
Tickets for The Photography Show 2019 are available from here. You can get 25% off advance, single-day, adult tickets using the code DCAMTPS19 if you book by March 13.
This year, for the first time, you will be able to use your ticket on any of the four days of the show – so you won't have to decide which day you are going in advance. Tickets for the show itself areThere will be special deals for those who want to go for more than one day too!
You can sign up to get updates on the workshops, speakers, galleries and exhibitors that will be at the Show.


What if I can't make it to The Photography Show 2019?
Although there's no substitute for being at the show itself, you can stay up to date with what's going on by following the official Facebook, Twitter and Instagram channels of The Photography Show.
Digital Camera World will also be there bringing you all the photo news, so make sure to keep us bookmarked, and stay up to date by following us on Twitter , by liking our Facebook page, and by signing up to our daily newsletter.
Find out full details:
Head over to The Photography Show website
The Video Show 2019: everything you need to know