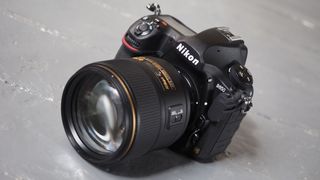 Probably the hottest camera of the moment is still Nikon's D850, and one wonders whether Nikon has had time to plan anything else as it scrambles to produce enough samples to meet demand. But let's just assume it has; what else might we shortly see?
Read more: Nikon D850 review
Nikon D760
Nikon's D750 has been a well-loved member of Nikon's full-frame portfolio, and the fact that it's one of the cheapest full-frame cameras around has only broadened its appeal further. It has, however, recently celebrated its third birthday, and has been overshadowed somewhat by the likes of the newer D850 and DX-format D500.
Read more: The 10 cheapest full-frame cameras in 2018
A Nikon D760 update, therefore, would make a lot of sense. We would expect the D760 to sport a full-frame sensor with around 36MP, which would place it roughly halfway between the 24.3MP D610 and 45.7MP D850.
4K video, a feature lacking on the D750, would also most likely make an appearance, and we would be very surprised to see it carry with the D750's autofocus system when you consider the progress the company has made with the newer 153-point AF system found inside the D500 and D5 models.
Nikon D3500
Nikon's D3400 remains one of the most popular DSLRs for those stepping into interchangeable-lens photography for the first time, and it makes sense that the company will look to replace it before long – particularly with the recent introduction of Canon's EOS 200D and EOS M50, and the EOS 2000D and EOS 4000D pair. Here's what we think a new Nikon D3500 would feature
In fact, when you consider that the company's D3300 was released in 2014, and the D3400 in 2016, a 2018 release for the next model in the line makes perfect sense. Such a camera would probably maintain the D3400's 24MP sensor resolution, but would likely address the D3400's shortcomings, such as the lack of a touchscreen and its sub-par connectivity options.
Read more: Nikon D3500 – What we want and what we expect to see
Nikon D5x
There are also some rumblings of a D5x model, whose name suggests a D5 body with a high-resolution sensor (the D5 sports a 20.8MP sensor). The development of the D850's 45MP sensorlends this particular rumour more credibility, but such a strategy normally sees the more advanced, pricier model released first, which makes it seems somewhat less likely.
Nikon full frame mirrorless camera
After intense speculation, Nikon finally revealed that it was working on a new mirrorless camera system. We don't know much right just now, but what we do know is that it will use a full-frame (FX) sensor and also a new lens mount, the latter of which meaning that we'll also get new lenses – and we have some thoughts on what they might be already.
Read more: 10 tips on getting the best out of your Nikon camera
Current Nikon DSLR user? Fret not. Nikon has also stated that the model will be compatible with lenses that are designed for its SLR and DSLR models via an optional adapter.
What we think: We expect that Nikon's new full-frame mirrorless camera will hit very soon, particularly as Photokina is just around the corner. We expect many of its features will mirror those of the D850, although no doubt there'll be plenty new specific to mirrorless.
Read more: The 8 best portrait lenses for Nikon users