Ricoh & Pentax rumors 2023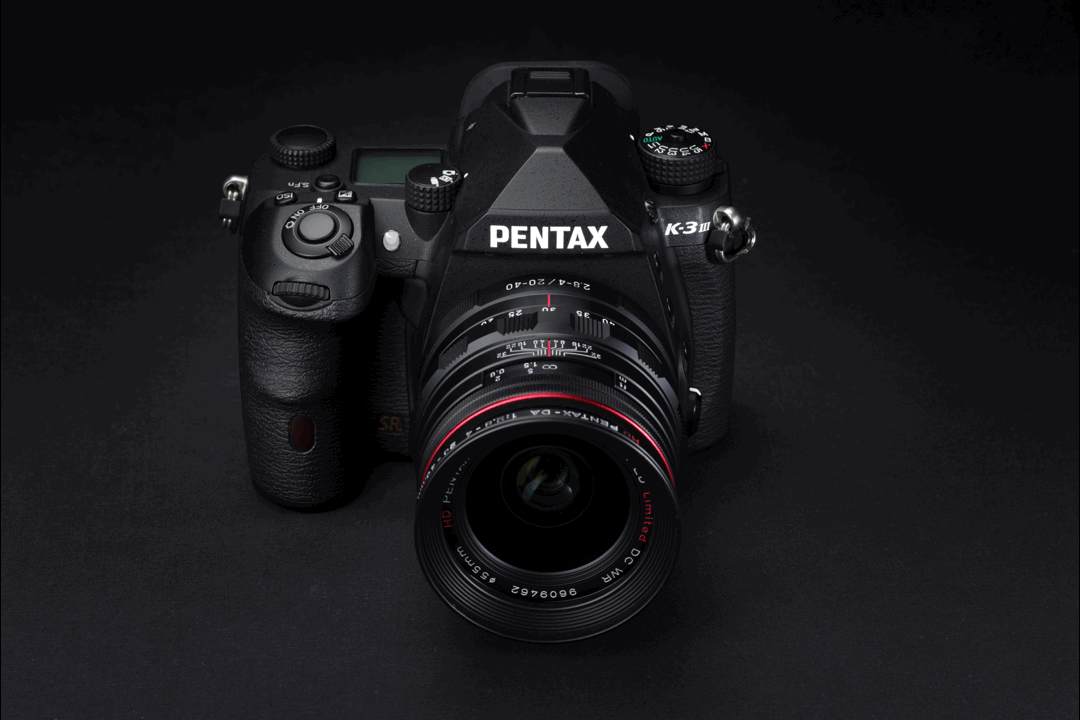 Being one of the most intriguing camera brands in the business, there are plenty of Ricoh rumors to digest - particularly as it also makes Pentax cameras, as well as those under the Ricoh name. This is a manufacturer that truly marches to the beat of its own drum.
It remains absolutely adamant that it won't be going mirrorless with its Pentax brand (after briefly flirting with a mirrorless system years ago) and instead will concentrate on making the best DSLRs – a category that is very much an open goal, with Canon and Nikon both ceasing development of new products. And not content with bog standard DSLRs, this year it launches the Pentax K-3 Mark III Monochrome – challenging the likes of Leica for the best black-and-white camera crown!
It's also focusing on the best compact camera sector, with the various flavors of its Ricoh GR III. But it has also announced plans to reignite analog photography by bringing the best film cameras back to market.
So what exactly is the company up to? Here are the latest Ricoh rumors…
Pentax film cameras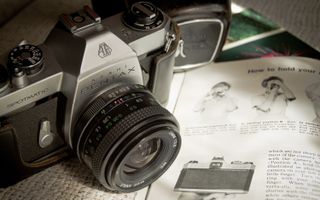 In December 2022, Pentax made the very nebulous announcement of its Film Camera Project – but the details were so woolly that consumers were left to speculate on what exactly that meant. Since then, Pentax continued to be elusive when it comes to details – until a European executive gave an interview stating that two affordable compact cameras would come in 2024, followed by a pair of traditional SLRs.
However, it appears he spoke out of turn – perhaps spilling the beans before Pentax Japan's notoriously secretive Film Camera Project team were ready to reveal details. This prompted an official statement disputing, specifically, the two compact cameras – but not, explicitly, the two DSLRs:
"We found information on several websites regarding our film camera development. This included two compact film cameras for spring 2024 as mentioned by a colleague working for Ricoh Imaging Europe. This is not our official remark, nor is it based on any fixed information. We are indeed challenging the development of a compact film camera; however, we have not yet decided whether or when we will launch such a product."
Ricoh GR IV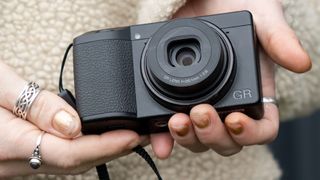 The designer for the Ricoh GR series, Inaba Toshiya, recently teased an announcement for a new product – though stopped short of revealing anything too insightful. Given that the GR II was launched in 2015, and the GR III in 2019, smart money says that a GR IV is imminent.
"The GR is a camera that has been well honed as a snap shooter, so it will not go against that concept," said Inaba. "For example, it will not be an all-mighty camera that can do anything. But it will be a camera that specializes in snap shooters, and that will never change."
Of course, if it's not a IV, it could always be…
Ricoh GR III Monochrome
Given Ricoh's penchant for releasing special editions, after the blockbuster launch of the K-3 Mark III Monochrome, chatter soon started that a black-and-white version of the GR III could be in store.
It's a reasonable assumption, particularly given how many versions of the GR III Ricoh has launched – such as the Ricoh GR IIIx and Ricoh GR III Diary Edition. While the latest word from Japan is that there are no plans for such a camera, it would be such an easy win – given that Ricoh doesn't even have to make a new body, just change the sensor – that we really wouldn't be surprised to see it appear.
Pentax K-3 Mark III Astro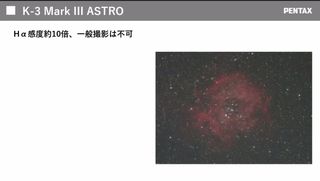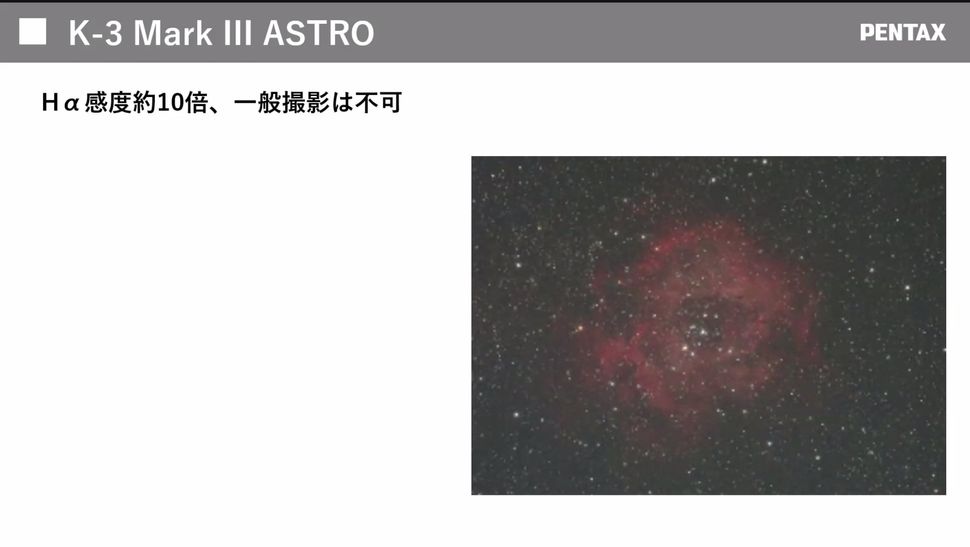 The company announced plans back at the start of 2022 for an astrophotography-focused Pentax K-3 Mark III. Much as the Monochrome edition was a dedicated black-and-white camera, so the Astro version will be specifically for shooting stars.
This model supposedly has a Hα (hydrogen-alpha) sensitivity of x10, so it's likely that nebula will photograph well using this proposed camera. A hydrogen-alpha filter is commonly used among other filters in astrophotography kits to assist in photographing deep sky objects in what's called true-color or broadband. It's been over a year now – does Pentax still plan to challenge the best cameras for astrophotography?
Pentax K-3 Mark III Gunmetal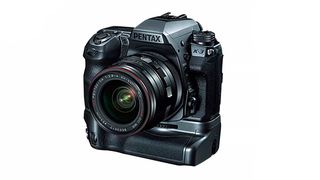 Announced in January 2022, this seems to be a purely cosmetic makeover of the K-3 Mark III – as was the case with the darker-than-Darth Vader Pentax K-3 Mark III Jet Black.
The Gunmetal variant looks pretty much the same as the Prestige Edition of the original Pentax K-3, released back in 2014, and appears to come with the same Gunmetal grip and 20-40mm lens.
We've heard no updates but – since the cosmetic Jet Black launched in 2022, followed by the new-sensor Monochrome in 2023 – we can see this new cosmetic design materializing in 2024.
Pentax K-3 Mark III Shutter Stroke Change
We really weren't kidding when we said that Ricoh has a penchant for special editions. All we know about this one, announced in 2022, is that it's designed for faster shooting with a shallower shutter stroke.
With it being designed for speed, it might also make sense to up the 12fps maximum burst speed. This could be a big ask for Ricoh's R&D team, especially since Nikon once claimed that 12fps was as fast as DSLR shutters could fire. However, since the Nikon D6 can hit 14fps and the Canon EOS-1D X Mark III hits 16fps, it would be nice for the only DSLR maker left in town to catch up with the ghosts of its rivals.
Pentax K-3 Mark III MF
The final K-3 Mark III variant that Ricoh announced was the MF, which stands for Manual Focus. Again, Ricoh really loves a special edition body – especially since it requires relatively little in the way of additional R&D, since it's using the same camera design with slightly different tech and tweaks inside.
We'll admit, an exclusively manual focus camera in (we assume at the earliest) 2024 is a pretty hard sell. But Pentax fans are the hardest of the hardcore DSLR users, and the nichest of the niche photography aficionados – if anyone can make it work, it's Ricoh.
The Ricoh verdict
Ricoh gonna Ricoh. Far from jumping on trends like the rocket-like growth of vlogging cameras, Ricoh is instead doubling down on DSLRs and SLRs. Why go mirrorless when you can go analog? Pentax cameras are selling well, now that nobody else is making new DSLRs, so Ricoh is making more K-3 Mark IIIs. And given that nobody besides Leica is making new film cameras, it will have another captive audience with its new SLRs. With both Leica and Fujifilm proving that there's life left in the compact camera market, we also expect to see a Ricoh GR IV before long…
More camera rumors: Canon rumors • Nikon rumors • Sony rumors • Olympus rumors • Fuji rumors • Panasonic rumors • Sigma rumors • Hasselblad rumors • Leica rumors