Nikon camera rumors 2019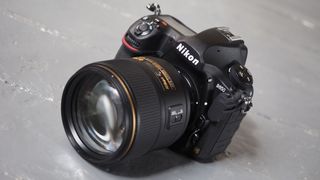 Nikon's big news of 2018 was the arrival of its full-frame mirrorless camera system - and the announcement of the the Z 6 and Z 7 cameras to kick off this new dynasty. Nikon had already announced the end of its 1 series of APS-C mirrorless models to a close earlier in the year ahead of the Z system's announcement in August. It will now be concentrating on developing the Nikon Z lens roadmap - to increase the range of primes and zooms for the new mirrorless mount.
Read more: 99 things you need to know about Nikon's full-frame mirrorless system
Nikon Z5
Nikon revealed exclusively to us at Photokina, that there would be lower-priced models in the Z system at some point in the future – and that they had deliberately started with high-end enthusiast models in the Z6 and Z7.
The big question here would be if a Nikon Z5 would use a full-frame mirrorless sensor – or would it have a smaller DX-format APS-C sensor. Indeed, the latest rumblings suggest that it could feature a 30 or 32MP crop sensor.
Possibly spurred by the launch of the Canon EOS RP, a Nikon executive stated that the Nikon Z5 could be on the way before the end of the year. Igawa Yuxi from Nikon China confirmed that a new consumer-oriented Z camera will be coming soon – "a low-priced model similar to the Canon EOS RP".
No other specs, information or details were revealed, but this rings true with what Nikon Europe's Jordi Brinkman told us last year: "Definitely we will widen our lineup… there will be models below the Z6. We will widen up the range to different users and different price brackets, definitely."
Nikon Z9
We didn't expect Nikon to announce professional models in the Z range quite so quickly, but recent reports suggest that the company might make a development announcement of a pro Z9 body as early as this summer.
This may well be a model to rival the Nikon D5, with a big battery built-in, a high-speed shooting capacity of perhaps 20fps and dual memory card slots. Nikon would surely love to have camera that would challenge Sony's A9, now that it has models to rival the Sony A7 series.
If a new top-of-the-range professional sports camera were in the works, Nikon would want its photographers to be fully familiar with it before the next Olympics, which is being held in Nikon's home city of Tokyo in 2020…
Nikon DSLRs
Nikon's hottest model of 2017 was the Nikon's D850, and demand for the high-resolution high-speed camera has remained high every since. It is too soon for this to be updated yet. So what will we see from Nikon in the DSLR front?
We have already seen the update of the budget-priced D3400 in the shape of the Nikon D3500 – which brings significant changes to this popular model and was announced just days after the Z7 and Z6.
But what else might we shortly see?
Nikon D760
Nikon's D750 has been a well-loved member of Nikon's full-frame portfolio, and the fact that it's one of the cheapest full-frame cameras around has only broadened its appeal further. It has, however, recently celebrated its third birthday, and has been overshadowed somewhat by the likes of the newer D850 and DX-format D500.
Read more: The best Nikon DSLRs
A Nikon D760 update, therefore, would make a lot of sense. We would expect the D760 to sport a full-frame sensor with around 36MP, which would place it roughly halfway between the 24.3MP D610 and 45.7MP D850.
4K video, a feature lacking on the D750, would also most likely make an appearance, and we would be very surprised to see it carry with the D750's autofocus system when you consider the progress the company has made with the newer 153-point AF system found inside the D500 and D5 models.
Nikon D6
There are also some rumblings of a D6 or D5x model, whose name suggests a D5 body with a high-resolution sensor (the D5 sports a 20.8MP sensor). The development of the D850's 45MP sensor lends this particular rumor more credibility.
It might feel that Nikon would want to create a mirrorless Z-series version of the D5 - however professional sports photographers are creatures of habit, and replacing this DSLR power house does make some sense – and particularly now the D5 is three years old.
If there is a D6, Nikon would be very keen for top sports users to be using this at the 2020 Olympics, which are being held on its home turf in Tokyo. To ensure they are familiar with the camera before this, would mean a launch sometime in 2019.
We would expect the camera to offer built-in wifi for the first time, and to increase the motordrive frame rate from 12fps to around 14fps. We would also hope that the camera had twin memory card slots, that could support both XQD or the soon-to-be-launched CFExpress card formats.
What we think: We expect Nikon to build on the Z system during 2019 – adding more full-frame mirrorless lenses to complement the Z 6 and Z 7. We are also hoping for a new low-cost model to add to the family – which for the moment we will call the Z 5.
Read more:
10 tips on getting the best out of your Nikon camera
More camera rumors: Canon rumors • Sony rumors • Olympus rumors • Fujifilm rumors • Panasonic rumors