Launched way back in 1976, the Canon AE-1 broke new ground for 35mm SLRs, becoming the first camera to feature a central processing unit (CPU). Together with a huge advertising campaign that featured famous golf and tennis players, the AE-1 was a huge hit for Canon, selling well over a million units in its eight-year lifetime ad remains one of the best film cameras available today.
The AE-1 was also a turning point for Canon, before this, it had been held out from the professional market by Nikon's total dominance. Until the arrival of the AE-1, Canon's range of SLRs had attracted a predominantly amateur photographer, but Canon's huge investment in its electronically controlled internals, and mass production methods using new materials, meant Canon could offer more advanced functionality that hadn't been seen at this price point before.
The Canon AE-1 Program was launched as an updated version of the original Canon AE-1. It was released in 1981 and has several differences from the original model. The most notable difference is the addition of a "Programmed Auto" mode, which allows the camera to automatically select the aperture and shutter speed based on the lighting conditions. Additionally, the AE-1 Program is slightly smaller and lighter than the original AE-1.
The AE-1 despite it being one of the first cameras to be made from engineered plastic instead of metal construction, is known for its durability, although as with all cameras after 40 years, will have its issues. But this enduring build quality made it a popular camera with both amateurs and professionals, who also appreciated its well-thought-out controls. The original AE-1 went on to sell 5.7 million units making it a record success in the SLR market.
Canon AE-1 & AE-1 Program Specifications
Lens mount: Canon FD
Exposure control:
- (AE-1): Manual, shutter priority
- (AE-1 Program): Manual, shutter priority, aperture priority, full automatic
Shutter speed: Mechanical 1/1000 sec to 2 second, plus bulb
Exposure metering: Center-weighted
Film speed range: ISO 25 to 3200
Battery: 1x 1.5V LR44 batteries
Size & Weight:
- (AE-1): 141 x 87 x 48 mm, 590 g
- (AE-1 Program): 141 x 88 x 48 mm, 565 g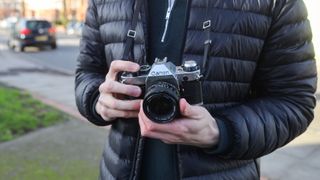 Canon AE-1 & AE-1 Program Key features
As well as being the first camera to sport a CPU, the Canon AE-1 was the world's first 35mm SLR to be equipped with a shutter speed-priority exposure mode (AE stood for Automatic Exposure Control). Many rival brands offered an aperture-priority exposure mode on their high-end SLRs, but because of the lack of information available in the viewfinder, there was invariably the risk of the camera selecting a shutter speed lower than desired, often resulting in a wasted frame of film because it was just too blurry.
The AE-1's shutter speed-priority mode, though, was a huge benefit to more novice photographers as you'd always know how long the exposure was going to be, while the camera adjusted the aperture.
Canon took things a step further with the launch of the AE-1 Program. The AE-1 Program featured a Program auto exposure mode that saw the camera set both the aperture and shutter speed, making any modern digital camera shooter feel right at home with the AE-1.
The maximum shutter speed on the AE-1 was a little disappointing though, maxing out at a little limiting 1/1000 second, though an optional Canon Winder A provided a motorized single frame advance up to a heady 2 frames per second.
The AE-1 used Canon's FD lens mount, accepting both FD lenses and the New FD mount (often referred to as FDn). The earlier FD lenses feature a chrome twist-ring to the bayonet, which is a little tricky to use and the lenses are typically longer and heavier. The new FD lens work using a bayonet mount, slots entirely into the camera, and is then twisted to lock it in, this is still the same mechanism that Canon used today for its RF lenses.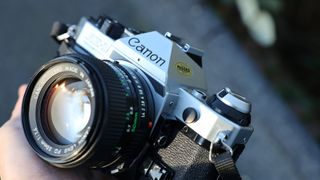 Canon AE-1 Program Design & Handling
The body is designed in the classic SLR camera design, and to most people, it will look and feel like a metal camera with a texturized plastic panel. However, this is a deception, as the top of the camera is also an injection-molded thermoplastic polymer that has been enameled with satin chrome or black enamel to give the effect and feel of metal. And it is very convincing.
Whats more, it is tough, this camera has taken a beating and has fewer marks and dents in it than my equivalent metal-bodied cameras, so Canon was on to a good thing here, so it is not surprising that they have carried on with plastic-bodied cameras to this day.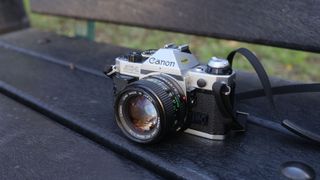 The layout of the camera is near perfection, with your thumb on your right hand naturally finding the shutter speed dial, which has a very nice audible click to it as it turns, the wind level is large and easy to pull at speed, and even the ISO dial is one of my favorites on a film SLR, with a very simple release and turn mechanism.
The lens controls the aperture, with a large and easy-to-grip aperture ring on each lens, with a nice loud click at each aperture stop as well as feedback from a spring or pin clicking into place if you are in a loud environment.
The viewfinder is nice and large – it'll certainly make many optical viewfinders in modern-day DSLRs feel quite tunnel-like. The camera is manual focus only, but this is easy enough to see in the viewfinder, especially using larger lenses. Using the viewfinder with the FD 50mm f/1.4 lens is a very nice experience.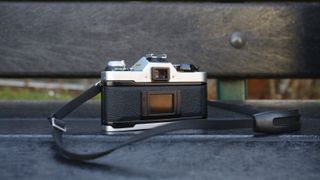 Canon AE-1 Program Performance
The AE-1 performance is fantastic, it really is one of the easiest-to-use 35mm film cameras available whether you want to shoot in manual or automatic. If you are learning photography then the automatic modes are incredibly accurate, providing the situation makes for a good photo, then the AE-1 auto exposure will produce properly exposed photos every time without fail.
If you are ready to step up to shutter or aperture exposure, or even full manual controls then the camera offers you a lot of fallback information such as what settings it thinks you should be using or if you might under or overexpose your photo, you can choose to ignore this, but it might also just save you wasting a frame.
One big downside to the camera is just how loud it is, the cloth curtain sounds like it should be a quiet thing, but when you take a photo, the camera makes it known. This is not a camera that you can use stealthily in a quiet place or on the street without being noticed by those around you.
The top shutter speed of 1/1000 is also a bit of a disappointment as other cameras of the time did shoot faster, this makes shooting in bright environments on wider apertures harder (although you can invest in a neutral density filter). It also is not a fast enough top speed tp freeze very fast action, so won't be good for any sports photography.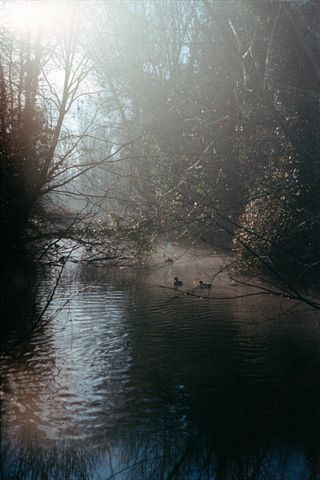 Canon AE-1 Program Sample Images
Below are sample images shot using the Canon AE-1 Program and a mix of 35mm film types including Kodak Portra 400 and Kodak Gold 200.
Canon AE-1 & AE-1 Program Verdict
If you are asking the question of which model is better, then you need to ask yourself what kind of a photographer you are. The AE-1 Program manages to be smaller and lighter while also offering the option of fully automatic and aperture priority shooting, you don't have to use either of these modes, but they are always there as an option. The original AE-1 is otherwise the same camera, but only has manual and shutter priority shooting modes.
However, both the Canon AE-1 and AE-1 Program are both still exceptional film cameras today, with classic SLR looks, and famed durability. Many Canon FD lenses are fantastic bits of glass, so you can build out your system to suit your shooting needs. The cameras are also widely available due to their incredible popularity when they were made, so are easy to pick up on eBay or other second-hand stores, however, they are becoming quite desirable, so the prices are creeping up and good models are hard-fought for.
Where to buy the Canon AE-1
There are a few things to be wary of when buying an old camera, check that mechanically it is in working condition – the wind lever turns smoothly, the aperture rings are not stuck and the light meter is functioning. Ask to see images of the lens and eyepiece to check for fungus damage, as this is very hard to repair.
You may always need to do minor repairs on any old camera no matter the condition unless it has been serviced or refurbished before the sale. Common jobs include replacing crumbling light seals or lubing internal mechanisms that have dried out.
Check out the latest deals for eBay in the US or the UK below!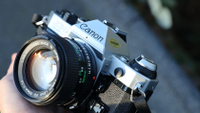 Find the Canon AE-1 on eBay US
An AE-1 in nice condition with a 50mm f/1.8 shouldn't set you back more than much more than $200. Just be mindful that there can be a few issues if they haven't been looked after.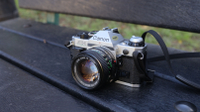 Find the Canon AE-1 on eBay UK
An AE-1 in good condition with a 50mm f/1.8 will cost around £100-200, depending on the condition, but you can find examples for around £75. Just be mindful that there can be issues that the seller may not even know about.
Read more:
• Best film cameras
• Best film
• Best darkroom equipment
• Best film scanners
• Best Lomography cameras
• Best student camera for studying photography