The Canon EOS R8 reminds us just what a long way Canon has come since launching the original EOS R nearly four years ago – and just how many cameras, for many kinds of consumers, the R system now encompasses.
At the end of 2022, the R series was up to 11 camera bodies and 31 lenses, and after producing some of the best Canon cameras to date, from the flagship Canon EOS R3 to the entry-level Canon EOS R10, as well as some of the best Canon RF lenses, the company has shown no signs of slowing down.
The Canon EOS R8, despite being one numerical value below the APS-C-equipped Canon EOS R7, actually sports a full-frame sensor. Canon says that the R8 sits between the Canon EOS RP, its entry-level full-frame camera, and the Canon EOS R6 Mark II, for serious enthusiasts and professionals. And the EOS R8 is certainly a bit of a Frankenstein's monster of the two, whether you see it as an upgraded RP or a down-specced R6 Mark II.
In Canon's DSLR ecosystem, the full-frame range doesn't go any lower than the Canon EOS 6D Mark II. However, Canon is showing a keenness with its mirrorless range to hit every form factor at a much wider range of price points. Originally causing some surprise with the announcement in 2019 of the EOS RP, undercutting rivals on price, although with some fairly significant concessions.
Pricing-wise, the EOS R8 is set to sit right in the middle between the RP, which will remain in the lineup for now, and the R6 Mark II, offering some significant savings over the more advanced model.
Canon EOS R8: Specifications
Sensor: 24.2MP full frame CMOS
Image processor: Digic X
Lens mount: Canon RF
Autofocus: Dual Pixel CMOS AF II, 4,897 AF positions (4,067 for video)
ISO range: 100-102,400 (exp 50-204,800)
Video: 4K up to 60p (6K oversampled), 1080p up to 180fps, C-Log3, HDR PQ, 4:2:2 10-bit
Viewfinder: 0.39 OLED EVF, 2.36 million dots, 120fps
Memory card: 1x UHS-II SD
LCD: 3" fully articulating touchscreen, 1.62 million dots
Max burst: 40fps electronic shutter, 6fps first curtain electronic shutter
Connectivity: USB-C, WiFi (2.4 GHz), Bluetooth (4.2), micro HDMI, microphone, headphone, RS-60E3 terminal, Multifunction Shoe
Size: 132.5 x 86.1 x 70mm
Weight: 414g body only (461g with card and battery)
Canon EOS R8: Key features
The Canon EOS R8 uses the same 24.2MP sensor as the R6 Mark II, and also offers the same ISO range (which is expandable up to a whopping 102,400). The R8 can autofocus down to -6.5EV.
It also replicated the incredible electronic shutter speed from the R6, with a blazing fast 40 frames per second, making it one of Canon's fastest cameras – and a real contender for sports and wildlife photography, although you might still be best served by the Canon EOS R7 thanks to its 1.6x crop factor and in-body image stabilization. The R8 also has a 6fps first curtain electronic shutter.
The electronic viewfinder on the R8 has a 120fps refresh rate and comes with Canon's OVF assist, which is meant to mimic the look of optical viewfinders to make the transition from DSLR cameras that little bit easier.
Canon's Dual Pixel CMOS Autofocus II continues to be one of the best systems around, and the R8 gets all the latest subject recognition and tracking – and it this able to track human and animal heads, faces, and eyes, including dogs, cats, birds, and horses (yes, including zebras), and also vehicles including cars, bikes, planes, trains and helicopters.
The EOS R8 can record video up to 4K 60p (6K oversampled) or up to 180fps in FullHD, all using Canon's C-Log3 or HDR PQ, and 4:2:2 10-bit recording. The camera employs the whole width of the sensor to record, so there is no video crop to deal with – and Canon also claims that any recording time limit in 4K is a thing of the past.
There are a number of connectivity methods, including WiFi, Bluetooth 4.2, Apple MFI, image.canon, UVC, and the Multifunction Shoe, along with physical ports like micro HDMI, 3.5mm microphone and headphone jacks, and USB-C for transfer and charging.
The camera uses an LP-E17 battery, which is smaller and has less capacity than the usual LP-E6NH that full frame cameras usually use, but this helps to make the overall body smaller and lighter, weighing just 461g with the battery and an SD card.
Canon EOS R8: Build and handling
The body is a very close replica of the EOS RP, with a similar size and weight, trimming 20g off the older model. After some toing and froing on the top layout, Canon cameras seem to finally be finding a steady rhythm; the layout of the top plate is near exact to the EOS R6 Mark II, with the on / off functions added to the lock switch, and the old power switch becoming the new photo/video hybrid switch.
The rest of the top is standard fare, with two top control wheels, the mode select dial, M-Fn button and a record button. However, the buttons and dials are much shallower than the R6 as the R8 is overall sleeker and more akin to the RP.
The rear controls of the camera are where things diverge from the R6 and move back into RP territory, eschewing the rotatable dial and joystick from the more expensive cameras. I would say this is unsurprising at this price range, as traditionally joysticks were a key point of separation between Canon's higher and lower-end cameras. However, with the recent entry-level EOS R10 having a joystick, this feels more like obvious handicapping.
While the omission of a joystick is unfortunate, Canon's reduced layout is still incredibly functional, with the focus still being able to be micro-managed (albeit more slowly) using the directional pad – but with the touchscreen controls, and the latest autofocus system in the EOS R cameras being near flawless, this is easily worked around.
The one area where this camera really falls down is with its single SD card slot. While we can see the logic in only including a single slot in order to differentiate the R8 from the R6, it is still unfortunate to see, with some smaller and similarly priced cameras from other brands include a second slot.
However, placing the SD in the battery compartment on the base of the camera will always be incredibly frustrating. With this camera aimed as a hybrid production device, it will spend a lot of time in rigs, on gimbals, and on tripods – many of which prevent access to the bottom of the camera, leaving users having to frustratingly remove the accessories to get access to change a card.
While better wired and wireless connectivity goes some way to solve this, sometimes the old-fashioned way of whipping out the SD is the best.
The EOS R8 is also missing in-body image stabilization, but at its price point, this seems an obvious choice to be left out of this camera. Canon is still a firm believer in driving its very good lens-based optical stabilization. In video recording, lens IS can be combined with Canon's digital stabilization (with the penalty of a slight crop), or you can do without, and Adobe Premiere or iMovie's post-production stabilization is now just frighteningly good.
Canon EOS R8: Performance
In terms of sensor performance, the R8 is essentially an R6 Mark II, with the same 24.2MP resolution and Digic X processor, the R8 produces the same image quality that I loved from its pricier big brother. While 24.2MP might seem a little tame compared to some big numbers coming from other brands (or even phones), a 24.2MP full frame sensor will give you superb image quality for almost all common shooting scenarios, while also being much more manageable to organize and edit.
And the pictures the EOS R8 produces are excellent. Images are sharp, with a good level of clarity, exhibiting Canon's popular color science to provide JPEGs that are ready to share immediately. Or for those wanting a bit more space to play with their images, the RAW photos from this Canon sensor provide a fantastic level of dynamic range and color to manipulate, I found I could regain a lot of detail in the shadows and highlights.
The R8 also shares the latest upgrades to Canon's autofocus and tracking system, with eye and head detection for humans, dogs, cats, and birds, as well as tracking for horses, and vehicles including bikes, cars, trains, and planes. I have found the autofocus tracking in previous models has been nothing short of spectacular, with only a few stumbles on trickier to-recognize animals.
The EOS R8 autofocus in practice is incredible. The autofocus is fast and accurate, using the full sensor for focusing the R8 consistently picked up the correct subjects automatically without any prompts or input. Humans, including faces and eyes, were no issue, with the camera nailing the focus each and every time.
When it came to animals, the results were a little more mixed, with the camera finding the shape of animals quite easily, but struggling on occasion to pinpoint their eyes or head, often choosing to focus on another area. Putting it through its paces on a range of more exotic animals at a zoo, the EOS R8 did exceptionally well in recognizing a huge range of birds and cat/dog family animals.
The autofocus even managed to pick up the eyes on not strictly supported subjects, like monkeys and certain reptiles and amphibians, suggesting this might be the next frontier for Canon's ever-expanding recognized subjects.
When it comes to sheer speed, this is another thing that the EOS R8 has in common with its bigger brother, it is able to shoot at 40 frames per second with the electronic shutter, and with the same DigicX processing power, the processing is very quick. This is just incredible for a camera of this size and price – with speeds like that once reserved for the best sports cameras like the Canon EOS 1D-X Mark III, it shows how fast camera technology is developing.
One area of performance where the R8 is heavily compromised is in Canon's choice of battery. Canon has chosen to go with its smaller and less powerful LP-E17 battery to save on space, making the overall camera smaller and lighter, while also separating it from the more expensive models, which use the much more enduring LP-E6NH.
The EOS R8 battery life was very disappointing. On several casual excursions around town, shooting images only and using appropriate power settings, the battery on the R8 would not make it through the whole trip. I only have one battery available, so I was left stranded and frustrated a few times. Canon only rates the camera at 220 shots using the viewfinder, which in practice goes very quickly. (For comparison, the EOS R6 Mark II with its LP-E6NH is rated for 450 shots.)
Canon EOS R8: Sample Images
Canon EOS R8: Video
Video from the EOS R8 is exceptional, especially for a camera of this size and price. Canon has come a long way in catching up to rival Sony's video capabilities on its hybrid cameras. Recording in 4K (oversampled 6K) is really sharp, and Canon's dual pixel autofocus shines, reliably locking focus on tracked subjects and quickly snapping between focus points.
The battery life again falls below expectations when using the EOS R8 for video, using a freshly charged battery, I managed to get a total of 66 minutes of 4K recording using the rear screen and servo autofocus. Although there are no longer any forced recording limits, the camera did warm up quite a bit while shooting, although at no point got to the point where filming was automatically stopped.
For added flexibility Canon offers C-Log3, HDR PQ, and 4:2:2 10-bit recording, giving filmmakers significantly more data to use during editing for advanced color grading and LUTs. The EOS R8 is unable to output RAW video through the HDMI port to an external recorder, this is a fairly refined feature that won't be for everyone, but a lot of this camera's target audience such as content creators or film students edit their content in RAW, as this is an easy way to match footage from other cameras, so might be frustrated by this omission.
Canon EOS R8: Lab results
For our lab data comparison, we compared the EOS R8 to three full-frame mirrorless rivals with similar price tags - a slightly tricky task given the R8's aggressively low launch price. The latest Panasonic S5 II and Sony a7 IV are both significantly pricier than the R8, so we've instead selected the original S5, and the Sony a7 III - both are closer in price to the R8, and both are still in production. The Nikon Z5 is Nikon's direct competitor to the R8, although it's now the oldest camera in the current full-frame Z camera range.
We test resolution using Imatest charts and software, and dynamic range and signal-to-noise ratio with DxO Analyzer.
Resolution (line widths/picture height):
Predictably, with all four comparison cameras having ~24MP sensors, outright resolving power is almost identical across the group.
Dynamic range (EV):
At sensitivities below ISO 3200, the EOS R8 is capable of capturing class-leading dynamic range. However, it can't quite compete with the Panasonic and Sony cameras at higher ISOs.
Signal to noise ratio (decibels):
This test compares the amount of random noise generated by the camera at different ISO settings as a proportion of the actual image information (the 'signal'). Higher values are better and we expect to see the signal to ratio fall as the ISO is increased.
At higher ISOs where noise is most visible, all four cameras perform very closely, though the R8's images are marginally more noisy. Interestingly, despite being released back in 2018, the old Sony a7 III leads the pack at lower sensitivities, proving that - at least in terms of basic raw image quality - full-frame sensor performance has remained fairly static for several years now.
Canon EOS R8: Verdict
If you are enamored with the features of the EOS R6 Mark II, but your budget cannot stretch to that higher model, then this is the camera to consider. The EOS R8 just does it all, for online content creators who want hybrid cameras for photography and video, enthusiast photographers looking to try full-frame sensors or students on a budget, the R8 pretty much ticks all the boxes.
Sure, there are a few compromises, the longevity of the R8's battery is the main thing that really holds this camera back, you will have to make do with only one SD card, and with its awkward placement under the battery door. And if you are currently used to joystick or thumb wheel controls, it might take a while to get used to their absence. But for the technology, this camera can bring to your work these all seem like fair trade-offs.
Packing all the benefits of a full-frame sensor, such as a smaller depth of field and expanded dynamic range but in a light and affordable package, this is one of the most well-rounded cameras accessible to most people.
You might also like...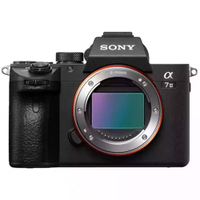 Sony A7 III
Quite a bit older than the EOS R8, but still very much competing with the latest models, it shows how much of a headstart Sony got on mirrorless. Also offers 4K video and 24MP, but edges out Canon with 5-axis IBIS.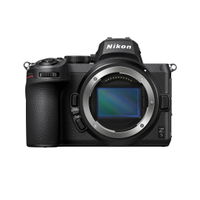 Nikon Z5
Nikon's full frame entry-level model comes at a slightly lower cost than the Canon EOS R8 but doesn't scrimp on the included tech, with a 24.3MP sensor, 4K video, and built-in IBIS, the Nikon Z5 packs a punch.
Interested in finding out more about full-frame photography? You can find more in our guide to the best full-frame camera. Or for more on Canon, you can check out our guides to the best Canon cameras, and the best Canon RF lenses.