Olympus camera rumors 2019
This year the company has celebrated its 100th birthday by releasing its "flagship reimagined" update, the E-M1X, boasting some of the most innovative and advanced technology we've ever seen in a camera – including 80MP medium-format resolution from a Micro Four Thirds sensor!
Read more: Olympus OM-D E-M1X review
With this being Olympus' centenary year, we are expecting it to continue celebrating its big birthday in style – with a whole host of new lenses and at least one other significant camera launch.
Olympus PRO lenses
To support the launch of the E-M1X, Olympus has thrown much of its R&D weight behind developing more of its PRO line of lenses – at least six more, in fact, along with two standard Zuiko optics.
The updated Olympus lens roadmap was recently revealed, showing what the company has in store for its Micro Four Thirds ecosystem.
The company already announced the M.Zuiko 150-400mm f/4.5 TC1.25x IS Pro – an impressive super telephoto lens with built-in converter that gives it a 1000mm equivalent focal range – but the promise of PRO lenses to cover every focal range all the way down to 9mm (18mm equivalent) is a very exciting prospect for Olympus users.
In addition, there's the recently released M.Zuiko 12-200mm f/3.5-6.3 and a Super Telephoto Zoom Lens (expected to be in the region of 95-400mm) for non-professional needs. All of which confirms Olympus' commitment to its smaller system, despite its rivals all going the way of full-frame and medium-format.
Olympus OM-D E-M5 Mark III
Although the chronology of its OM-D releases suggested that it would be the E-M5 II that would be next due a refresh, what we actually got next was the OM-D E-M10 Mark III and OM-D E-M1X.
• What we expect: Olympus OM-D E-M5 Mark III
Olympus users have been waiting patiently – though bordering on the impatient – since 2016 for a new model in the trailblazing E-M5 line. It looks like we won't have long to wait, though, as the Olympus OM-D E-M5 Mark III looks set for an announcement in late September or early October.
The latest speculation is that the E-M5 Mark III will possess the same 20.4MP sensor of the flagship E-M1 series – which means that it would benefit from phase detect autofocus (finally, a non-pro Micro Four Thirds camera with reliable AF!), 4K video and a 60MP High Res Shot mode.
The camera is also said to feature a more lightweight construction, and we thoroughly expect it to retain the smaller form factor that Micro Four Thirds bodies are known for (unlike the Canon EOS-1D X-sized frame of the E-M1X).
Olympus PEN-F discontinued
While hopes were high for the Olympus PEN-F – announced in 2016 as a style-oriented hybrid of the Olympus OM-D E-M5 Mark II and E-M1 Mark II technologies – it always felt like a camera that was struggling to find an audience.
Read more: Olympus Pen-F review
At a higher price than the E-M5 Mark II and lacking its weather-sealing and some connectivity, the PEN-F was a less popular choice than its OM-D sibling. And, with the PEN line previously known for cheaper entry level bodies like the Olympus PEN E-PL9, the premium-priced PEN-F seemed an awkward fit.
Unfortunately, it seems that the 20MP camera didn't quite meet sales expectations – the Olympus PEN-F has been discontinued according to reports from Japan. It should be remembered, however, that the PEN-F was envisioned as an 80th anniversary celebration of the company's first camera and lens, modelled after the celebrated PEN-F half-frame film camera; it wasn't strictly designed to launch a new line in and of itself.
So, while we don't expect to see a PEN-F Mark II any time soon, Olympus might have something equally inventive in store for its 100th anniversary. How about an modernised Olympus Trip?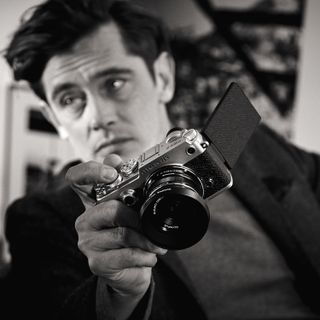 Olympus PEN E-PL10
The enduring E-PL (Electronic PEN-Lite) line has been a consistent success for Olympus, particularly in Japan where it is a popular choice for young fashionistas. Despite its modest 16MP sensor and 3-axis in-body image stabilization, the Olympus PEN E-PL9 provided an appealing upgrade for Instagram-conscious shooters looking for a compact, interchangeable lens alternative to taking smartphone snaps.
Read more: Olympus E-PL9 review
Since the E-PL series has seen annual updates every year since 2016, it seems fairly likely that an Olympus PEN E-PL10 might soon appear on the horizon. We would be disappointed, but unsurprised, if it once again features the same ageing sensor and stabilisation seen in previous models – at the very least, a bump to the company's celebrated 5-axis IBIS would be appreciated.
Still, the appeal of the E-PL line has never been its cutting-edge specs, but more its slender design, 180-degree selfie screen and proliferation of Art Filters – so we're far more likely to get an extra filter or two than we are a significant specs upgrade.
Given the tragic news that the Olympus PEN-F has been discontinued, and since the E-P line seems to have ended with the Olympus PEN E-P5, perhaps the company will coalesce the entire PEN line – which could mean that the E-PL10 gets a 5-axis stabilization and a second control dial, which would make it a worthwhile upgrade for existing owners.
More camera rumors: Canon rumors • Nikon rumors • Sony rumors • Fujifilm rumors • Panasonic rumors • Sigma rumors