So what makes the best budget vlogging camera? And how is a vlogging camera actually different to the regular kind? We'll run you through the key differences and what to look for, and then list our favorite cheap vlogging cameras.
You'll have noticed by now that the best cameras for filmmaking don't always come cheap. We're in the middle of an all-out arms race among camera makers to produce ever-better cameras for a rapidly expanding 'creator economy'. All these technical advances come at a price, though, and what are widely regarded as the best cameras for vlogging are often outside the price range of beginners and new users.

But don't worry! There are some really good cheap vlogging cameras out there that can get you started at a fraction of the price. You're probably wondering if they're missing key features that you'll wish you had paid extra for, but that's not necessarily the case. Very often, more expensive cameras cost more because of features you're not likely to need unless you become a serious/professional filmmaker. Things like log profiles, 4:2:2 10-bit color, raw capture, and 6K or 8K can wait!

There are a few features we do think are pretty essential in a vlogging camera, though, and here's what they are.
What to look for in the best budget vlogging cameras
Why you can trust Digital Camera World Our expert reviewers spend hours testing and comparing products and services so you can choose the best for you. Find out how we test.
4K video: Even though most YouTube videos and other online/social content is still shared at Full HD resolution, 4K is still the new baseline for video capture.
Interchangeable lenses: All of the cameras on our list are mirrorless camera models that take interchangeable lenses. You can get some good compact vlogging cameras too, but we think the larger sensors and swappable optics of mirrorless cameras are key.
Vari-angle screen: Vloggers typically need to be in front of the camera as well as behind it, so a camera with a screen that can flip forwards to face the front is a must.
Mic socket: Even if you're still only starting out, you'll need to think about using an external microphone at some point, so look out for cameras with microphone sockets, otherwise you're a bit stuck.

The best budget vlogging cameras in 2023
The ZV-E10 is like a vlogging version of the long-running Sony A6000 series of mirrorless cameras. It ditches the electronic viewfinder and adds a vari-angle screen, not to mention Sony's very effective autofocus capabilities. It's a very likable little camera that even has a neat clip-on wind muffler for outdoor shooting. It doesn't have any in-body stabilization, but then there aren't any budget vlogging cameras that do. The 16-50mm kit lens is stabilized, though, and it also has a power zoom mechanism well suited to filming. And on the subject of lenses, this is perhaps the ZV-E10's most compelling feature – Sony's extensive range of E-mount lenses including many designed specifically for the APS-C format, i.e. not big and heavy full-frame lenses. This, the value and the vlogging-focused design help put the ZV-E10 at the top of our list.
This baby Lumix is remarkably powerful and extremely good value for money. Unlike many rival budget vlogging cameras, this one has a viewfinder, and a very good one at that. The Lumix G100 also has access to a wide range of Micro Four Thirds format lenses from Panasonic, Olympus, Laowa and others, and these lenses are typically that little bit cheaper and lighter than those of other systems. New vloggers will enjoy the simplicity of the Lumix G100. It makes it easy to capture high-quality video and stills with its approachable button layout. Even people uninterested in the technicalities of capturing great-looking videos will be able to get results with this camera. There are just a couple of downsides that stop the Lumix G100 from taking top spot. First, Panasonic's DFD autofocus system is just not quite as smooth as the hybrid systems from other makers; second, if you shoot in 4K it does come with a crop factor that reduces the angle of view.
Canon's APS-C EOS R system has come a long way in a short time, and the EOS R50 offers a remarkable combination of features and value for a brand-new camera. It's not designed specifically for vlogging, but stills photography too, and boasts not just 4K video capture with Canon's top-notch Dual Pixel AF system, but an electronic viewfinder and 24MP APS-C sensor for stills photography too. As we note in our review, the EOS R50 is what would happen if the M50 Mark II and the EOS R10 had a baby! With its excellent sensor, great features and affordable price tag, we think this is one of the best pocket-friendly cameras today. The only cloud on the horizon is the relative lack of native RF-S lenses for the EOS R50 right now, particularly an extra-wide zoom for 'selfie vlogging'. If Canon doesn't sort this out soon, the success of its new cameras is far from certain.
The Z30 is the cheapest of Nikon's three APS-C format mirrorless cameras, but it's also the one best-adapted for vlogging, with a flip-out vari-angle screen perfect for filming yourself. It doesn't have a viewfinder, which might restrict its appeal for stills photography, even though its 20MP sensor actually produces very good still images. If you want an EVF, you're better off with the Nikon Z fc. Like Canon, Nikon is still getting its APS-C mirrorless lens range off the ground, but it is a few steps ahead, having launched the extra-wide Nikkor Z DX 12-28mm f/3.5-5.6 PZ VR zoom and with some neat 'pancake' primes that match the Z30's dimensions very well. The Z30 can, of course, use full frame Nikon Z lenses too, but most will be too expensive and too bulky for the Z30's compact body.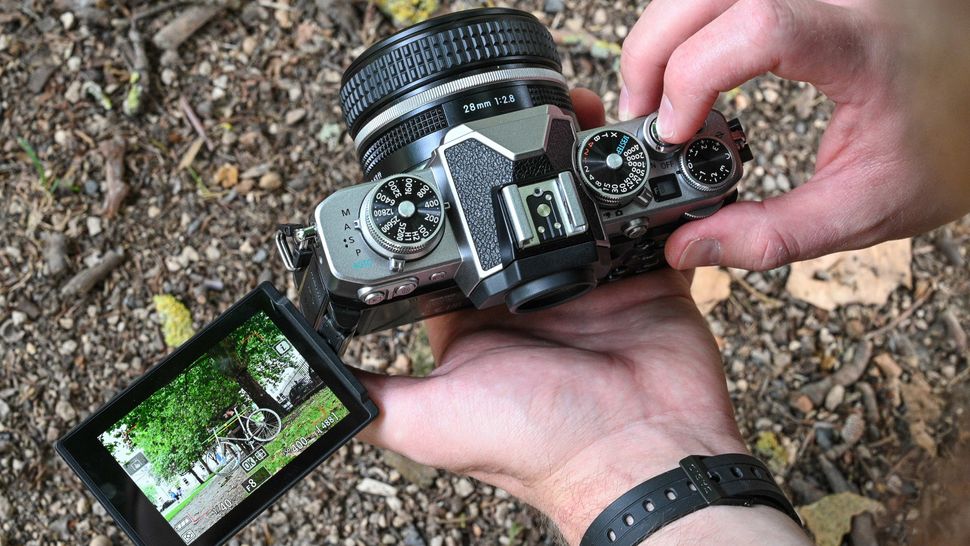 The Nikon Z fc isn't designed with vlogging in mind in the same way that the Z30 is, but the video capture features are identical, and it also sports an electronic viewfinder and beautiful retro styling that could convince many of us to shell out the extra cash. The aluminium dials are a joy to operate and the body looks so pretty you'll likely display the camera when it's not in use. But the Z fc isn't all style and no substance. Performance and image quality are excellent, so there are few compromises to be made for the extra style. Only the slippery body shape, along with the relative shortage of DX-format native Z-mount lenses (though that is changing) go against the Z fc. But even with these considerations, if you dig the retro aesthetic, the Z fc is still worth every penny. It's at the top end of the price scale for a budget vlogging camera, but it's still within reach.
If the Canon EOS R50 further up this list represents a new generation of Canon mirrorless cameras, the EOS M50 II is the last of the old guard. It uses Canon's earlier EOS M mirrorless lens mount which, although not officially dropped by Canon, is pretty clearly obsolete. However, if you want to pick up a bargain, the EOS M50 II is still a good buy. Even better, while the EOS M mount might have had its day, there are many more lenses in this format than are so far available for the newer RF-S mount, and at pretty reasonable prices too – though even the best EOS M lenses are hardly pro-level optics. Good as it is/was, though, the EOS M50 II is down at the bottom of our list because its 4K video features are quite heavily compromised. It comes with a substantial crop factor, you only get slower contrast-based autofocus for 4K shooting, and it tops out at a frame rate of 25fps rather than the more usual 30fps. The EOS M50 II does a good job at a very good price, but it's left behind by the other cameras in our list.