Fujifilm camera rumors 2019
Fujifilm updated its X-T2 with the stellar Fujifilm X-T3 high-end mirrorless camera last year, which increases the number of pixels on this APS-C format flagship model and provides a faster, wider-coverage autofocus system.
This year has also seen the Fujifilm X-T30, likewise an update of the X-T20 but boasting some seriously advanced new tech – so advanced, in fact, that the X-T3 had to play a bit of catch-up.
Most recently the company has released the Fujifilm X-Pro3, which aims to reinvent the shooting process with a "hidden LCD" screen that aims to make chimping a thing of the past.
Of course we've also had the 100-megapixel monolith, the Fujifilm GFX 100 – a mirrorless medium format camera that redefines medium format photography. It's big in every sense of the word, from its $10,000 price tag to its 600MB 16-bit TIFF files!
The company also expanded its market-dominating instax line with the Fujifilm instax Mini LiPlay – the smallest ever instant camera that's also a digital camera, a portable printer and a sound recorder to boot.
What can we expect next from Fujifilm? We don't foresee any more short term news from on the medium format front, but there's still plenty to talk about – and speculate on – in its APS-C X-mount range…
After it was outed earlier this year thanks to a Bluetooth registration, it was only a matter of time until the X-Pro3 was fully revealed. Fujifilm did the honors at its annual X summit. The unusual feature of this rangefinder-style camera is that the LCD is designed to be hidden away, so that you are not tempted to always check your pictures. To help given an added feeling of using an analog film camerea, the film style appears in an info panel on the back of the camera – just like you had torn off the top of the film box, and put in the frame you used to find on some old 35mm DSLRs,
Fujifilm X-H2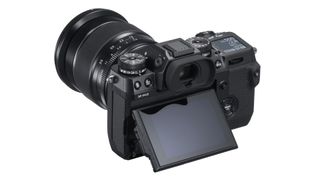 The arrival of the 26-megapixel X-T3 and its fearsome 4K video capabilities has left its flagship X-H1 model looking slightly underpowered, and we don't expect Fujifilm to let this situation last long. We've made some detailed predictions about what a new Fujifilm X-H2 might look like – imaging the power of the X-T3 in a rugged professional chassis with in-body stabilisation!
• The best Fujifilm lenses in 2019
More camera rumors: Canon rumors • Nikon rumors • Sony rumors • Olympus rumors • Panasonic rumors