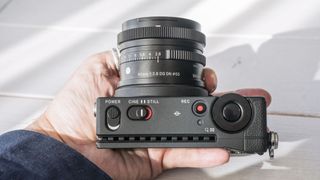 It became apparent that Sigma was planning its own full-frame mirrorless camera when it joined with Leica and Panasonic to announce their three-way L-Mount Alliance at Photokina 2018.
However, despite announcing at CP+ 2019 that it would release a 61MP camera using its own proprietary Foveon sensor, Sigma did an abrupt about turn on both fronts when it finally revealed its new camera over the summer.
The Sigma fp will instead be a more modest 24.6MP camera, and it will employ a conventional Bayer color filter array rather than the Foveon tech (which is actually a good move in our book, as we were never sold on what Foveon delivered compared to what it actually promised).
The question is, will that 61MP Foveon camera yet materialize?
Perhaps attesting to a wholesale redesign necessitated by an inability to deliver the higher resolution Foveon-based system it envisioned, the Sigma fp will instead be the smallest ever full-frame mirrorless camera – which, again, is a nice promise, though in practice the size of a full-frame camera is made largely immaterial thanks to the size of its corresponding lenses.
However, the overall rethink has made the Sigma fp a rather more interesting camera than a simple 61MP powerhouse (for which we already have the Sony A7R IV). The Sigma fp will be a modular camera system, able to be expanded, customized and optimized according to the user's specific needs and uses.
While Sigma is the chief architect of the L-mount lens roadmap, the ecosystem will also be buoyed by the inputs of Panasonic and Leica. This means that the Sigma fp hopefully has a more optimistic future as a genuine alternative system, rather than a customizable curiosity that will die off due to lack of interest and lens choice.
Set to go on sale in September at what has been announced as an "affordable" price, more details should become clear in the coming weeks.
More camera rumors: Canon rumors • Nikon rumors • Sony rumors • Olympus rumors • Fujifilm rumors• Panasonic rumors