Panasonic camera rumors
2018 was a big year for Panasonic. It was the consumer electronics giant's 100th birthday and it is the tenth anniversary of its introducing the first ever mirrorless camera – the G1 (which was also the first camera to use the Micro Four Thirds lens mount). 10 years later, it used Photokina to announce a full frame L-mount alliance with Leica and Sigma, and two new full frame mirrorless cameras – the Lumix S1 and Lumix S1R.
The rumors that Panasonic might move into the full frame seemed strange, since the company currently only has MFT lenses in its line-up, but with the Leica and Sigma tie-in it suddenly makes sense.
Read more: Everything we know about the Panasonic S1 and S1R
Clearly, Panasonic is pitching the 24-megapixel S1 at the Nikon Z6 and Sony A7 III market, while the 47-megapixel S1R will go head to head with the Nikon Z7 and Sony A7R III. That's likely to keep Panasonic busy for quite some time, so we don't expect any more full frame camera news for a while.
Do note that the success of the Panasonic L-mount system will also rely on Sigma - who are promising no fewer than 11 L-mount Art lenses for the full-frame mirrorless system in 2019. Sigma will also be unveiling its own full-frame L-mount camera sometime in 2020, which will feature a 60-megapixel Foveon sensor.
Panasonic Micro Four Thirds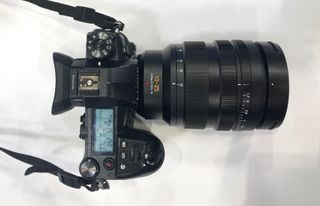 With all of the excitement of the new L-mount full-frame mirrorless system, it would have be excusable for Panasonic to have sidelined its Micro Four Thirds G-series cameras for the year. But this was not to be the case.... as we had predicted the Panasonic Lumix G80/G85 was updated to become the Panasonic Lumix G90 / G95.
Most exciting, perhaps, is that Panasonic is continuing to expand its range of Micro Four Thirds lenses for its G cameras. The most exciting of the new ones that should go on sale later this year is the incredible wide-apertured Panasonic Leica DG Vario-Summilux 10-25mm f/1.7 ASPH
The best Panasonic cameras in 2019
More camera rumors: Canon rumors • Nikon rumors • Sony rumors • Fujifilm rumors • Olympus rumors • Sigma rumors