Panasonic camera rumors
2018 was a big year for Panasonic. It was the consumer electronics giant's 100th birthday and it is the tenth anniversary of its introducing the first ever mirrorless camera – the G1 (which was also the first camera to use the Micro Four Thirds lens mount). 10 years later, it used Photokina to announce a full frame L-mount alliance with Leica and Sigma, and two new full frame mirrorless cameras – the Lumix S1 and Lumix S1R.
The rumors that Panasonic might move into the full frame seemed strange, since the company currently only has MFT lenses in its line-up, but with the Leica and Sigma tie-in it suddenly makes sense.
Read more: Everything we know about the Panasonic S1 and S1R
Do note that the success of the Panasonic L-mount system will also rely on Sigma - who are promising no fewer than 11 L-mount Art lenses for the full-frame mirrorless system in 2019. Sigma will also be unveiling its own full-frame L-mount camera sometime in 2020, which will feature a 60-megapixel Foveon sensor.
Panasonic S1H
We are now seeing rumors of a sibling for the S1 and S1R that will be designed just for video users (the existing models are hybrid stills/movie models). Reportedly called the S1H, and will shoot 6K video with a new sensor. Rumor has it that it will be even bigger than the S1 and the S1R – and more expensive, with a postulated body only price of $6,000.
Panasonic Micro Four Thirds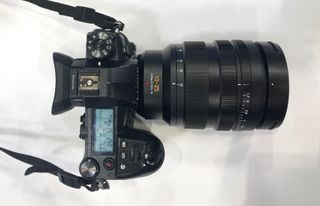 With all of the excitement of the new L-mount full-frame mirrorless system, it would have be excusable for Panasonic to have sidelined its Micro Four Thirds G-series cameras for the year. But this was not to be the case.... as we had predicted the Panasonic Lumix G80/G85 was updated to become the Panasonic Lumix G90 / G95.
Most exciting, perhaps, is that Panasonic is continuing to expand its range of Micro Four Thirds lenses for its G cameras. The most exciting of the new ones that should go on sale later this year is the incredible wide-apertured Panasonic Leica DG Vario-Summilux 10-25mm f/1.7 ASPH
Panasonic GH6 and GH6S
The Panasonic Lumix GH5S and GH5 have been a popular choice amongst videographers. These Micro Four Thirds cameras differ in the sensor resolution - the GH5 offers a 20MP sensor suitable for stills and 4K video, and the GH5S with its 10MP sensor is aimed solely and moviemakers.
The GH5 was launched in 2017, and the GH5S in early 2018, so an update to this series is likely.
But would the Lumix GH6 or GH6S shoot 4K or 8K? In this case, the 8K may be a better bet – as the soon-to-be-launched Sharp 8K camera will use a Micro Four Thirds sensor.
The best Panasonic cameras in 2019
More camera rumors: Canon rumors • Nikon rumors • Sony rumors • Fujifilm rumors • Olympus rumors • Sigma rumors