Panasonic camera rumors
Last year saw Panasonic celebrate its 100th birthday, as well as the 10th anniversary of the first ever mirrorless camera – the G1 (which was also the first camera to use the Micro Four Thirds lens mount).
With its party hat firmly on, it announced the formation of the full-frame L-mount Alliance with Leica and Sigma, along two new full-frame mirrorless cameras – the Panasonic S1 and Panasonic S1R.
Despite being powerhouse performers, reception to the new cameras has been somewhat lukewarm. The L-mount isn't a cheap lens platform, and Sony, Canon and Nikon have already staked the full-frame market pretty extensively – and where Sony's system already has a mature lens line-up, Canon and Nikon benefit from the ability to use their existing DSLR optics.
The success of the Panasonic L-mount system also relies heavily on Sigma, which has revealed no fewer than 11 L-mount Art lenses for release this year. However, Sigma has also unveiled its own L-mount camera, the Sigma fp… does Panasonic risk being the odd man out, having largely stepped away from Micro Four Thirds?
Panasonic S1H
The company announced the development of the Panasonic S1H – a video-oriented variant of the Lumix S full-frame mirrorless camera line, and the first 6K consumer camera on the market.
Priced at $4,000 it offers a pretty staggering set of specs, including 6K 3:2 capture at 24p, 16:9 5.9K capture up to 30p, 'Multi aspect' recording including anamorphic 4:3 capture, 10-bit DCI and UHD 4K capture at up to 60p, unlimited recording times, 14+ stop V-Log/V-Gamut capture, color reproduction to match Cinema VariCam series… and yes, 5-axis in-body image stabilization.
Something Panasonic didn't announce, however, is the sensor. In order to achieve 6K resolution efficiently, we expect that it will feature a 6,000 x 4,000-pixel 24MP sensor (trying to downsample a higher resolution readout from a larger sensor would pose workability problems, particularly with regard to heat dissipation).
All of which sounds great… but the Sharp 8K Video Camera is set to release by the end of the year, with a 33MP sensor and a price tag of $3,000-$5,000 – and it uses the much cheaper and better-established Micro Four Thirds mount. Is Panasonic set to be the odd man out again?
Panasonic Micro Four Thirds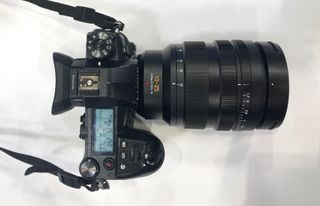 With all of the excitement of the new L-mount full-frame mirrorless system, it would have be excusable for Panasonic to have sidelined its Micro Four Thirds G-series cameras for the year. But this was not to be the case.... as we had predicted the Panasonic Lumix G80/G85 was updated to become the Panasonic Lumix G90 / G95.
Most exciting, perhaps, is that Panasonic is continuing to expand its range of Micro Four Thirds lenses for its G cameras. The most exciting of the new ones that should go on sale later this year is the incredible wide-apertured Panasonic Leica DG Vario-Summilux 10-25mm f/1.7 ASPH
Panasonic GH6 and GH6S
The Panasonic Lumix GH5S and GH5 have been a popular choice among videographers. These Micro Four Thirds cameras differ in the sensor resolution – the GH5 offers a 20MP sensor suitable for stills and 4K video, and the GH5S with its 10MP sensor is aimed solely and moviemakers.
The GH5 was launched in 2017, and the GH5S in early 2018, so an update to this series is likely. It had been speculated that the GH6 might debut Panasonic's 8K video technology, but the company recently confirmed that it won't produce an 8K camera until 2022.
That said, word has recently broken about a brand new 41MP Micro Four Thirds sensor from Sony – could we be looking at a 41MP 8K Panasonic GH6 much sooner than we thought?
The best Panasonic cameras in 2019
More camera rumors: Canon rumors • Nikon rumors • Sony rumors • Fujifilm rumors • Olympus rumors • Sigma rumors